Here is an overview of the Dealing with the Devil game, designed as part of Jennifer Weigel's October 2022 series here on Haunted MTL. The Game Board and Game Pieces can be found in previous posts as linked. I have printed, colored and assembled a game to show what it could look like when completed.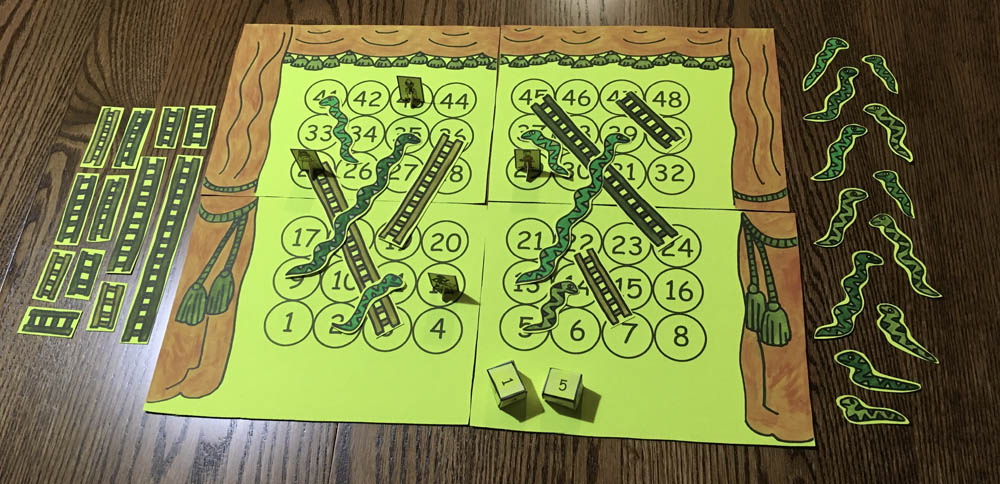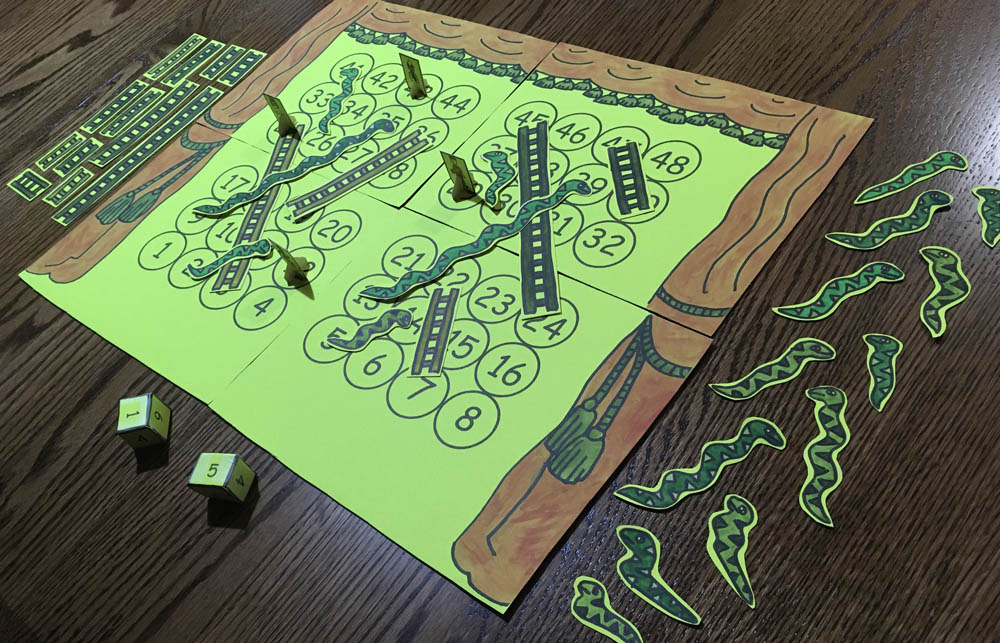 I printed my copy on neon yellow label paper and then attached everything to cardboard. I colored accents like the red curtain, brown ladders and green snakes but left most of my copy neon.
To assemble the characters to stand you will need to cut out small house shaped pentagrams and slit them from the top triangle bit about halfway. Slit the character pawn about the same amount and slide the two together to make a little stand (this is easier to see in the second photo). Dice can be cut out following outer lines (including all tabs) and folded along interior lines. You can glue or tape them together. Glue is generally better but I'm lazy so I used tape.
How Do I Play the Game?
Remember, Dealing with the Devil plays like Snakes and Ladders. You start by rolling one die (I gave you an extra cutout in case something happens to your die) and then move that number of spaces in chronological order from where you were. The goal is to make it to the end of the board all the way to the end at 48. If you land at the base of a ladder you climb it to the top. If you land on the head of a snake you get swallowed down to the tail. If you land anywhere in between, these effects don't matter and you just keep moving normally as the dice roll specifies. As you move, you travel the board in chronological order – this means when you come to the end of a row you circle over to the start of the next one, like a typewriter. This offers a more jarring feel than the traditional game to mimic the Hellscape that Jonahan Menkhir found himself in in our story.
Haven't Read the Dealing with the Devil Story?
You can find the accompanying story here on Haunted MTL as part of Jennifer Weigel's October 2022 series. In the story, Jonathan Menkhir finds himself whisked off to a game show to try to win back his beloved wife Chloe from Purgatory. I won't say any more, just read it for yourself…
And here are some links to the Total Monster Makeover video and Meet the Cast/Crew & Coloring Sheets from October 2021, in case you missed my last Halloween special…
Feel free to check out more of Jennifer Weigel's work here on Haunted MTL or on her writing, fine art, and conceptual projects websites.