Welcome back to the virtual garage sales of horrors, where the items are ridiculously overpriced but the nightmares are free!
As I said in the last edition, there are a lot of classic stories that start as a re-selling of something. An object that passes hands from one sorry soul to the next, the new victim unwitting of the danger they've just accepted with a few quick bucks. Don't buy dolls from creepy dudes off the street. Buy them instead through your local re-sale app!
There's a plethora of killer kitsch, abnormal antiques, and just plain weird shit that people are positive that you'll want haunting up your place. Whether it's odd, old, gross, or weird, here's six horrific things that could be in my house right now if I gave up the cash:
6) Vintage Christmas Santa ::heart-eyes emoji:: – Price: $30
It's Christmas in…well, August now. There's a few issues I have with this one that I'll get into in a hot second. First, let's gaze into this "vintage" monstrosity.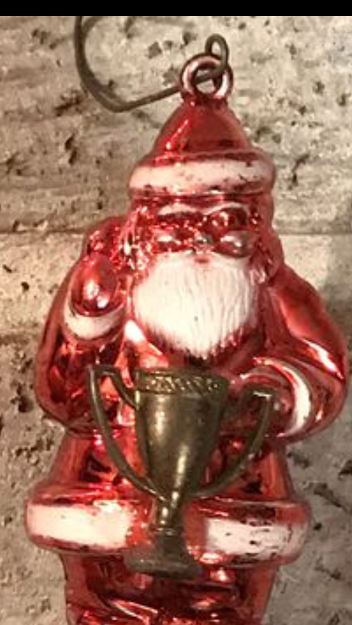 Okay, first let's talk about the obvious…red. ALL red. Not his nose "like a cherry", the whole amorphous T-1000 gel of a Santa is red, apart from his white trimmings and beard, and black boots. As we begin to take it all in, we realize the awkwardly shoved trophy glued into his hands and finally notice that our eyeless Santa is a literal trophy.
And no one could be prouder of this baby boy than Santa, clearly.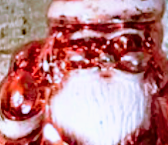 Apart from that, you're to hang this on the tree with that meat hanger of a hook up top that will probably not cause any kind of tetanus strain from the 1950's.
For $30, you can celebrate any baby boy in your life, as long as he's the World's Greatest…
How much I'd actually want it: 1/5
How obliging my glorious spouse would be to have this in our home: 4/5 (it only comes one time of year – zing!)
5) Kurdt …? $27
I believe that this one is a puzzle or is cursed, so let's be cautious not say its name three times.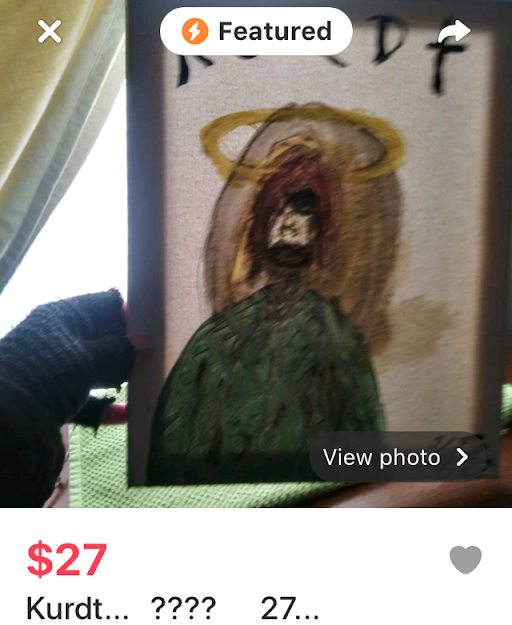 So, not even the person selling it has any advice or description to encapsulate Kurdt. Is it a dog with a halo? A werewolf with an unfinished sombrero? Perhaps an undecipherable code from the Vatican or extraterrestrials (just kidding, they play for the same team).
Whatever it is, it's a conversation starter for the low price of $27! Maybe you and your guests can finally unravel the mystery and put the sweet spirit of Kurdt back to rest–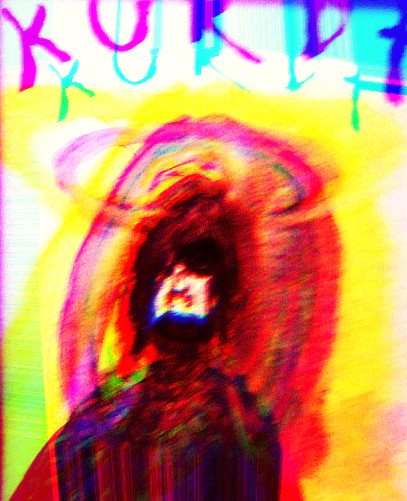 Oh God, it's been activated!!!
4) Clown Tape Holder $5
Picture this: you love clowns. You cannot and will not get enough of them. You would marry every embodiment of a clown if it were feasible, legal, and fiscally responsible. You want them everywhere in your life and then one fateful day you spot this happy little chap.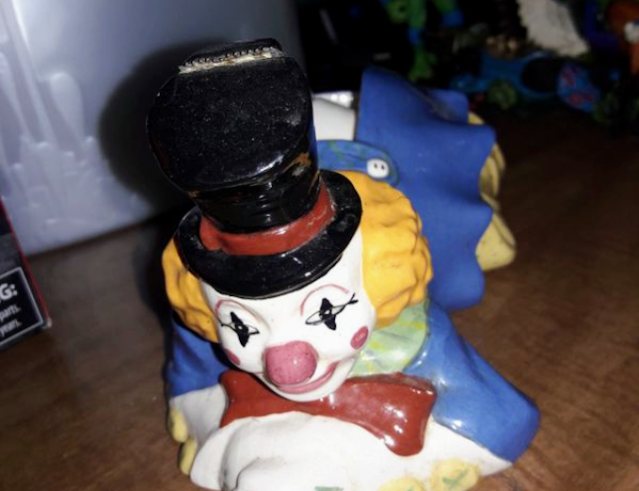 Look at him playfully kicking up his feet like a lazy teenager, smiling away the hours. Delightful fool!
But...sigh…you already have so many. How could you justify bringing one more happy, horrific joyful painted face into your world? If only it served another purpose!!!
But what's this???!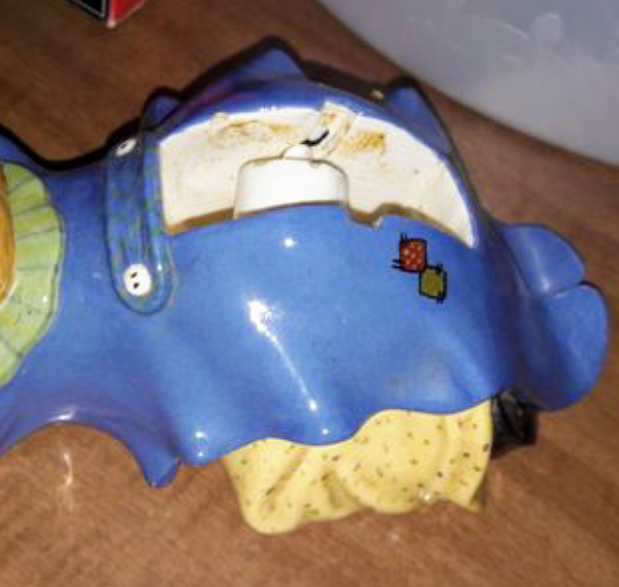 Yes! You can pull tape from his threadbare, gaping anal cavity! What a delight!
Someone had you in mind when specifically hand-crafting this clown tape dispenser. Now you can pull out sticky strips of off-brand tape from his behind to your heart's content while staring, lovingly, into his cold, dead eyes.
A happy ending for all, indeed.
How much I'd actually want it: 1/5 (f*** clowns, man)
How obliging my glorious spouse would be to have this in our home: 4/5 (small and practical)
3) Jesus Porcelain Doll for Repair. Inspirational Collectable – Price: $60
Sure, you may have a vintage inspirational creepy portrait of Christ, but what if you need a little extra push for that holier-than-thou war you've got with Helen from across the street? You know, Helen, with her antique claw-foot Bathtub Madonna. Yes, you need an inspirationally creepy edge, too, and this is just the ticket.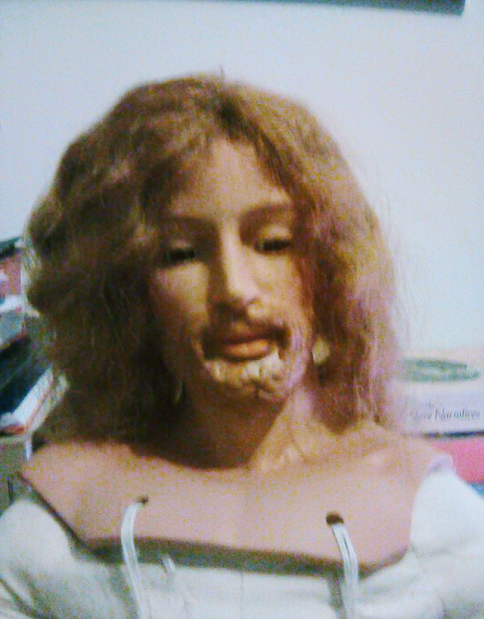 The description post also rings inspirational and not at all like something found written in a serial killer's notebook,
"Let the little children come Titus Tomesco mohair. Broken shoulder plate back portion. Otherwise good clean condition. Non smoking, pet free home. 15" from head to kneeling position, 19" overall. Comes dressed in shroud, garment, robe."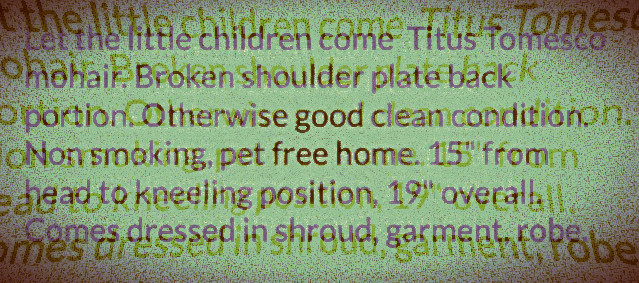 There's only one picture to encompass all of his Pantene Pro-V tresses and…off-putting ceramic beard, so there's not much to work with. We do not get to see his "shroud, garment, robe", nor his kneeling position. And for a broken Jesus doll that's worth $60, I want to at least see the whole kit and caboodle.
How much I'd actually want it: 2/5 (I'm good)
How obliging my glorious spouse would be to have this in our home: 1/5 (doesn't like hairy dudes, sorry)
2) Heather Doll – Price $50
"Clowns and dolls", as grandpappy used to say before jamming more slugs into his double-barreled shotgun, "that's what will destroy us if we don't watch out."
So, this doozy of a doll is guaranteed safe, though. Just look at her: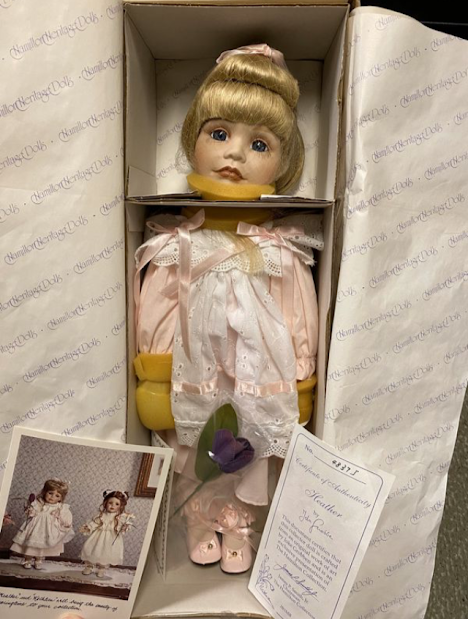 As the description says, "A fine porcelain doll sculpted by Jake Grobben. Box is a bit tattered, but doll has never been taken out."
It shows.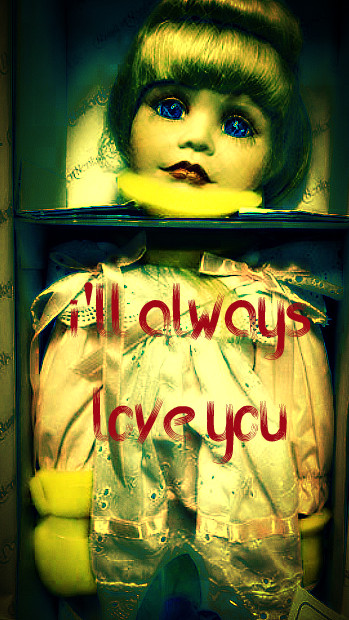 Yes, folks, you can sleep easy knowing this Squawky Tina has been locked into the box for maximum security. No demon-dolling around at night for her!
A fine, protective mesh encompasses her head to eradicate any eye beams or net any fangs. Her hands have been bound tightly at her sides under thick pads of gauze. Her neck is encapsulated and weighted to the box, but her eyes still spark defiance and a little head-tilt that edges a dangerous dare to let her out…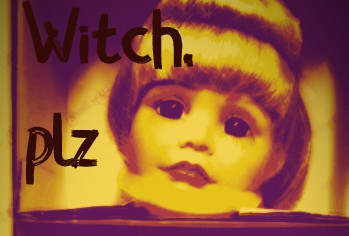 She even comes with official papers, letting you know how many people have succumbed to her porcelain clutches. Heck, she even arrives with a flower to place on your grave. Forward-thinking!
How much I'd actually want it: 3/5 (I'm up for a challenge)
How obliging my glorious spouse would be to have this in our home: 2/5 ("You'd take it out of the box, right?")
1) Authentic Mexican Masks – Prices Vary
HO.
LY.
SHEEEEEEET.
I've hit the mother-lode. Sweet baby Huitzilopochtli, LOOK AT THOSE!!!
I mean…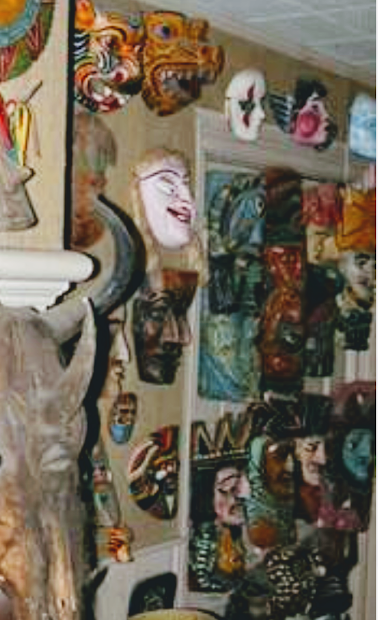 Do I even need to say anything? The ad lists that there are over 50 masks in varying prices, and are "like new" from Mexico. Barely any blood from the last victims on them at all!
How much I'd actually want it: 5/5 (did you look at the pictures???)
How obliging my glorious spouse would be to have this in our home: 4/5 ("I'm not driving there and they're weird, but you can put up whatever you want in your study.")
So…guess who drove an hour one way to get a mask?
Pfft, not me……….
I drove it to get two masks!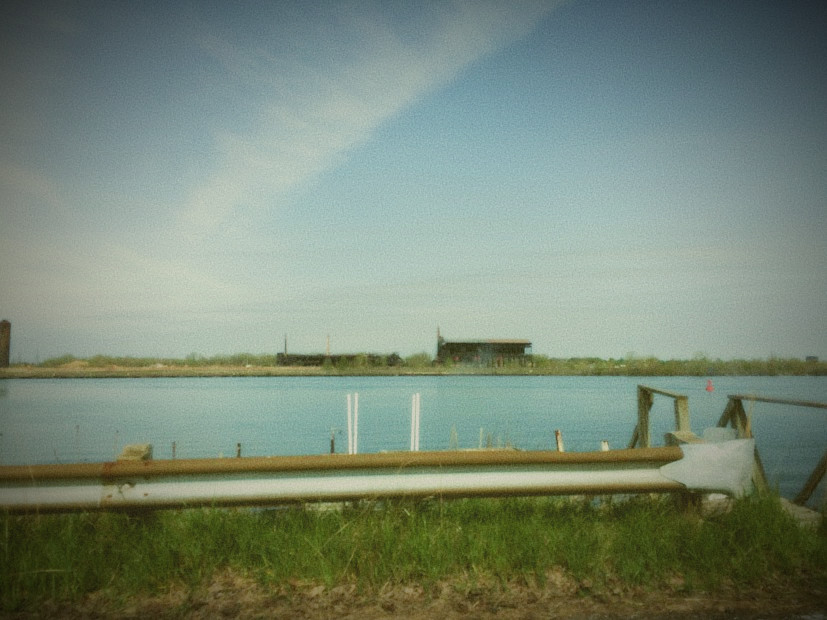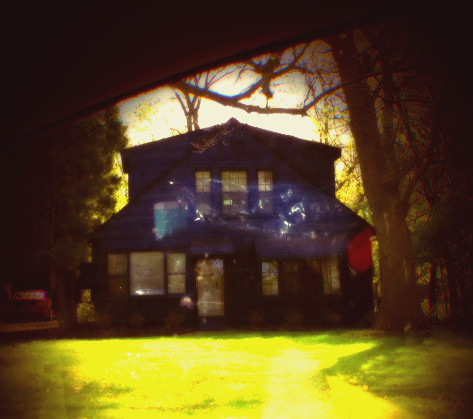 That's right. Something in the Virtual Garage Sale of Horrors caught my eye and I gave up my human money for their beautiful charm. Are they haunted by Mexican ghosts? Only time will tell…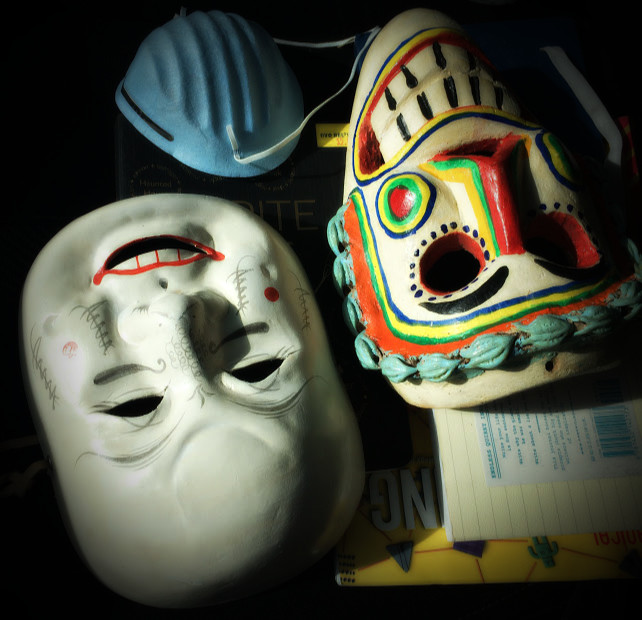 Eye Drawing You: Yet More Art by Jennifer Weigel
In our last installment of the art show preview, the eye drawing has it… All-seeing works by Jennifer Weigel go to show you gotta watch where you look. I'm a little obsessed with eyes, so they appear in a lot of my art, especially the more surreal the circumstance. Here are a few that have found themselves in odd and unusual settings…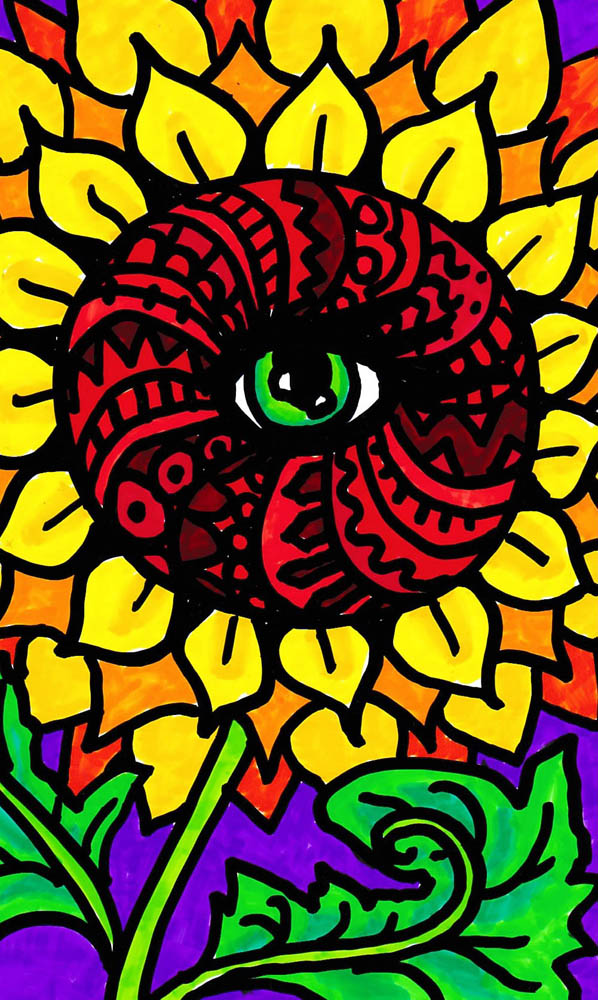 We're still watching you, in full spectrum Technicolor psychedelia. Eye drawing sunflowers stretch their petals and blink into the sun… The little Eye See You drawing is one of my personal favorites.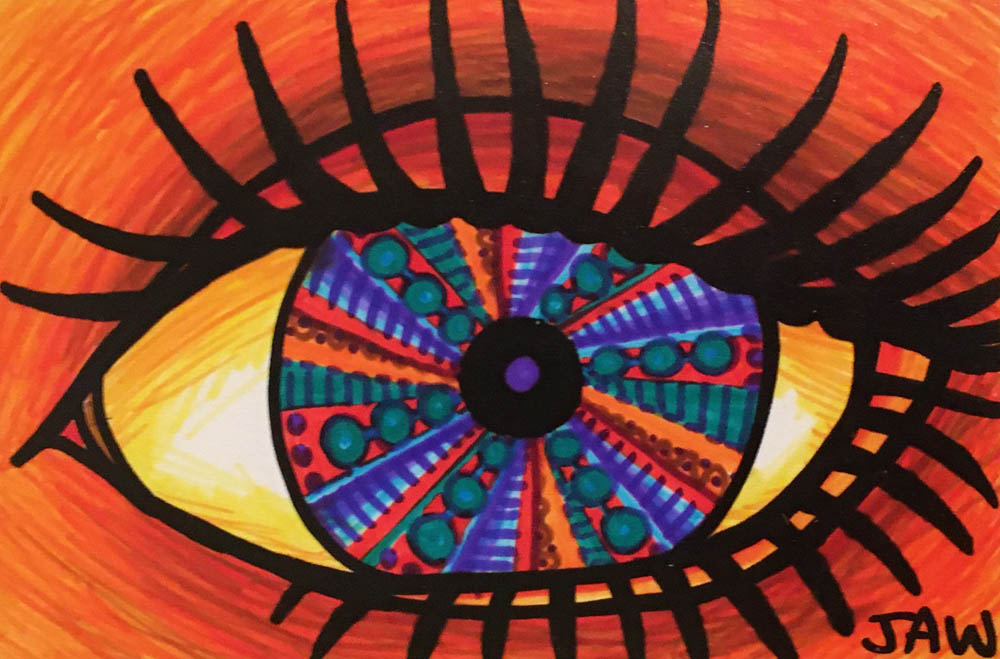 I had so much fun drawing this with Art Girls Reality Meg Graham and Day de Dada in one of the mandala gatherings. The big Sunflower Vision above also happened in one of these online groups. All of my mandalas have eyes, it just kind of happens…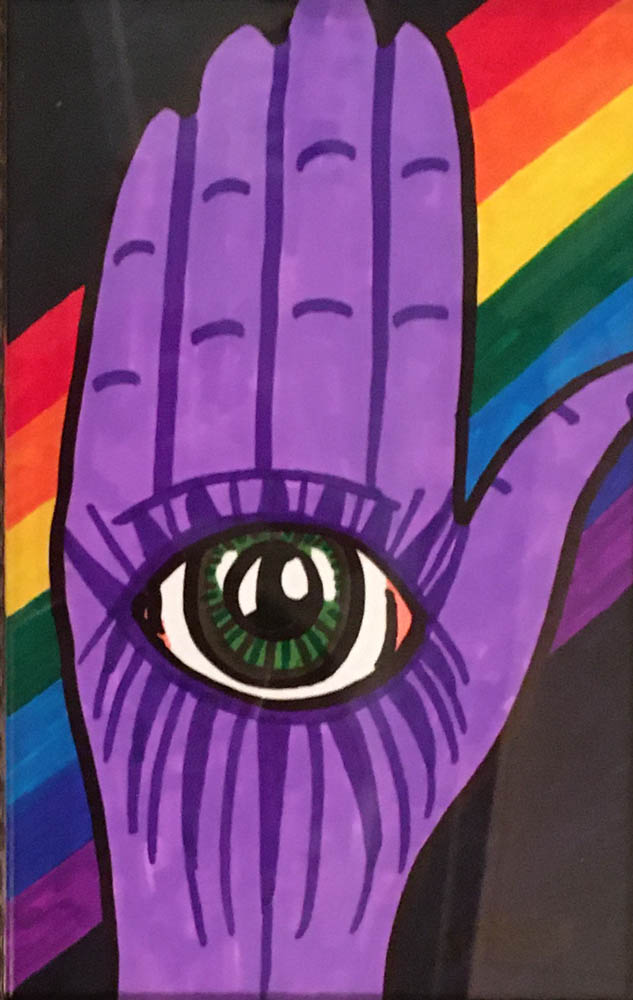 No spiders this time, so we'll close with a rainbow Hamsa warding sigil eye drawing. The hamsa or Hand of Fatima is an ancient symbol that protects against evil and negativity when facing upwards and brigs prosperity and good fortune upon its wearer when turned the other way. It is found in spiritual, religious and cultural beliefs throughout the world in various forms. I included it previously in one of my walking sticks. My version is fairly Goth-punk influenced with the huge central eye and running mascara, but seriously would you expect any different?
Feel free to check out more of Jennifer Weigel's work here on Haunted MTL. Or on her writing, fine art, and conceptual projects websites.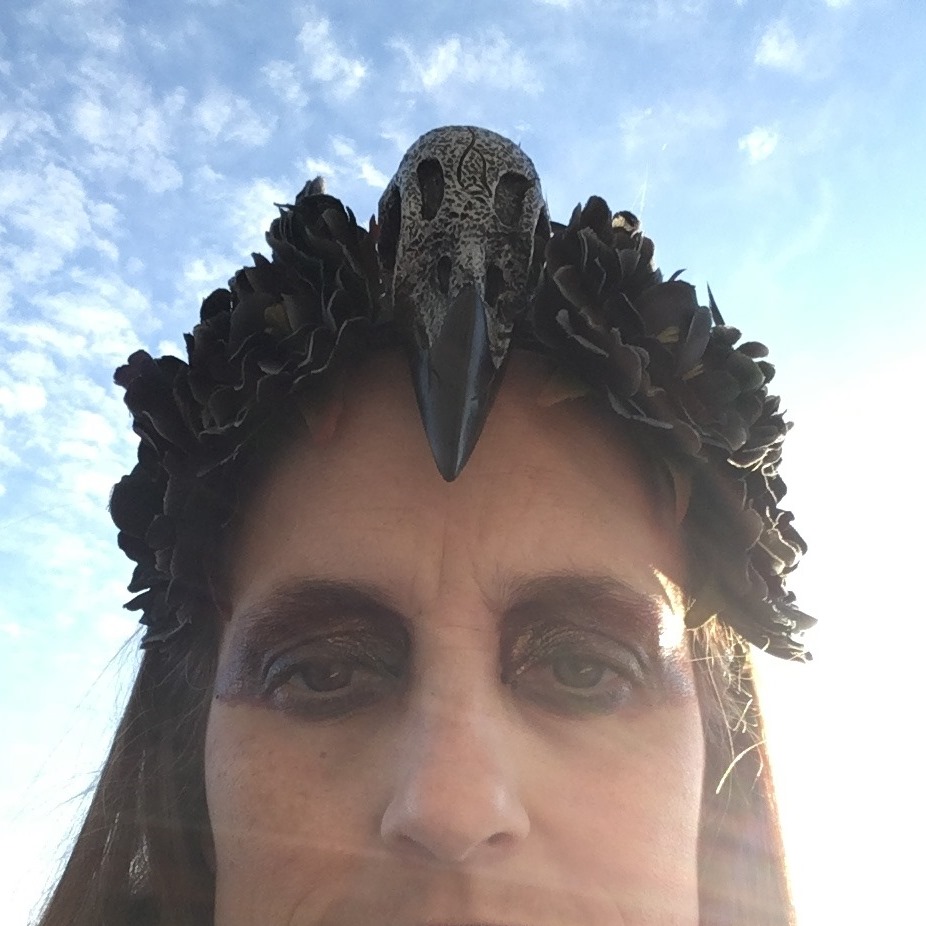 More Marker Drawing by Jennifer Weigel
And we're back! Here's more marker drawing from Jennifer Weigel, continuing our exclusive preview of works for her upcoming show… This time we're diving into full spectrum Technicolor!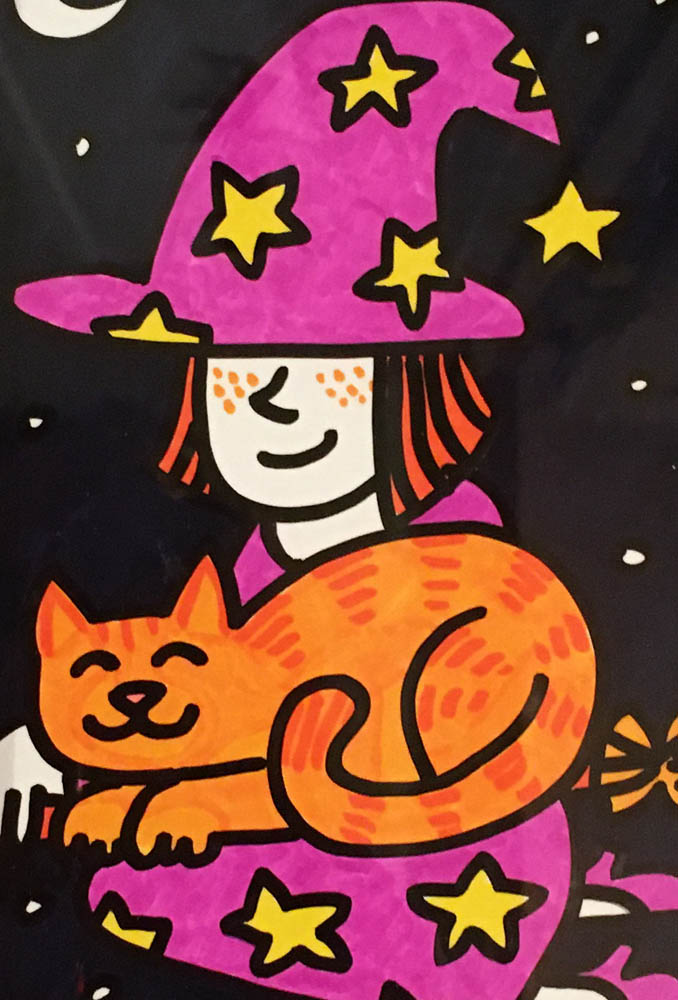 This Little Witch and her tabby cat wanted to kick things off with a fly-by hello. They're bringing the witchy magics from the last post. That's a crowded broomstick, but what a way to ride in style. Funny how cats always seem to fill whatever space is available to them, especially while lap-napping.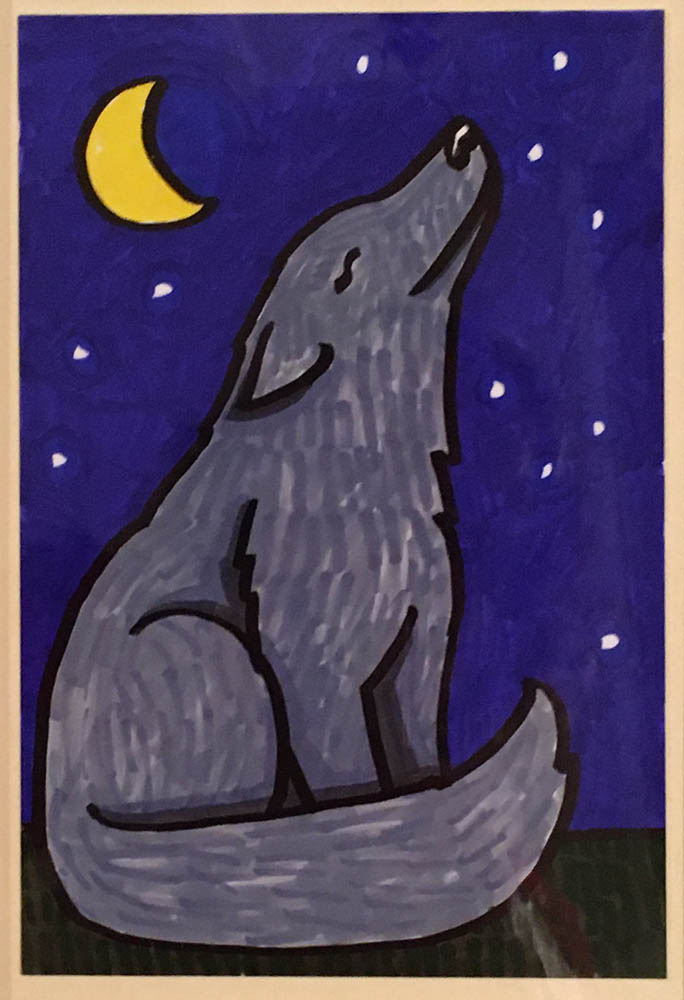 It's a perfect time to howl at the moon in this Night Watch marker drawing. Such a happy lycanthrope. He's setting the night to music, a capella werewolf-style.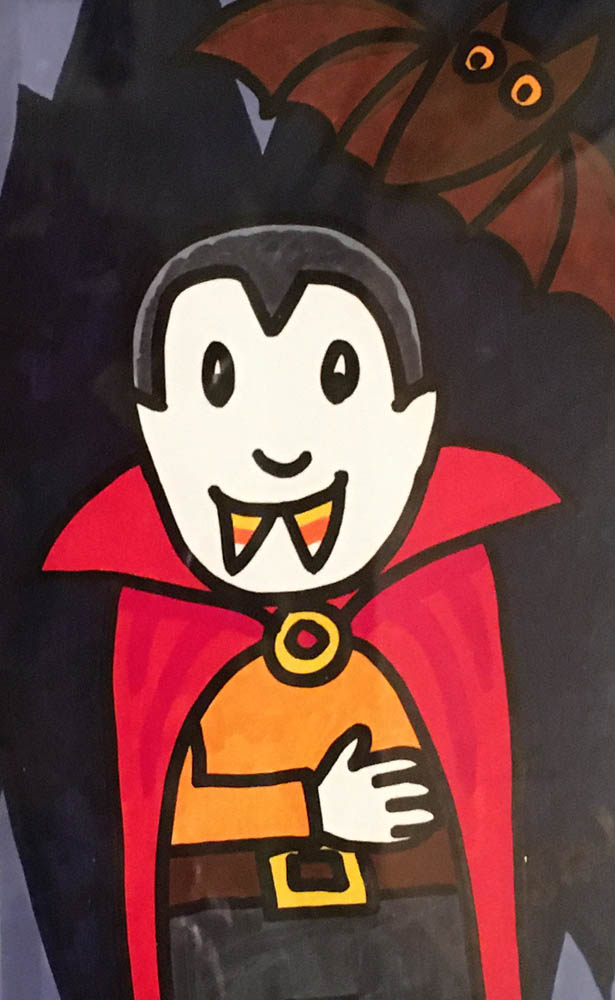 The cuteness just cannot be contained in this Candy Corn Vampire marker drawing. I vant to suck your sugary soda. I used to take great glee in doing this with candy corn as a child, to my dentist father's chagrin. It's every dentist's nightmare. Or $$$ depending on their personal motivations, I suppose.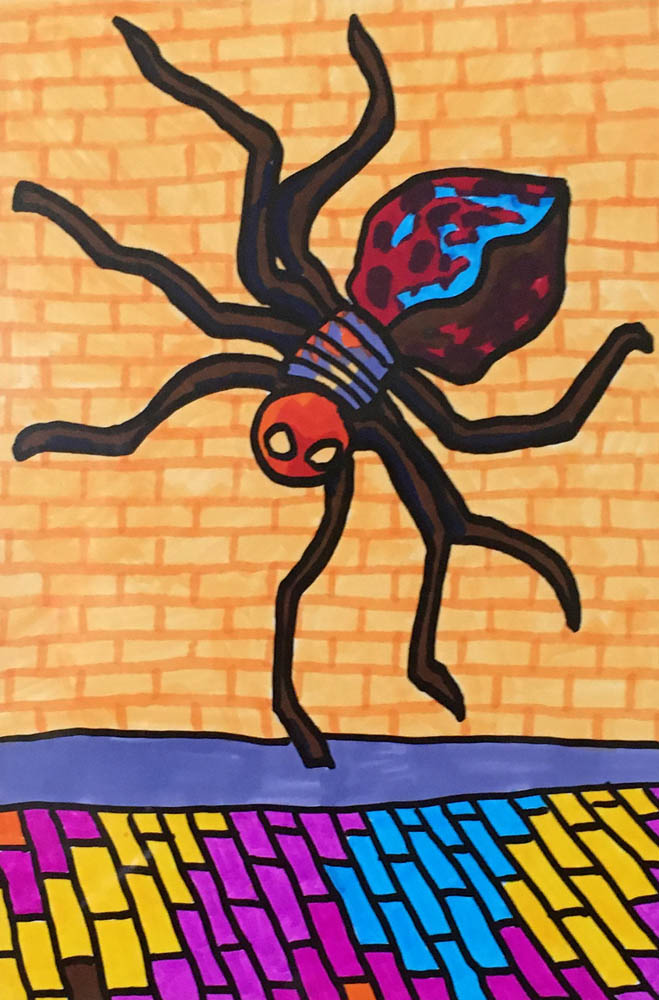 And why not end with some more spiders? This is a plein air drawing done in situ based off of this fun sculpture in Wichita, Kansas USA. You can see the finished drawing and its inspiration here. This spider is HUGE! Made out of metal and rocks and other crazy stuff…
Feel free to check out more of Jennifer Weigel's work here on Haunted MTL. Or on her writing, fine art, and conceptual projects websites.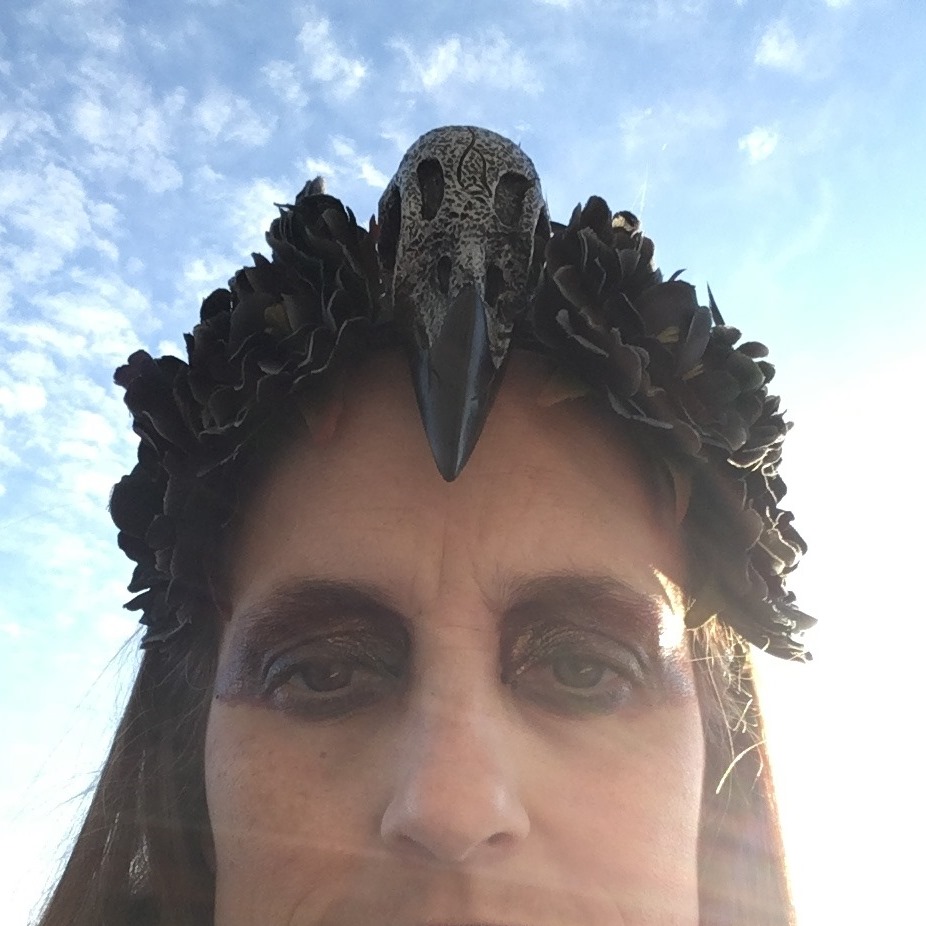 Some Bewitching Line Drawing by Jennifer Weigel
This month we are going to explore more fun marker art from Jennifer Weigel, starting with black and white line drawing. Jennifer is getting ready for her big Life Is Brilliant solo show in March and has snuck in a few spookier themes, so she wanted to share them with you here.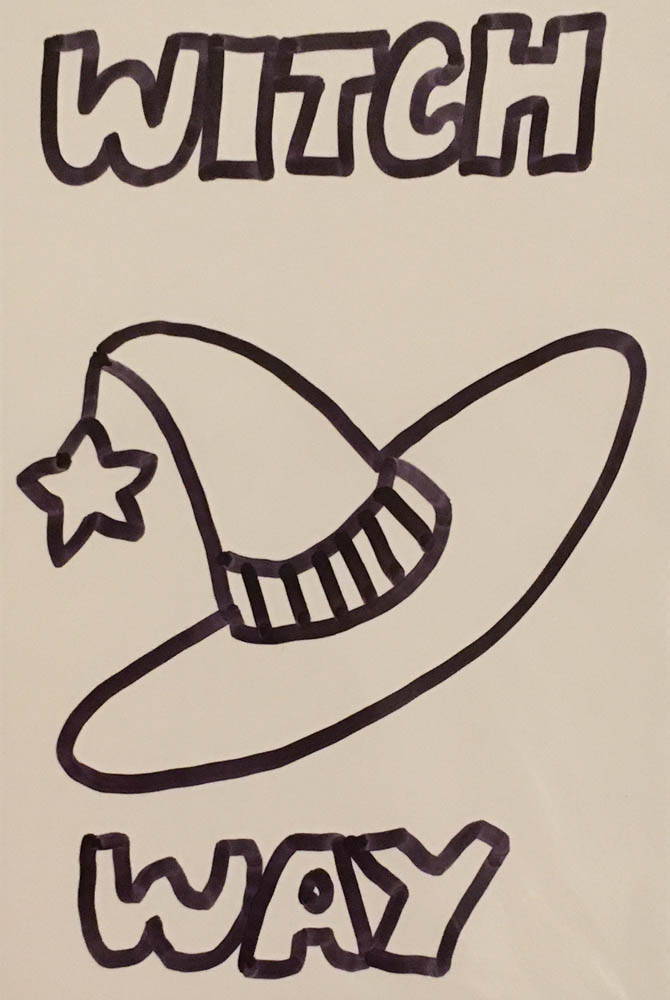 The magic is strong in this Witch Way line drawing with its fun witchy head-topper, complete with striped hat band and star dangle. No self-respecting wizard's ensemble would be complete without it.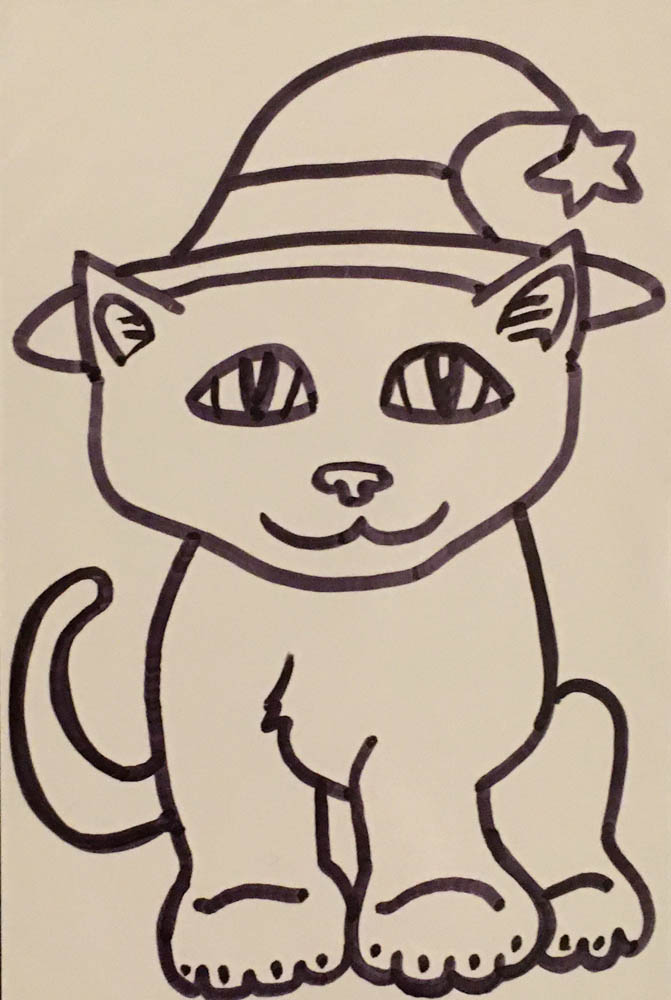 And now the adorable Kitty Witch will don the Witch Way hat and cast a spell of cuteness on you. You gotta wonder just how the hat stays on but best not to question these things. We all know it's magic…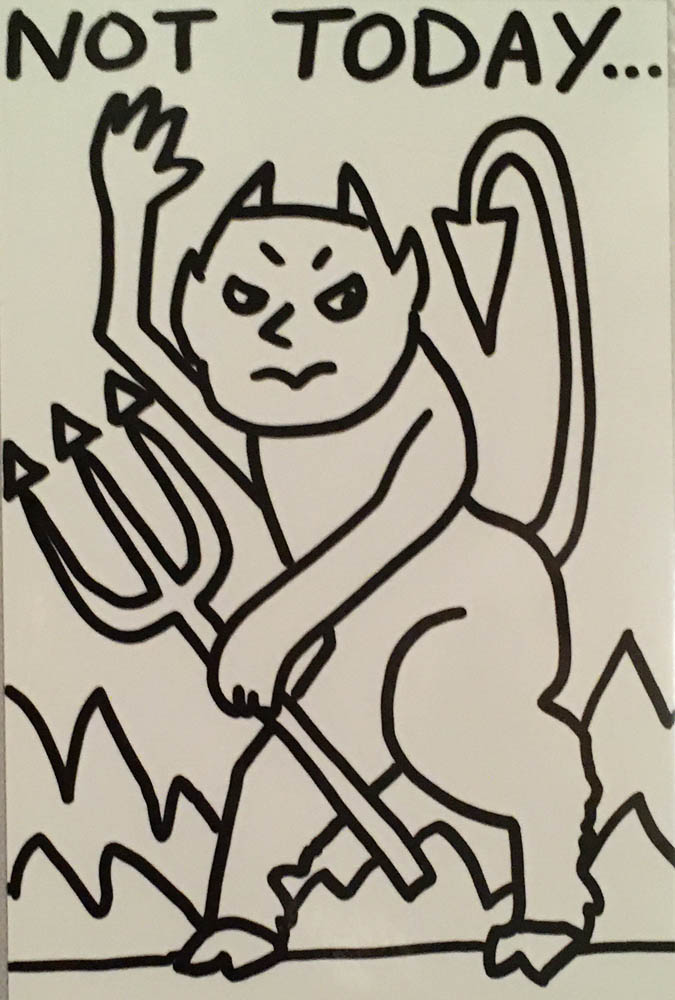 The devil is in the details in this Not Today Satan line drawing, and boy is he pissed!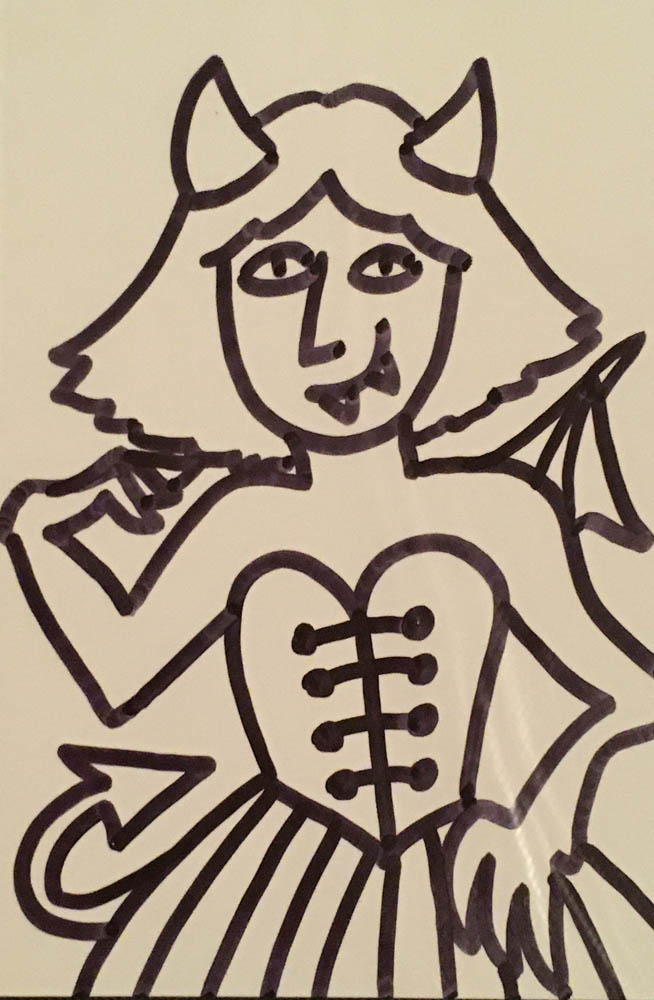 This She Devil is just plain goofy. Maybe she's coyly playing innocent; it's not a look most devils can pull off, seeing as how innocence really isn't their schtick…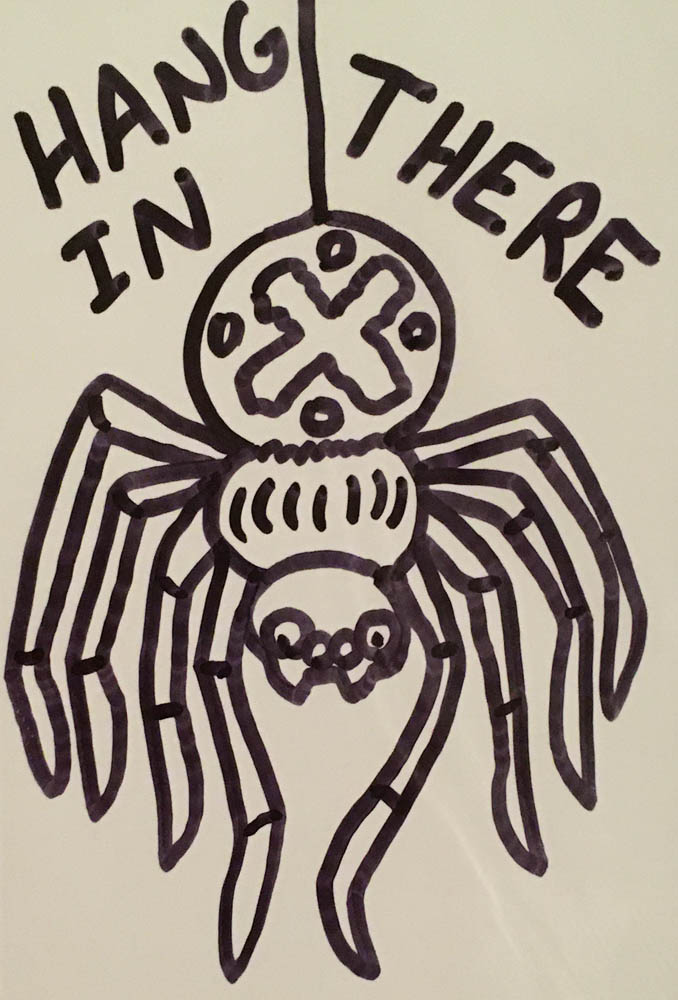 This little spider came down to your tuffet to remind you to Hang in There. She is very well-intentioned and is only looking out for you. I guess maybe she's not so little though, she is an Argiope after all…
Feel free to check out more of Jennifer Weigel's work here on Haunted MTL. Or on her writing, fine art, and conceptual projects websites.