Back in its heyday in the 80's and 90's, the mall was bustling with all kinds of activity, mostly teens hanging out, browsy shoppers with or without kids in tow, Red Hat ladies and similar coffee clutches, and working professionals meeting for casual hookups or lunch dates. Packed shoulder to shoulder at the holiday rush, the mall itself let out a long audible sigh of relief once the Christmas returns finally fizzled out, the temporary stores closed, and the seasonal staff dispersed.
But now the mall was a dismal place. It had fallen into a state of disrepair and featured more advertisements to rent or lease space than actual stores. More than the bathrooms smelled like piss and the once well-maintained tile floors looked as if recently unearthed in a minor archeological excavation. The food court was closed and the remaining benches and tables had been mostly removed "to discourage transients". The casual hookups were of a different, seedier sort, and the bathrooms were not places where many wished to linger long. The few people who worked there seemed drawn to the solitude of it all and stood back and watched any intruders into their territory with hollow vacant stares. Some shoppers still came, but they were fewer and further between.
Yet the mall still retained some vestiges of its former self. There was still a minor holiday rush, especially where games and calendars were sold, though even that was dying out as more and more of it went virtual and was just a tap away on a "Smart" device of some sort or another. There were kiosks vending mobile phones and body sprays and crystal talismans and those kinds of hair extensions that you wonder if they are made with real human or dog hair from unfortunates who disappeared to be harvested for parts. And, at the appropriate times, there were still costumed characters for family photos with all of the accustomed holiday décor leading up to the focus of a central often-velvet throne upon which a bored and exhausted adult would beckon children to and from their lap, surrounded by assistants helping to hoist the young bottoms into position, threatening their subjects to smile in as eerily cheerful sing-song manner as possible, snapping a photo at the most opportune moment, and cleaning their costumed adult lap of vomit and excrement between visitors when necessary.
This time, the mall was decorated for Easter.
At first glance, it seemed those people who made money during the holidays dressing as Santa for rushed photo shoots in which kids ask for footballs instead of Red Rider pellet guns, and all of their entourage, still needed some means of making a buck. Or maybe the parents just wanted an excuse to dress their kids up for the season and plop them onto the lap of a total stranger in a crude creepy bunny costume for a timely photo of them screaming at the tops of their lungs and begging to be taken home. It was tradition after all, and they had turned out OK. Besides, who doesn't love a strong reminder that your parents could abandon you to the horrible nightmare terrors of long forgotten folklore that are now only spread through screaming childhood photos? "You'd better eat your broccoli… or else…" And yet, the rhythmic return of the costumed characters signified so much more.
When Clara first remembered encountering The Bunny she was two. She had nightmares about the incident for weeks afterwards and promised to be good, begging her parents to never take her back there again. It had worked for a while, but then the year came and went and she relaxed her guard, and the season turned once again to chocolate rabbits and jelly beans and starched scratchy Easter dresses. And so they cycled right back to the mall to return to The Bunny, again and again. There were even photos of her with The Bunny from before she could remember – a small and limp baby-doll child staring wide eyed in disbelief at the looming hare.
Now she was six, and here they were in the same line for The Bunny, who always smelled a little like shit, vomit and stale beer, and even more so like musty dried lavender, creepily staring at her through those hollow red eyes…. She begged and pleaded with her mother to just leave and said she was sorry for throwing a fit at the toy store the day prior when she didn't get the Pop Starr Glam doll she wanted. (She'd even held her breath but to no avail.) She was dressed in her Easter finery for the year, another crisp looking ensemble with too much purple taffeta and white lace that simply wasn't practical for romping or sitting or even so much as thinking in. Her mother had spent more time than it could possibly be worth coiling her hair into spiral curls cascading over a pastel purple big bow headband before they'd left for here, and she had continued to twiddle with one stubborn flyaway lock of hair for most of the time they were in line.
Little did Clara realize that her parents were actually doing her a favor.
It was crucial that they come, and that Clara was dressed for the occasion. The Pact was several generations long. It pre-dated the mall when Santa and The Bunny had appeared in the larger big box window stores, like Woolworths back in the day. And the costumed ensembles had gone someplace else before that, though no one remembers the name of it now. It all began when Santa started coming annually, with the photo shoots and The List. Shortly after Santa came The Bunny. There had to be a balance. Something needed to offset The List…
Clara's eyes started to well up with tears as they moved forward in the queue. Terrified children cried and screamed before her; some even broke loose of their parents' grips to try to make a break for it only to be thwarted by The Bunny's assistants, who were dressed as bulbous pastel Easter eggs with chicks popping out of them. Clara's mother studied her intently, straightening the folds of Clara's dress and reaching in her purse for a tissue to wipe Clara's face clean of the tears and vestiges of dirt, perhaps with just a touch of mom spit to get those stubborn smudges. There was only one child left between them and The Bunny, a younger boy dressed in a pastel blue suit with a yellow bow tie. He actually seemed to look forward to seeing The Bunny and eagerly climbed upon its lap like some kind of sellout automaton, grinning from ear to ear for the camera and clutching his chocolate rabbit like a treasure he had won. He had earned it, that's for sure: that prize and the aftermath of envisioning The Bunny as you bit off the ears and broke the chocolate into bite-sized bits to devour at your discretion was the only bearable thing about this whole experience.
Clara's mother discussed photo packages with one of the egg chick attendants and settled on one that included enough wallet size pictures to send to all of the aunts, grandmothers and church ladies, just to be certain. There was no real need for larger pictures, especially when digital copies were included as part of the package deal. To ensure that The Pact was fulfilled for the year, photos had to be distributed and affixed to refrigerators far and wide so that all of the family could verify the warding. Everyone would know that little Clara was once again proven safe from The List, an essential task for the parents of any child that struggled with minding their manners or following the rules, especially those pertaining to acting out in public. The picture perfect spring garb was an added bonus meant to appease the Great Old Ones who had started this racket before any of them could remember.
The List was a brilliant system…
The Great Old Ones enticed the children with all of the jolly old Santa fantasies so they could catalog and categorize each and every one, and they convinced the children to be willing participants in this process with the lure of gifts and prizes to be won for being good. The unsuspecting innocents flocked to Santa in droves to make sure they got on The List. The parents had gone along with it, to bring joy and merriment, to acquire some great holiday photos to send in Christmas cards, and to encourage their children to be on their best behavior. The threat of The List could sidestep an emotional blowout or even a full-scale falling-down-in-the-street tantrum, especially at the proper time of year. But as the parents began to understand the more sinister ramifications of the contract, they had been forced to reengage with The Great Old Ones to create a way out, and so The Pact was born and The Bunny began to come.
Clara tried to be brave. Her lip quavered as she approached The Bunny, determined not to cry this time. She was a year older, stronger and wiser. She could get through this. She solemnly climbed up on the rabbit's lap and faked a smile for the camera, eyes wide. She silently ignored the faint odor of old shit and vomit and the strangely ever-present lavender. But then, the overwhelm came.
It was never as apparent from afar, but from the vantage point of the rabbit's lap it became more and more obvious that The Bunny was not in fact an adult in a cheap ill-kept crude rabbit suit but was rather simply the suit itself, wrapped around a hollow void in space and time that seemed to scan the very essence of one's being. It was filled with darkness, dread and despair, and it studied its subjects intently, absorbing their every breath. Beyond the permanently superficial grin, huge red bulbous eyes, and the wired catawampus ears that framed the oversized stuffed head lurked something unholy and otherworldly that could not be understood or explained in any rational way.
Its presence was the sort of thing that children and dogs can sense unnervingly and that cats will commune with as they stare blindly at a closet door for hours on end.
Clara tried to be brave and held her pose for the camera, knowing that if she caved in to the fear, she would feed the void that was The Bunny within the rabbit suit, and then this whole thing would take even longer as the assistants glared, coaxed, waved, whistled and tried to force a smile out of her. With the flash of the camera it was over and Clara was hoisted again to the floor to sweet freedom, a chocolate rabbit talisman of The Bunny, and a long, quiet car ride home. She was getting better at this with every passing year for all that the realization of it still sent shivers through her skin and rekindled her springtime nightmares.
Her mother smiled and fingered the photos. Another year had come and gone and her daughter was secure. Only a couple more years of this and Clara would outgrow The Pact, and this annual nightmare would give way to others.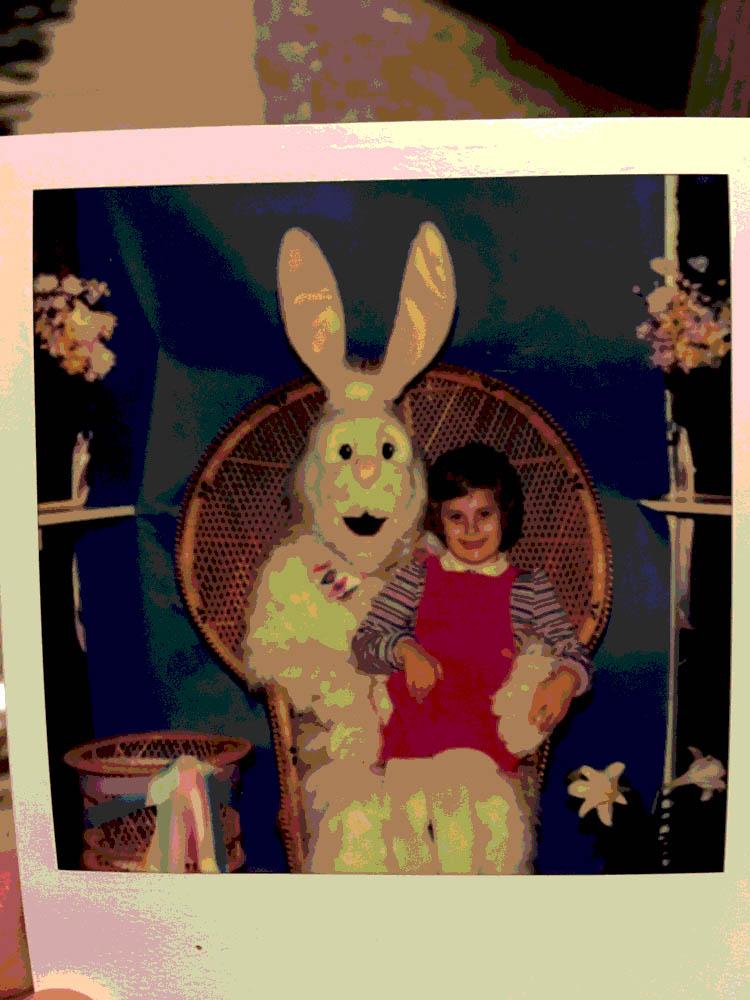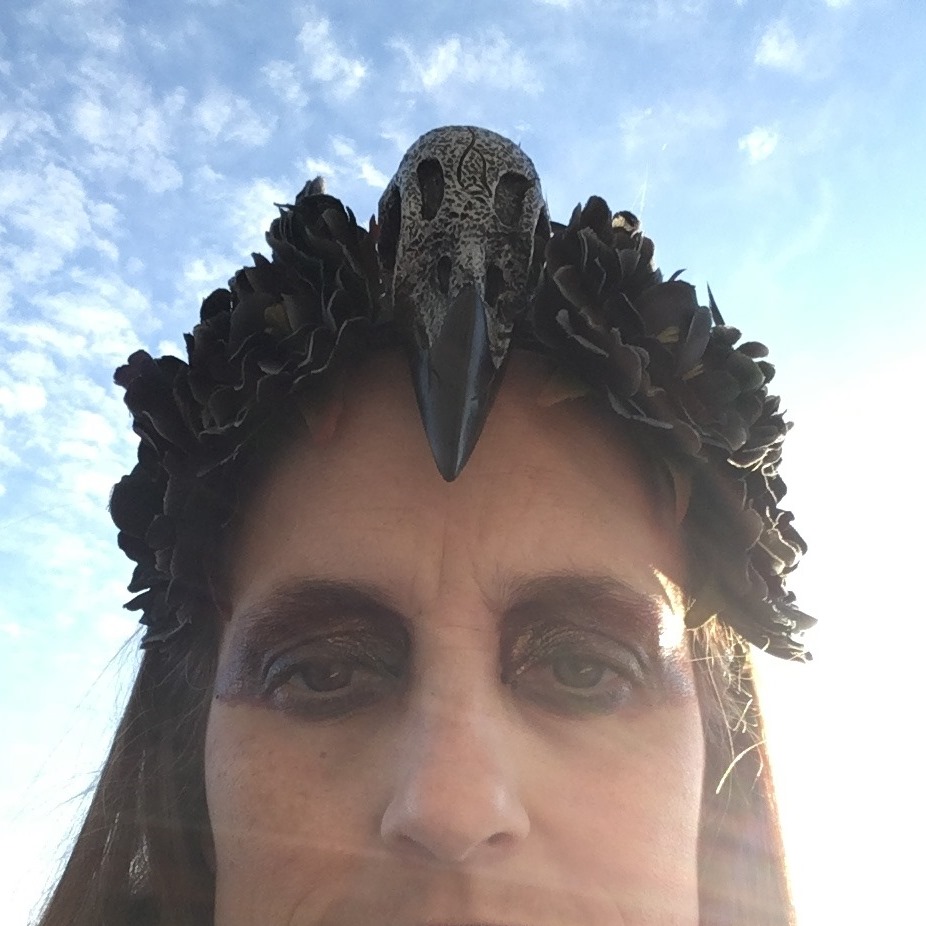 Revisitations: The Devil Went Down to Georgia
So I've been working on more painting into found art (as seen here before) and I thought I'd share a newer one, based on the song The Devil Went Down to Georgia by Charlie Daniels. But first let's make like my She Wolf post enjoy a couple variations of the song, shall we?
First we have Charlie Daniels, the writer of the song which was inspired by the beautiful poem by Stephen Vincent Benet titled The Mountain Whipporwill. You can read the poem on Your Daily Poem here.
Then we have to watch my favorite version, the animated music video by Primus. I know there are claymation-haters out there who find the effect bit too "uncanny valley" but how can you not just love those chickens?
Anyway, without further ado, here is my painting, incorporated into a found still life, original signed L. Harady.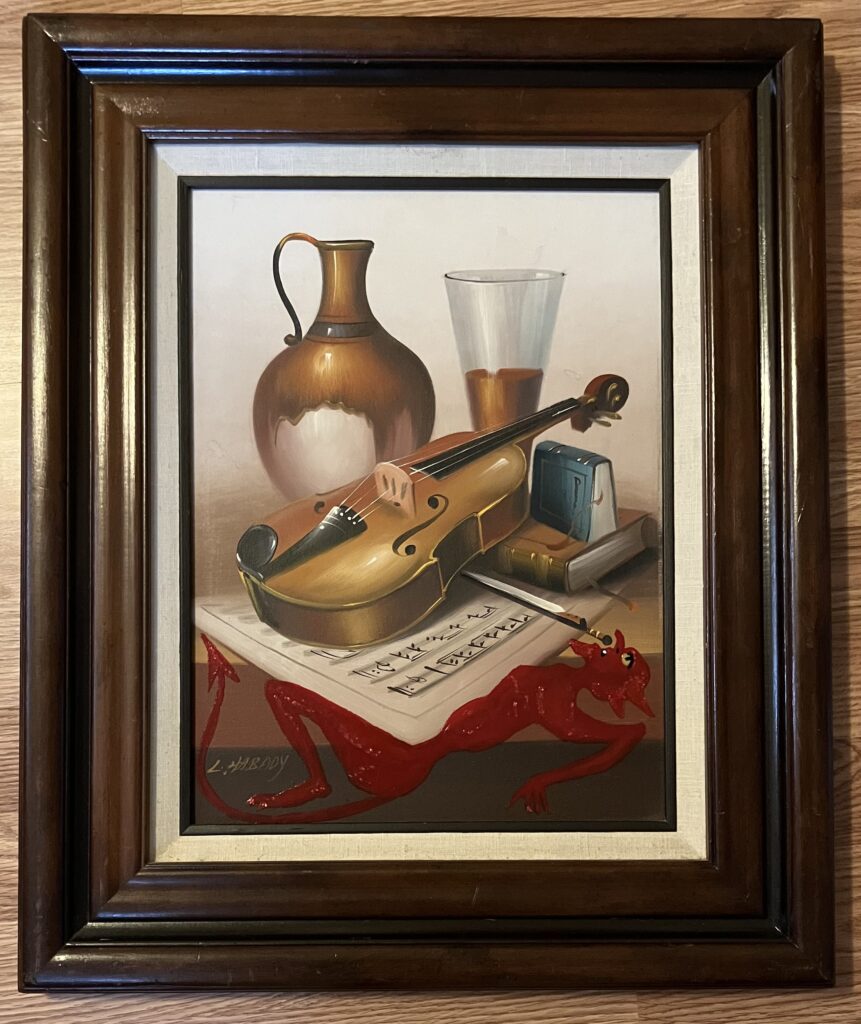 Here The Devil is defeated, crushed along the lower edge of the artwork beneath the fiddle and lamenting his loss. The bow jabs into his sneering nose as if to add insult to injury, but his eyes still glow, alight with the prospect of coming back for another round. (They actually do glow, I have acquired some blacklight reactive nail polish to use in these pieces now.) I suppose I may go to Hell for this portrayal (or for defiling yet another painting) but alas, such is the price of art sometimes. I guess I'll add it to the list…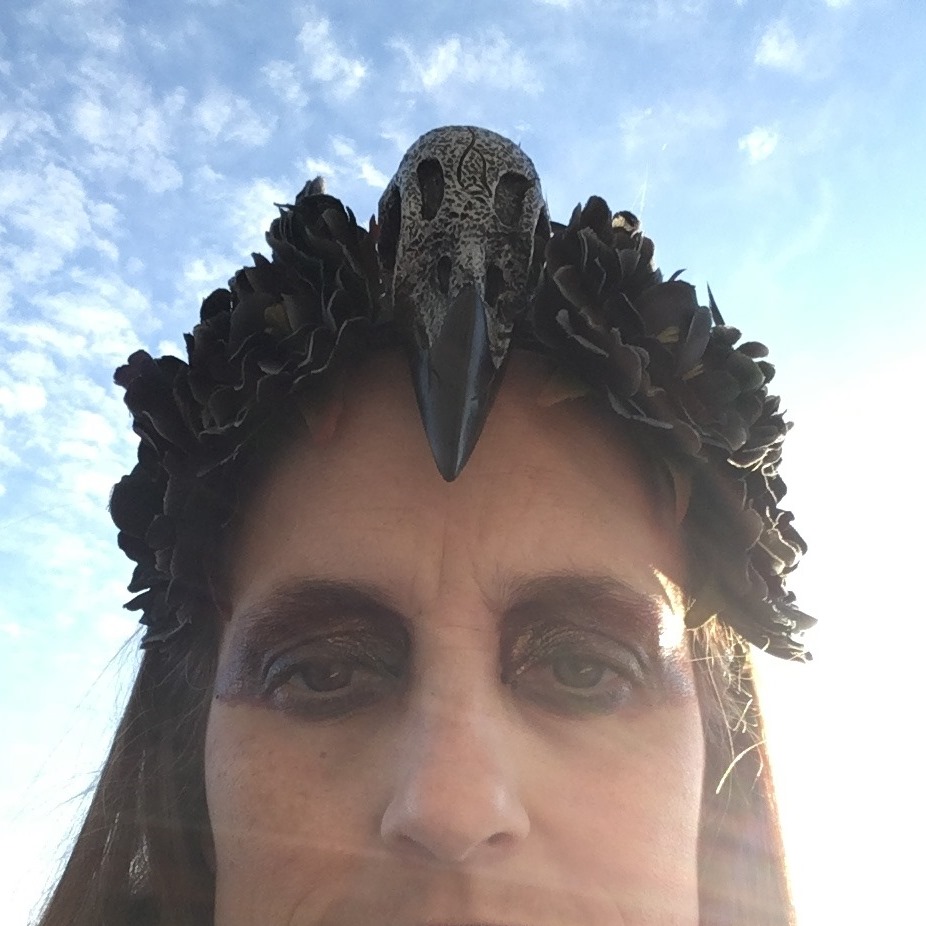 Feel free to check out more of Jennifer Weigel's work here on Haunted MTL or on her writing, fine art, and conceptual projects websites.
Cravings Part 2, story by Jennifer Weigel
If you missed the beginning of this pregnancy horror story by Jennifer Weigel, you can catch Part 1 here.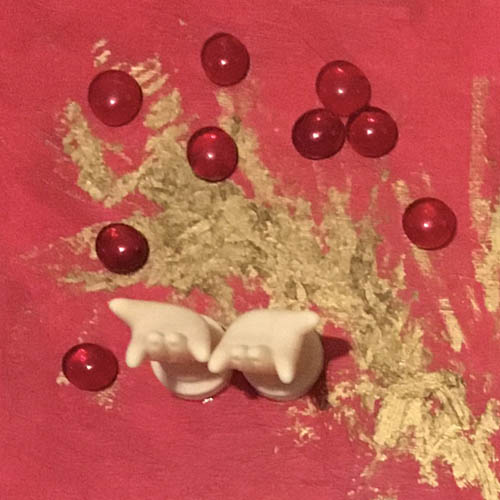 Jayden's stomach turned. Who or what was this creature standing before him, and what had it done with his wife? Claire proceeded to eat more than half of the jar of eggs in a fury of consumption; Jayden finally retreated to the office alone unable to watch any more. He heard a sloshing sound as she finished the jar and proceeded to drink the brine before retreating to the bedroom and crashing into their bed, presumably to pass out. Again. Later that night, he crept in to find her sleeping, clammy and sweaty, nervously twitching. Her body made the most abnormal guttural sounds as her internal systems groaned and sputtered. It was definitely getting worse. Jayden resolved to call Dr. Randolph the following morning; this had gone on for far too long already.
The next day, Claire awoke with a start from another bad dream that she couldn't remember. Crying uncontrollably, she clutched her swollen belly, still ripe with child, and hurriedly exclaimed, "Blood sausage! I must have blood sausage!"
Jayden woke from his curled-up safe haven beside her and muttered, "Wha… What is that? I've never even heard of such a thing."
"Go!" she snapped. "I'm starving. Go now! Return with blood sausage."
Jayden staggered over to the dresser, threw on some clothes, shuffled into his waiting shoes, and gathered himself to duck out the door in the well-practiced gesture he'd become so accustomed to. "I'll stop on my way home from work, I guess," he mused, making his own plans. Claire seemed to settle down a little as she woke further, but it was little consolation.
"Thank you Sweetcheeks," she said. "You're the best." She blew him a kiss.
While at work, Jayden managed to secure an appointment with Dr. Beth Randolph, Claire's primary physician since before he had known her, for later that day. He took off early and rushed home to gather his unwilling wife. She was going in, whether she liked it or not.
He opened the front door and peered inside. The house was dark and quiet, as he'd come to expect. He crept in and stole upstairs to the bedroom to rouse Claire from sleep. He'd tell her where they were going once he got her in the car, no sense in making this even more difficult than it already was. Unsurprisingly, there she was, a shadowy form hunched over in the bed, her back to him with the covers pulled up over her eyes. He peeled away the comforter and blanket to reveal a tangled mess of white knitted yarn; Claire was nowhere to be found. He looked around, trying to focus on the darkness of the bedroom that enveloped him. That unsettling feeling had returned, like he'd had at Maresh's shop, sinking into his gut. Claire was here idling, watching, waiting; he could sense her presence sizing him up as if she could read his mind and was on to his plan. But why was her company so disconcerting? This was still their house, their home, their lives intertwined… Jayden felt his trust ebb, spine tingling sensing danger.
"Hey there Sweetcheeks," Claire's voice echoed from the darkness of the closet. "Do you have something for me?" She emerged into the room, her eyes wide, frothing slightly at the edges of her mouth. Tiny bubbles of drool burst forth from her quivering lips and trickled down onto her chin.
"I couldn't find any… blood sausage… whatever that is," Jayden lied through his teeth. He hadn't even gone to the store. Claire should never have expected him back at this hour; apparently she didn't even know what time it was. But that seemingly wasn't a concern. She wasn't herself. Something about her fragile frame, the way she rocked from side to side, reminded him of that crazy old witch doctor Maresh. He finally managed to connect the two; it was as though she were possessed. It was imperative that she saw Dr. Beth Randolph as soon as possible, if for no other reason than to sever ties to that crazy old hag and hopefully start to snap out of it. He simply had to get her to that appointment.
"No blood sausage!" Claire shouted, becoming more and more agitated. "No… blood… sausage!" Her breathing became less regular and her body shivered all over as she hulked towards him. "I am sooo hungry!"
She lunged towards him, stumbling into his arms and collapsing towards his feet laughing maniacally. Jayden reached for her instinctively, to lower her to the ground gently, and felt something sticky and warm envelop his hand. Feeling lightheaded, he glanced down as he fell to the floor beside her. Protruding from his gut was a long silver thread, no something pointedly metal and hard, oozing thick oil sludge all around. Not oil, blood. His blood. Claire continued laughing, her lightning-fast fingers quickly and methodically ripping their way into his tattered shirt and worming around within his wounded frame to pull forth bits of viscera, which she wrung in her hands and smeared up and down her arms and torso. As Jayden passed out, she mouthed each of her fingers in turn, sucking the precious liquid off of them one at a time, before she began to feast on his entrails.
Claire's belly was finally full. The baby developing within squirmed and settled, as if finally satiated. She swiped a stray bit of flesh from her bosom, licked it off of her fingertips, and heaved a sigh of relief. Miracle Madame Maresh Meliasma was right; she just needed to get to the root of her cravings.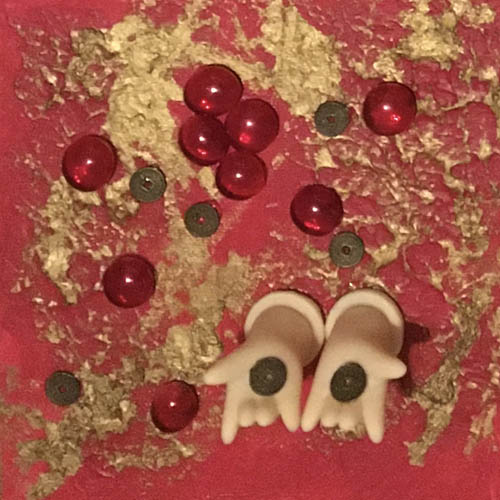 Feel free to check out more of Jennifer Weigel's work here on Haunted MTL. Or on her writing, fine art, and conceptual projects websites.
Cravings, a Pregnancy Horror Story by Jennifer Weigel
Here is Part 1 of Cravings, a pregnancy horror story considering darker cravings and changes in contrast to the glow that comes with the all-too-often toxic-positivity focus of carrying a child.
---
"Honey, I'm home," Jayden's voice echoed through the house like a bad 50s sitcom rerun for all that he didn't watch those kinds of shows. The callout seemed equally rehearsed and hopeful but harbored a hint of fear in the way his voice cracked that didn't bespeak Mayberry or the like. He waited for his wife Claire to greet him at the door. The house was still and cold with all of the heavy drapes drawn and no lights on anywhere. He glanced towards the dark bedroom where she must be napping, like the day before and the day before that, for weeks and months on end now.
Honestly, Claire hadn't been the same since she'd finally conceived, following that witch doctor Miracle Madame Maresh Meliasma's advice after years and years of trying to get pregnant. Now Claire was lethargic and succumbed to migraines, nightmares & morning sickness that kept her bedridden much of the time, screaming bloody murder because of her headaches if anyone so much as flicked on the lights. And she had barely even gotten into the second trimester. Jayden had read that it was supposed to get better but there didn't seem to be any improvement; if anything she seemed to be getting worse. He tried to get her to see her doctor about it but she snubbed the idea. "After everything they put us through, all those years of fertility treatments, the invasive procedures, the bills… No way. To Hell with modern medicine," Claire had retorted.
So now here they were, readying themselves for their first child. Maresh had foreseen that Claire would birth a healthy baby boy, and with all of the card readings, spiritual advice and herbal concoctions, Claire had fallen right in line, hanging onto the witch doctor's every word. Jayden was still frustrated she wouldn't consult with her normal doctor, but she instead visited with Maresh every day through Instachat online for about an hour and even invited the creepy old woman into their home once a week on Thursday mornings to supply fresh herbs, massage her aching joints and swelling tummy, and call forth healing realigning energies with elaborate candlelit rituals. Claire could focus on only one thing: anticipating the pending home birth and natural delivery of their firstborn child, still several months away.
Jayden wished his wife had never set foot in that weird alternative new age spiritual center, something about it had just seemed off. It wasn't the crystals or candles or psychic energy books that seemed to line every surface; he wasn't into any of that mysticism crap but it seemed pretty innocuous. He recalled small figures made of sticks, straw and mud, and giant Mason jars boasting exotic herbal remedies, and the lingering scent of something sickly sweet decaying, all of which was genuinely unsettling, but it wasn't really that either. There was something decidedly sinister about the place that he couldn't quite put his finger on, more caught up in the air surrounding and within the space itself. It settled into his gut like that feeling you get when you know you're being watched by some unseen far away presence or when you meet someone you know deep down has ill intentions. And Maresh herself was just as disturbing; she only ever addressed Claire and had not uttered a single word to Jayden in the entire time. In fact, she acted as if she looked right through him without even seeing him.
As days turned into weeks into months, Claire became more withdrawn and more obsessed about the baby. She never left the house, locking herself away in the gloomy stagnant nest and occupying herself with the remedies, rites and rituals that Maresh suggested. Oh, and knitting. Jayden hadn't realized that Claire knitted since he had never seen her do so before, but her hands were a frenzy of motion, whipping silver needles back and forth and pulling soft white yarn between them like a growing umbilical cord tethering her to the circumstance at hand like some sort of strange pregnancy lifeline. The so-called blanket she was producing grew larger and larger every day.
Jayden snapped out of his reverie to see his wife eyeing him from the hallway. She studied him up and down slowly, staring longingly at his body. She inadvertently bit her lower lip in anticipation, teeth striking flesh to cut forth a small droplet of blood. Her tongue eagerly danced across her pursed mouth and lapped it up before withdrawing again.
"Aw, what'd you bring me this time, Sweetcheeks?" Claire smirked; eyes alight with flame like a cat readying to pounce
She had been ravenous throughout the pregnancy so far, and her cravings kept getting stranger and more bizarre as time passed.  The other day, Jayden had fetched boiled shrimp, and she had devoured over 2 pounds of the mud-bugs in less than an hour's time, shell, tail and all, their little legs matted together like thick wet whiskers.  Today she had requested pickled eggs, the kind that they import from Europe or Dutch-country Pennsylvania in those big almost gallon-sized jars, stained pink with beet juice vinegar.  Jayden procured the giant jar of eggs from the paper bag in his arms.  Claire lunged at him and grabbed up the prize, prying the lid off in one fell swoop.  She reached in, pulled out a pink rubber-looking egg still dripping with brine, and shoved it in her mouth whole.  She hadn't even bothered to chew it before she grabbed another to meet the same fate.  And another.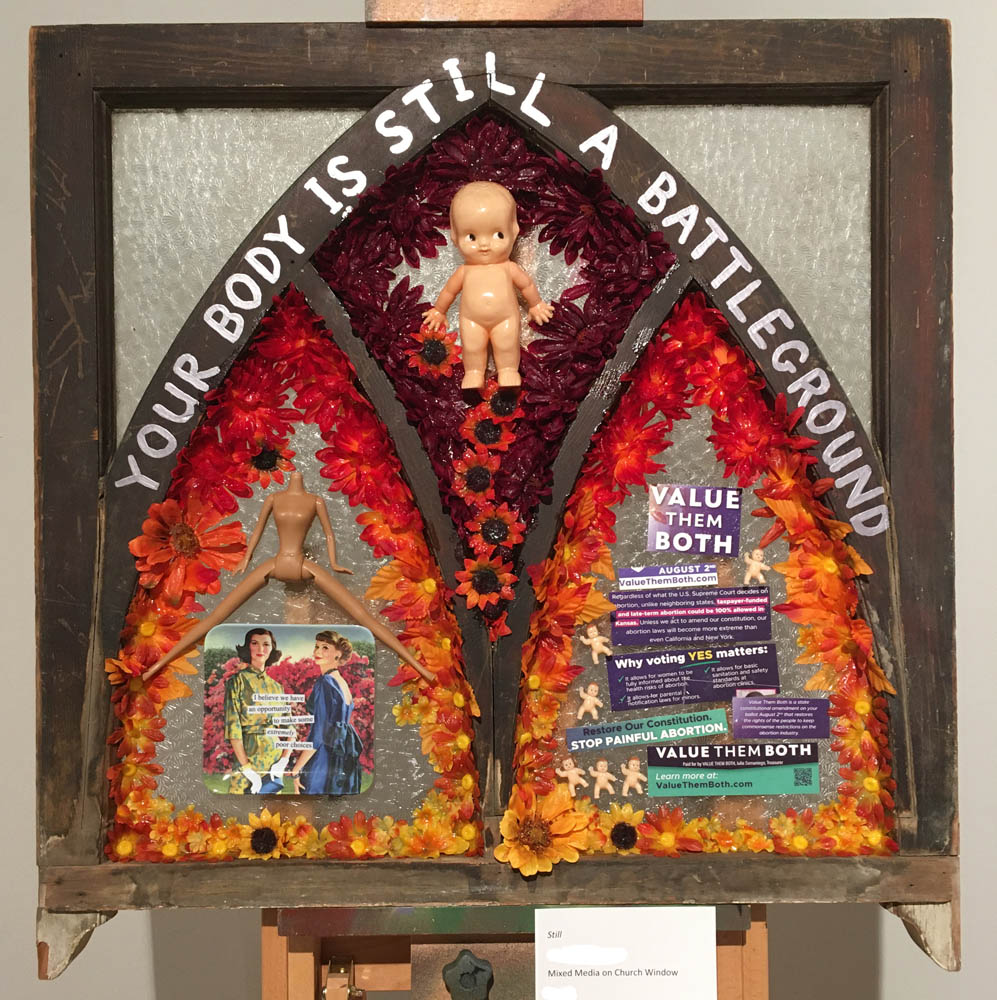 I hope you have enjoyed the first part of this story. Part 2 will air next time here on Haunted MTL. In the meantime, feel free to follow your cravings and order up some midnight munchies, or listen to this lullabye.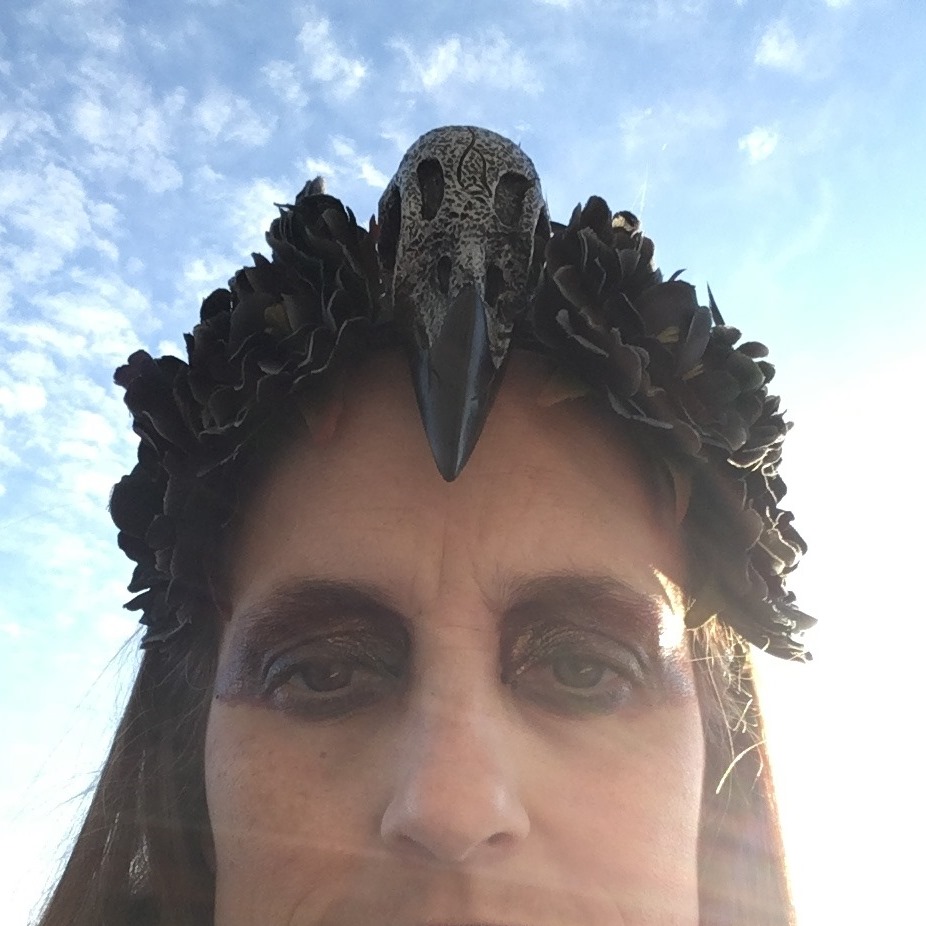 Feel free to check out more of Jennifer Weigel's work here on Haunted MTL. Or on her writing, fine art, and conceptual projects websites.