In 2020, Haunted MTL brought you the 13 Days of Krampus. Now we offer another exclusive series of holiday horror stories: The Twelve Nightmares of the Holidays. It's day (coughcoughcough) of 12 Nightmares of the Holidays. If you missed it, check out the others so far: here for Jen's, here for Nicole's, here for Phil's, here for T.T.'s, here for Court Court's, here for Eve's, and here for Nicole's.
This is a continuation of Christmas Dinner, which can be found here. It can be stand alone, though. It's a year after the events in the first story.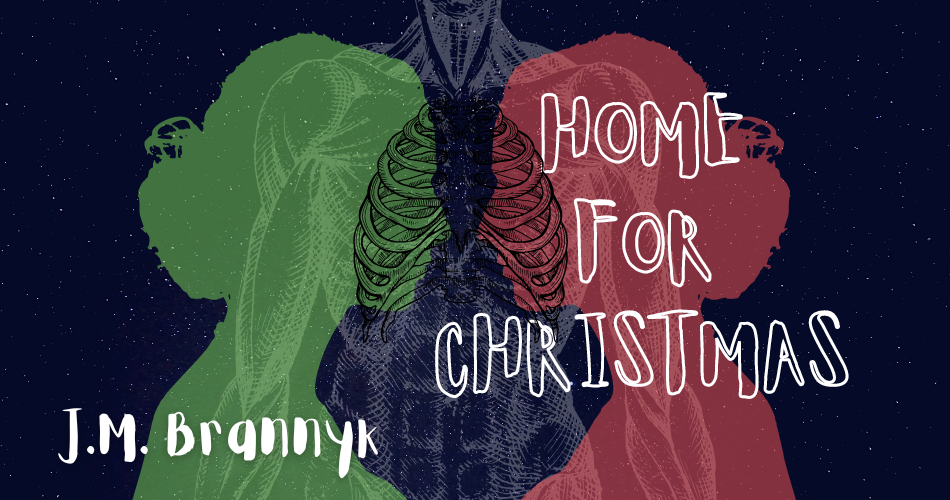 Christmas is about traditions and family. And Dr. Virginia 'Ginny' Kostyshyn is making up her own this year – frozen chicken nuggets for dinner every night, crying while playing Roger Whitaker's 'Home for Christmas' on repeat, glasses of Riesling wine while watching 'It's a Wonderful Life', and dodging Dr. Katherine 'Kate' Wright's texts.
Work is harder to dodge Kate, though, since they work in the same lab, in the same office and on the same experiments. And Kate doesn't like to tiptoe and pussyfoot the way Ginny does. 
But thanks to Ginny's insistent avoidance and quietness, they've reverted back to last names. All while Subject 205 a.k.a. Greg, now an off-hand lab assistant, watches the situation darkly.
And he's not apt to get into other people's business, far be it from him, a year-old reanimated body. However, he has vague memories of last Christmas with Ginny. Fractured recollections of tinsel, eyes glaring at him, skin sliding off, mashed potatoes, Roger Whitaker…and Ginny crying as she stitched him back up.
He also remembers wiping away a tear and apologizing. For being who he is. For being what he is. For ruining everything like he ruined in his first life. And he recalls her hands being so warm, as warm as her smile, as she told him that they had nothing to apologize for.
And tonight is Christmas Eve, with Dr. Wright putting on her coat, coldly silent, and Dr. Kostyshyn slowly shutting down her laptop and hesitating.
"All right, Greg," Dr. Wright says, her clipped accent echoing in the white, clean lab. "Have a good night. Dr. Woodruff is on call. He'll be in tomorrow. Have a holly jolly and all that."
"Yes," he grunts and his eyes peer over to Dr. Kostyshyn, the offset orbs wide and inquiring. He earns a stern look for it, so he concedes, "You, too."
Dr. Kostyshyn peeks up, but Dr. Wright just nods, "Dr. Kostyshyn."
Ginny Kostyshyn's face falls and she nods in return. "Yes, good night. Have a happy-"
But Dr. Wright is already walking out the door. Ginny can feel her chest clench, another new tradition. She gathers her coat and scarf listlessly. "I'll come by tomorrow, Greg, don't worry."
"I don't worry," he says, feeling some of that heartache. He doesn't worry, though, when he has a plan.
"Ah, good. Then…I guess have a good night."
***
Ginny checks her phone but no texts to dodge tonight. Not from Kate and not from her family. One text from Bath and Bodyworks telling her about a special and wishing her a happy holiday season.
At least someone cares.
She sniffles as she flops into her couch and searches around for a half empty bottle she left last night. This isn't like her. She knows that, so why can't Kate know that?
The last argument they had, Kate told her to grow up and stop pining over a love that wasn't reciprocated. Just like that. Ginny's family didn't love her.
Yes, maybe it's true. Maybe they haven't called her since last Christmas. Maybe they hated her. Maybe they've blocked her on social media. Maybe they never would have her come back. Maybe she'd never have her mother's lasagna again.
Stupid things like that seem so much more significant.
Stupid, stupid traditions she could no longer have, but still remember.
And after the bottle is empty, the tradition of crying herself to sleep begins again, as it did the night before, and the night before that.
***
Kate is angry and getting piss drunk, looking at her phone again. It's useless, she knows, but still.
She sighs and puts it back into her pocket. Along with other lonesome losers, she's in a dive bar, watching some American football highlights from a game twenty years ago. Her parents are already asleep in Birmingham, six hours ahead of her.
She tries to watch the television, but it's just flashing images. It's just lights and muted sounds. It's not real, doesn't feel real. Merry Christmas.
She's been away from her family for ten years now and she was half-hoping, now that Ginny's family was bust, that maybe, just maybe, they might have gone to her hometown. It's been five years since she's gone back and even though she calls and Skypes, it's about as real as the television. Just flashing images. It's not the smell of her mother, the warmth of her father, and the sassy gleam in her granny's eye. It's all different.
But when she vaguely brought up the holidays, Ginny shut down.
Ginny shut down, but worst of all, shut her out.
She taps the counter for another and the bartender nods. "'Kay, but then you're cut off."
"Got it." She had a long, quiet few days ahead of her. It wasn't so much she was angry at Ginny, it was just hard to have someone keep grieving and not know what to do. Kate had never been the shoulder to cry on. She had put all of her efforts into school, career, study, science, and technology. She wanted to be one of the best.
But being one of the best made her one of the lonliest and she thought those days were over when Ginny somehow wormed her way into Kate's life and heart.
She thinks about the gift in her desk, sitting there for the next few days. For an eternity, perhaps, unopened.
How disappointing.
How frustrating.
How soft and stupid.
She finishes her drink and cashes out.
***
One empty bottle later in Ginny's home and one cold, drunken walk later to Kate's home, and suddenly they both get a call. A call from the lab. It rings to both of them, at opposite ends of the city. It wakes Ginny up and startles Kate into falling off the sidewalk.
"H-hello?" Ginny stutters into the phone, frizzled hair in her mouth.
Kate is still picking herself back up and then joins. "What?"
"Oh, hello," Greg says, monotone, as usual. "You both may want to come back to the lab."
Sighing, Kate replies, "Dr. Woodruff is-"
"He's dead," Greg states, looking down at the man split in two. Shame, really. Woodruff wasn't too bad. Just opened his mouth when he ate and clipped his toenails in the lab. "Remember the man-pig hybrid Dr. Chuz is working on?"
"Yes," they say in unison but with alternating inflections.
"Oh God," Ginny exclaims.
"What happened?" Kate asks, looking for a cab or something to get her to the lab. It's hard with everything spinning.
"It escaped…somehow," Greg quietly explains. "I think it's a bit sick, though. Reanimated meat probably didn't do it any good."
"Greg?! Are you okay?" Ginny asks and gets up, tangling in her coat and scarf.
He looks down, legs half-eaten and chartreuse blood pooling around him. "Hmm, I'm still alive. The legs need work, though."
"We're on our way," Kate tells him, and still looks around at an empty street, "…somehow. I can't drive. Ginny, can you pick me up?"
"Uh…" She looks at the empty bottle on the ground. "Unfortunately…I probably shouldn't drive."
They both sigh.
"Let's get cabs and meet there. Greg, is it still in the building?"
"Oh yes," he states, as the mig- er pan, whatever it is, is heaving in the corner, vomiting up bits of the doctor and vile parts of himself. Greg eyes the bits and bobs in morbid fascination. "I don't think he's going anywhere for a while. I think I didn't agree with him."
"They keep a shotgun upstairs, so we'll come down with that."
"A shotgun, Kate?! While we're- uh…"
"Pissed?"
"I'm not- Oh, no, I'm just tipsy."
"You're slurring."
"And I'm losing blood," Greg calming brings them back on point.
"Right. Since you're 'just tipsy' and American, you can call, well, shotgun."
"Oh, Kate," Ginny admonishes as she flings her shoes on. "Don't worry, Greg. We're on our way."
And just like that, his plan is in action.
***
When they both make their way to the underground lab, Ginny faring better than Kate's weaving and swaying. However, they find a horrific mess. Just…a mess. Everything is turned upside-down. Blood on the walls, on the floor, on the ceiling and doors.
Calmly, in the mess, Greg is leaning against a desk, playing a word game on his phone. His legs are torn asunder and remain only in strings of cartilage, bone, and muscles. It reminds Ginny of oozing and meaty string cheese. Looking up, he nods. "Merry Christmas."
"Jesus H!" Kate breathes out.
"Where is it?" Ginny says, shotgun shaking in her hands, almost the size of her.
"I think it's dead," he tells them and points to a hidden corner. "I heard gagging and struggling…Serves it right."
Ginny goes to peek while Kate remains. "Aren't you a bit calm?"
They share a glance to size up each other as Kate sways and refuses to acknowledge it as much as Greg refuses to acknowledge his string cheese legs. There's a pause before he says, "Why wouldn't I be? I've done nothing wrong."
After her investigation, Ginny breathes in relief. "It's dead! I think it died by aspiration."
"Hallelujah," Kate sarcastically replies, still glaring at Greg, who is almost at the next level in his game.
"Well," Ginny sighs, pulling off her coat. "I guess we, uh…"
She gestures to the bits of Dr. Woodruff, the larger pieces of him, the vomit, the lab, the everything. "Greg is first, I suppose."
"I guess, the wanker," Kate mumbles, slipping off her own coat, then having to find the coat rack in the calamity. "You don't deserve us, 205."
He shrugs as he contently plays on his phone, continuing to ooze out, without real concern now that the scientists are here.
Ginny puts 205 up into the examination bed and sedates him while Kate goes into her desk to get some supplies. That's when she finds her present to Ginny with a frown. It seems as good a time as any.
Before they need to scrub up and put on surgical gowns, she tosses it to Ginny. "Merry Christmas. It's after midnight."
"Oh, sorry. Your present is at my apart-"
"Just open it."
It's small. Very small. Box-shaped. And Ginny is nervous and afraid. It could be something that she's not ready for. What if it's a tone-deaf, 'let me be your family since you don't have one'? What could she even say if it's a ring? It just feels cruel.
With shaking hands, she opens it slowly, relieved to find a key instead. A key? To where? Kate wouldn't be so cheesy as to say to her heart. It's not a car key, thank goodness.
"It's to a cabinet," Kate explains, seeing the confusion. "Remember when we were here the first year and there was that cabinet and you lost the key?"
Blinking, she half-recalls. Honestly, she just remembers being scolded for it and the panic afterwards.
"And you kept looking for it and I got annoyed and just took a crowbar and sledgehammer to it. Remember?"
Ginny laughs. "Oh, yeah. I thought you were crazy."
"You called me impatient at the time." Swaying, but sobering up, Kate sighs and walks over to Ginny. Sees the little key in her green-bloodied hands, shining like the star on top of a Christmas tree. "You said it'd turn up eventually."
"God, that was years ago, though."
Kate's hands curve around Ginny's carefully. "I know that you're upset with your family. It's not what you wanted or expected. They're being shits about it and it hurts to be on the outside.
"I found the key recently and I just wanted to give it back and remind you that sometimes it takes time. You were right. Sometimes you have to be patient. Maybe with them. Maybe with yourself…Maybe sometimes even with me. But you're going to get back what you lose. Not always in the moment you want it, but you'll find it. You just have to be patient and remember what you have now."
Ginny purses her lips so she doesn't cry like a sop, but leans forward to touch her forehead to the chin there. With a long breath, she replies, "Thank you."
"Of course. And maybe if you're not too busy…you can come back with me and meet the Wrights. My mum collects ugly porcelain swans, my dad has the worst jokes, their dog is full of farts, but gran isn't so bad. And I'm not saying that as-…I want you to meet them. They're much more normal and better people than I'll ever be."
A stray tear falls as Ginny sniffs and chuckles. "You're not so bad."
"I'm about to sew up a reanimated corpse that was half-eaten by a pig-headed abomination…I'm not great. But…I've got you here, so it's not awful." She leans down to punctuate her gift with a kiss.
Ginny smiles and accepts the offered kiss warmly, realizing how much she's missed it. "Mm, and when we're done, we get to clean up the body of the aforementioned abomination and get to break the news to Dr. Chuz."
"That's okay. I'll do it. I don't mind ruining his Christmas; he misspells my name constantly." Kate smirks and kisses Ginny's cheek.
"Merry Christmas, Dr. Wright," Ginny quietly says, hugging tight onto her girlfriend.
"Merry Christmas, Dr. Kostyshyn," Kates replies and holds her back, just as tightly.
Into the Deep Woods 1, an October AI journey with Jennifer Weigel
I am embarking on an AI journey using NightCafe to illustrate this graphic story based on a dream I had awhile back. I am also using Canva, so here's to learning more online systems of image dissemination and propagandizing…
I will include some of the original AI generated images with each piece along with a bit of the dream that inspired it. So sit back, relax, and enjoy the show.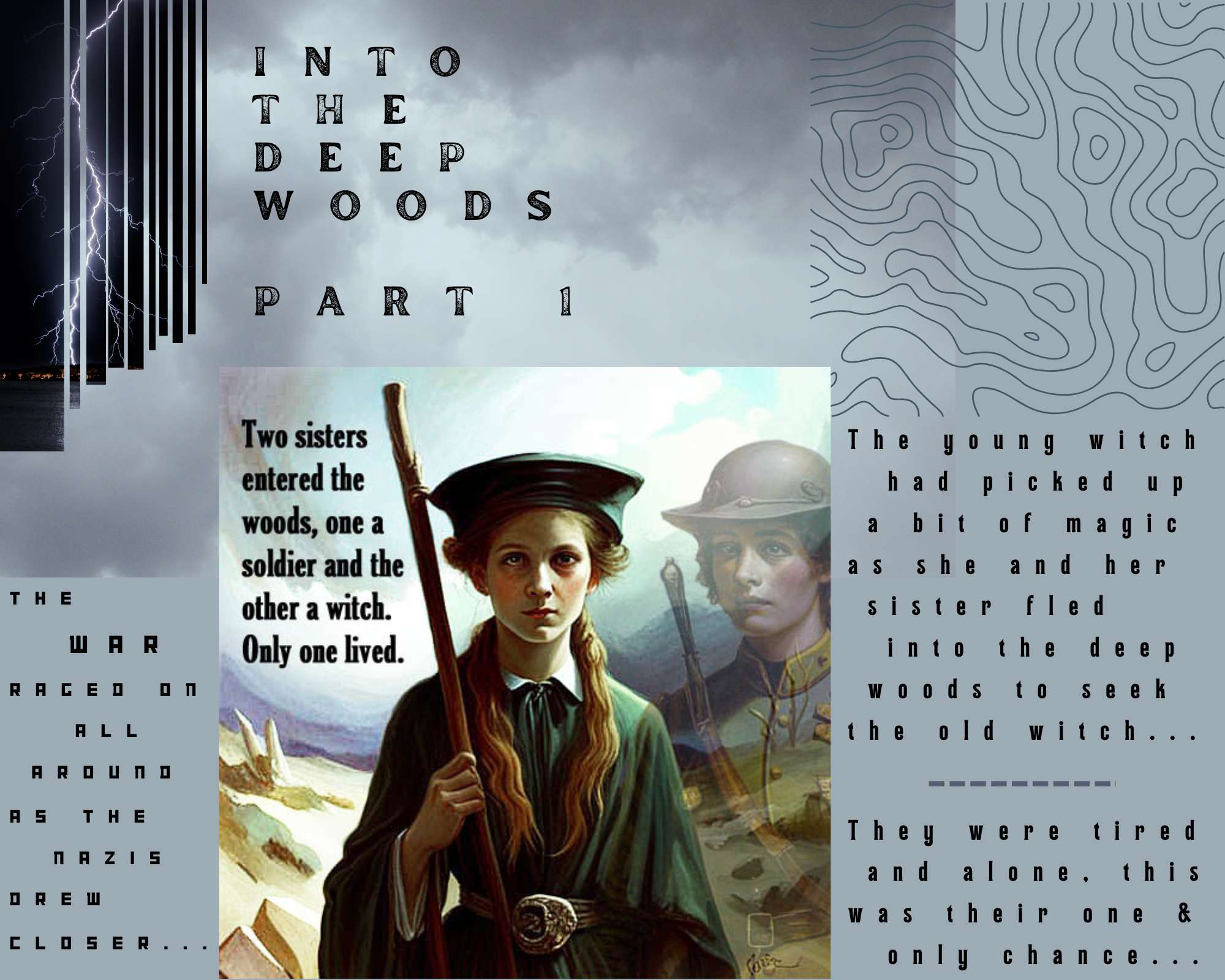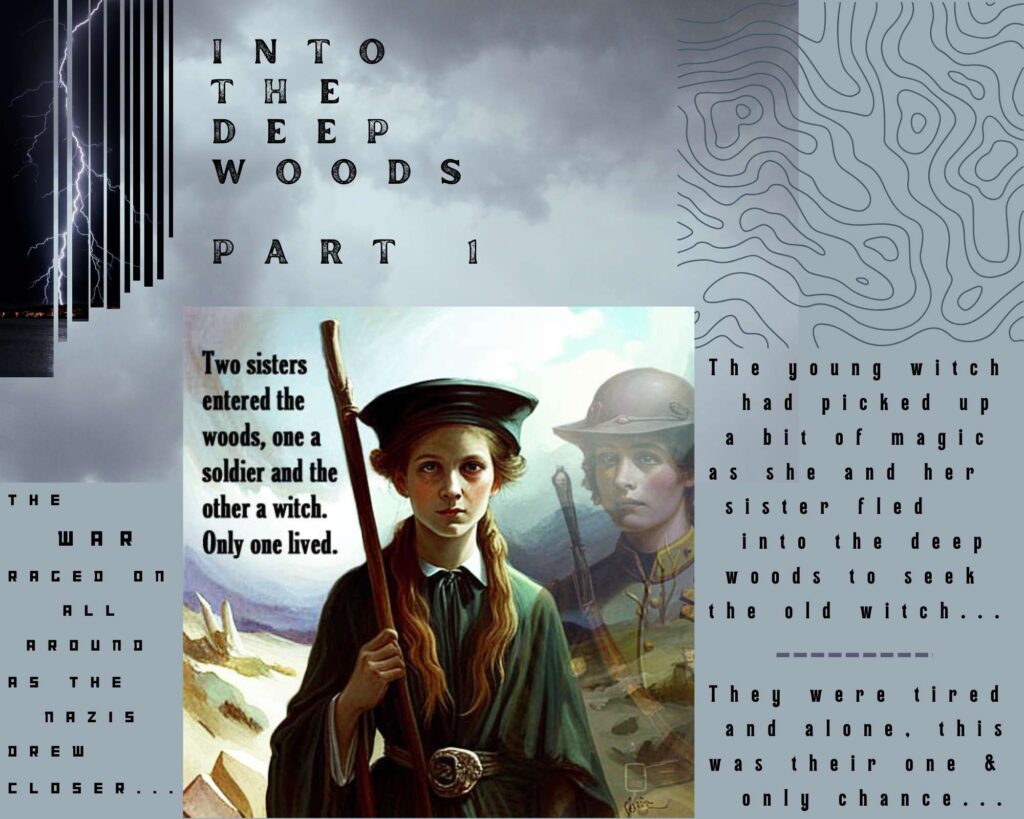 Artwork description: Overall layout: Lightning strike through the corner into obscure clouds and map-like graphic in gray tones sets the mood for Into the Deep Woods.
Part 1, Art: AI generated image of a girl with reddish hair dressed in a robe of some sort and holding a staff. A similar girl in soldier garb fades behind her. Edited in PhotoShop.
Part 1, Text: 1.) Two sisters entered the woods, one a soldier and the other a witch. Only one lived. 2.) The young witch had picked up a bit of magic as she and her sister fled into the deep woods to seek the old witch… They were tired and alone, this was their one and only chance… 3.) The war raged on all around as the Nazis drew closer…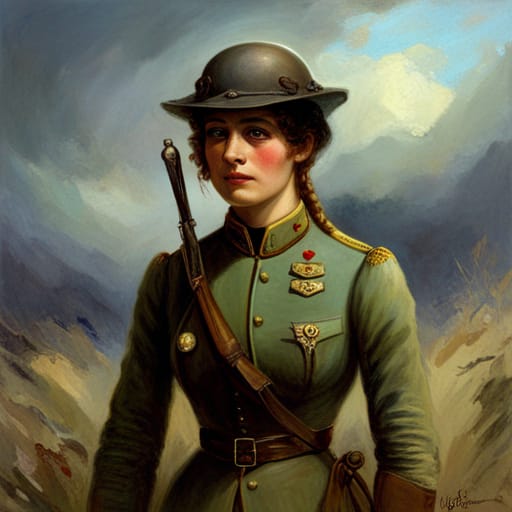 Prompt (Horror): Portrait of soldier girl sister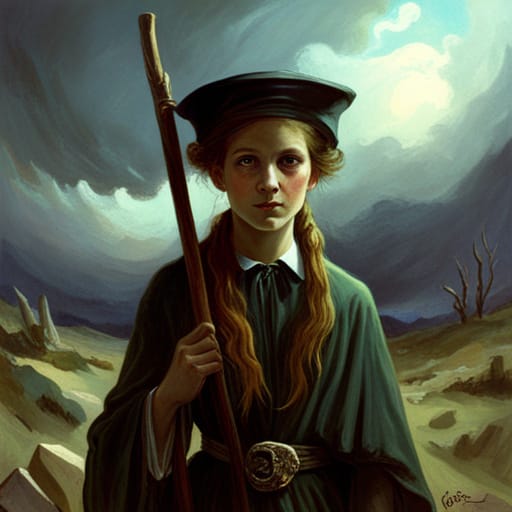 Prompt (Horror): Portrait of witch girl sister (Evolved from soldier girl)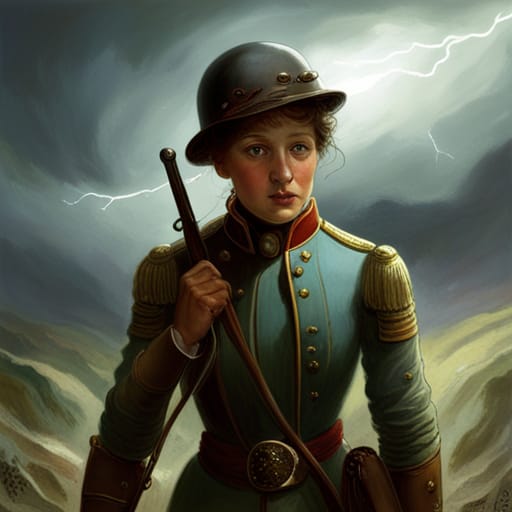 Prompt (Horror): Soldier girl sister hit by lightning (Evolved from soldier girl)
As mentioned this series is based on a dream that I had awhile back. The two girls first enter the woods to escape the Nazis. In my dream there were initially more soldiers with them who perish due to the war or hazards in the woods. It wasn't unlike Pan's Labyrinth but on a much smaller and more intimate scale.
It had been awhile between having the dream and creating this story to share with you. And I quickly learned that the term "Nazi" is prohibited by the AI art generator interface. So there are some changes that have been made, but hopefully you can still follow along. The time and place are not as relevant to the overall anyway.
Nightmarish Nature: Cannibalism
Let's return to explore more Nightmarish Nature, shall we? This segment focuses on cannibalism, as we generally find it icky / taboo and because it's more common than you might think. There are many different reasons that different creatures engage in cannibalistic practices. Energy waste doesn't last long in nature; gaps are filled as things evolve to utilize whatever resources are available to meet their own needs. C'est la vie (light up another cigarette). In any case, the challenge to the cannibal lies in determining kinship and not accidentally erasing their own line or progeny, thus decreasing their likelihood for survival over generations. Oh, and in avoiding those pesky prion diseases…
Resource Driven Cannibalism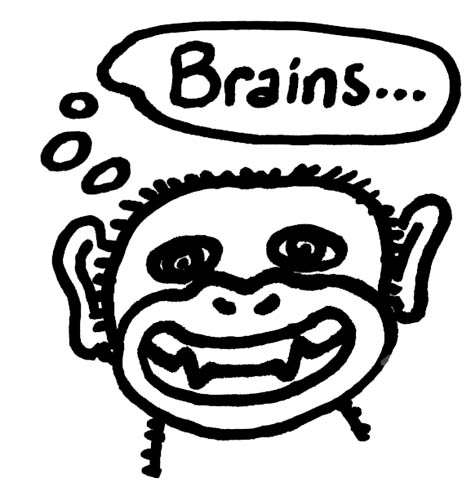 Resource driven cannibalism can occur when competition for resources is high. This may be due to scarcity, with individuals taking to eating each other to avoid themselves starving to death (with those consumed either still alive and killed to this end, or eaten after death of other causes). Or it may be outside of the cannibal's control, considering the spread of Mad Cow Disease from feeding beef meal harboring the prion disease (and parts from other mammals like sheep) to growing cattle to save money, 'cause it's not like the cows were allowed to order whatever they wanted. Or it may be due to direct conflicts with other groups of the same species, either due to competition for resources, mating rights and/or territory. These behaviors have been noted in mostly male chimpanzees raiding other groups, which have even been documented as all out wars against other males in neighboring bands, campaigning to eradicate all outside of their ranks.
Social Demonstration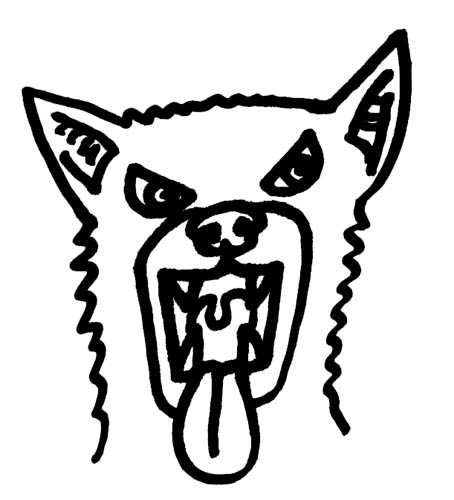 Thinking about chimpanzees, males are also documented to gang up on alpha males seen as too controlling or sadistic, with groups of younger males attacking and rendering the alpha male to pieces, often consuming his flesh and blood in the process. This can upend established hierarchies to replace them with new structures, for example with a new male taking on the role of leader. But cannibalism can also be used to reinforce existing hierarchies, as seen in African Wild Dogs wherein the dominant pair will kill off any offspring that other dogs may have birthed so that the pack will focus on raising only the alpha pair's pups, thusly reestablishing and enforcing social structure while ensuring the best survival chances for the pups raised by channeling all resources to the one brood.
Infanticide & Filial Cannibalism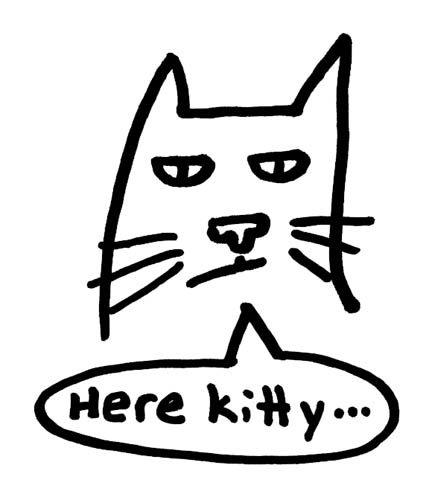 Like African Wild Dogs, other parents may also eat their offspring, or better yet their rivals' offspring. Stillborn or unhealthy offspring may be consumed, or just any that they can get their hands on at birth. (Again with the young male chimpanzees…) Some creatures enter into cycles wherein smaller individuals are more vulnerable to predation by larger ones both within and outside of ones own species, as is seen among many fishes with eggs and smaller fishes playing an important role as prey to larger ones. Other creatures may engage in these practices to reduce competition (for themselves and/or their offspring) and/or increase opportunities to mate. Male cats are notorious for killing kittens that are not their own in order to bring females into heat again sooner, potentially increasing the likelihood of mating with said females themselves while decreasing future competition. Win-win! Female cats must take great care to hide their kittens in order to protect them from males as much as other predators, and can have kittens by different fathers within the same litter in order to increase their kittens' overall survival as a group with father cats more willing to accept kittens when their own kin are present.
Sexual Cannibalism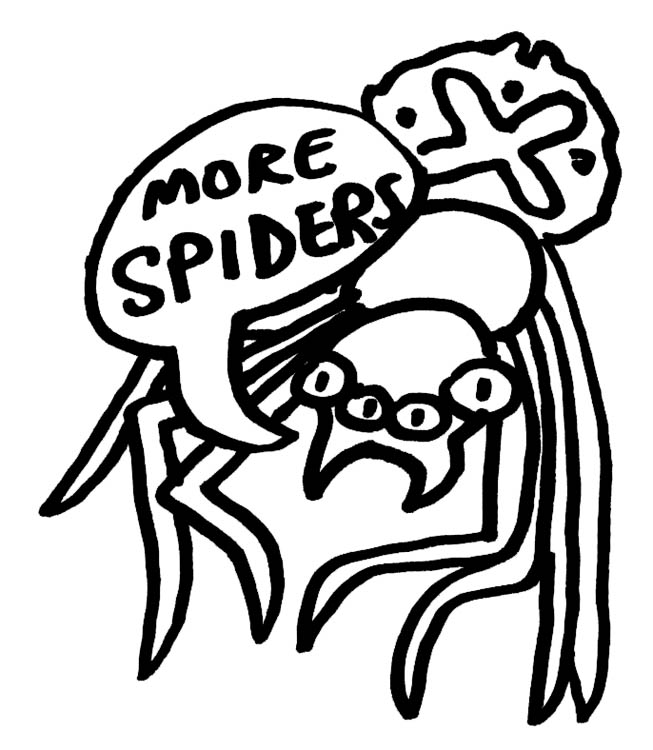 Mantids and spiders are especially known for sexual cannibalism, with larger females consuming males during copulation, but this is not always linked to vast size differences and does not appear in every species. Females who engage in this practice may have healthier eggs in larger clutches, thus increasing the survival likelihood of more of their offspring. Sometimes the risk to the male suitor of being mistaken for another species by an aggressive would-be mate is high, and various rituals have developed within certain species to help avoid such mistakes and entice the female to mate. Male spiders are known engage in elaborate dances, movements, tapping and silk spinning rituals to avoid being eaten pre-copulation or at all. It's a hell of a lot more involved than a good pick up line and a well-timed drink, as you can see here.
If the above video doesn't load, you can find it on PBS YouTube here.
Thank you for joining us for another exciting episode of Nightmarish Nature. If you enjoyed this, please feel free to check out these previous segments:
Revisitations: The Devil Went Down to Georgia
So I've been working on more painting into found art (as seen here before) and I thought I'd share a newer one, based on the song The Devil Went Down to Georgia by Charlie Daniels. But first let's make like my She Wolf post enjoy a couple variations of the song, shall we?
First we have Charlie Daniels, the writer of the song which was inspired by the beautiful poem by Stephen Vincent Benet titled The Mountain Whipporwill. You can read the poem on Your Daily Poem here.
Then we have to watch my favorite version, the animated music video by Primus. I know there are claymation-haters out there who find the effect bit too "uncanny valley" but how can you not just love those chickens?
Anyway, without further ado, here is my painting, incorporated into a found still life, original signed L. Harady.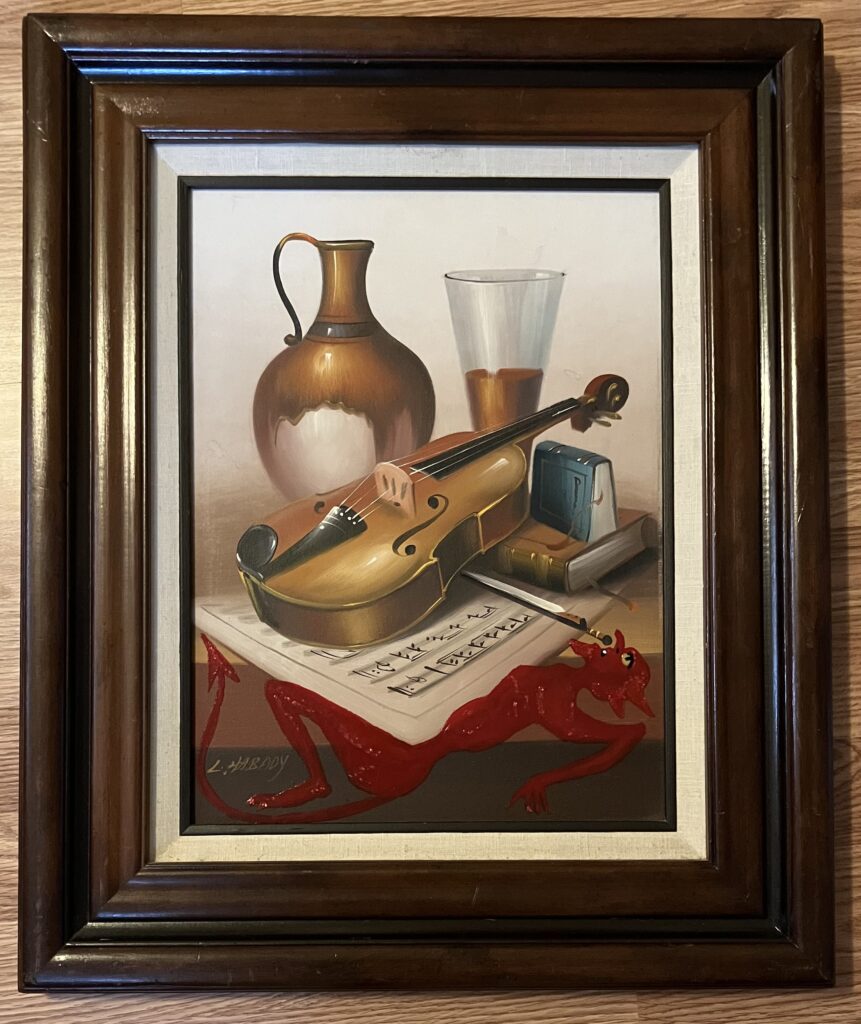 Here The Devil is defeated, crushed along the lower edge of the artwork beneath the fiddle and lamenting his loss. The bow jabs into his sneering nose as if to add insult to injury, but his eyes still glow, alight with the prospect of coming back for another round. (They actually do glow, I have acquired some blacklight reactive nail polish to use in these pieces now.) I suppose I may go to Hell for this portrayal (or for defiling yet another painting) but alas, such is the price of art sometimes. I guess I'll add it to the list…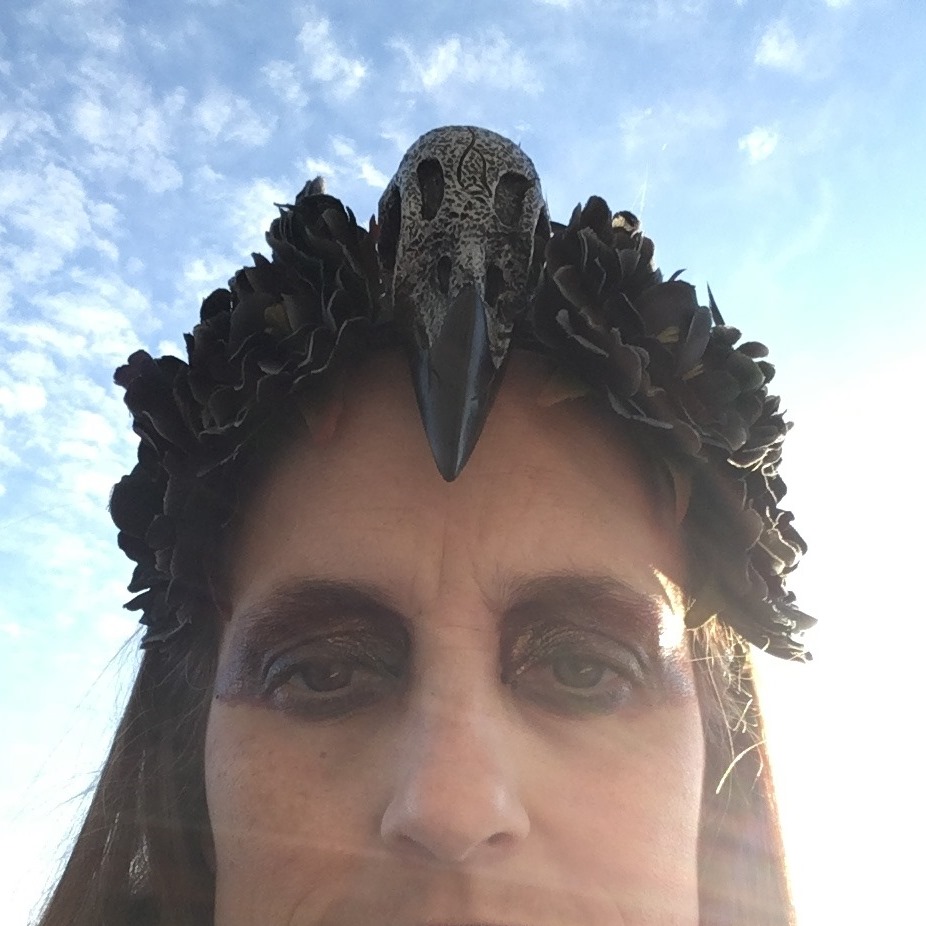 Feel free to check out more of Jennifer Weigel's work here on Haunted MTL or on her writing, fine art, and conceptual projects websites.