In 2020, Haunted MTL brought you the 13 Days of Krampus. Now we offer another exclusive series of holiday horror stories: The Twelve Nightmares of the Holidays. It's day (coughcoughcough) of 12 Nightmares of the Holidays. If you missed it, check out the others so far: here for Jen's, here for Nicole's, here for Phil's, here for T.T.'s, here for Court Court's, here for Eve's, and here for Nicole's.
This is a continuation of Christmas Dinner, which can be found here. It can be stand alone, though. It's a year after the events in the first story.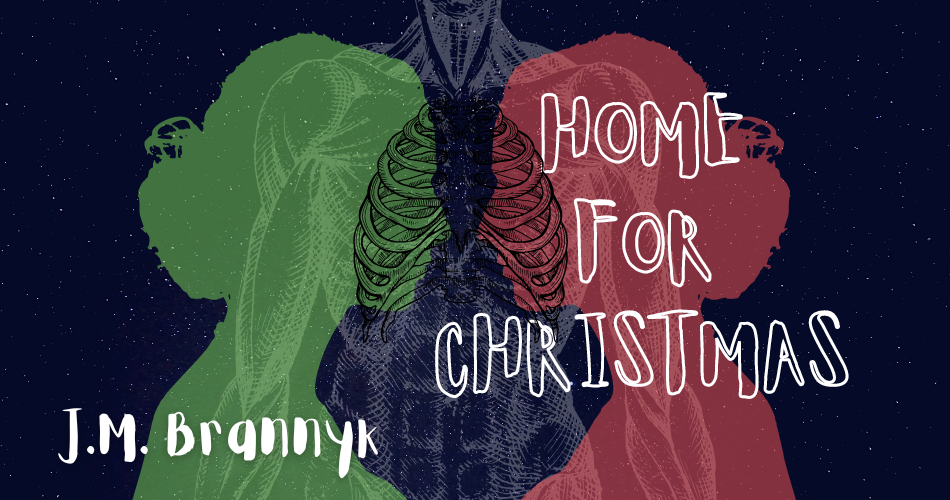 Christmas is about traditions and family. And Dr. Virginia 'Ginny' Kostyshyn is making up her own this year – frozen chicken nuggets for dinner every night, crying while playing Roger Whitaker's 'Home for Christmas' on repeat, glasses of Riesling wine while watching 'It's a Wonderful Life', and dodging Dr. Katherine 'Kate' Wright's texts.
Work is harder to dodge Kate, though, since they work in the same lab, in the same office and on the same experiments. And Kate doesn't like to tiptoe and pussyfoot the way Ginny does. 
But thanks to Ginny's insistent avoidance and quietness, they've reverted back to last names. All while Subject 205 a.k.a. Greg, now an off-hand lab assistant, watches the situation darkly.
And he's not apt to get into other people's business, far be it from him, a year-old reanimated body. However, he has vague memories of last Christmas with Ginny. Fractured recollections of tinsel, eyes glaring at him, skin sliding off, mashed potatoes, Roger Whitaker…and Ginny crying as she stitched him back up.
He also remembers wiping away a tear and apologizing. For being who he is. For being what he is. For ruining everything like he ruined in his first life. And he recalls her hands being so warm, as warm as her smile, as she told him that they had nothing to apologize for.
And tonight is Christmas Eve, with Dr. Wright putting on her coat, coldly silent, and Dr. Kostyshyn slowly shutting down her laptop and hesitating.
"All right, Greg," Dr. Wright says, her clipped accent echoing in the white, clean lab. "Have a good night. Dr. Woodruff is on call. He'll be in tomorrow. Have a holly jolly and all that."
"Yes," he grunts and his eyes peer over to Dr. Kostyshyn, the offset orbs wide and inquiring. He earns a stern look for it, so he concedes, "You, too."
Dr. Kostyshyn peeks up, but Dr. Wright just nods, "Dr. Kostyshyn."
Ginny Kostyshyn's face falls and she nods in return. "Yes, good night. Have a happy-"
But Dr. Wright is already walking out the door. Ginny can feel her chest clench, another new tradition. She gathers her coat and scarf listlessly. "I'll come by tomorrow, Greg, don't worry."
"I don't worry," he says, feeling some of that heartache. He doesn't worry, though, when he has a plan.
"Ah, good. Then…I guess have a good night."
***
Ginny checks her phone but no texts to dodge tonight. Not from Kate and not from her family. One text from Bath and Bodyworks telling her about a special and wishing her a happy holiday season.
At least someone cares.
She sniffles as she flops into her couch and searches around for a half empty bottle she left last night. This isn't like her. She knows that, so why can't Kate know that?
The last argument they had, Kate told her to grow up and stop pining over a love that wasn't reciprocated. Just like that. Ginny's family didn't love her.
Yes, maybe it's true. Maybe they haven't called her since last Christmas. Maybe they hated her. Maybe they've blocked her on social media. Maybe they never would have her come back. Maybe she'd never have her mother's lasagna again.
Stupid things like that seem so much more significant.
Stupid, stupid traditions she could no longer have, but still remember.
And after the bottle is empty, the tradition of crying herself to sleep begins again, as it did the night before, and the night before that.
***
Kate is angry and getting piss drunk, looking at her phone again. It's useless, she knows, but still.
She sighs and puts it back into her pocket. Along with other lonesome losers, she's in a dive bar, watching some American football highlights from a game twenty years ago. Her parents are already asleep in Birmingham, six hours ahead of her.
She tries to watch the television, but it's just flashing images. It's just lights and muted sounds. It's not real, doesn't feel real. Merry Christmas.
She's been away from her family for ten years now and she was half-hoping, now that Ginny's family was bust, that maybe, just maybe, they might have gone to her hometown. It's been five years since she's gone back and even though she calls and Skypes, it's about as real as the television. Just flashing images. It's not the smell of her mother, the warmth of her father, and the sassy gleam in her granny's eye. It's all different.
But when she vaguely brought up the holidays, Ginny shut down.
Ginny shut down, but worst of all, shut her out.
She taps the counter for another and the bartender nods. "'Kay, but then you're cut off."
"Got it." She had a long, quiet few days ahead of her. It wasn't so much she was angry at Ginny, it was just hard to have someone keep grieving and not know what to do. Kate had never been the shoulder to cry on. She had put all of her efforts into school, career, study, science, and technology. She wanted to be one of the best.
But being one of the best made her one of the lonliest and she thought those days were over when Ginny somehow wormed her way into Kate's life and heart.
She thinks about the gift in her desk, sitting there for the next few days. For an eternity, perhaps, unopened.
How disappointing.
How frustrating.
How soft and stupid.
She finishes her drink and cashes out.
***
One empty bottle later in Ginny's home and one cold, drunken walk later to Kate's home, and suddenly they both get a call. A call from the lab. It rings to both of them, at opposite ends of the city. It wakes Ginny up and startles Kate into falling off the sidewalk.
"H-hello?" Ginny stutters into the phone, frizzled hair in her mouth.
Kate is still picking herself back up and then joins. "What?"
"Oh, hello," Greg says, monotone, as usual. "You both may want to come back to the lab."
Sighing, Kate replies, "Dr. Woodruff is-"
"He's dead," Greg states, looking down at the man split in two. Shame, really. Woodruff wasn't too bad. Just opened his mouth when he ate and clipped his toenails in the lab. "Remember the man-pig hybrid Dr. Chuz is working on?"
"Yes," they say in unison but with alternating inflections.
"Oh God," Ginny exclaims.
"What happened?" Kate asks, looking for a cab or something to get her to the lab. It's hard with everything spinning.
"It escaped…somehow," Greg quietly explains. "I think it's a bit sick, though. Reanimated meat probably didn't do it any good."
"Greg?! Are you okay?" Ginny asks and gets up, tangling in her coat and scarf.
He looks down, legs half-eaten and chartreuse blood pooling around him. "Hmm, I'm still alive. The legs need work, though."
"We're on our way," Kate tells him, and still looks around at an empty street, "…somehow. I can't drive. Ginny, can you pick me up?"
"Uh…" She looks at the empty bottle on the ground. "Unfortunately…I probably shouldn't drive."
They both sigh.
"Let's get cabs and meet there. Greg, is it still in the building?"
"Oh yes," he states, as the mig- er pan, whatever it is, is heaving in the corner, vomiting up bits of the doctor and vile parts of himself. Greg eyes the bits and bobs in morbid fascination. "I don't think he's going anywhere for a while. I think I didn't agree with him."
"They keep a shotgun upstairs, so we'll come down with that."
"A shotgun, Kate?! While we're- uh…"
"Pissed?"
"I'm not- Oh, no, I'm just tipsy."
"You're slurring."
"And I'm losing blood," Greg calming brings them back on point.
"Right. Since you're 'just tipsy' and American, you can call, well, shotgun."
"Oh, Kate," Ginny admonishes as she flings her shoes on. "Don't worry, Greg. We're on our way."
And just like that, his plan is in action.
***
When they both make their way to the underground lab, Ginny faring better than Kate's weaving and swaying. However, they find a horrific mess. Just…a mess. Everything is turned upside-down. Blood on the walls, on the floor, on the ceiling and doors.
Calmly, in the mess, Greg is leaning against a desk, playing a word game on his phone. His legs are torn asunder and remain only in strings of cartilage, bone, and muscles. It reminds Ginny of oozing and meaty string cheese. Looking up, he nods. "Merry Christmas."
"Jesus H!" Kate breathes out.
"Where is it?" Ginny says, shotgun shaking in her hands, almost the size of her.
"I think it's dead," he tells them and points to a hidden corner. "I heard gagging and struggling…Serves it right."
Ginny goes to peek while Kate remains. "Aren't you a bit calm?"
They share a glance to size up each other as Kate sways and refuses to acknowledge it as much as Greg refuses to acknowledge his string cheese legs. There's a pause before he says, "Why wouldn't I be? I've done nothing wrong."
After her investigation, Ginny breathes in relief. "It's dead! I think it died by aspiration."
"Hallelujah," Kate sarcastically replies, still glaring at Greg, who is almost at the next level in his game.
"Well," Ginny sighs, pulling off her coat. "I guess we, uh…"
She gestures to the bits of Dr. Woodruff, the larger pieces of him, the vomit, the lab, the everything. "Greg is first, I suppose."
"I guess, the wanker," Kate mumbles, slipping off her own coat, then having to find the coat rack in the calamity. "You don't deserve us, 205."
He shrugs as he contently plays on his phone, continuing to ooze out, without real concern now that the scientists are here.
Ginny puts 205 up into the examination bed and sedates him while Kate goes into her desk to get some supplies. That's when she finds her present to Ginny with a frown. It seems as good a time as any.
Before they need to scrub up and put on surgical gowns, she tosses it to Ginny. "Merry Christmas. It's after midnight."
"Oh, sorry. Your present is at my apart-"
"Just open it."
It's small. Very small. Box-shaped. And Ginny is nervous and afraid. It could be something that she's not ready for. What if it's a tone-deaf, 'let me be your family since you don't have one'? What could she even say if it's a ring? It just feels cruel.
With shaking hands, she opens it slowly, relieved to find a key instead. A key? To where? Kate wouldn't be so cheesy as to say to her heart. It's not a car key, thank goodness.
"It's to a cabinet," Kate explains, seeing the confusion. "Remember when we were here the first year and there was that cabinet and you lost the key?"
Blinking, she half-recalls. Honestly, she just remembers being scolded for it and the panic afterwards.
"And you kept looking for it and I got annoyed and just took a crowbar and sledgehammer to it. Remember?"
Ginny laughs. "Oh, yeah. I thought you were crazy."
"You called me impatient at the time." Swaying, but sobering up, Kate sighs and walks over to Ginny. Sees the little key in her green-bloodied hands, shining like the star on top of a Christmas tree. "You said it'd turn up eventually."
"God, that was years ago, though."
Kate's hands curve around Ginny's carefully. "I know that you're upset with your family. It's not what you wanted or expected. They're being shits about it and it hurts to be on the outside.
"I found the key recently and I just wanted to give it back and remind you that sometimes it takes time. You were right. Sometimes you have to be patient. Maybe with them. Maybe with yourself…Maybe sometimes even with me. But you're going to get back what you lose. Not always in the moment you want it, but you'll find it. You just have to be patient and remember what you have now."
Ginny purses her lips so she doesn't cry like a sop, but leans forward to touch her forehead to the chin there. With a long breath, she replies, "Thank you."
"Of course. And maybe if you're not too busy…you can come back with me and meet the Wrights. My mum collects ugly porcelain swans, my dad has the worst jokes, their dog is full of farts, but gran isn't so bad. And I'm not saying that as-…I want you to meet them. They're much more normal and better people than I'll ever be."
A stray tear falls as Ginny sniffs and chuckles. "You're not so bad."
"I'm about to sew up a reanimated corpse that was half-eaten by a pig-headed abomination…I'm not great. But…I've got you here, so it's not awful." She leans down to punctuate her gift with a kiss.
Ginny smiles and accepts the offered kiss warmly, realizing how much she's missed it. "Mm, and when we're done, we get to clean up the body of the aforementioned abomination and get to break the news to Dr. Chuz."
"That's okay. I'll do it. I don't mind ruining his Christmas; he misspells my name constantly." Kate smirks and kisses Ginny's cheek.
"Merry Christmas, Dr. Wright," Ginny quietly says, hugging tight onto her girlfriend.
"Merry Christmas, Dr. Kostyshyn," Kates replies and holds her back, just as tightly.
Nightmarish Nature: Vampires Among Us
This is the kickoff to a new series exploring nature that is kind of horrifying, at least in ways. Our first subject is Vampires Among Us. There are lots of animals named for vampires, sometimes due to folklore and sometimes for their appearance (like the Vampire Squid), but most of these animals don't have blood sucking tendencies.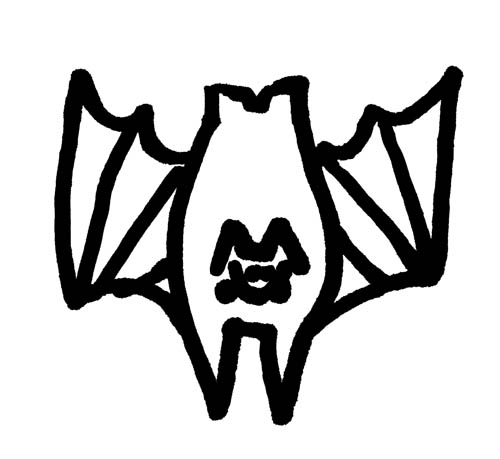 Bats & Birds
There are legit vampire leaf-nosed bats in Central and South America that drink blood. They feed on mammals and are often shown to feed on livestock. They'd be kinda cute if they weren't so creepy. There are also vampiric birds: some finches in the Galapagos have developed the taste for blood of other birds, mainly seabirds that flock to the islands to raise their young.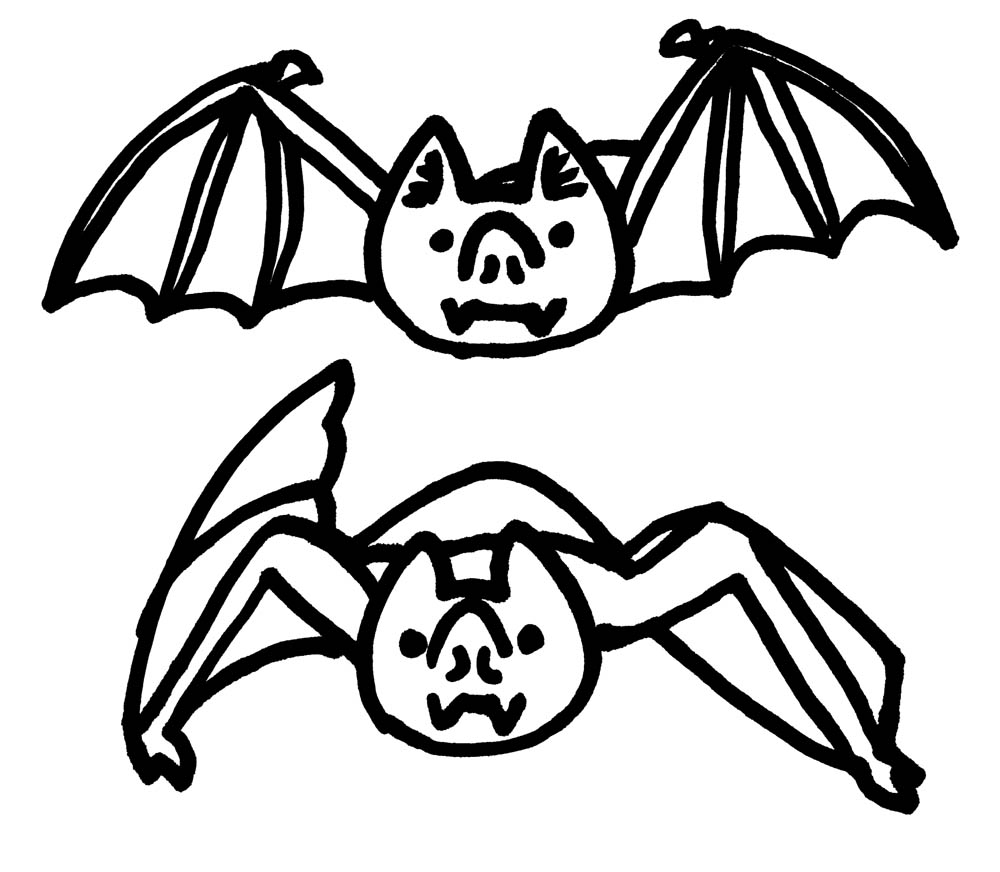 Leeches & Lampreys & More
And then you get into leeches and lampreys and other denizens of the water that are known to attach themselves to larger creatures and drink their blood. Leeches were even believed to have medicinal value (and still are in certain circumstances). And there are also numerous plants that are known to be parasitic and feed on other plants, wrapping their roots or vines around others to steal nutrients.

Spiders
Now I'm going to drift off into the realm where this becomes truly horrific. Spiders. Now, spiders aren't vampires per se, seeing as how they actually kill their prey – they don't just feed off of it while it remains living and wanders about its business. But because of their structure, they cannot eat solid foods, so they have to inject their prey with enzymes to liquefy it so they can slurp it out like a protein shake. That's sort of vampirism on steroids if you ask me, just the kind that no one is coming back from.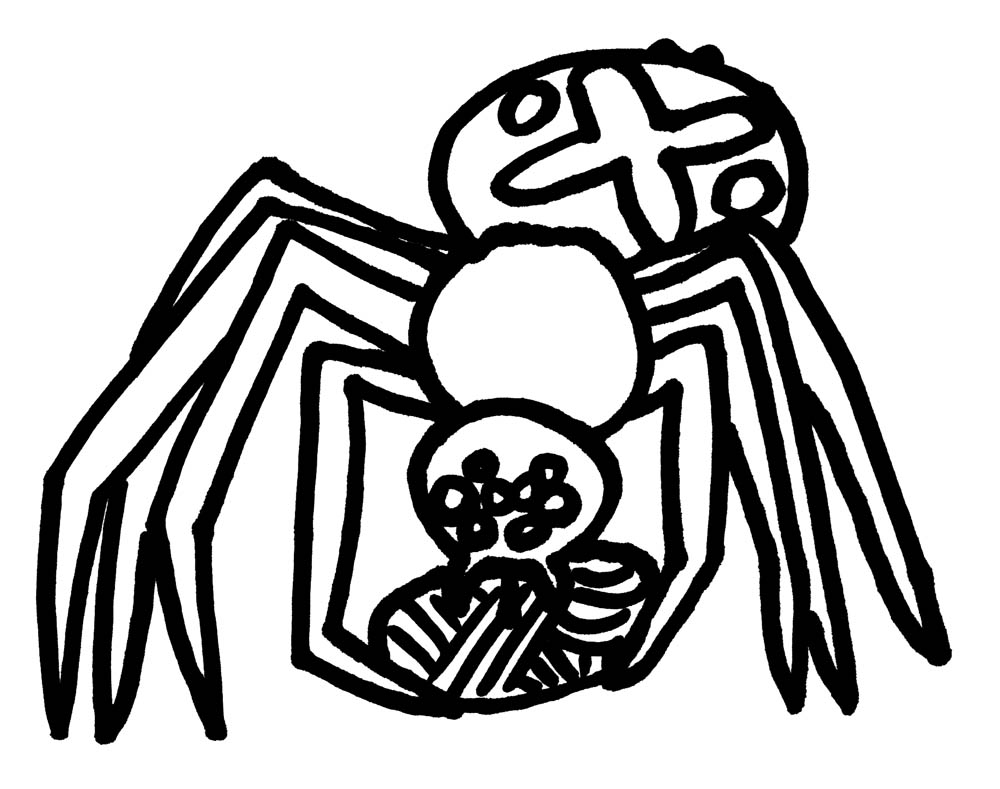 Bloodsucking Bugs
But let's get back on topic. Now let's consider mites and ticks and fleas and mosquitoes and the like. Some drink blood for their survival; others do so as part of their reproductive cycle (like mosquitoes which otherwise eat fruit and nectar but need the extra protein from blood to grow their eggs).
Ticks need to feed on blood once at every stage of their life cycle and can pick up diseases along the way (like Lyme Disease) but don't always do so. Different ticks are more likely to come in contact with different things and often humans are not their preferred meal but they are opportunistic and will feed on whatever is available when necessary. Symptoms of illness from tick bites may take years to develop and can have really weird side effects (like the allergy associated with Lone Star Ticks which makes a person unable to consume mammalian flesh).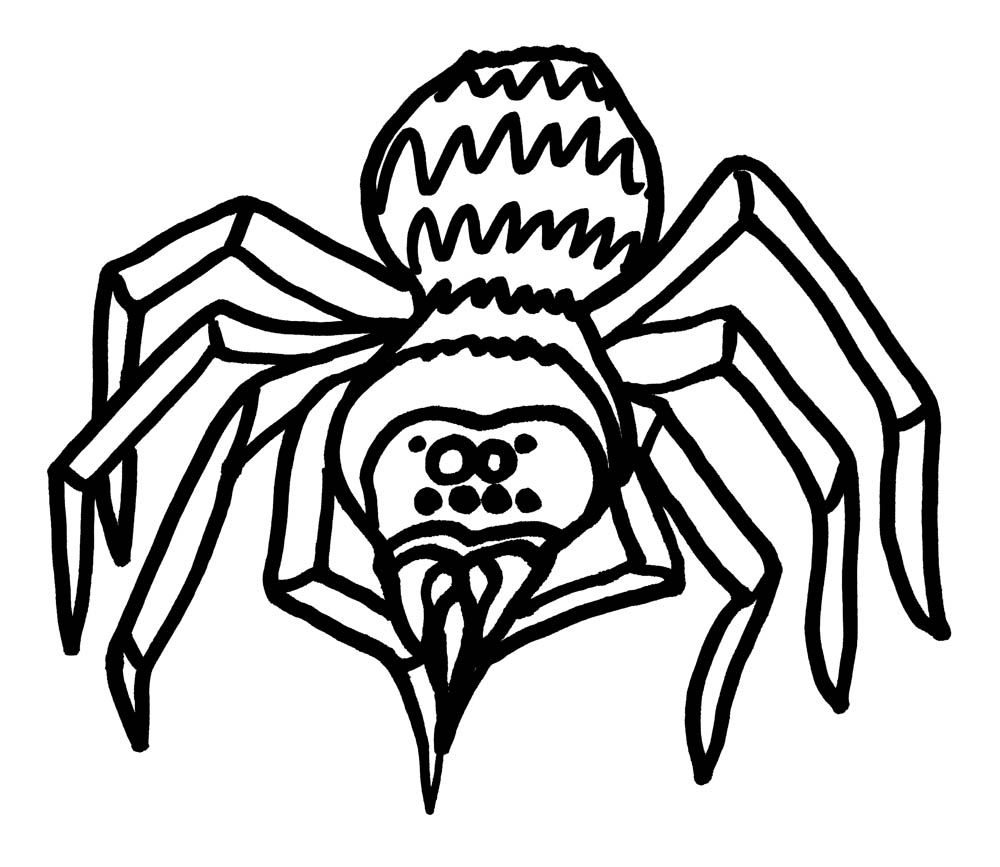 Anyway, here are some brief glimpses of vampirism in nature. Thank you for joining us for Nightmarish Nature and may you avoid getting bitten by any true vampires among us… And I still think spiders take first place in the creepy eating category here, even if they aren't technically vampiric.
Buried Treasure by "Dread Pirate" Jennifer Weigel
This story came to me in a sort of roundabout way from a rather unusual source. So I thought I'd share it with you, dear readership, and see if you can make heads or tails of it. – Jennifer Weigel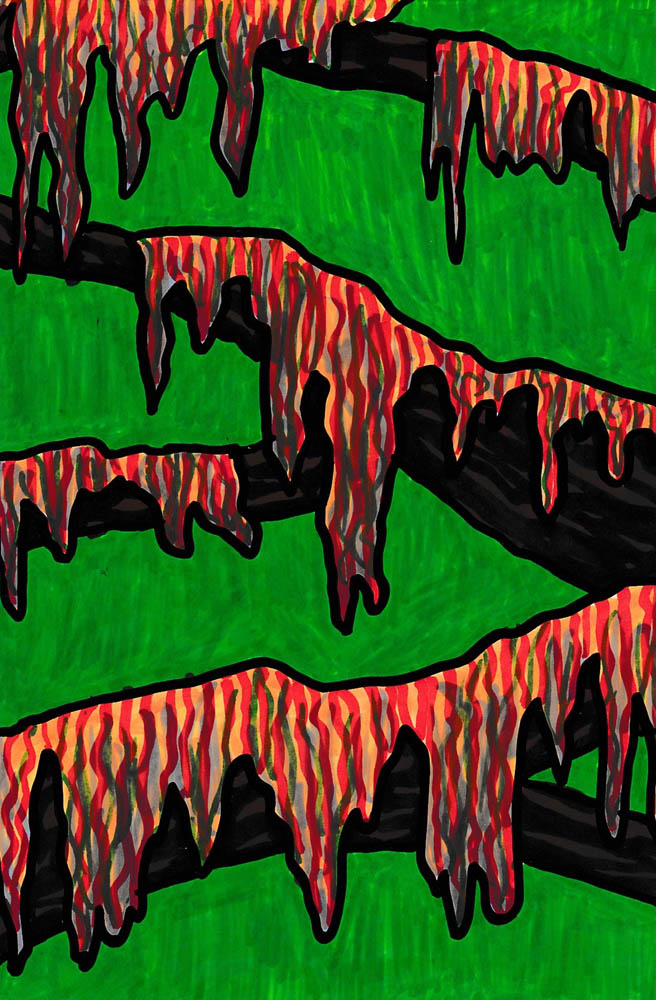 Dread Pirate Rum Tum Tugger could tell this was the right spot.
The site, beneath the sweeping limbs of the Live Oak, Spanish Moss swaying gently in the breeze, was a perfect match to the crude map he had bought off that soothsayer Deuteronomy.
The earth moved easily, as if it had been excavated previously. He dug in with greater fervor with each swipe. The sandy soil gave way to reveal something hard. He scooped and smoothed the remaining detritus from the surface as he uncovered a box.
The carton was simple.
No markings; no ornamentation; no writing. Just a plain cardboard crate, brittle from having been buried for so long but still sturdy. He hoisted it from its burrow.
"Ha HO!" he shouted to the passing breeze, rousing a small cloud of birds that erupted from a nearby thicket. They captured his attention for a moment, but he quickly refocused and returned to his task.
The box was locked but no difference.
Any self-respecting ruffian like himself could pick a lock in seconds. And he did so with panache, as was his way. He pried the lid open and licked his lips.
Inside was the legendary Kernel of Eternal Life, a small sparrow's heart, still beating.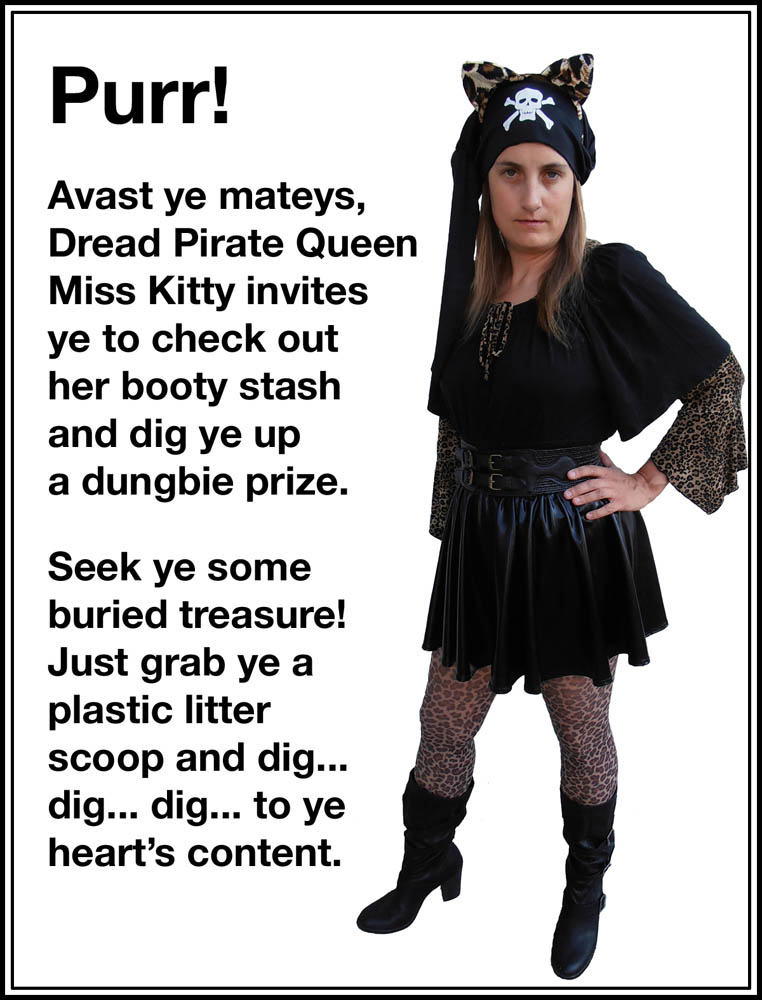 Artwork description: Myself as Dread Pirate Queen Miss Kitty wearing black bell sleeve shirt and black vinyl skirt with strapping leather belt over leopard print shirt and tights, with strapping leather boots, pirate head wrap and leopard cat ears.
Image text reads: Purr! Avast ye mateys, Dread Pirate Queen Miss Kitty invites ye to check out her booty stash and dig ye up a dungbie prize. Seek ye some buried treasure! Just grab ye a plastic litter scoop and dig… dig… dig… to ye heart's content.
---
I created this image for a promotional poster for a performance piece in a charity art show in which I, as Dread Pirate Queen Miss Kitty, hawked a carnival sideshow style sidewalk installation. For a mere $5 donation to the animal shelter the show supported, gallery goers could dig around in a kiddie pool full of litter to find a prize: a cheap plastic trinket from the dollar store. I had some takers, including one kid who seemed to really enjoy the digging and whose parents were all in, saying "You know, you can totally do that at home too."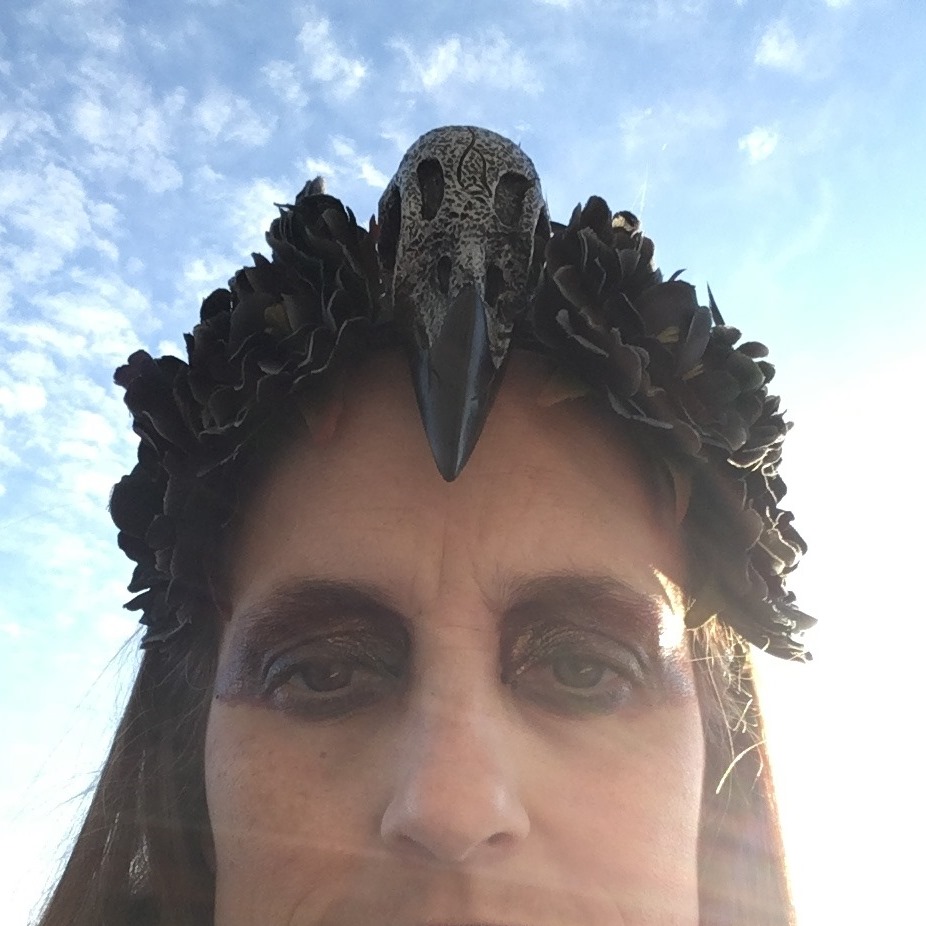 For more cat antics, we invite you to read C-2747's logbook here on Haunted MTL. Feel free to check out more of Jennifer Weigel's work here on Haunted MTL or on her writing, fine art, and conceptual projects websites.
Queen of Everything Mother's Day Wishes
Happy Mother's Day to the Queen of Everything… nothing gets by you.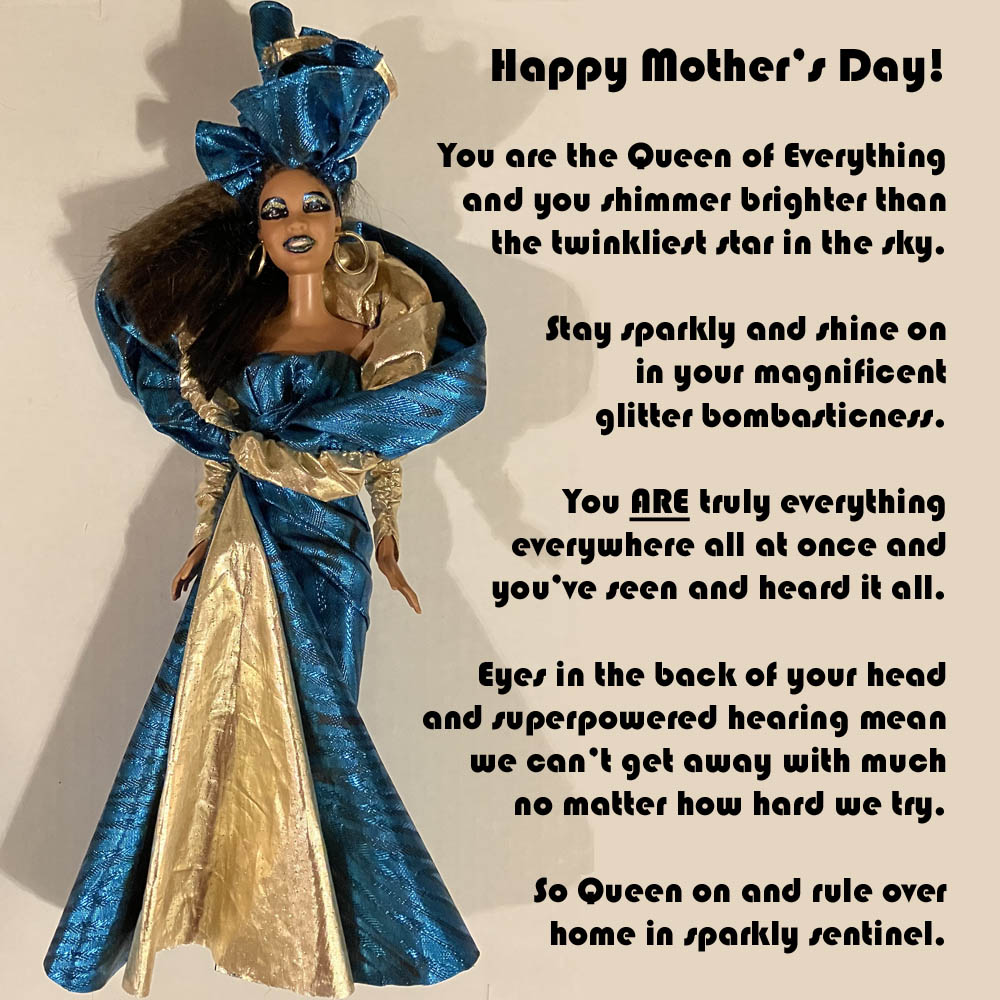 Artwork description: A Happy Mother's Day card featuring a picture of a Nefertiti doll with swooping hair, glitter makeup, and elaborate gold and blue headdress and evening gown.
Image text reads: Happy Mother's Day! You are the Queen of Everything and you shimmer brighter than the twinkliest star in the sky. Stay sparkly and shine on in your magnificent glitter bombasticness. You ARE truly everything everywhere all at once and you've seen and heard it all. Eyes in the back of your head and superpowered hearing mean we can't get away with much no matter how hard we try. So Queen on and rule over home in sparkly sentinel.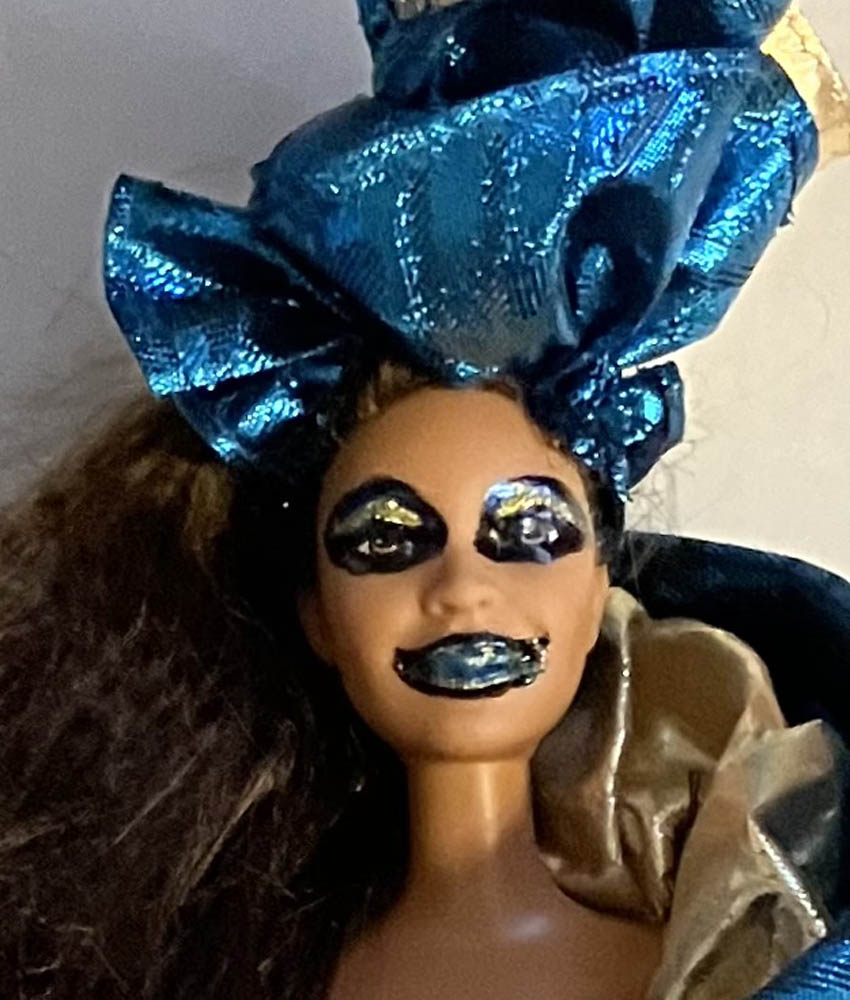 And may this be a testament to why us kids shalt never get you out of bed too early or run amok while you are getting ready to start your day… Because being the Queen of Everything takes planning and preparation…
Feel free to check out this Mummy Dearest Mother's Day card from 2021 here on Haunted MTL.