History's Most Haunted comes a rockin' as another hit for T+E and we have the goods, the lowdown, if you will, on the inner workings of this new hit show. Join the History's Most Haunted cast (remember them from the Gold Rush days?!) of Corine Carey, Leanne Sallenback, and Kelly Ireland as they come back to sit down with Jim and give another amazing (and spine tingling) interview.
Hear about the spookiest of the spookies (an electro Ouija!), the coldest of the cold (Montreal and the sheer ice-walks?!), and the uhhh safety wordest of the safety words (a place so deep with ghostly activity it almost conjured up the safe word!). All this and more on the next what's Kraken!

(Hey! Don't forget to tune in Friday 8 September at 10pm ET/PT during the FREEEEEEEEEE preview event on T+E!)
Follow Corine Carey, Leanne Sallenback and Kelly Ireland as they investigate hauntings in iconic world-famous locations including Montreal, Newfoundland, Salem, New Orleans, Charleston and San Antonio

History's Most Haunted premieres Friday, September 8 at 10 p.m. ET/PT on T+E during the channel's nationwide free preview event, running September 4 to November 5 T+E Channel history's most haunted
Auto-transcripts for the History's Most Haunted Interview (YYMV on accuracy!)
00:00.00
jim_phoenix
Hey, everyone Jim Phoenix here and boy am I excited to be back of what's crack and that's right, our awesome super secret interview show. That's off of ya hiatus and we're launching in style and style. We've got none other than t and es. History's most haunted show is brand new. That's brand new by the way if you've got everything to do us September Eighth at 10 p M Eastern pacific on t and e free preview. Check it out, history's most haunted is going to be super nova big. We've got coreine say hi. We've got we and say hello or hi what everyone really.
00:30.67
Corine
Um, hello.
00:33.83
Leanne Sallenback
Hey guys.
00:37.18
jim_phoenix
Go and Kelly say what that area if you hear their voices and you see their faces like boy they look familiar. That's because they were doing a gold rush. Did you guys find gold. First of all, how was your gold rushing going. Did you find the gold.
00:37.53
Kelly Ireland
Hey.
00:51.81
Leanne Sallenback
Ah.
00:53.47
jim_phoenix
This is how we're doing are you buying Teeny Now that's what it is.
00:55.13
Leanne Sallenback
Yeah, there was no time for pan and gold. You know.
01:00.69
jim_phoenix
There's no time for but no time for love Dr. Jones absolutely so this new one history's most haunted I know you like the roadships because you talked about this last time right. Is this a continuation from the road trip. Let's see where the we have the most haunted places in Canada.
01:20.17
Leanne Sallenback
Yeah, it's um, an epic continuation of that because we went all over North America to some of the most haunted historical locations so we definitely had to jump on some planes to get to where we wanted to go but it was. Ah, great continuation of haunted gold rush but in a very like bigger scope.
01:41.81
jim_phoenix
I think that I've seen the previews and I do appreciate the ah advance and yes bigger scope. That's exactly yet now Kelly and correne I want to know if you can go anywhere where would you go for haunting if you could haunt something Where would you go for haunting if you want to hunt some place of all places you've been because just you've been talking to the ghost you seen the ghost. You've been all over and see all these cool places. What place are you like you know I really should ha Hawaii I surely should want like. Maybe even a history's most haunted from the beyond?
01:59.57
Corine
But like if I wanted to to haunt them. But.
01:59.67
Kelly Ireland
If I could find.
02:01.61
Leanne Sallenback
Um, the.
02:11.80
Kelly Ireland
So I've already told my family I can haunt them so that's one but also maybe like a really cool beach.
02:12.10
Leanne Sallenback
But.
02:17.63
jim_phoenix
So beaches are great beaches.
02:20.77
Leanne Sallenback
But.
02:22.10
Corine
Um I think for me would be anything like anything in Europe or historical castles or something where people are expecting to get scared I would love to help with that. Yeah.
02:30.86
jim_phoenix
Oh that is brilliant. It'll be like to dungeon and Dragons Castle group I'm like oh I'm real ghostal that'll be so cool. Yeah, where would you want to go where would you want to go if you're hunting anywhere in history's most haunted
02:37.82
Corine
For me.
02:42.24
Leanne Sallenback
Um, my husband I agree with Kelly I'm definitely on him and probably some of those like ancient sites right? like just hang out at the pyramids hang out a match be to do it.
02:50.87
jim_phoenix
Oh that is a brilliant brilliant plan to man. These are all great places Now What was the best place you've seen ghosts this tour with was the most active active place that makes sense the one that's just like lit up all the spirit cameras and. All those things.
03:10.88
Kelly Ireland
They were all wild. Um, the last one that we end on Bell Islands was like that was the only place we've ever thought. Maybe we couldn't do an investigation because it was a lot especially for Karne. Yeah, yeah.
03:23.38
Corine
The.
03:27.60
Kelly Ireland
For me that was I think the biggest 1
03:30.34
Corine
Yeah Bell Island surprised me I was um I don't normally get scared like that feeling where you know you shouldn't be there get out and yeah, definitely no spoilers but in Bell Island top to watch because it was touch and go if you were going to continue on that one for a bit.
03:30.50
jim_phoenix
Um, okay.
03:36.84
jim_phoenix
Yes.
03:45.23
Leanne Sallenback
Yeah, and even in Montreal like we went to Montreal as well. And yeah, definitely yeah, there's some moments in that episode too. Where yeah like the gear you can't deny what's happening.
03:47.16
jim_phoenix
Um, that's awesome leon. How about yeah.
03:53.77
Corine
Okay.
03:54.31
jim_phoenix
That's right, you did.
03:56.19
Kelly Ireland
Um, get on.
04:03.33
jim_phoenix
It's everything just fell off my thing as you said Montreal haunting from history's most haunted. I'm like okay calm down ghost. So weirdly enough they ah the MTL in haunted Mtl stood for Montreal for longest time and I started out ghost hunting in some of the places you were I'm like oh my god. And so I was comparing noes mic. Yes, that's a very that's ah, that's another place I won't say where but there are things and techniques can you go in a little bit about the technology because it's gone a long way since my day of the the you know recording high is anyone there and then listening back in like 12 hours later like okay, no.
04:35.58
Corine
Um.
04:39.28
jim_phoenix
But now you have like the ouija board with the the the the word board. The am I getting this right there like am I making stuff up now. Oh.
04:45.10
Corine
Um, know yeah, the obellu. Yeah, not only you do? Um, yeah no I would agree like when we when I was you know in my late teens early 20 s it was like a recorder no ouija board I totally kind of like the pendulum or whatever.
04:56.85
jim_phoenix
yeah this episode of history's most haunted sounds killer
05:00.34
Corine
But yeah, we've come a long way and I think technology itself has come a long way and so now we use things like the ovilu we're looking at you know the rampods that detect electromagnetic energy and frequency like energetic changes in a space. You know they're using Xbox kind of like connect. We technology to map in stick figures using like.
05:09.35
jim_phoenix
Right.
05:20.28
Corine
Advanced technology to see spirits mapping in in a space where you know like for myself when I started buying this equipment years ago. You know it was almost for validation for me like okay well I'm seeing something and if this is supposed to show a stick figure like let's see if it works and when it does you're like that's.
05:23.78
jim_phoenix
Um, yes.
05:39.19
Corine
So compelling right? So yeah, technology has come leaps and bounds from where it was even like fifteen years ago
05:44.77
jim_phoenix
That that is amazing I think fifteen years is about 1 of I started doing it to yeah what was the 1 thing that you've been using and thanks for going into the I was looking look this like oh my god I see the stick figures I'm so glad you brought that what I'm like yeah there's like do you mero shapes that like it's like this is a guy this is a.
05:56.73
Corine
Um.
06:02.87
jim_phoenix
And this is what it is my ah them is so useful before that been so useful before I really like I think that's a shape I think that's a light here light here I'm not really sure and now it's like no dont Don Don done like got it and the speaking program now.
06:04.72
Corine
Right.
06:14.14
Corine
Oh the slf Cameras phenomenal.
06:21.29
jim_phoenix
Is there anything you want on your wish list. But the technology is just not quite. It's not quite there yet.
06:28.67
Corine
Yeah, there's a few things that I think we would like to. We've talked many times about you know wouldn't it be great if certain things could also do blah right? And so I think with modern technology and you know.
06:32.51
Leanne Sallenback
That's a great question.
06:34.85
Kelly Ireland
Um, yeah.
06:46.28
Corine
There's this new lidar technology and there's all these new kind of cameras and you kind of like spectrums of you know, development in the camera industry. So I think eventually I think we're going to get more accurate and clearer kind of depictions of what we're actually seeing.
06:48.77
jim_phoenix
Um, right.
06:57.94
Kelly Ireland
Her.
06:58.64
jim_phoenix
I think that's I think that's the future I think you're right and for his history's most haunted I we said Montreal and I believe you went to Newfoundland yes I'm not yes where was the coldest because you would the Montreal like the winter time.
07:10.77
Kelly Ireland
Yes, yes.
07:17.65
Kelly Ireland
Blah.
07:18.48
jim_phoenix
I Saw the edge I'm like oh my gosh I'm so sorry you went during the wintertime. No no was it really? oh boy. So sorry I apologize on Behalf of my continent. Both.
07:20.30
Leanne Sallenback
It was stole girl. Yeah, but yeah, those atlantic winds like I had those like hot hat.
07:20.72
Kelly Ireland
Yeah. Yeah Montreal and Bell Islands yeah Montreal and Bell Island land for both just off the chains cold.
07:28.42
Corine
Oh yeah, the Canadian locations.
07:36.13
Corine
After.
07:37.94
Leanne Sallenback
On like everywhere they like burnt my skin because I put them.
07:38.97
jim_phoenix
Ah sorry I left because I'm there with you like it like that's exactly steadying for the metro like okay I can't believe everything's frozen here I can't feel anything ice for it's like you're either burning by you're burning yourself to keep warm. That's basically what it is.
07:53.10
Kelly Ireland
We laughed we laughed so hard we were walking down the street and Leann picked the wrong boots for the day and oh my gosh. She's just like shuffling along and.
07:54.57
Leanne Sallenback
Um, yeah.
07:54.81
Corine
Oh yeah I.
08:02.40
Corine
Put them.
08:04.42
Leanne Sallenback
So embarrassing month Montreal I I don't walk in Montreal I shuffle because I have like grippy boots. Yeah.
08:06.57
jim_phoenix
Um.
08:09.00
jim_phoenix
So yes, oh that was my first time in Montreal as well. I'm like I see these things at other stores like little grips I'm like why would I want to buy it this I'm from a gun I don't care action. It's ice. It's icy, whatever no, you need them because if you haven't gonereal this trees are like straight up and down for a lot of them.
08:23.22
Kelly Ireland
Yeah.
08:23.53
Leanne Sallenback
Yeah.
08:25.44
Corine
Um.
08:28.43
Kelly Ireland
A happiness.
08:28.86
jim_phoenix
And the rest are just like sheer ice like shears your ice none whatsoever whatsoever like ice gates or or your friend and the gripping things I'm so sorry I understand this and I get it. What was the.
08:29.36
Leanne Sallenback
Yeah, and there was storm and there was no clearing of the sidewalks. So yeah.
08:33.41
Corine
Oh yeah.
08:42.76
Kelly Ireland
Um.
08:45.15
jim_phoenix
Most pleasant climate then what was the most pleasant comment. What was the most pleasant climate as in not just temperature wise but ghost wise without spoilers and stuff like that. Just like what was the most positive feeling.
08:55.37
Kelly Ireland
Oh Geez I'm going through the rolodax and he says.
08:57.43
Corine
Um, oh no for the one your head.
08:57.68
Leanne Sallenback
Well yeah, like San Antonio was like San Antonio's beautiful like being able to experience that city like from like you know the riverwalk and all that stuff like San Antonio is pretty awesome and it was warm and.
09:00.30
jim_phoenix
I'm hitting up I'm hitting hard That's right right.
09:08.80
jim_phoenix
No wow.
09:13.28
Leanne Sallenback
Yeah, we did the ghosts of the alamo and it delivered like we were just in very like 3 or 4 different spaces that all were super active and you know we could wear running shoes or flipflopbs when we were investigating. Yeah.
09:28.26
jim_phoenix
All that like do a little skates around and the ghost of elm. Ah everyone thought those was Ozzie Osborne for the ghost of alamo turns out, it's an actual ghost down ma actually happened for my metal fans like we have do as thing now if we're going through this.
09:29.94
Kelly Ireland
Yeah.
09:31.57
Leanne Sallenback
No, but.
09:45.67
jim_phoenix
And you said there's partsse that might have made you go. Okay, that's it the end I know you guys sort of have that safe word ish I'm not saying what the safe word it is I don't want like Jinks you guys. But if that would have happened could you walk me through is it just like ending and we just walk away from taping was ah you guys go back the second day or.
09:54.87
Kelly Ireland
What.
10:03.95
jim_phoenix
Is it just done if the safe where has been reached.
10:07.17
Kelly Ireland
We haven't had to cross that bridge yet. Ah have we not not in the series at least it's kind of like it's yeah, it's the the agreement is that we leave as soon as somebody feels. It's too much or they're afraid.
10:11.70
jim_phoenix
Let say Jingsu Guys mic so far.
10:12.16
Corine
Um.
10:12.62
Leanne Sallenback
We Well maybe they want to wait a little bit.
10:15.31
Corine
Yeah.
10:24.78
Kelly Ireland
If you ever feel fear. You need to get out so and then we reassess from there.
10:27.62
Corine
Yeah, yeah, you don't want to put anyone at risk too right? like if it's that if someone's feeling that you know freaked out and that energy is that strong like we don't know what it could do so we don't want to put anybody even ourselves or the crew at risk. So you know it's just like let's.
10:27.90
jim_phoenix
That's good. That is pretty good and I.
10:47.80
Corine
Take a step take a minute get out.
10:48.73
jim_phoenix
And and that's respectable and that's that's what I like seeing about your programs is because you have the respectable. We I think I said this last time we won't mention the ones who kind of like call the ghost out start young. Oh like what are you doing dear like really. First of all, they're dead come on like give them a break at this point but you've been respectable and because of that I keep asking this I was just wondering because you just did his history's most haunted on t and e by the way September Eighth which is a Friday otta what has this comic comic club.
11:08.87
Kelly Ireland
Nagen or.
11:23.32
jim_phoenix
Comic club wow comiccon and a comiccon 8 pm or apion redo that ten Pm Eastern and pacific perfect time because your show is on the teeny nationwide pre free preview event readings hard for me today I should I be.
11:40.82
Corine
Um, it.
11:42.21
jim_phoenix
Not via teacher. So as we're checking this out I was just wondering if you have any things are like attachments anything that the ghost came with you anything that said, like any kind of like dreams afterwards did anything kind of get in your psyche afterwards.
11:59.13
Corine
I didn't have anything personally afterwards this time. Um, but it was interesting that something came weeks before and kind of attached to me in a way that I'd never really experienced like that. So yeah, so check out Charleston's episode and ah.
12:07.70
jim_phoenix
Um, oh really.
12:17.50
Corine
You'll see what that's all about yeah so I didn't have anything after but it was an interesting one where I was getting stuff weeks before the episode and that that was new.
12:23.59
jim_phoenix
That that's yeah, go for.
12:23.86
Kelly Ireland
Yeah, sorry I was gonna sayring cried in that episode and I've never seen I mean Lean's lived with her whole life I don't know if she's ever even seen her cry so that was like that was the big one.
12:34.98
Corine
Um, here.
12:36.61
Leanne Sallenback
yeah yeah I had a couple dreams after the Newfoundland episode. Um, yeah, so there's definitely like you're you know at various times drawn to a location and drawn back drawn to like Karrene was.
12:39.98
jim_phoenix
Really.
12:49.43
Leanne Sallenback
So it's really interesting like we're learning as we do this too like what's happening and what our abilities are saying and how we interpret them.
12:56.31
jim_phoenix
That that's pretty interesting now for history's most haunted you are going through these locations for how how long is a shoot. It's a like a week. How long are you in location about a week but as I guess out on the Montreal one. Yeah so you're going through these.
13:08.10
Leanne Sallenback
What five days yeah
13:09.24
Corine
Yeah, yeah, five six yeah
13:15.94
jim_phoenix
Have you ever thought I need to come back I need to especially if you have the things before and after I need to revisit No Cameras for history's most haunted but I Just need to close her or some of that I'm seeing some yeses. Okay so good for me.
13:29.17
Leanne Sallenback
Yeah.
13:32.70
Kelly Ireland
Um, for me, it's it's not well. Not exactly the specific locations that we went to but it's more the area I feel like like when we visit a city like Montreal that's when I think we all sort of agreed. We'd like to go back because we just got to touch a few places we got to experience a few places.
13:35.91
jim_phoenix
Right? oh.
13:50.60
Kelly Ireland
And there's just so much more and every time we go to a place. There's more people that show up and like tangible people who are like oh my gosh I had this experience and this is what you do and can you come and check this out and it's like you only have so much time So Montreal is definitely a place that I in particular would like to go back to.
13:57.96
jim_phoenix
Um, right.
14:07.30
Leanne Sallenback
Yeah, but.
14:08.88
jim_phoenix
Um, I think you hit it on it head where else where else.
14:12.20
Leanne Sallenback
For me, it's it's just that it's Newfoundland because there's something like supernatural about the place we were at like every single person we talked to on this island had a story had an experience and that is super rare to go somewhere where just like a living breathing.
14:12.33
Corine
I think I would oh yeah, go ahead.
14:28.65
jim_phoenix
Um, yeah.
14:31.45
Leanne Sallenback
You know reality. So yeah I would love to go back there.
14:35.99
Corine
I'd probably like to go back with you. But if not winter perhaps but yes, um for me I think honestly I'd go back to any of the locations like Kelly said everywhere you go, there's just there's so many people that told us like she said.
14:40.80
Kelly Ireland
Are.
14:41.88
Leanne Sallenback
Um, it.
14:46.41
jim_phoenix
Nice.
14:53.26
Corine
Have you checked at this place I have you checked out this place and you know you're filming and you're you're on these locations and you don't have tons of time to go explore the other places so it would be really neat to go back and check out some other places that we didn't get a chance to see just due to time. Yeah.
15:06.29
jim_phoenix
Just dude. Yeah and that's the thing it's you are there for a Limitedminum amount of time and for every was every couple minutes of especially for a documentary like every couple of minutes you see on on error. It's like hours and hours and hours and hours of real time and so I can I can sometimes see like you think about Sql. The history is most haunted in the summertime tomorrow.
15:29.25
Kelly Ireland
For trying to manifest by buying flip flops. Yeah yeah, yeah, yeah, yeah, somewhere warm would be nice.
15:29.75
Corine
Ah, wouldn't I be a whole new.
15:30.70
Leanne Sallenback
Ah, yeah, yeah.
15:32.35
jim_phoenix
Yes, the flip flop door. We like that one.
15:38.90
Leanne Sallenback
Yeah, that would be great.
15:39.57
Corine
Um, yeah.
15:39.84
jim_phoenix
Yeah, now we talk about history is most haunted which is on teeny again Friday September Eighth at 10 p M Eastern slash pacific on te during the channels nationwide free preview event. So if you're like Jimbo right here and you're like what's cable. You can watch it as well see sometimes I can read. It's like Fla now when you're doing for history's most haunted are you trying to I'm not saying you are but I'm asking. Are you trying to hope that something good happens something bad happens or just.
16:02.17
Leanne Sallenback
Um, yeah, nice.
16:02.59
Kelly Ireland
William.
16:18.17
jim_phoenix
Ah, you okay with sometimes like nothing. There's nothing an okay response. Yeah.
16:20.30
Corine
Absolutely yeah, we've gone into places where honestly everywhere we go into we have like I don't know but you guys like I have like very limited expectations like okay well I don't know what's going to happen. You don't know what you're walking into and you may have heard you know.
16:21.90
Leanne Sallenback
Yeah.
16:33.90
jim_phoenix
Um, right.
16:35.27
Corine
Certain stories where people have told you things and we've talked to the witnesses who have had terrifying experiences. Um, but you know it's about our experience so we go in and try to come in with you know, an open mind and just to see what we pick up because everybody experiences things so differently and so you know. Just find that sometimes there is nothing there and that's okay, that just it doesn't mean that there's no spirit or ghost. There's just at that moment. We didn't connect with it right? and so you know investigating ethans could take way longer than just one night sometimes so yeah, definitely. It's okay when you don't get something.
16:58.99
jim_phoenix
Um, right? yes.
17:12.58
Corine
And we have oftentimes gotten not a walk that night or nothing that night but the next day it's like crazy active again. So yeah, it just depends.
17:21.63
jim_phoenix
I like that it's like a feeling out sometimes like the ghost or the entities are just kind of like are what are you here for and then it's a slight and sometimes people are shy. You know entities as well. They can be shy as well. So that's very great now if you want to say 1 thing.
17:31.99
Kelly Ireland
Ever.
17:33.48
Corine
Um, yeah.
17:41.39
jim_phoenix
Just 1 thing. What was your best scariest whatever moment happiest moment for history's most haunted. What would it be and we'll start clockwise on my screen which was going to be liana. Which when what was the 1 thing you want to take away from this whole entire series. Yeah.
18:00.82
Leanne Sallenback
Um, if I could just say 1 thing. Um honesty like stepping foot onto our first location in San Antonio Texas it was just the reality of it like I'll never forget that moment and just like starting the journey there.
18:14.33
jim_phoenix
Um, no.
18:17.59
Leanne Sallenback
And like thinking about like our first location in Texas to our last location in Newfoundland and everything in between I know this is not 1 thing but I'm spiraling. Um, it's some just stepping into that like first part of Texas I think is my like big aha moment like we're doing this? yeah like.
18:23.91
jim_phoenix
No, it's good.
18:27.52
Kelly Ireland
Um.
18:34.35
jim_phoenix
That's awesome. Yeah I'm smiling because I'm like you started out with a nice little warmish location like as time goes on. Let's go to the colder places last go to their last Kelly how about you.
18:38.91
Kelly Ireland
Oh yeah.
18:47.70
Leanne Sallenback
Um, yeah.
18:47.40
Kelly Ireland
Can you see the question again. Leann Leann spiraled me off a little bit. No ski. Yeah well.
18:50.46
Leanne Sallenback
There.
18:51.85
jim_phoenix
This script just took the 1 thing the 1 take away you got positive negative spooky good stuff. What was the 1 thing you took away from history most haunted.
19:02.66
Kelly Ireland
Um, yeah for sure. Um, besides the show itself and and investigating um for me, it's in each location. The connection between the 3 of us and our crew that we formed that is so special. We've taken away that like our c our dop.
19:07.62
jim_phoenix
Private.
19:16.12
jim_phoenix
Cool.
19:20.51
Kelly Ireland
We have a bond with him. We call ourselves the fab for just him experiencing it and he experiences things in each location and it doesn't always make it on but he's experiencing things and gives me like excited Goosebus now because it's like forming this bond with our team. It's.
19:24.71
jim_phoenix
He's.
19:37.26
Kelly Ireland
It's just more than the 3 of us you know there's people that you don't get to see and and that's super special for me.
19:43.52
jim_phoenix
That's amazing I Always like the behind this behind the scenes just um, break my own rule is there behind the scenes would you ever think doing behind the scenes little bit.
19:51.63
Leanne Sallenback
There There's going to be um, a micro site with a ton of stuff. So yeah, yeah.
19:52.50
Kelly Ireland
Oh with that big one.
19:52.94
Corine
Oh yeah.
19:57.24
jim_phoenix
Nice, perfect now, great last but not least the 1 thing for you. The 1 thing stood out for you.
19:58.13
Corine
Yeah, so.
20:04.55
Corine
And um, yeah, other than the show itself like everyone said I think for me this has been a I don't know it's been mind-blowing because I think for the first time since I was three years old I'm being my authentic self everywhere and so you know I've kept my abilities quiet for. Most of my life and so I think the Charleston episode was one that really resonated with me because it was just like I was that little kid going is this real again. Oh my god you know what's happening and then all of a sudden when things clicked I was like an emotional rack because I'm like this is real like.
20:27.26
jim_phoenix
Nice.
20:40.50
Corine
It was just so validating to me too. So it's my own personal growth and I think that um, history's most haunted as allowing the 3 of us to develop our skills and to to test what we can get and help people both you know hear and in spirit form because ghost for people too right? So yeah I think it's just it's just really.
20:53.90
jim_phoenix
Right? absolutely.
20:59.67
Corine
Amazing to me that I'm at this point and being who I truly am So yeah, but.
21:02.11
jim_phoenix
I love that. That's a perfect answer. That's ah I've got no no further questions your honor That's awesome i. Love it. That's being who you are I think that's so freeing and that's what I love about your show. History's most haunted on t and e again Friday September Eighth at 10PMSlash. pacific and East or eastern pacific on their nationwide free preview of ven on t I love it. Thank you very much for your time once again I'm hooked I'll be up watching every fs episode. You know me and me doing some reviews. Thank you so much everyone bye everyone.
21:33.95
Leanne Sallenback
Awesome! thanks.
21:36.47
Corine
Thank you for having us.
21:36.81
Kelly Ireland
Thank you, Thank you for having us.
21:40.20
jim_phoenix
Hey.

American Horror Story Delicate, Multiply Thy Pain
American Horror Story Delicate began last night, Killer Queens. And it was, well, a complicated episode. This makes sense because this season is about a complicated topic.
Just in case you didn't know, this whole season is based on the novel Delicate Condition by Danielle Valentine. If you haven't read it yet, you should. 
The Story
Anna Victoria Alcott is an actress who just got her big break. She was in a horror movie that no one can stop talking about.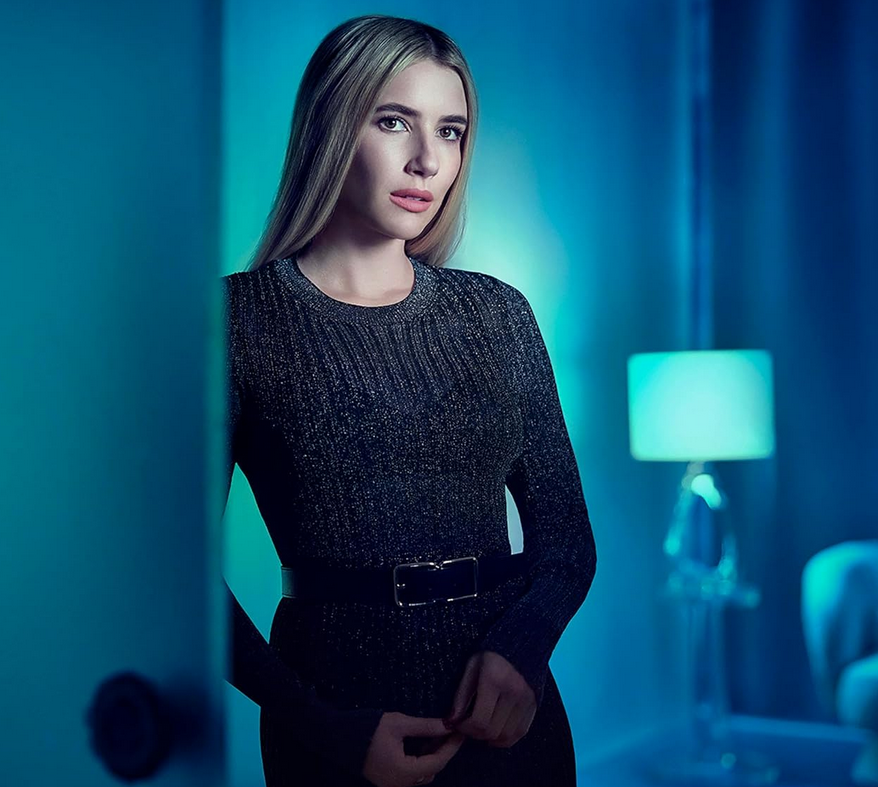 Except Anna herself. Because this career success couldn't have come at a worse time. She and her husband Dex are in the middle of the difficult IVF process. It's expensive, time-consuming and painful. Ironically, so is trying to win an Oscar.
But Anna has other things to worry about. Someone is messing with her. Several women are watching her in public. Worse, someone appears to be getting into her home, slashing notes she leaves for Dex, and removing her vital IVF medication from the fridge so it spoils. Her calendar is hacked to move her doctor appointments around so she misses them. Worst of all, someone broke into her home and crawled into bed with her.
Of course, no one takes any of these concerns seriously. Her agent, Siobhan, is focusing on getting her an Oscar. Her husband, Dex, doesn't seem to give a shit about her except for when it comes to having a baby. He's frequently dismissive of her concerns and only seems to want her around when it's convenient for him. He goes so far as to kick her out of his show opening because she's on edge.
You know, maybe because she's clearly being stalked by someone who is trying to keep her from having a baby.
What worked
AHS Asylum had a lot of dark and important things to say about mental health care in America. AHS Coven had a lot of dark and important things to say about race and gender relationships.
Last season, AHS NYC wasn't so subtle. Yes, there was a killer. But the real historical horror of the AIDs epidemic in the 80s was the focus of the season. And that worked very well.
This season, the story is clearly about female body autonomy. Anna is a woman struggling with so many issues that modern women face. The balance between our careers and our families. Feeling like growing old is the most unforgivable thing a woman can do. And of course, the fact that our bodies often feel like they don't belong to us.
I was also pleased to see some AHS alumni. Denis O'Hare as Dr. Hill was delightful. Leslie Grossman and Billie Lourd will be involved soon, and they never bring anything less than their A-game.
This episode also did something I never thought could happen. It managed to scare me with a calendar notification. That was a special moment for me as a horror fan and calendar-obsessed person.
What didn't work
Here are some things I didn't love. First off, the main character Anna is a pushover. She can't say no to Dex, Talia, Dr. Hill, or Siobhan. No one gets a no from this woman!
Anna didn't act like that in the book. She stood up to everyone all the time, it was great. She wasn't getting any support, but she was advocating for herself! That was such an important part of her character, and I'm sad to see that she's lost that here.
I also hate the changes made to Siobhan and Talia. Now, please understand that this isn't me complaining that the book was different. That's not my point. Siobhan was a kind, loving woman who supported her best friend even while dying of cancer. Talia was a smart, business-oriented woman who was still kind. She was trying to start a family with her transgender husband, and bonded with Anna over their IVF journeys. These were vital characters in the story.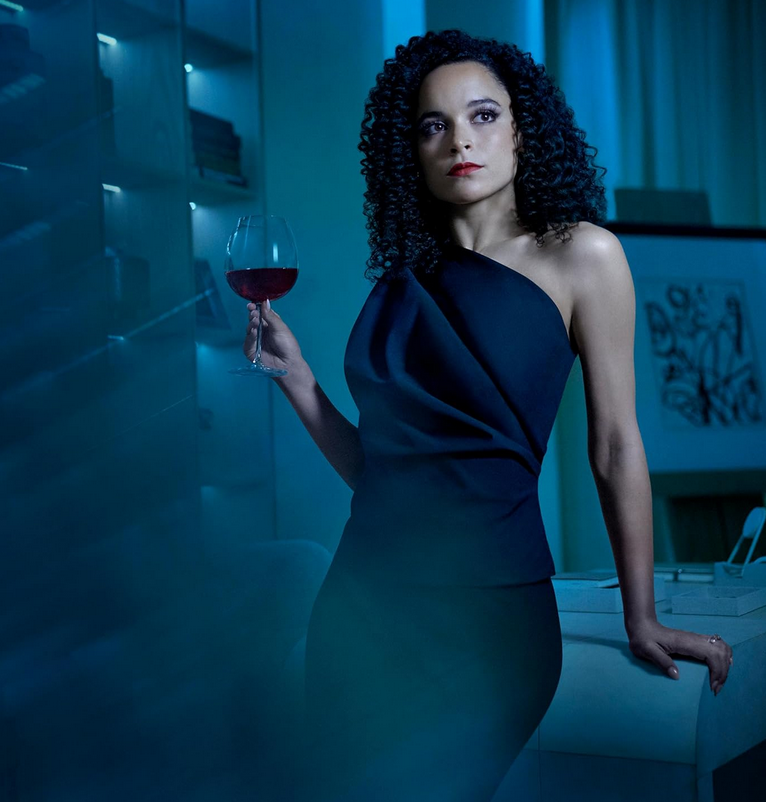 I feel like they've been railroaded.
All that being said, this was a decent start to AHS Delicate. It's not the best start of a season we've had. But it's okay. I'm looking forward to seeing what the rest of the season is going to bring. 
(4 / 5)
Wheel of Time, Strangers and Friends
Episode two of Wheel of Time, widened the divide between the show and the books. Things are happening out of order, people are acting out of character. Whether this is to the detriment of the show, however, has yet to be determined.
The story
One character missing from episode one was Rand. You know, our main character. But we finally catch up with him now.
He's living in a city with a woman named Selene. They don't have what I'd call a super healthy relationship. She spends a bit too much time talking about her ex.
Yes, for those of you who didn't read the books, this is going to be important.
Rand is also working at an insane asylum. He's kind and patent with his charges, but not all of his fellow caregivers are.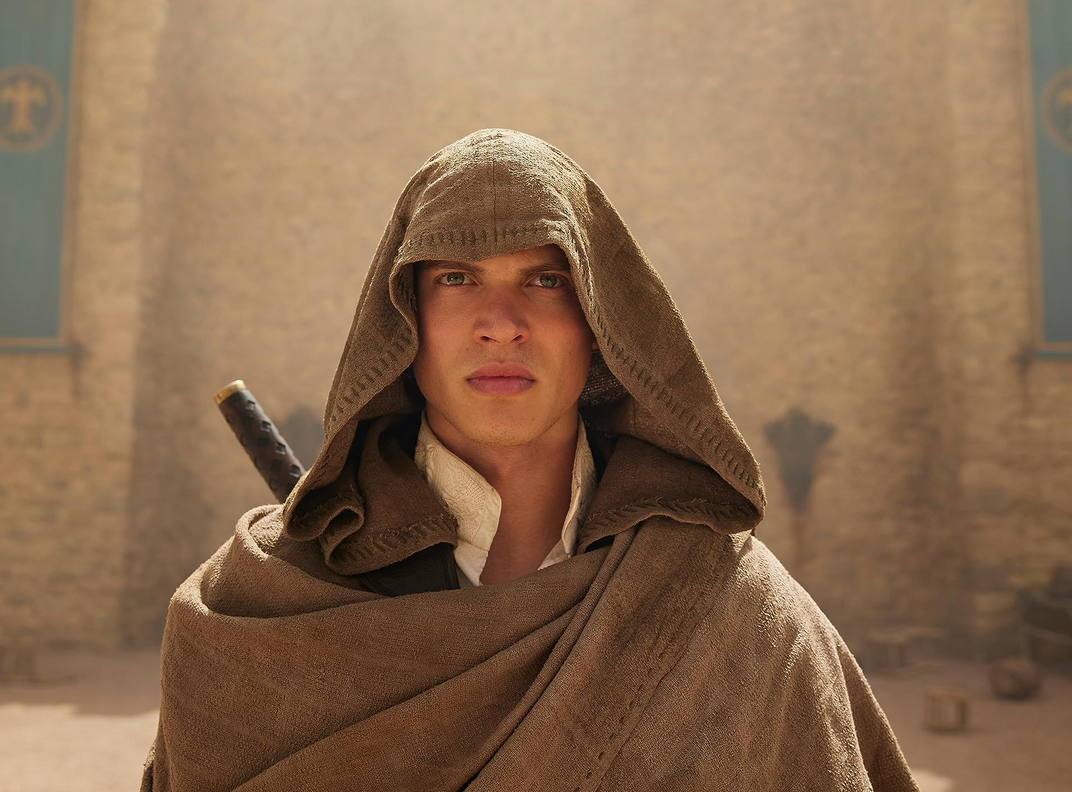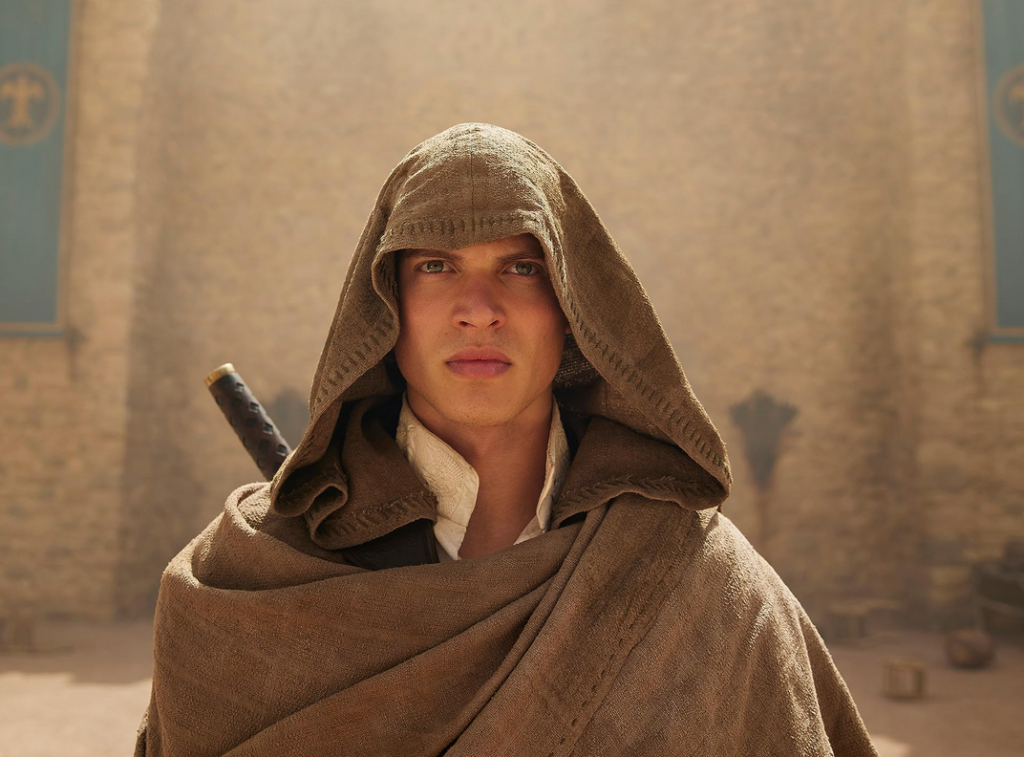 Meanwhile, Lan and Moiraine are recovering form their Fade attack from last episode. Rather than taking the time to actually heal, Moiraine decides to head out to find Rand. Her team comes with her, which seems to really bother her.
While that little hissy fit is taking place, Nynaeve is causing issues. Not by anything she's doing, but by what she's not doing. As none of the regular novice teacher have been able to get her to use the One Power, Liandrin offers to try. No one, including me, is thrilled with this. But, the Aes Sedai are desperate. They know that The Dark One is around, and they need Nynaeve to be ready. So, they let the person who's driven other students to their deaths and actively committed multiple hate crimes take over.
What could go wrong?
What worked
The special effects in this episode were really well done. I especially liked the dead fade nailed to the wall.
I was also pleased with the introduction of Elayne. Ceara Coveney is playing her, and doing a fine job. She's warm, kind and sweet. I am thrilled that she's around.
One of the greatest things about Wheel of Time is the friendships between the characters. Rand, Perrin, Mat, Nynaeve and Egwene legitimately care about each other. Elayne seems to care for Egwene right away. I really love that.
What didn't work
One thing that bothered me in this episode, and frankly the last episode, was Liandrin keeping Mat in prison. I feel like this wasn't adequately explained. Why does she have him? How did she trap him? What in the hell is she trying to get from him? Perhaps I simply missed something, and please let me know in the comments if this is the case. But it feels like some poor writing to me.
I also don't love how Moiraine is portrayed in this episode. Really, in this season so far.
I get that she's never exactly been a warm person. She's not personable, open, or kind. Some (most) fans of the book would likely agree that she's kind of a bitch.
But she's not a bitch for no reason. She certainly isn't the sort to lash out at the people who love her because she's in pain. And that's what she's doing through this episode. She's taking her pain out on Lan. And that's just out of character for her.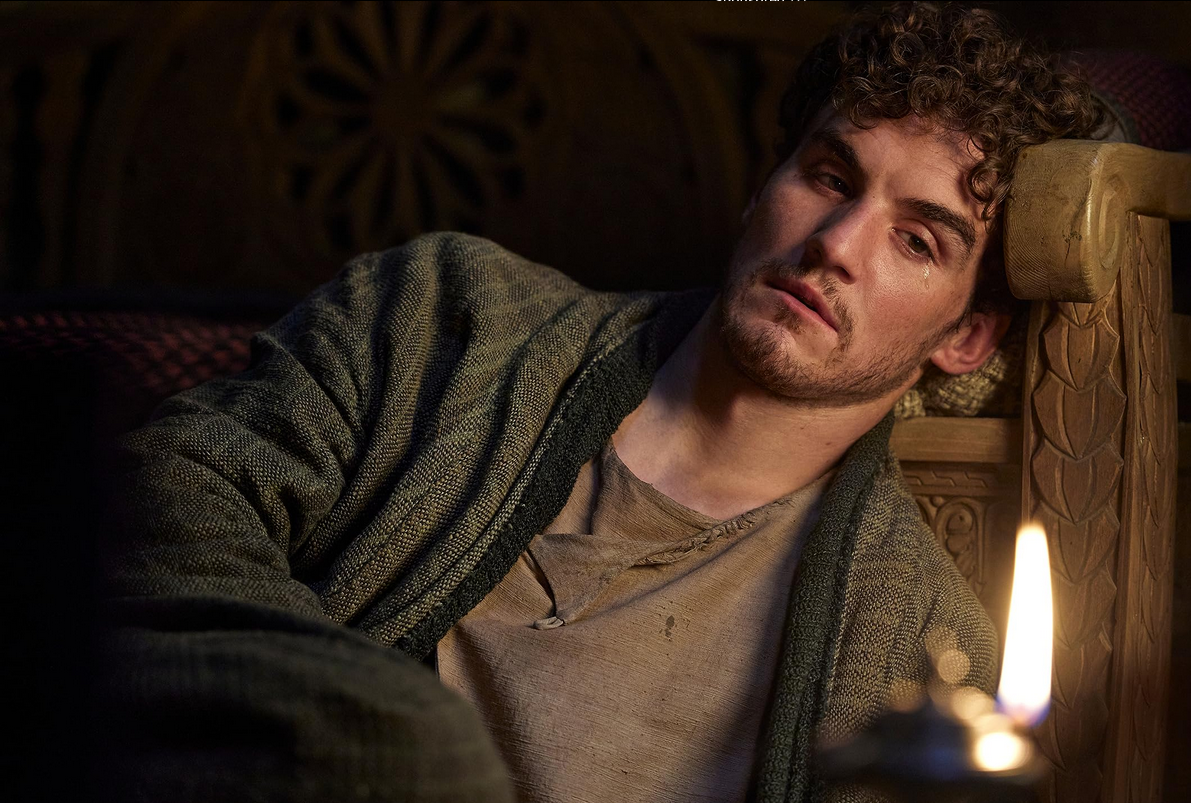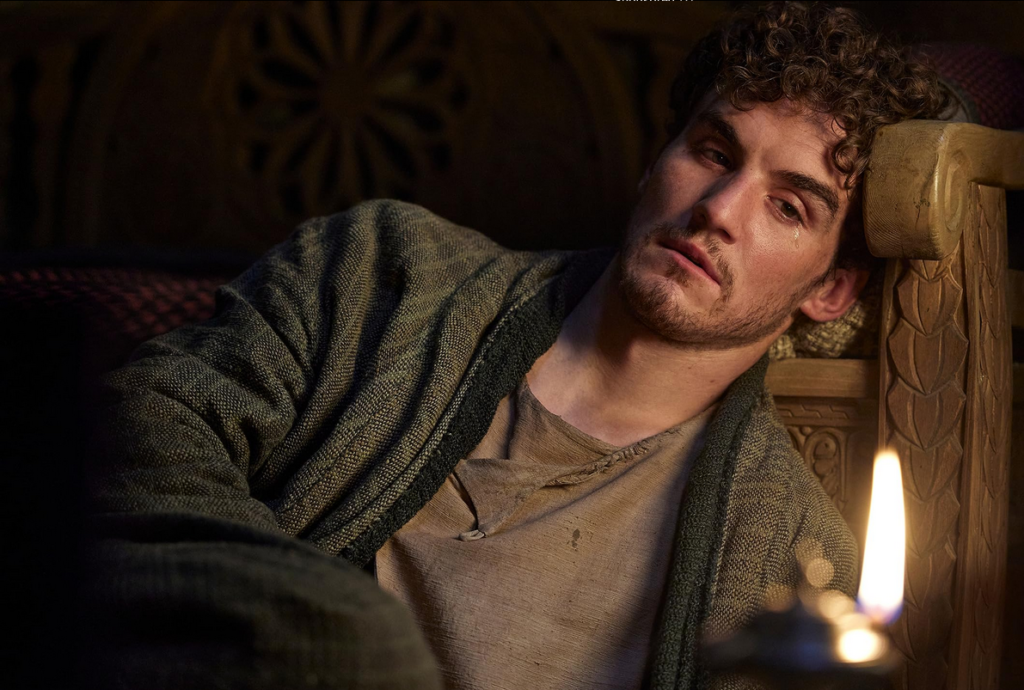 It feels very much like a lot is being skipped over from the Wheel of Time books. But, so far at least, I don't feel like anything vital has been missed. It feels more like the story is being streamlined.
Yes, I understand how this might go horribly wrong. I think we've all seen that. But as of right now, the changes make sense for the switch in mediums.
Now, let's see if it stays that way. 

(3 / 5)
Revisitations: The Devil Went Down to Georgia
So I've been working on more painting into found art (as seen here before) and I thought I'd share a newer one, based on the song The Devil Went Down to Georgia by Charlie Daniels. But first let's make like my She Wolf post enjoy a couple variations of the song, shall we?
First we have Charlie Daniels, the writer of the song which was inspired by the beautiful poem by Stephen Vincent Benet titled The Mountain Whipporwill. You can read the poem on Your Daily Poem here.
Then we have to watch my favorite version, the animated music video by Primus. I know there are claymation-haters out there who find the effect bit too "uncanny valley" but how can you not just love those chickens?
Anyway, without further ado, here is my painting, incorporated into a found still life, original signed L. Harady.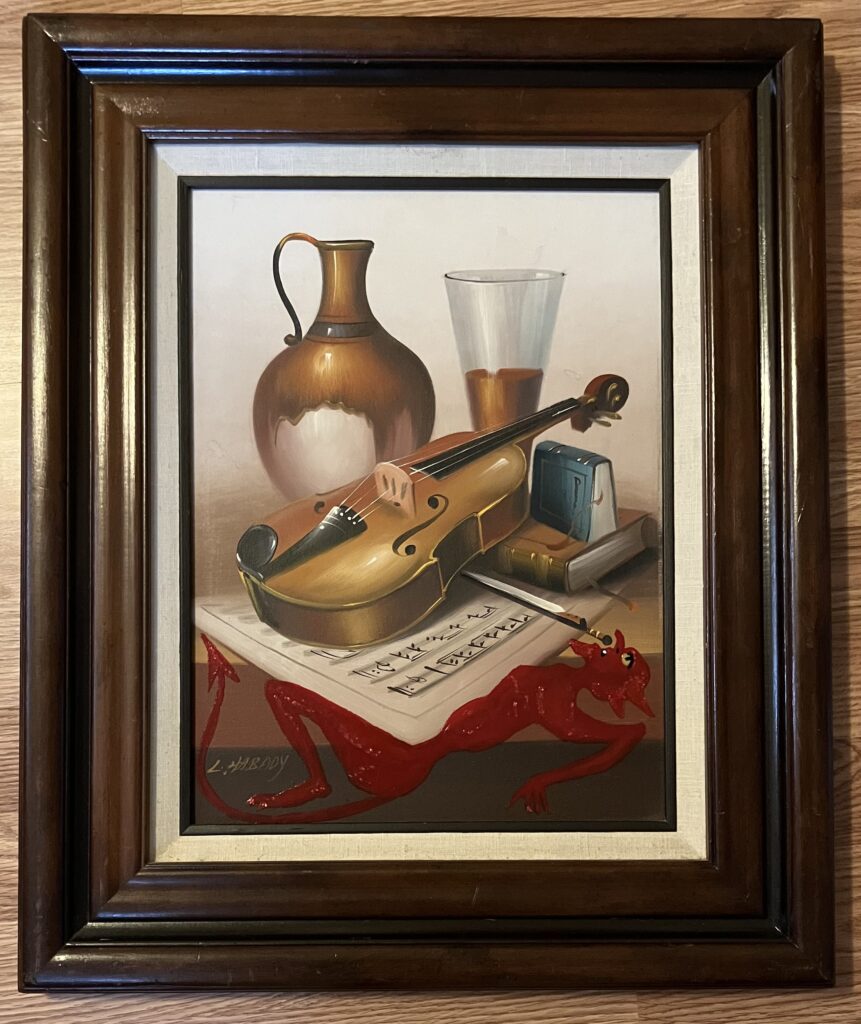 Here The Devil is defeated, crushed along the lower edge of the artwork beneath the fiddle and lamenting his loss. The bow jabs into his sneering nose as if to add insult to injury, but his eyes still glow, alight with the prospect of coming back for another round. (They actually do glow, I have acquired some blacklight reactive nail polish to use in these pieces now.) I suppose I may go to Hell for this portrayal (or for defiling yet another painting) but alas, such is the price of art sometimes. I guess I'll add it to the list…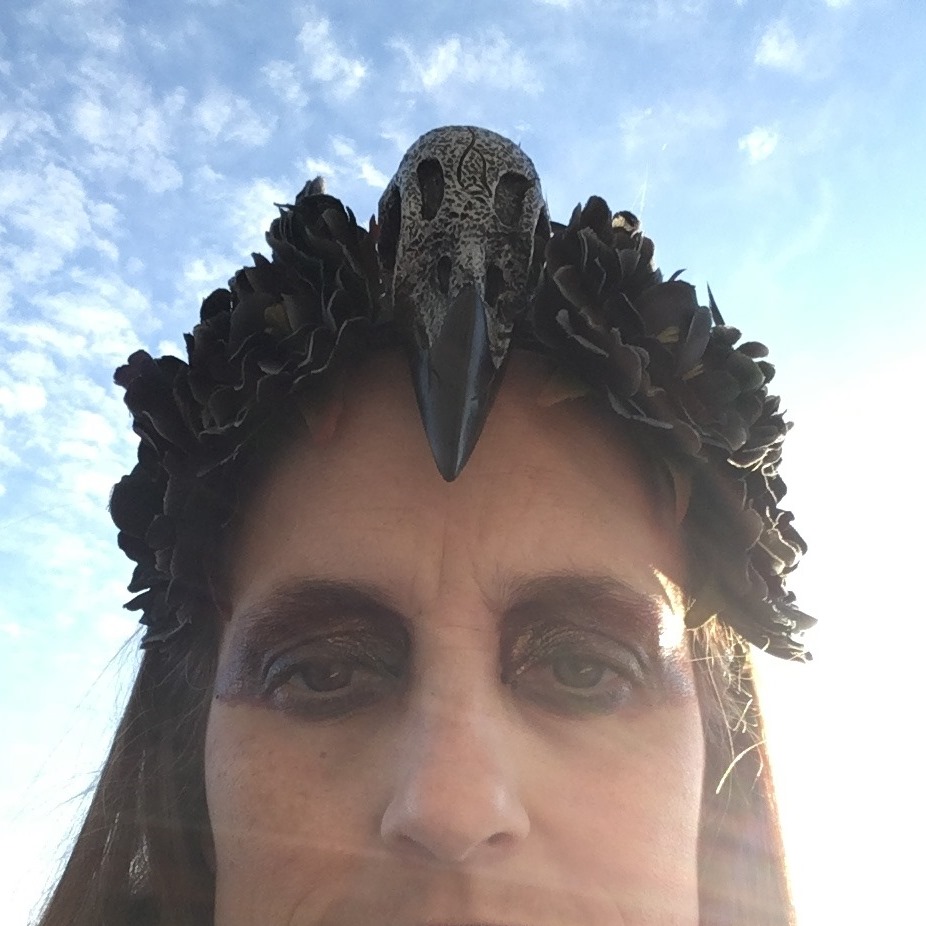 Feel free to check out more of Jennifer Weigel's work here on Haunted MTL or on her writing, fine art, and conceptual projects websites.