Like being scared? How about real-life hauntings? Maybe some strange happenings and some killer science is your thing? Guess what, T+E's Creep Week has you covered! With something for everyone we have a full line up of over 160 (that's right 160!!!) hours of spooky splunks, gunks, and hunks (Ok, I know I can't be the only one in the Eli Roth Fan club!), the T+E Channel brings home the gold (dripping in ectoplasm, but still gold!) with their Creep Week line up.
The What? Creep Week!! Seriously if you haven't seen Creep Week yet stop reading this review. Run to your cable provider (or Apple TV) and sign up for T+E channel now! This week is so good, Jim killed off the Walking Dead to add T+E to his package and hasn't looked back!
You've got T+E now? Uh-huh. Great! Let the madness begin (or so the Ozz Man sayeth!).
The When: October 8 to October 16 is your 160 hours of pure adrenaline pre-Halloween primer of twisted fun!
The Breakdown:
T+E's Creep Week has the best in original entertainment and real horror happenings! The big shows to not miss ever with many WORLD Premieres include…
Haunted Hospitals
(Jim covered this on Streamin' Demons AND a What's Kraken!) jumps in line with the October 12 at 10 pm PT/ET premiere! If you thought the Jell-o was scary, you've gotta check out what really happens in the hospitals after dark.
Paranormal: Caught on Camera
This one hits it home on October 13, at 9pm ET/PT with expert analysis of the footage that is all too real and all too scary! (Seriously, don't watch this one with the lights off!)
Strangest Things
Strangest Things beams over on October 16 at 8pm ET/PT. This one has Jim super excited. He's a geek and the science being used in this show is both cutting edge and will have you on the edge of your seat! All the things you daydreamed about as a kid will come to life in this season including some truly mind-blowing findings (I can't tell you, but you HAVE to see this season–do not miss this one if you're a fan of the unknown!)
Eli Roth Presents: A Ghost Ruined My Life
Finally, we have the one–the only (I think, unless clones?! OMG! ELI CLONES!!!! That's my idea! No taking it!) Eli Roth Presents: A Ghost Ruined My Life. No! Not your Tinder match that 'didn't show up but probably was a catfish who definitely didn't want to watch Roller Gator with you anyways, so what's the point? I can't believe how much…err…sorry…got off track here).
This T+E Original series takes a look at the real-life hauntings that were so shocking to the person, they are still trying to overcome the trauma. I am glad the T+E channel allows these poor souls a place to voice their truths and allow some closure. Sincerely, if T+E is known for anything it is to give a platform to people and treat them as…people. I can't tell you how many interviews I've done with ghost survivors, and they all said the same thing–being able to talk about it with people who don't judge them helped them more than we'll ever know.
Introducing T+E's Creep Week (Oct 8-Oct 16)


Don't take Jim's word for the scariness of Creep Week? Shame on you! When have I ever steered you wrong? (Nobody say Roller Gator!!). Fair enough. I've included a few trailers to get the juices flowing. Check 'em out and then head on over to the T+E Channel to make your own judgements!
From October 8 to 16, T+E's Creep Week will be airing daily paranormal programming marathons, including episodes of Scariest Night of My Life, Strange Evidence, Paranormal 911and Help! My House Is Haunted. To find out more about your favourite ghostly series, exclusive videos, trailers, and more, visit T+E'sCreepWeekhub: creepweek.tandetv.com. Join the conversation on social media by following T+E's Facebook, Twitter and Instagram pages, and by using the hashtags #CreepWeek #ChannelYourFear #AGhostRuinedMyLife

(From T+E)
Haunted Hospitals Season 4
We've talked about this one on our super special Streamin' Demons (aka the Brannyk has a birthday edition!). If you want to see the perfect blend of well-done practical effects (the makeup artist is killer!) with sensational acting, and real people telling their truly spooky tales, then look no further. Haunted Hospitals is worth the price of the channel itself. I have a whole season of reviews coming at you soon!
Haunted Hospitals, Season 4 (10×60'; HD)
October 12 at 10 p.m. ET/PT • World Broadcast Premiere
Explore chilling stories of paranormal activity inside medical institutions. In each episode, nurses, aides and support workers give first-hand accounts of ghosts, entities and past occupants coming back from the grave to seek revenge or to warn of impending danger.

(From T+E)
Eli Roth Presents: A Ghost Ruined My Life
If me saying 'Hey! It's Eli Roth hosting this show!' doesn't get you to watch this series, then I'm not sure what else I can add in–or do it? Ever have something dark happen to you? Maybe something unexplained? Maybe it's a specter or a demon or even the elusive Snipe (I'll get you yet, you murderous fiend!!) whatever it was in your life, wouldn't you been glad to have shared it with someone and then have Eli Roth go 'Holy crap that's scary!'?
Sincerely, if you are into true-life hauntings you need to check this one out. Come for the haunting and stay for the hunking (ok, maybe I'm the president of the Eli Roth Fan Club Sector #12389732.2!)
Eli Roth Presents: A Ghost Ruined My Life, Season 2 (8×60'; HD)
October 14at 10 p.m. ET/PT • World Broadcast Premiere
Executive produced by award-winning film director, producer, writer and actorEli Roth, T+E's original anthology series unveils shocking, modern-day real-life stories of hauntings that have left emotional (and sometimes physical) scars on those unlucky enough to have experienced them. Reminiscent of Roth's vivid cinematic masterpieces, each episode will play out like mini horror films, immersing audiences in the world of those being haunted and hunted by ghosts.

(From T+E)
Paranormal: Caught on Camera
This one could be called 'Stop messing with spirits!'. These are real people with real footage of some darn right spooky happenings. We've all heard the things that go bump in the night (note to self: Never EVER investigate the moaning coming from Mom's door), but how many of us have evidence of it? This is where the Caught on Camera series shines. Not only do we see evidence, but experts break it down and see just what really did cause that paranormal happening?
Paranormal: Caught on Camera, Season 5 (26×60'; HD)
October 13at 9 p.m. ET/PT • Canadian Broadcast Premiere
Watch as eyewitness' capture amazing, eye-opening and downright scary paranormal videos from around the world while a panel of experts break down the footage and analyze what was captured.

(From T+E)
Strangest Things
If you know Jim, you know he's a major science geek. Can Science and the Paranormal co-exist? In Strangest Things, we find the answer is a Heck Yes! I can't go into this too much, but let's just say when I saw the background for this one…I might have accidentally killed most of my party in WoW. Zug-Zug and oopsies! If you like science and using cutting edge tech to review things you've thought not possible, then this is the show for you!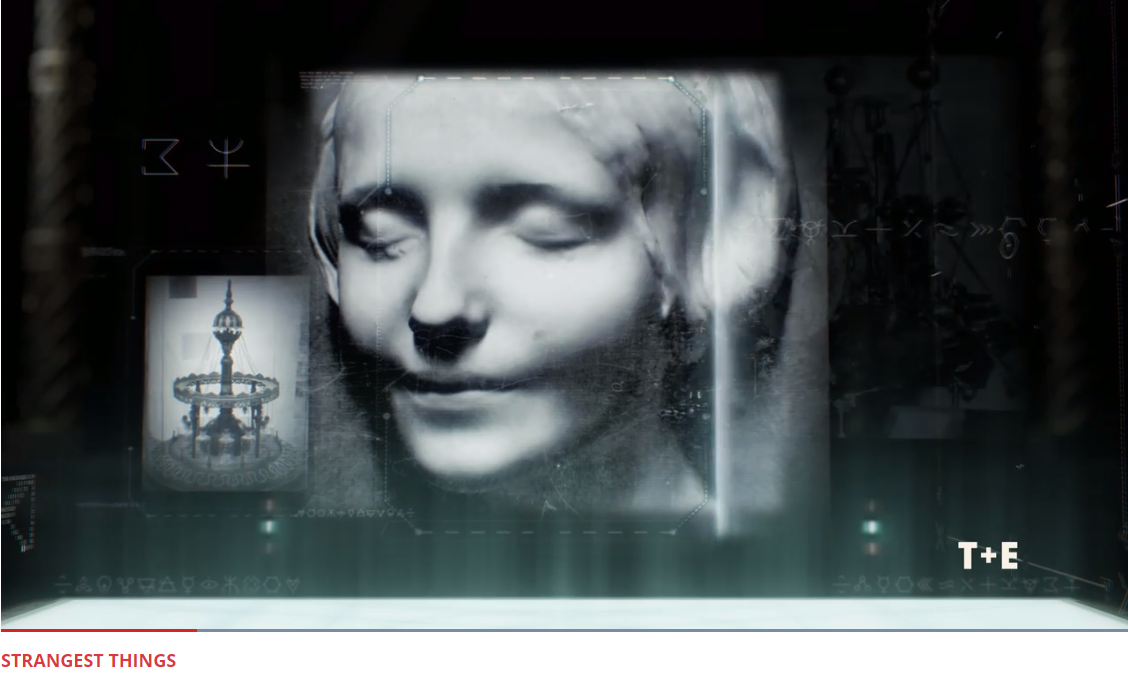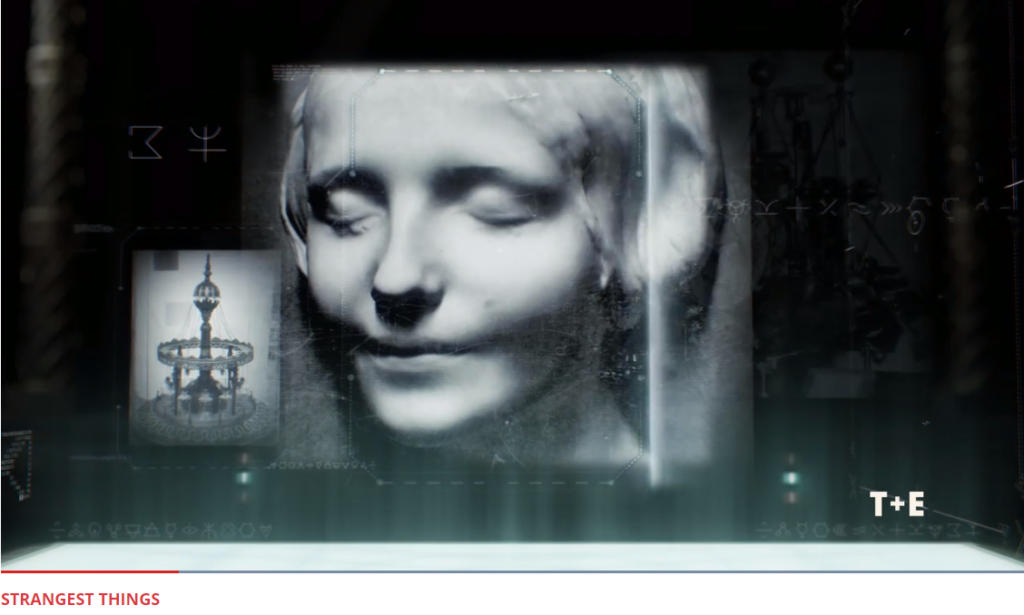 Strangest Things, Season 2 (10×60'; HD)
October 16at 8 p.m. ET/PT • Canadian Broadcast Premiere
Hidden away in museums, laboratories and storage rooms are the most remarkable and mysterious objects on Earth. Using new research and 3D technology we can get under their skin like never before. From the unbelievable, to the ancient and the truly bizarre. Welcome to the world's strangest things.

(From T+E)
We've got a lot to cover (over 160 hours worth!), so don't delay and join HauntedMTL ring in the new (Haunted) month of October with our watch-n-tweet along of T+E's Creep Week! That's right Jim is going to stay up all day and all night to put out some great reviews for the awesome content T+E's Creep Week is feeding directly into our mainlines. Catch us on Twitter and remember to use those hashtags when you tweet during the live showings! #CreepWeek #ChannelYourFear #AGhostRuinedMyLife #EliIsAHorrorHunk (Ok, so that last one might just be Jim's new hashtag!)