This was a sad episode of American Horror Story Freak Show. It starts bad and just gets worse.
We begin with the death of Salty, one of the two pinheads. His partner, Pepper, is broken by this. We find out in a series of flashbacks that her sister gave her to an orphanage. Elsa took her from there. And she proceeded to care for her.
She brought Ma Petite to be a daughter for Pepper. Then, when it became clear that she needed a companion, she found Salty.
Elsa seems to have done her best to give Pepper a good life. Now that Ma Petite and Salty are gone, Elsa worries that Pepper needs family.
I honestly think Elsa did this for good reasons. I think she cared more about Pepper's happiness than getting rid of a problem. At least, I want to think that.
Elsa takes Pepper to live with her older sister. The same one who gave her to an orphanage. And it becomes clear real fast that this sister has a drinking problem.
A few months after Pepper's arrival, her sister has a baby named Lucas. And Pepper loves Lucas. She cares for him when no one in the house does. The child, you see, is deformed.
The hassle of having a child with disabilities is too much for the couple. So, rather than give the baby up for adoption, they decide to kill him and blame poor Pepper.
If all this sounds familiar, you probably watched Asylum. Yes, Pepper is the same character as the one in Asylum. And that's exactly where her vile sister takes her.
Fortunately, Pepper finds kindness there with Sister Eunice. For now, she has a happy ending. And I take great comfort in knowing that she eventually gets the respect and loving home she deserves.
I don't think everyone else is going to get that. For instance, Maggie. In a fit of guilt and whiskey, she tells Desiree the whole plan she has with Stanley. As Desiree is the person most likely to snap her neck just for suggesting it, this was probably stupid. But the two of them go on a road trip, to see the remains of the missing freaks. Neither are expecting what they find there.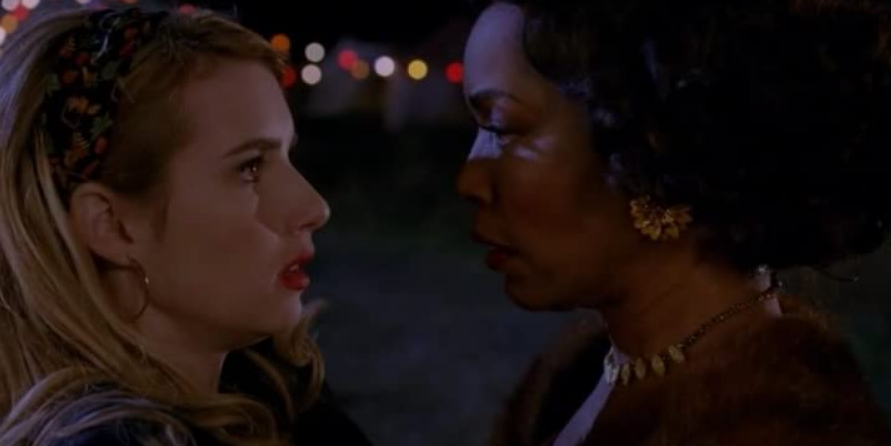 I can't wait for them to get their hands on Stanley. 
Thank you for reading American Horror Story Freak Show. If you buy anything from the links below, we do get some money back.