Divorce is hard, Killer Queens. And so is substance abuse. Both things can lead to some messed-up child/parent relationships. And that's what we're going to be talking about in this episode of American Horror Story, Roanoke.
Shelby is still lost in the woods at the start of this episode and sees far more than she wanted to. There's a horrific old woman with a butcher knife the size of a hubcap, ordering people to be burned to death over a fire. Shelby barely manages to survive, running into the road only to be hit by Lee.
There's no real lasting damage, though. And soon Lee, Shelby and Matt are back at the farmhouse. They're not prepared to give up on the place, even after Matt finds out a few horrific secrets about the place.
If American Horror Story has one failing, it's that they cannot for the life of them stick to just one story. Honestly, a psycho group of inbreds living in the woods and leaving Blair Witch-style art in someone else's house is enough of a story. We didn't need to add two killer nurses who slaughtered people in the house, and now haunt the place.
But, that's exactly what we're getting. The family finds this out after discovering an old root cellar on the property, in which they find a tv and VCR. Inside that VCR is a video log from a historian named Dr. Cunningham. (Played by the flawless Denis O'hare.)
Found Footage horror is my jam. I am all about it, can't get enough of it. So throwing in a little of that in here is just catnip for me.
With all this craziness going on, though, it would take an idiot of the highest order to bring a child into this house.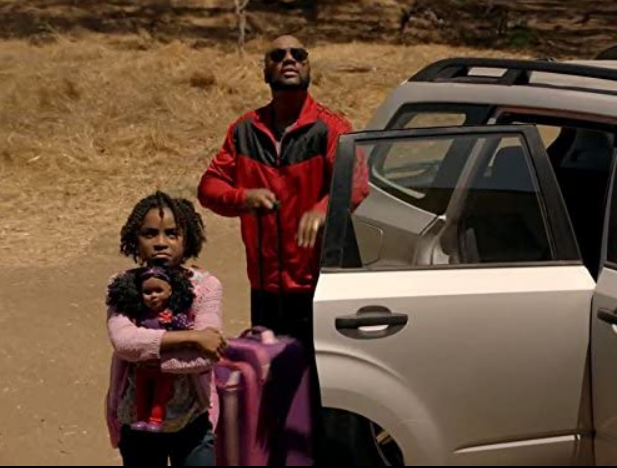 Lee. Lee decides to bring a child into this house. She has visitation with her daughter, Flora. And for some insane reason, she decides to bring her to the farmhouse.
She could have gotten a hotel room for three days.
She could have gone home for three days, seeing as how Matt's not traveling and Shelby isn't alone.
She could have asked her ex if she could come to stay at the house for three days. Anything that meant she didn't bring Flora into that house of horror.
But she does bring Flora there. And Flora makes a ghost friend, who tells her that they're all going to die.
Mason has a bit of a fit and says he's going to call the judge. Rather than reassuring herself that kids say weird shit all the time and a family judge probably knows that, Lee goes on a bender. And then, she goes and kidnaps Flora and brings her back to the house!
Fortunately, Shelby manages to talk Mason out of calling the police. Unfortunately, Flora vanishes while everyone's trying to keep her mom out of prison. We end the episode with a shot of Flora's yellow hoodie, perched on the top of a tree, some thirty feet up in the air.
There's a small black girl lost in the woods where we know at the very least some horrid racists are hanging about. Yeah, that's a comforting thought. Can't wait to see how that shakes out in the next episode. 
(4 / 5)
Thanks for reading American Horror Story Roanoke. If you want to binge the season along with me, you can do it on Hulu.
Get American Horror Story Roanoke now on Amazon.