For those of us who live off horror and gore, there's not much that is shocking. At least so long as it's confined to a screen and we all know the actors are around to do interviews after. But some deaths are so horrific, so morbid that it causes a physical, visceral reaction. The end of this episode of American Horror Story Roanoke has one of those deaths.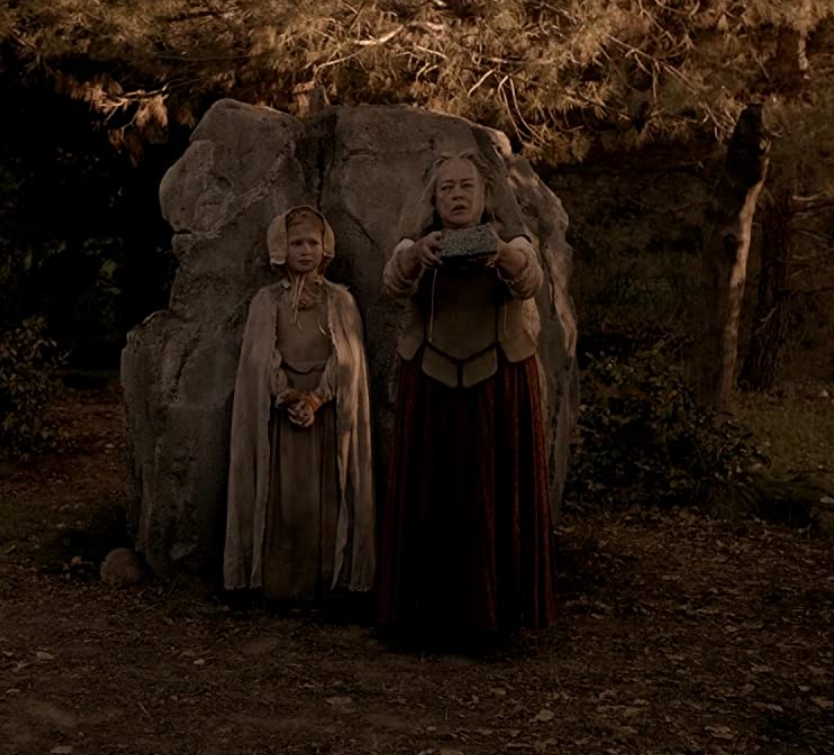 We start this episode with Shelby and Matt dealing with the fallout from the last episode. And I think I understand why Sarah Paulson doesn't like this season. Her character's a freaking psycho. 
Shelby called the police on Lee because she thought Matt had cheated on her in the woods. If we're being kind, we could call this an overreaction. If we're being honest, we'd call this a batshit crazy thing to do. Especially since she forgives him within two minutes.
I'm thrilled that you can tell by looking in Matt's eyes that he's innocent, Shelby. But that doesn't help Lee, does it?
Shelby tries to get a shower, hopefully because she feels dirty from guilt. But instead, she's attacked by the pigman. She's saved, however, by Professor Elias.
Elias proceeds to tell them the history of the house. He tells them about the Chen family and their unfortunate demise. He tells them about the Jane sisters, who probably got exactly what they deserved. All of these things happened at roughly the same time of the year, October 29th. It's the only time of the year that the ghosts can reach out and touch the living. And by touch, I do me slaughter
It just happens to be that time again.
Shelby and Matt want to find Flora and get the hell out of there. Elias says he can help them find her. And he does. Unfortunately, he becomes a bit of a target.
Literally.
Back at the house, Shelby and Matt are thrilled to find Cricket. It turns out he's had a meeting with the Witch of The Woods. Her power is growing stronger. And she's willing to make a deal for Matt.
Before she can bring that deal to completion, though, The Butcher takes matters into her own hands. And by matters, I mean Cricket's guts.
This episode ends with Shelby, Matt and little Flora trapped in the house, with The Butcher and her people outside. I know we know that at least two of them have to survive to tell this story. At this point I'm just not sure how.
(4 / 5)
Thank you for reading American Horror Story Roanoke. If you want to binge the season with me now, you can do so on Hulu.
Want to own the whole season now? Get it on Amazon.