Welcome to Haunted MTL's series of Chucky reviews, this week tackling Chucky S1 E1 – "Death By Misadventure."
This series of reviews will be spoiler-free for the events of each episode but will bring up plot points from previous episodes as needed to contextualize the current week's events. For a spoiler-centric view, please turn to the podcast Kids' Stuff for a detailed discussion.
Chucky – S1 E1 – "Death By Misadventure"
It is a homecoming of sorts for America's favorite killer doll when he finds himself for sale at a Hackensack, NJ, yardsale. He is purchased by a bullied teen, Jake, who intends to use the doll for an art project. Soon enough, Chucky's attempts to save his plastic skin pull Jake into a world of murder, revenge, and what might be a growing acceptance of himself.
How Was It?
Chucky is part of a franchise that translates incredibly well to the serialization of television based on this initial outing. However, this isn't surprising given the series has maintained a strict continuity since the first film in 1988. It's an incalculably strange move for the world of slasher horror, where characters and plot points are jettisoned from each entry, and soft reboots are common. None of that for Chucky, though. The first episode is clever in rhyming its story with previous entries in the franchise. It evokes scenes and characters in a new generation in respectful enough ways without feeling like a rote copy. It helps that the first episode is in the hands of series creator Don Mancini, who proves quite capable of the task.
The performances and style across the board are pretty satisfying. It feels like modern Chucky, akin to Curse and Cult, and contemporary music keeps the show feeling fresh and of the time. Brad Dourif sounds more comfortable here than in the previous two films. He seems to have settled into the voice a bit, given how his voice has changed over the years. Devon Sawa plays two characters in some clever stunt casting that lasts long enough not to get silly. It's pretty fun.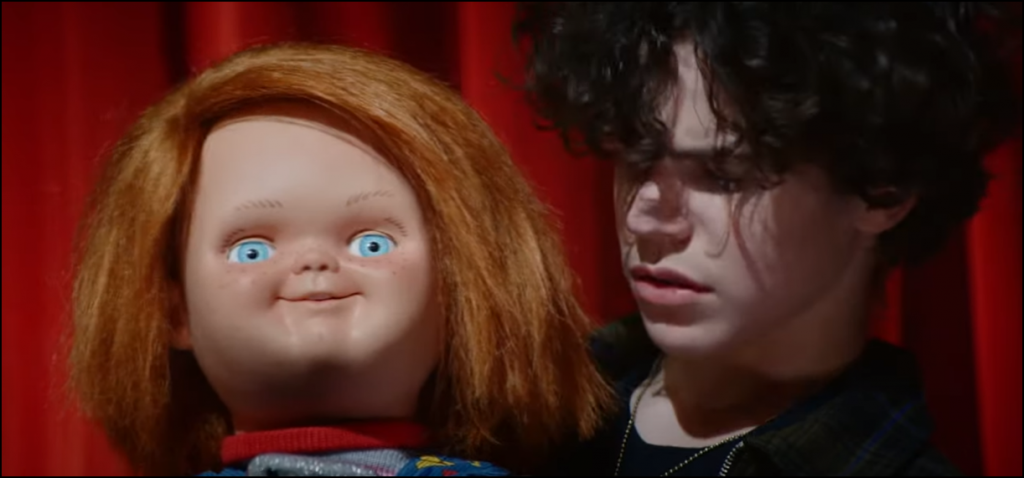 The series, however, lives and dies based on the performances of the kids. After all, this is Chucky vs. the zoomers. Thankfully, the series lead (arguably co-lead with Dourif), Zachary Arthur, is great. We get the sense that Jake Wheeler is a generally good but troubled kid. But it also seems to be a little darkness that it seems that Chucky is going to want to bring out.
Björgvin Arnarson as Devon Arnarson, a podcasting classmate, seems fine. However, it might be a bit too early to tell. I wonder if he is more aware of the significance of the Good Guy doll than he is showing. Teo Briones' Junior Wheeler, Jake's cousin, has some secret. Nothing about him stands out beyond arrogant cattiness, yet.
The real presence this week comes from Alyvia Alyn Lind as Lexy Cross. She is a teen ripped from an R-rated cut of Mean Girls. She's fantastic and easily hateable and plays arrogant and utterly destroyed quite well. It will be interesting to see how her arc plays out in the coming weeks.
As for the look and feel of the Chucky doll in the show? Pitch perfect. The animatronic motion is incredibly fluid. Indeed, the design feels closer to the appearance of the original film than the Good Guy dolls of Curse and Cult. The fact that the series has gone on long enough to leverage some impressive technology is a blessing.
As a first outing, this is an exciting way to kick off a whole new era of murderous fun! Chucky – S1 E1 – "Death By Misadventure" is worth five Cthulhus.

(5 / 5)
Chucky S1 E1 – Kill Count and Spotlight
The show sets up about 11 kills within the last year in Hackensack. However, we get an additional three – only one of which is human. It is a very technical count, admittedly. Animal fans, be warned. With that being said, we only see one of the kills in the episode. Yet it is certainly novel enough given the franchise as a whole and hilarious and horrifying in pretty equal measure. Is projectile vomit a lethal weapon? I'd argue yes based on what we see in the first episode.
Seeds of Chucky
Some elements of this week's episode are callbacks to previous installments of the series. They may hint at the return of key figures from the past. Here are some of the highlights.
We get some references to some of the previous films via an internet search and a local podcast produced by Jake's classmate, Devon.
A set of basement stairs evokes Child's Play 2. As does a certain moment with a trash can.
Some very specific dialogue toward the end of the episode evokes Karen Barclay's experience with Chucky before he reveals himself to her in Child's Play (1988). We also get a fun callback regarding batteries.
We also will be diving into the life of Charles Lee Ray, further back than the events of Curse of Chucky, which was just prior to his death.
A mysterious phone call from a man interested in Jake's listing to sell off Chucky seems to know a lot about the doll. Who could it be?
Speaking of blink and you miss it cameos, SyFy has confirmed a key character in the franchise shows up early on. Keep an eye on for a red dress.
Moreover, while not Chucky-specific, the ending to the episode has shades of John Carpenter's Halloween.
We will be covering the show episode-by-episode on Kids' Stuff – A Chucky Podcast. However, don't expect spoilers in these written reviews. You can expect them to fly during the podcast.
If you want to catch the first episode for free, please check out the premiere below, provided by USA Network's YouTube account. You can see it Tuesdays at 10 PM PST on SyFy and USA Network.