Ready for another dose of bad puns and buckets of blood? We've got another episode of Shudder's Creepshow.
The first story, called Dead and Breakfast, really hit home for me. (I'll be here all week.) It's about two siblings, who run a bed and breakfast in an old Victorian. Their grandmother was a serial killer who brutally murdered people inside the house.
Unfortunately, this legend isn't enough to exactly pack their B&B. So Patricia comes up with the great idea to invite a social media influencer named Morg to stay with them.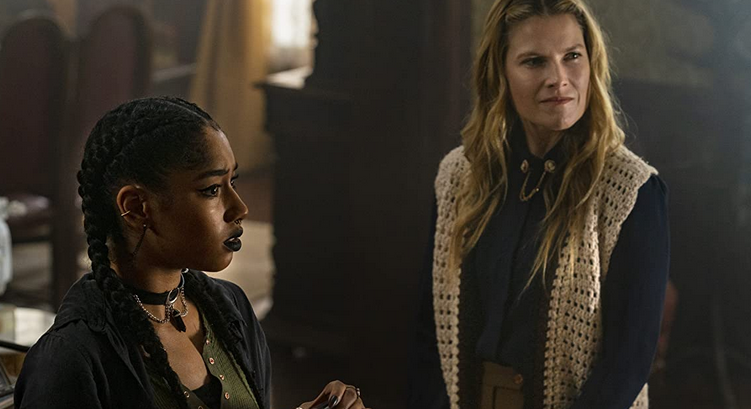 11 out of 10, I would watch Morg on Youtube. I do, after all, love a good True Crime story. (J.M. Brannyk and I even host a true-crime podcast called Off The Bone. You can check it out in the podcast link above.)
The acting for this first story was great, with one exception. Unfortunately, that exception was Ali Larter. I love this actress. She was great in Heroes. She was great in Legally Blond. She was, well, not great here. Maybe it was just that the writing for this character was so over the top cheesy that she just couldn't tamp it down. But I have to think someone who's been in the business this long should have been able to do better.
I also think the whole story should have ended about three minutes earlier. I hate to spoil the killer ending, but it wasn't necessary. It felt tacked on at the last moment.
Another thing that I found jarring was the story of Grandma Psycho's three rules. I'm a sucker for a three-rule situation. But these (No smoking, no feet on the furniture. No noise at night) didn't come up again after being introduced. What a waste.
The story was fun. But it needed a few more rounds of editing.
The next story is called Pesticide. Our main character, Harland King, is an exterminator with questionable practices. Like intentionally leaving roaches in the office of a client who swears she'll never call him again.
He's approached by a man named Mr. Murdock, played by the awesome Keith David. Mr. Murdock has a problem with some buildings he owns. A pest control problem. By pest, he means the community of homeless people who live there. He offers Harland a repulsive amount of money to get rid of them.
I don't think they broke the bank on the special effects here. Several large vermin play a role in this episode, and none of them look remotely scary. But bad effects are part of what we expect from Creepshow. That's fine with me if the story is good.
And the story is good. It's satisfying, with the bad guys getting what they deserve. And it leaves you with all sorts of deliciously chilling questions.
Creepshow is always a good time. And I already can't wait for a new episode next week.