Popular Docu-Series: A Horror Perspective
Unless you're a tiger, you probably don't consider Netflix's Tiger King a Horror story. Purely based on a scene near the end of the series, we consider Tiger King, even if accidental, a sad, horrifying look at the ripples left by trauma. We'll assume you've seen Tiger King and know of Joe Exotic already, but if you haven't, take this as a warning. We will be discussing some potential spoilers.
After seeing all the posts on social media directing others to cut Tiger King on, we wanted in on the dirty deets; we wanted to learn why the series is considered a 'must watch'. On top of that, I, your writer here, Parz, wanted to learn the secrets to the success of the show, maybe even emulate the method of storytelling in my own creations. I'm definitely glad I gave this show a watch, but the concern coming out the other side alive was a scene near the close of the season. This scene had an immediate effect on my psyche, and I've not seen a soul talking about it. I just want to touch on that briefly, then move into a possible next watch option for my fellow horror freaks and geeks.
This is Horror.
Throughout the majority of the series, the drama and often hilarious dirty goods of many involved are the focus in the true story. But as the season nears a close, one of the not-so-main characters, a man who got involved in the mess by responding to a Craigslist employment advertisement, is shown on the screen, his depression and substance use almost proudly displayed to the world. The world.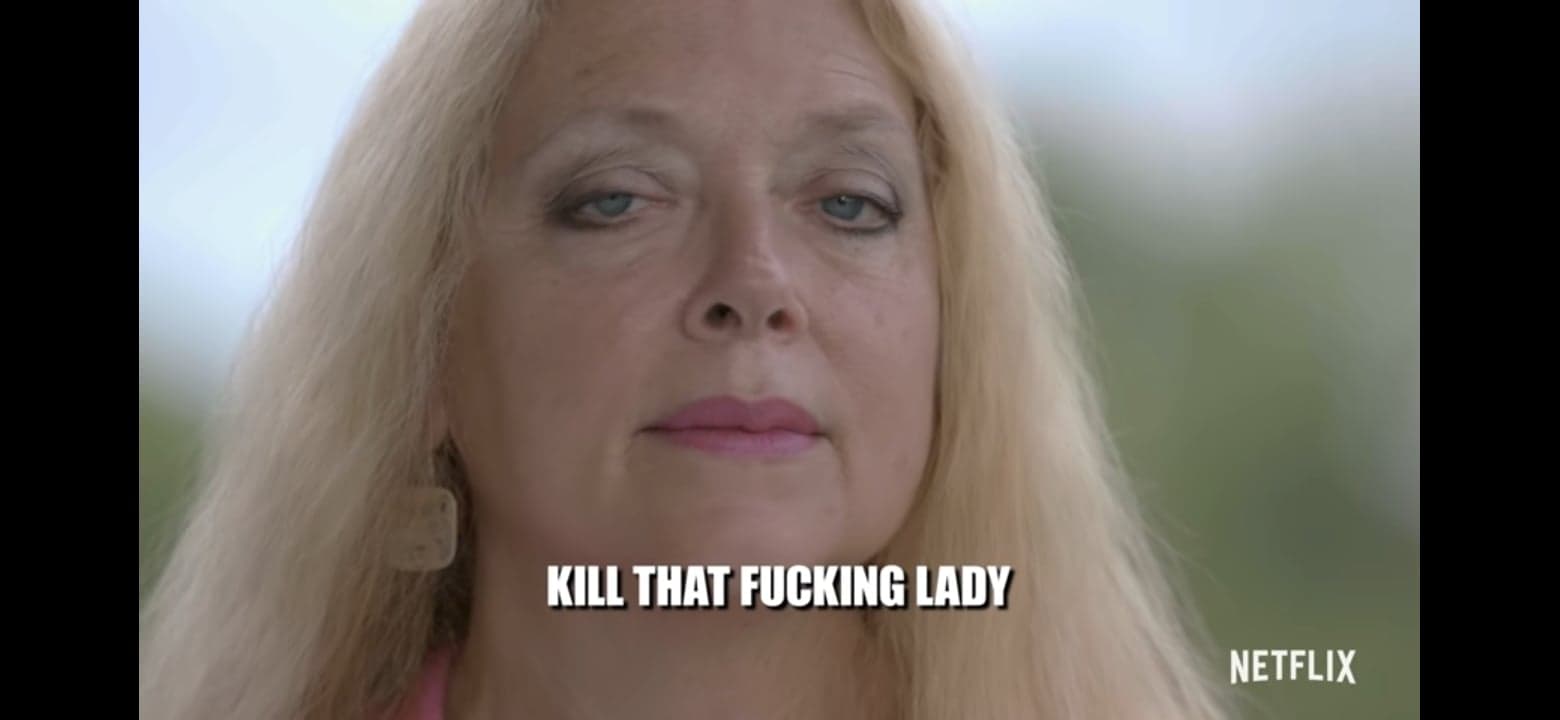 I definitely had to pause the series at this point, the tears just wouldn't stop coming. This man's life in complete wreckage. This kind soul hurt over man's ego. And I fell for it. The trap, although I think by mistake (the rest of the series has some issues with continuity and smoothness), comes from nowhere and is set in Chuck Palahniuk style, and it really, really bothered me. It bothered me not because it's a Horror power move, very sophisticated, but because it felt as if we were being shown this man's decline for a laugh, an 'oh, shit' moment. That's what this man's life has amounted to. Kills me. This isn't acting, folks. This is chilling, real-life devastation.
Maybe if you've already enjoyed the series once, a re-watch with the storytelling being your focus could prove useful, especially if you're a creator yourself. I may, or may not, already have something prepared, drafted, if you will. Anyway, I want to point out that if you really enjoyed the ooze of crazy Tiger King provides, I encourage you to try another Netflix Original Series, one released prior to Tiger King.
Netflix's Don't F*** With Cats: Hunting an Internet Killer
This pick is guaranteed to rock the thriller jollies of any Horror fan. Sit back and just, enjoy the drama turned Horror in this clever docu-series. Follow Facebook's early days, as a group of vigilantes unapologetically and relentlessly search for the creator of a viral video of a cat killing.
When I suggest this series, I tend to get pushback on how the killing of animals is too cruel for television. They're too concerned they might see a cat killed on screen. Slightly understandable, but you don't really see the evil acts themselves, and when things get really sticky, you'll be so wrapped in the story, you'll wish you could see even more.
Which is great! It's really, really clever. The trap you may find yourself in is extremely well put together and will definitely linger long after the watch. Now, this series is only a three part set, so somewhere around a third of Tiger King's length. And the message is good too, I just keep thinking 'clever'.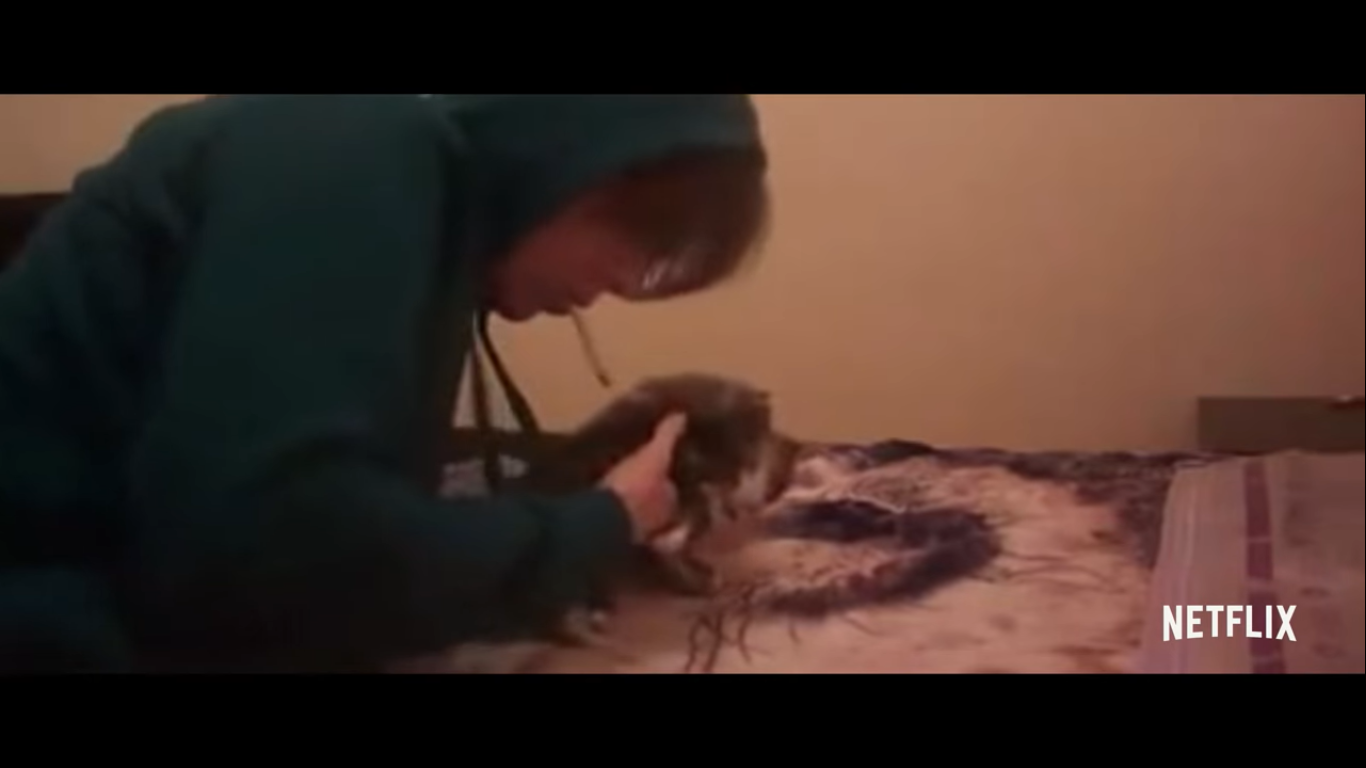 My sick veterans of Horror, anyone who's seen and contemplated the stark exploitation Horror of A Serbian Film (2010) or enjoy breaking down any Lars von Trier masterpiece, may wish things to go deeper in certain places. But! This story has a good catch, it'll certainly take your mind off whatever it's been on. It's very…involved, with the audience.
But Before I Go…Some More Recommendations!
Summer of 84 (2018) P.S. Shudder is still running a free trial for a month at the time of this post, so get in and watch this while you can!
Lake Mungo (2008) –Tubi (free!)
Hex by Thomas Olde Heuvelt
The Platform (2020) –Another Netflix Original!
Circle (2015) #IndieLove
We're extremely interested on your thoughts from a Horror perspective on both these documentaries, as well as on our thoughts. What series, film, story, or art should we look into from this humanistic perspective? Let us know in the comments below (you'll need an email address for this), or reach out to us in one of the following ways:
Or by email to parzz1val@yahoo.com