It's good to be back at the drive-in, isn't it? The MutantFam has been eagerly anticipating the return of The Last Drive-In with Joe Bob Briggs in whichever form Shudder felt was fit to bestow onto us. We know that a second season of the double-feature series is set to happen. Haunted MTL was quick to figure out the Myers-centric nature of the Halloween Hootenanny with a few clues. We were even told just before the event that there will be yet another Christmas marathon.
To celebrate the return of The Last Drive-In, Haunted MTL allowed me to take over the Twitter account for live tweeting-purposes, and boy was it a blast. You'll see some of these tweets peppered throughout the upcoming 3-part review and recap.
Halloween (1978)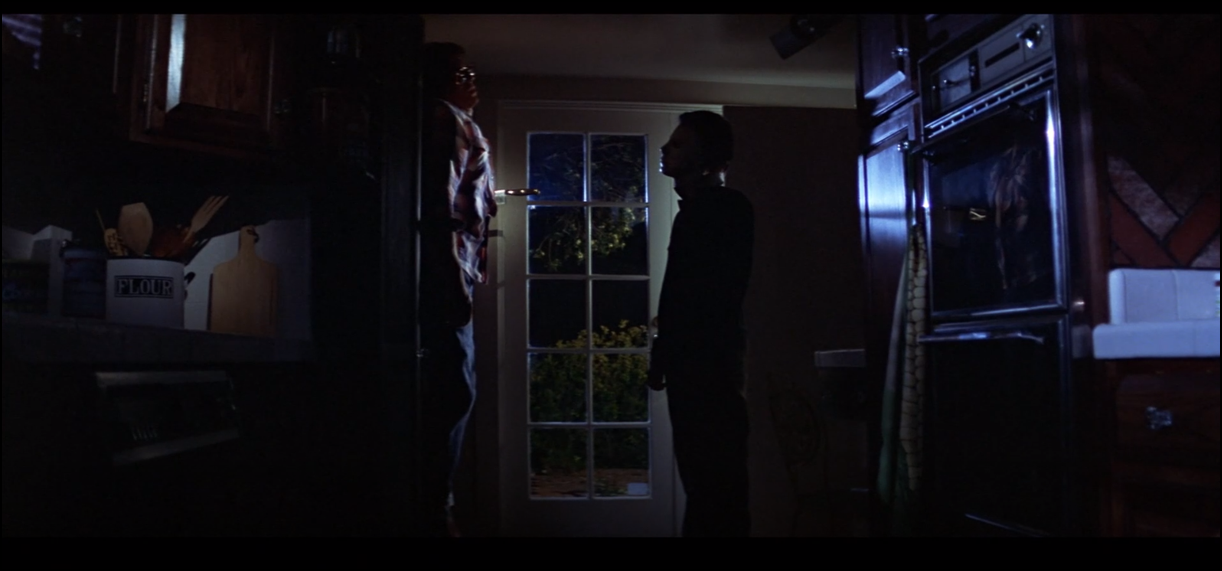 Opening Rant: I lost track somewhere from the transition from Dia De Los Muertos to Niagra Falls. Basic takeaway? Seven spookhouses in Niagara Falls, Canada. Seven.
Look, we all know Halloween. It is a Halloween staple. Surprisingly, though, this was the first time Joe Bob Briggs ever showed in one of his shows. Yes, we're even talking back in the MonsterVision days. How crazy is that?
Anyway, in case you were born on another planet and just somehow managed to teleport onto Earth this moment, desperate to learn about Halloween, here you go:
Halloween is the 1978 film by John Carpenter about a very scary man named Michael Myers. Michael killed his sister when he was six years old on Halloween night and spent 15 years locked up, studied by Dr. Samuel Loomis. Michael escapes the sanitarium and travels back to Haddonfield. Through sheer, dumb misfortune, Michael fixates on a teenager and her friends. Can Laurie Strode, an everygirl, survive the murderous intentions of The Boogyman? Can Dr. Samuel Loomis stop Michael Myers from killing again?
The movie is one you know, as well as the talent behind it. This watershed moment in the slasher-horror genre was directed by the incredible John Carpenter. Debra Hill co-wrote the film with Carpenter, and also served as producer. The film stars Donald Pleasence, Jamie Lee Curtis, and P. J. Soles.
Review
Look. John Carpenter's Halloween is a classic and deserves the heaps up praise put upon it. It's a great film, and still terrifying to this day. Of course, Joe Bob is going to give the movie the 4-star treatment. There are concerns, naturally, about showing such a well-known movie on a Halloween marathon. It is incredibly on the nose. Could the selection of films for the marathon be a little more unorthodox, like the Joe Bob Christmas? Sure, but there is just something classic to diving into the story of Michael Myers. It's comfort food.
Joe Bob's praise of the film is not a surprise, nor is any of the information hugely new to anyone who has really studied the film. Halloween is one of those movies that has been so analyzed and studied that the conversations around it are ones that have existed since it practically came out. Take, for example, the running gag of the night: why does Michael do what he does? Throughout all three films during the night, Twitter users consulted and pitched over 25 different theories as to why Michael is the way he is.
Few of them were new.
But that's okay. Nothing about watching Halloween on The Last Drive-In is a new experience, but that is fine. Sometimes you just want to see Michael Myers chase Laurie Strode through a house. It seems pretty much that is exactly what Joe Bob was aiming for that night.
Haunted MTL's take? It's obvious that Halloween is like a holy text of horror film; the film is about as canonical to horror movies as Dante's Inferno is to literature. Halloween obviously is a 4-star film. We'll need to really do a critical assessment of it later. It isn't really a film you can so much review these days, but instead analyze. Even 40 years later the film still has incredible power. Despite the series as a whole sinking to some real low points, John Carpenter's original Haddonfield story still awes.
Best Line: "Can I get your ghost, Bob?" – Lynda, seconds from disaster.
Haunted MTL Drive-in Totals
As the night was stretched over a triple feature, there were a lot of drive-in totals. Shudder, helpfully, tweeted out some of the movie-specific totals.
We hope that this is a trend for the next marathon and second season.
As for our own? We're gonna let them all hang out right here. The next couple of review installments will not include these.
Mafia movie funding (Texas Chain Saw Massacre)
Pumpkin Be-hatting
Suspiria mentioning
Pussy stretching
Set destroying
Mad Max-ing
Redneck Rustling
Expendable Hobo reshooting
Lord Byron mentioning
Child actress endangering
Sombrero Stapling
Native Joking
Redneck Joking
Clipboard Fu
Picture in Picture Fu
Sombrero Fu
Chris Jericho Fan Fiction Fu
Tom Atkins Fu
Darcy Piñata Fu ("That'll fucking do it."
0 Twitter Jailbreaks for Darcy (!)
1 Sonny Chiba mention
3 dead dogs
3 cuts in the iconic "one-shot" opening
5 Darcy Outfits
7 Canadian Spookhouses
7 Quickies
10 Standards of Tourism
13 O's in the word "No" in my notes when the third film was going to be Halloween 5.
25 Myers psychology theories from Twitter
Please stay tuned for the second installment of the recap and review focusing on the diminishing returns of Halloween IV: The Return of Michael Myers.
In the meantime, why not check out some of our other great content here at Haunted MTL?