Welcome to "Notes from the Last Drive-In," Haunted MTL's review and recap series of The Last Drive-In with Joe Bob Briggs on Shudder. This December we received a Christmas treat in the form of a new special, "Joe Bob Ruins Christmas" which brings back the telethon format of the last Christmas special with a few fun surprises and two decidedly un-holiday films.
Nothing quite like spending the holidays with the Mutant Fam taking in the delights and horrors of Ice Cream Man (1995) and Gator Bait (1974).
Ice Cream Man
Ice Cream Man is a 1995 direct-to-video slasher produced and directed by Norman Apstein/Paul Norman. The film was written by Sven Davison and David Dobkin. It stars Clint Howard, Olivia Hussey, and David Naughton. David Warner, Jan-Michael Vincent, and Lee Majors II make brief appearances.
The plot of the film is pretty simple: a man, Gregory Tudor, is released from a sanitarium and reopens a childhood favorite ice cream factory. However, soon enough the secret ingredient of the ice cream "hardpack" is every other customer. As a result, a group of local kids, fueled by the story of the Pied Piper, seek to stop Gregory's murderous sourcing of ingredients.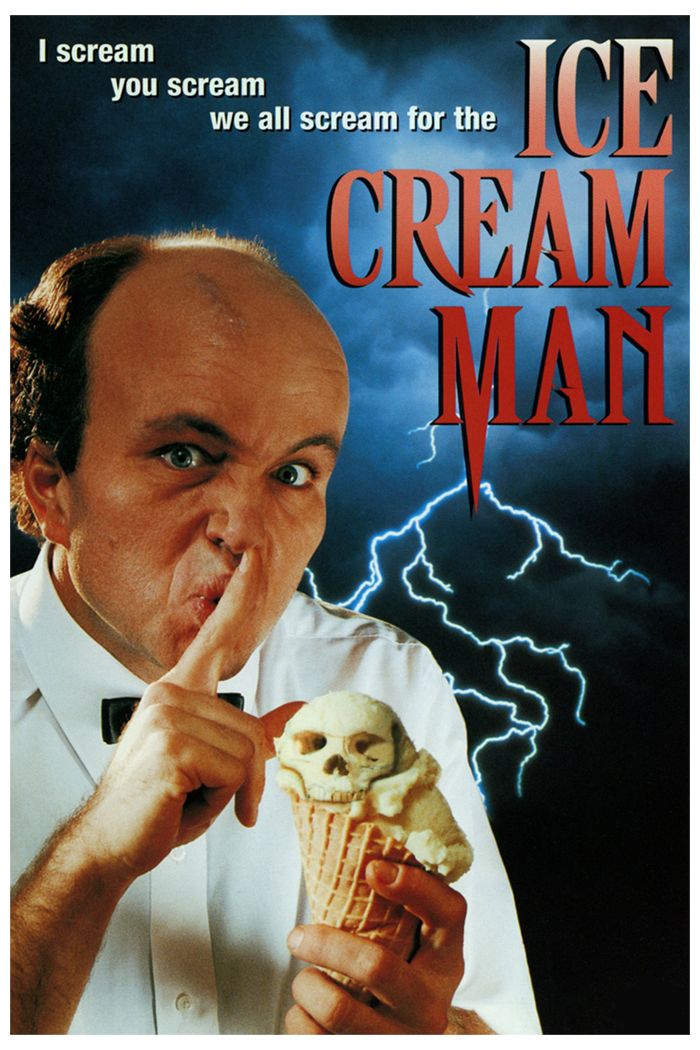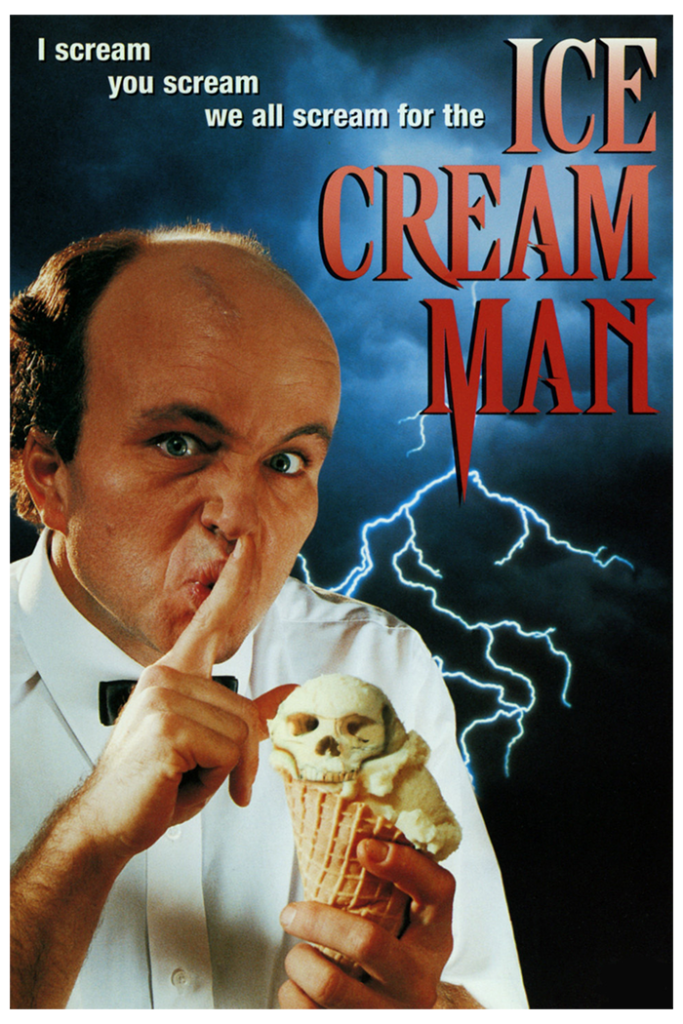 Ice Cream Man is not a good movie, but it is a fun movie. It is entirely possible to enjoy something while pointing out it is not very well made. The movie hits the sweet spot (pun intended) between awful and awfully funny, and it makes for a great selection for The Last Drive-In. I mean, any film you could reasonably define as a "Clint Howard vehicle" is pretty much going to have some laughs. The guy is fantastic and made some strange, strange films, such as last season's Evilspeak. If there is peak Clint Howard, however, Ice Cream Man is it, and we're all the better for it.
The film is very 1990s and direct-to-video. It doesn't look particularly good. The quality of the lighting is muddy. Cinematography is virtually absent as well. At no point does the film introduce a shot that is unique or visually interesting. The music is budget for even 1995, cheesy synthesized plinks.
And yet it is a movie you can't walk away from because of the sheer magnetism of whatever the Hell Clint Howard is doing with the character. Most of the performances are functional at best. The only real stinkers of the bunch are Jan-Michael Vincent and Lee Majors II as the one-note cops. David Warner shows up for about five minutes of screentime and does his thing (excellently), but beyond that, nobody stands out, especially when in a scene with Clint Howard's Gregory Tudor.
The story can be non-sensical at times, the character motivations a mystery, and the film is full of strange, offputting moments. The special effects are low-budget mid-90s at the best of times. Yet something about this film is compelling. It's exactly the sort of cheesy, direct-to-video material that horror fans will watch at 2 AM. The comedy, while largely unintentional, buoys the film and makes it a great drive-in movie.
Joe Bob-servations
This movie was Joe Bob's gift to Darcy. He initially gave it three stars, but gave it an extra star bump due to the spirit of the season, making Ice Cream Man a four-star Drive-In movie.
Joe Bob did a lot to contextualize this movie for me. I had only seen it once before when I was a teen, and it didn't really draw me in. Having watched it now with some guiding words from our venerable movie host, I have a better appreciation for it. The movie is very much a mess, as Joe Bob points out that the film was originally going to be a children's film. That changed, however. That does explain the strange tonal shifts in the movie. It feels like a knockoff of The Goonies young cast set-up, only with Clint Howard manhandling the ice cream instead of treasure hunting.
Part of the odd tonal shifts in the film is also explained by the director, Norman Apstein/Paul Norman. A former pron director most known for Edward Penishands, he might be the last choice you would expect for a horror film, let alone what was to be a children's film. But considering the amount directors who started in porn and moved onto horror, such as Wes Craven, this isn't that odd. Regardless, the shift in tone within the movie stems from some of these elements, undoubtedly, as well as the fact that the director was going through a painful separation from his family during the production. It's a pretty crazy story.
The film is just filled with some bizarre little moments that Joe Bob Briggs points out in the host segments. Whether it be the pillow stuffed under the shirt of child-actor Jojo Adams to make him look fatter, David Warner showing up to film for a day or two, or the rather bonkers nature of the scene at the asylum, which feels like another movie entirely. There are, of course, rumors that the asylum scene was a troubled shoot due to Jan-Michael Vincent being wasted. Plus, with Clint Howard being the focus we also heard a wonderful little bit about his screaming out the window of his car on the drive to the set to get that graveled voice for Gregory.
Final Thoughts on Ice Cream Man
Ice Cream Man is fun as Hell. It is not a good movie by any stretch of the conventional definition, but the Mutant Fam is not obligated to derive enjoyment based on the quality of a movie. In fact, collectively we tend to value the rougher films. Ice Cream Man was a lovely little treat for fans of The Last Drive-In, and the culmination of what's been a fun little joke over the past couple of years regarding Darcy's love for Clint Howard. While I did have a lot of fun, the movie does have some significant flaws. I can't award it anything more than three Cthulhus.

(3 / 5)
Best Line: "Trolling for Tuna!" – Ice Cream Man, grabbing Tuna from his bicycle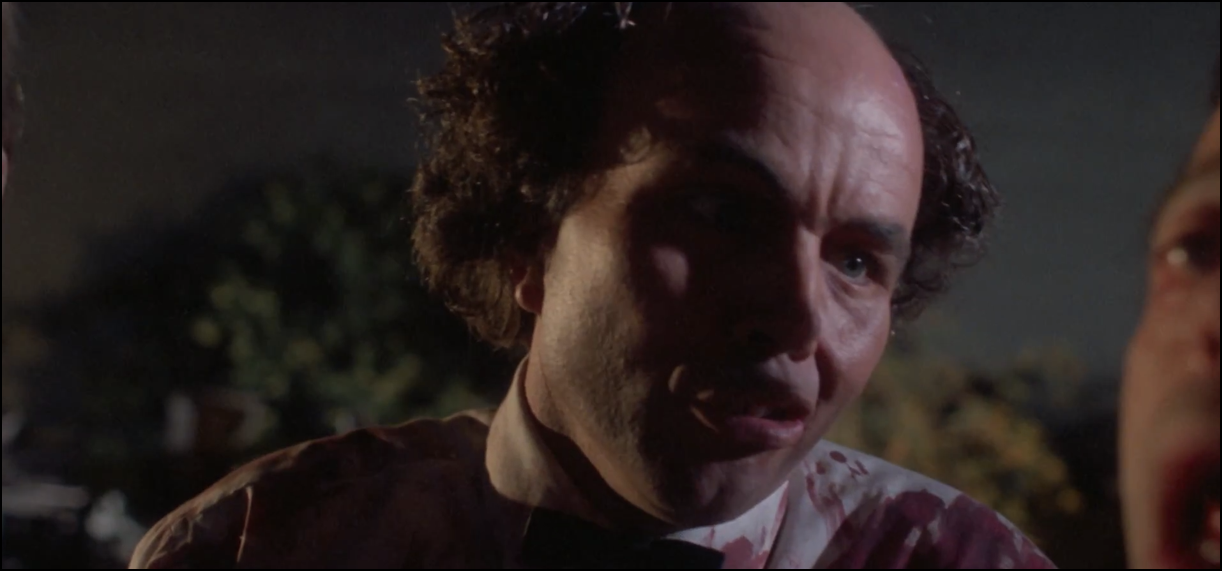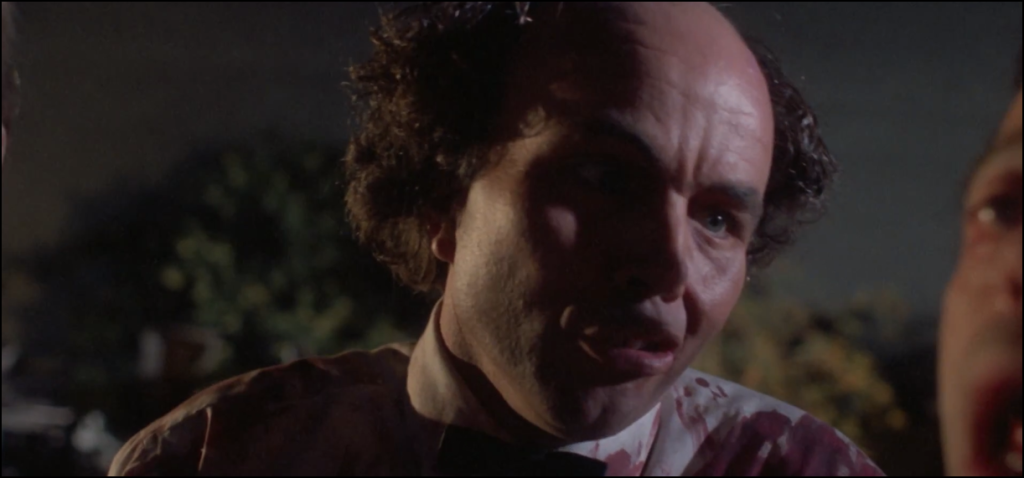 Gator Bait
The 1974 hicksploitation film Gator Bait was a special treat from Darcy to Joe Bob for the telethon. Gator Bait, directed by the married Beverly and Ferd Sebastian, is most famous for starring former Playboy Playmate Claudia Jennings. The film also stars Douglas Dirkson, Bill Thurman, and Sam Gilman. The film was written by Beverly Sebastian with Ferd responsible for the music.
Gator Bait is set in the swamps of Louisiana and follows poacher Desiree Thibodeau (Jennings) who lives in the swamps with her kin. One day, two men seek to rape her while trapping alligators and in the pursuit, one of the men dies. Soon the sheriff, the surviving, the serving deputy, and the incestuous family of the dead would-be rapist hunt her down for revenge.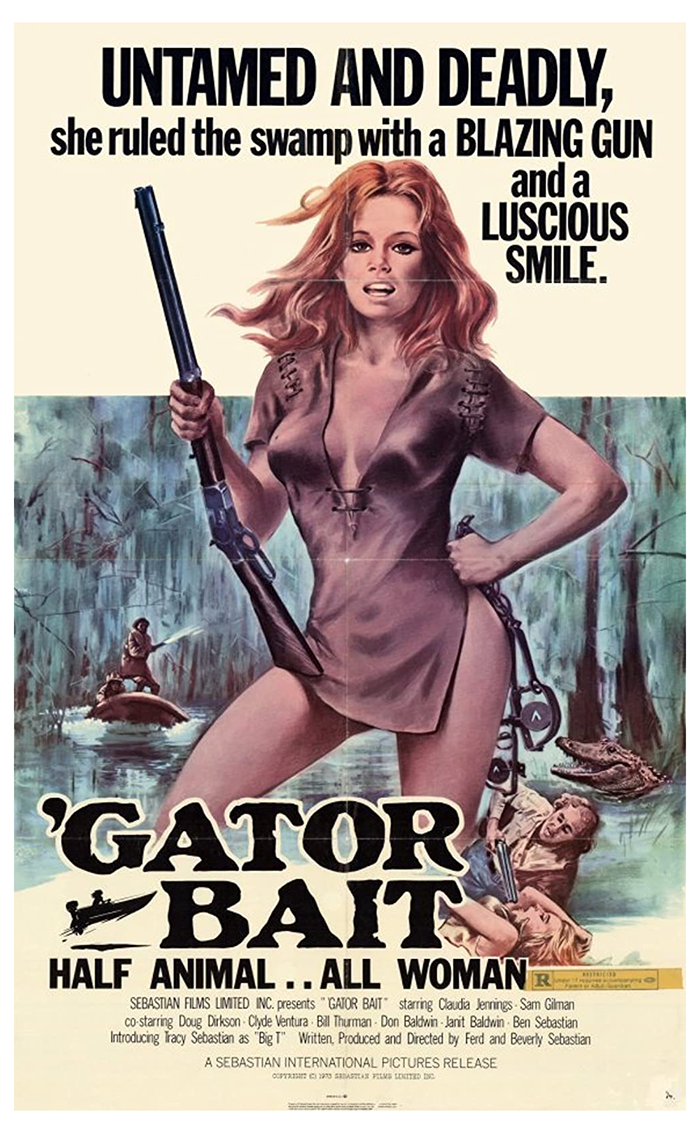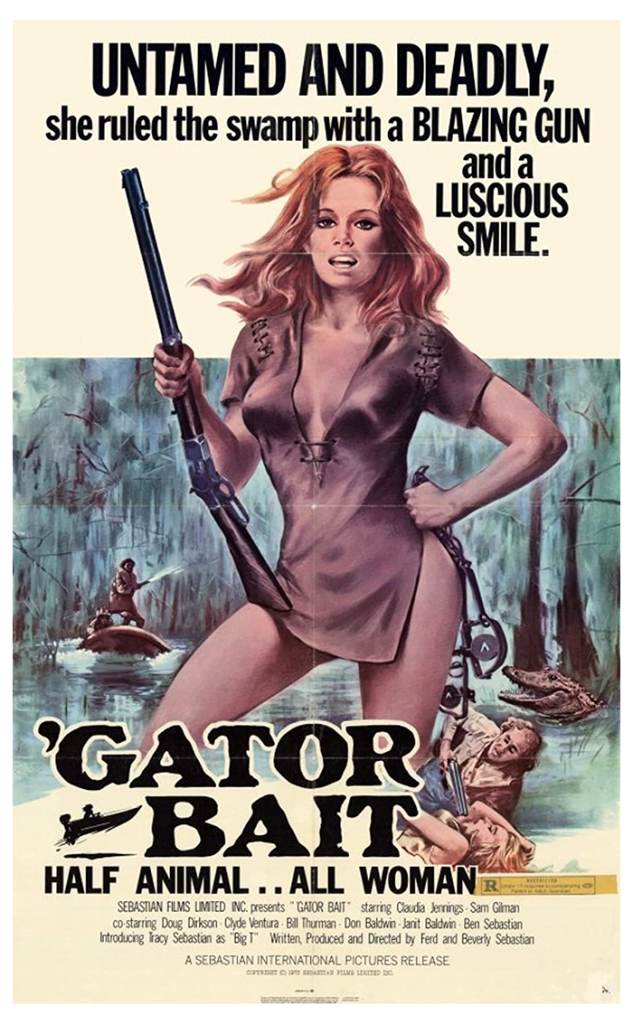 Gator Bait is a rough film. It is pretty good, all things considered, but it can be quite graphic and disturbing for the unprepared. It is in many ways an ugly, brutal film. It is also a prime example of what a hicksploitation film is and makes wonderful use of the setting, which coincidentally was in the same area as another Drive-In favorite, The Legend of Boggy Creek. The violence of the movie, more specifically sexual violence is what will generally cause most people to reject it as too far, but it is worth powering through for a strong string of revenge sequences from Desiree.
The writing of the film is the greatest strength, crafting interesting characters that I found myself really hating or intrigued by. Specifically, T. J Bracken, played by Sam Gilman, is a fairly complex antagonist who leads a rather horrific brood that he can't keep in check. While a great deal of credit goes to Sam Gilman, such characters are a collaborative art and Beverly Sebastian's writing creates a compelling and ugly situation that spirals out of control. It's a feel-bad movie that creates some genuine interest in the destruction of three families brought on by an attempted rape and a cowardly lie.
Claudia Jennings is also a strong performance. Largely silent, her dialogue is a bit childish and simple, constructed of short sentences in creole, befitting her nature as a child of the swamp quite effectively. It may take a moment to let that idea set in as you watch, but it comes across quite well. She also has a certain physicality in her performance as well. Obviously, there is sex appeal, but there are moments of genuine strength where her demeanor and the framing of the shot establish that she will have her revenge in no uncertain terms.
The movie is cruel, perhaps the cruelest that has been on The Last Drive-In since Cannibal Holocaust, but that cruelty does serve a point. Gator Bait, beneath the trappings of sex, violence, and the assumed stereotypes of swamp people is a morality tale in which nobody really wins. It's worth a watch if you can make it through a couple of particularly brutal scenes.
Joe Bob-servations
When he wasn't expressing utter shock and dismay at triathletes, Joe Bob regaled Darcy and the rest of the telethon crew with his love of Gator Bait. He is a fan of the movie for a couple of reasons, and at least two of them involve the presence of Claudia Wells. it can be fun when the show dives into the more exploitative nature of sex. Audiences love a sexy actor or actress, and it is one of those things that the show highlights as part of the Drive-In appeal. While this is mostly revolving around the male gaze, the show is as evenhanded as possible when it has to be.
The big punchline to this is that Joe Bob established the idea of Darcy replicating the iconic look of Claudia Jennings from the poster for the film, which does happen, of course. That's not until after Darcy subverts the gag by wearing an alligator costume. Over the past couple of years, Darcy and Joe Bob have established a wonderful rapport and in my estimation, the show is very much equally Darcy's at this point, as she serves as the sexy angel and devil on our host's shoulders. The Last Drive-In makes good use of their back and forth as well as the expanding roster of the guests, such as Felissa Rose, and contributors to the show such as John Brennan and Yuki Nakamura.
The host segments for this section of the film were full of fascinating information, of course. One example includes a very funny, bizarre connection to Walt Disney that I don't believe happened, but is just odd enough to be true. There was also a lot to discuss regarding the married team who made the movie possible, particularly Beverly, who sounds like a real badass. Beverly and Ferd Sebastian strike me as representatives of the drive-in spirit we celebrate through the show, so it was particularly fun for Joe Bob to give them their due and to put these two filmmakers on more people's radars. This was my first experience with Gator Bait, and I am happy that Joe Bob's show was able to put this challenging yet compelling movie on my radar.
Final Thoughts on Gator Bait
Gator Bait isn't my favorite movie that has been shown on The Last Drive-In, nor is it my favorite movie that has been introduced to me through the show. But the movie has stuck with me quite a bit since I watched it. It is a visceral film, for sure, and likely to be as divisive with the Mutant Fam as Cannibal Holocaust. As far as shock pictures go, I'd argue Cannibal Holocaust is the stronger one and features a more compelling theme, but Gator Bait is quite good. Joe Bob, being a fan of redneck pictures, gave the film four stars. I am not as enthused by it, but I did enjoy it, rough spots and all. I give Gator Bait three-and-a-half Cthulhus.
(3.5 / 5)
Best Line: "She ain't got no choice. She either screws us, or she gets behind bars. Puttin' a wildcat like that behind bars is bad." – Deputy Billy Boy, immediately raising concerns in us all about the nature of law enforcement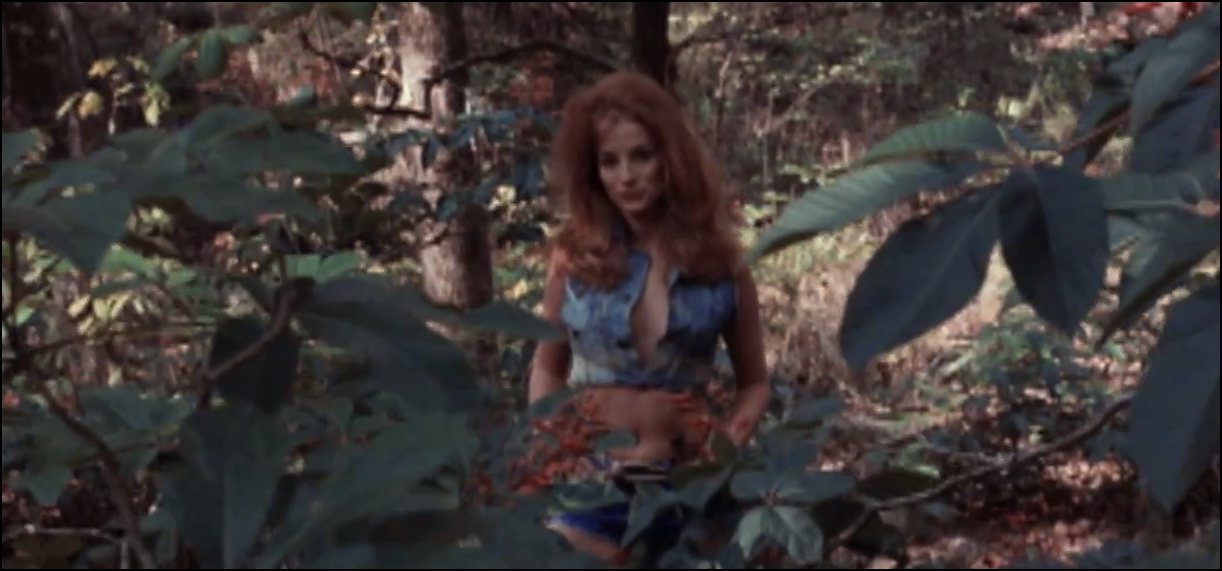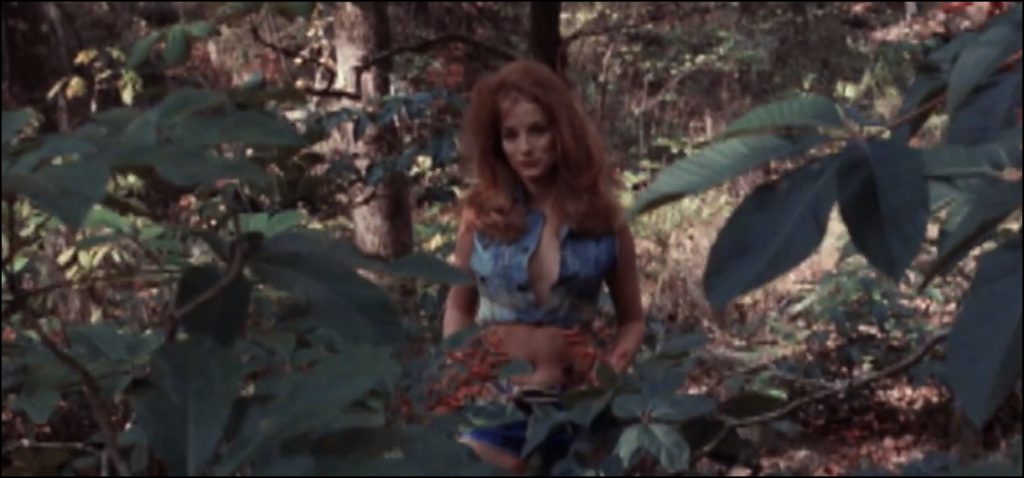 Haunted MTL Drive-In Totals
Here are the official tallies from Shudder.
As for our own tally, we have…
One Dead Dog
Two Darcy Cosplays
Four Causes Championed
Thirteen Items Auctioned
One Dozen Snakes
Christmas Joking
Jesus Joking
Incestuous Son Whipping Fu
Drunken Stumbling Through Asylum Set Fu
Zoom Call Yuki Fu
Gratuitous Holiday Musical Verses
Gratuitous Musical Number
Gratuitous "Reason of the Season" Lecture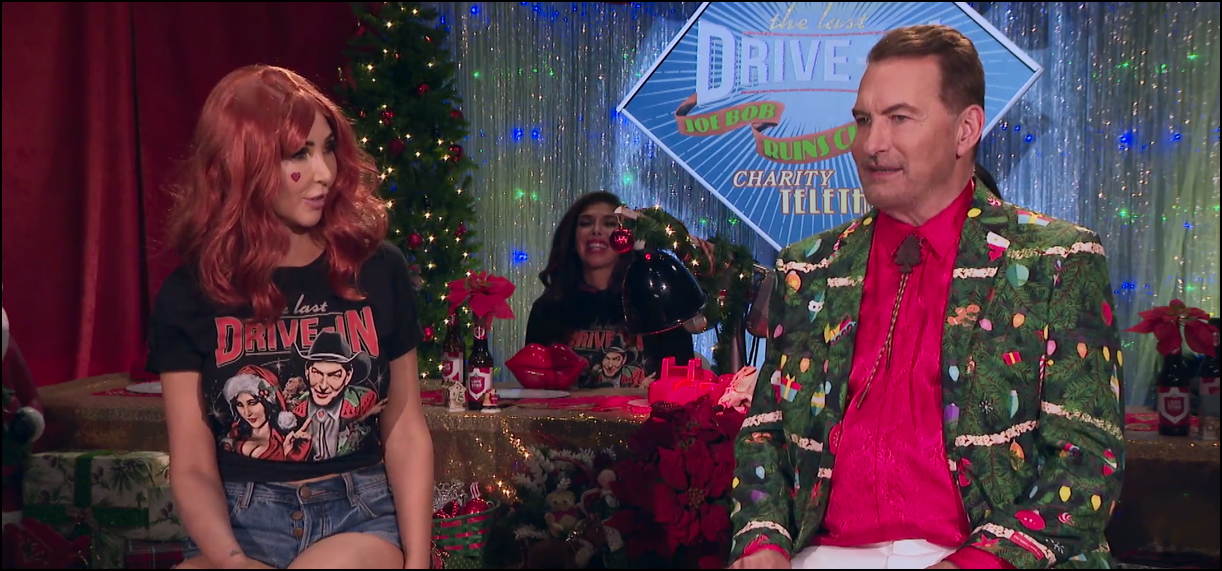 Episode Score
I do appreciate the telethon format for the previous Christmas special that has carried through into this one. I also really like that the items up for auction were also a little more substantial than last year's. I just wish I could have afforded to bid. But even then, allowing flat donations in exchange for merch was an excellent tough and with luck, the telethon has raised a substantial amount of money for each of the organizations and causes selected this time around. The selections were all themed around the nativity story of the three wise men, and throughout the night the show had a welcoming, encouraging atmosphere.
This was probably best punctuated by the recurring gag where everyone would burst into a line from a spontaneous Christmas song, to which Joe Bob would play the bah-humbug role. Of course, that led to Joe Bob taking us into a full musical ending, which is always welcome. I am always impressed with the show's embracing of original songs and how good John Brennan and his crew are at putting them together.
After a long stretch of episodes dealing with the isolation that reflected the world struggling with COVID and all-around suck, this Christmas special felt like a great example of the togetherness that The Last Drive-In can bring for horror fans.
Plus, there was the Chili Bandit again. I love that little hog.
(4 / 5)
And that is where we leave you until The Last Drive-In with Joe Bob Briggs returns to Shudder in 2022. I would love to read your thoughts on the special and the films chosen. I'd also like to read your thoughts on the reviews. Are they too long? Not long enough? Please, let us know.
Otherwise, please, have a Merry Christmas, and may all your gators be baited safely.
The Wolf of Snow Hollow, a Film Review
The Wolf of Snow Hollow is a 2020 horror comedy directed by Jim Cummings, starring Jim Cummings, Riki Lindhome and Robert Forster.
The Wolf of Snow Hollow is a 2020 horror comedy directed by Jim Cummings. The cast of this horror includes Jim Cummings, Riki Lindhome and Robert Forster. This R-rated film is currently available for DirecTV and Shudder subscribers.
Deputy John Marshall (Jim Cummings) faces a messy divorce, an ill father, a serial killer and crippling addiction. With Marshall's life spiraling, he focuses on a mysterious killer plaguing the town. The brutality of the crime convinces locals that the murderer is a werewolf, a possibility Marshall cannot entertain. As John Marshall tries to keep order in the town, his conviction crumbles.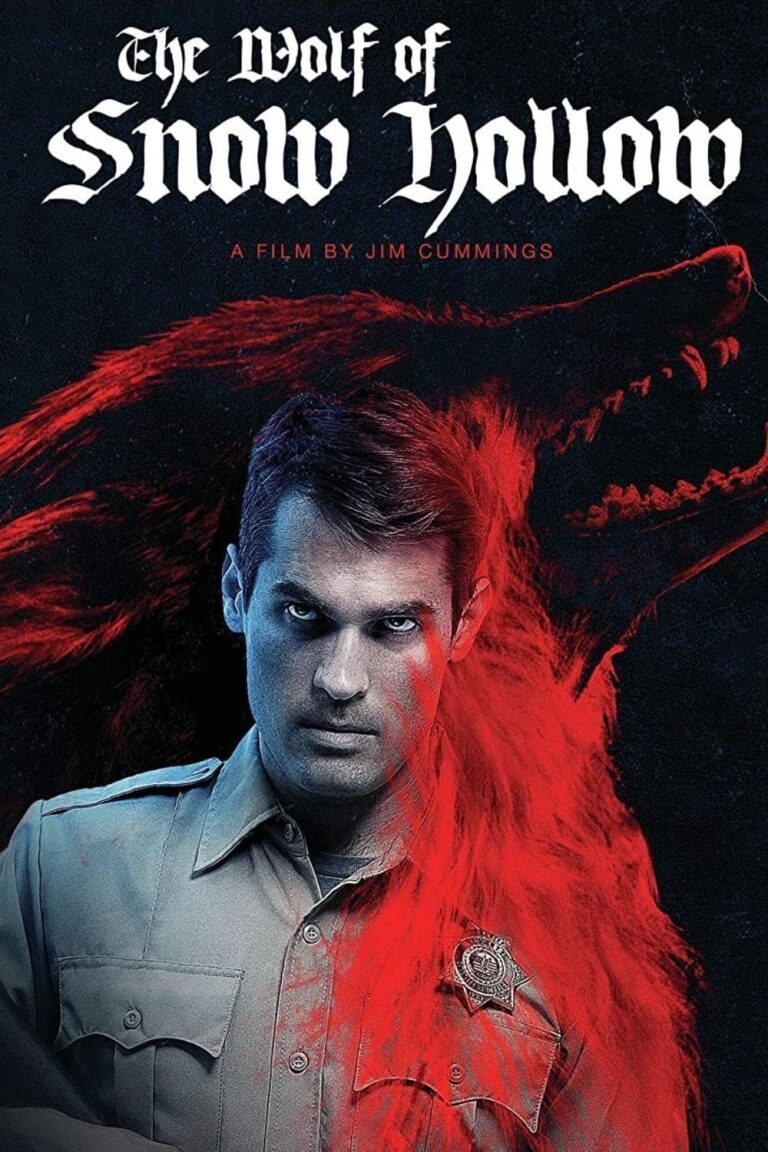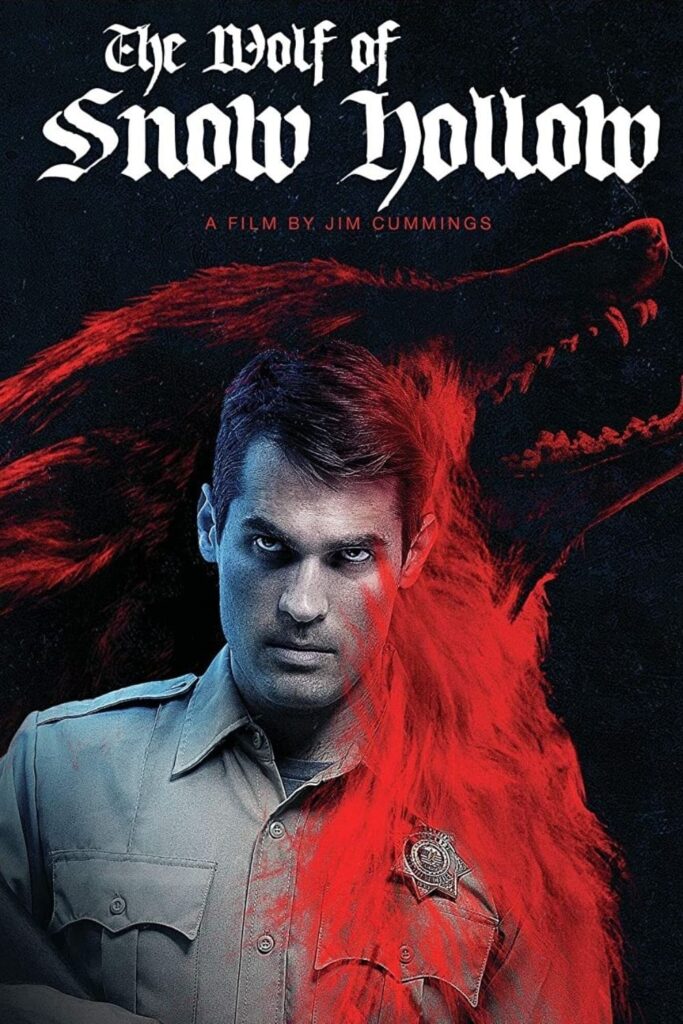 What I Like
The comedy reflects the spiraling chaos that runs through a control freak's mind as they lose control. This comedy lands best as Marshal spirals further and further into disarray. Viewers should expect a dry wit layered with sarcasm. If this type of humor doesn't sound like your cup of tea, The Wolf of Snow Hollow would be hard to recommend. Nearly every character plays their part to perfection, building off each other. Jim Cummings seems to have created a team to complement his project.
Another impressive comedic element comes from the film's ability to jump between serious issues and comedy without the humor undercutting the weight of those essential moments. Though somewhat flawed, it remains consistently effective.
Despite the fact this is a horror comedy, the monster adds genuine horror to the film. Part of the mystery comes from that line between the possibility of a killer or a real-life werewolf, which I won't spoil here.
The werewolf design, though traditional, is consistently believable. With one exception that felt purposeful in context, the creature works surprisingly well for a horror comedy.
Jim Cummings creates these rapid scenes that show time passing. As mentioned earlier, these scenes reflect Marshall's mental state. It surprises me how clearly and haunting they convey information while noting elements of comedy. Again, not always perfect, but effective.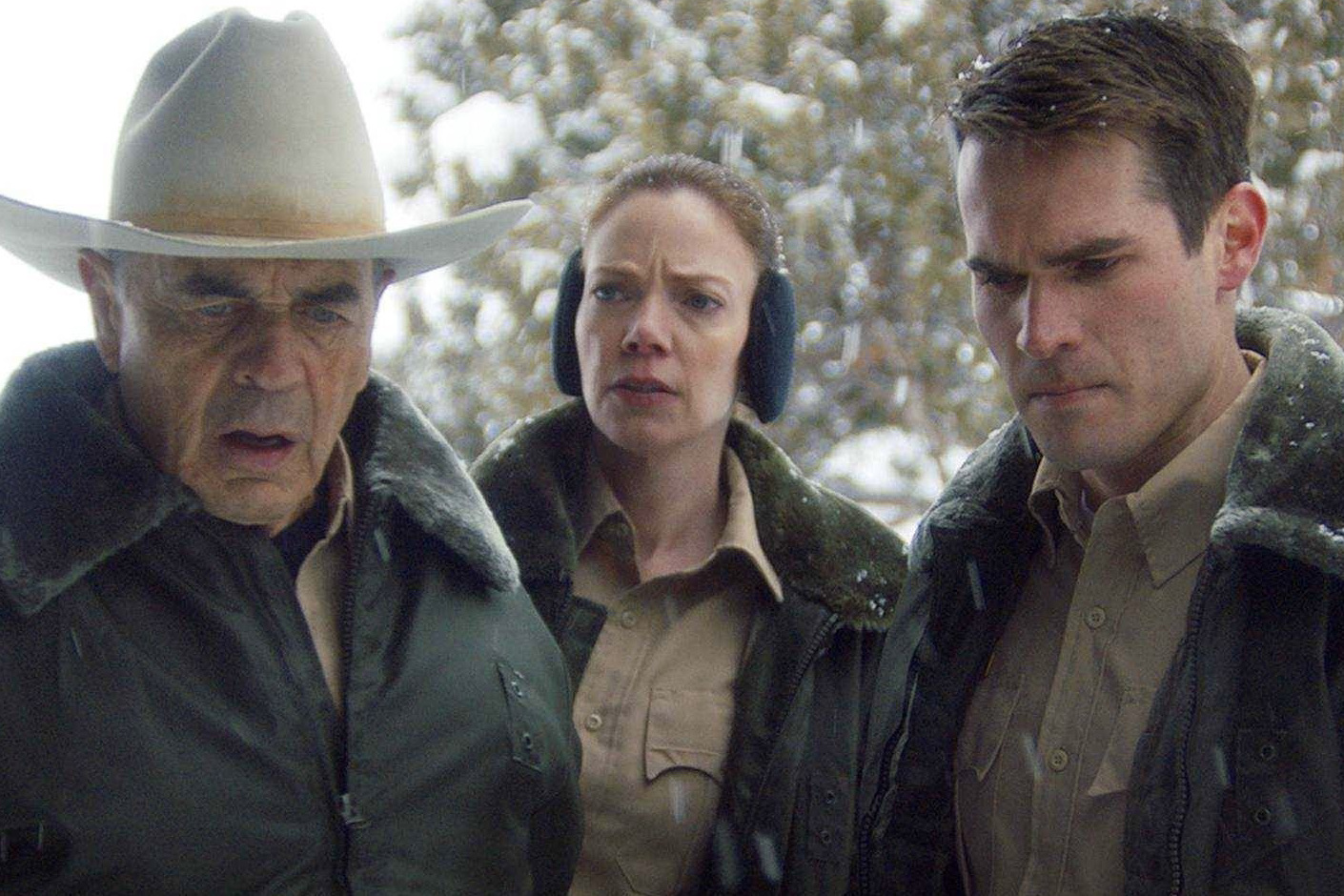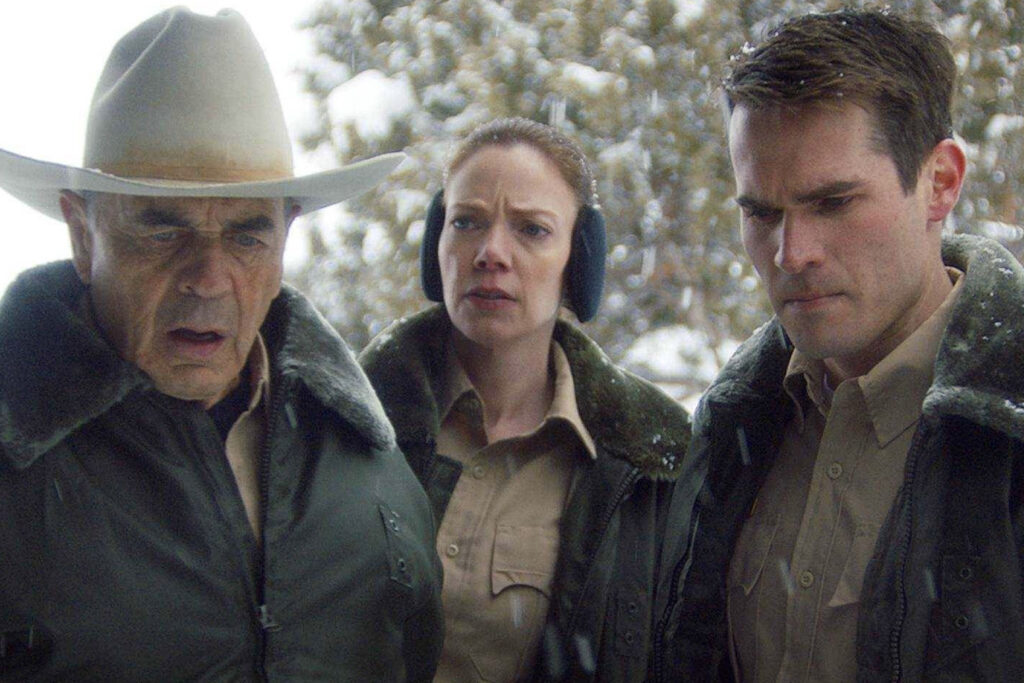 Trigger Warnings and Tired Tropes
John Marshall struggles with alcoholism, often falling victim to the disease. Despite the comedy label, this element remains mature and respective. Regardless, I understand this is a sensitive issue that worth noting.
The film can get gory and dark, but rarely more than a horror fan expects. However, one of the victims is a baby. Though no act appears on screen, viewers may require prior knowledge.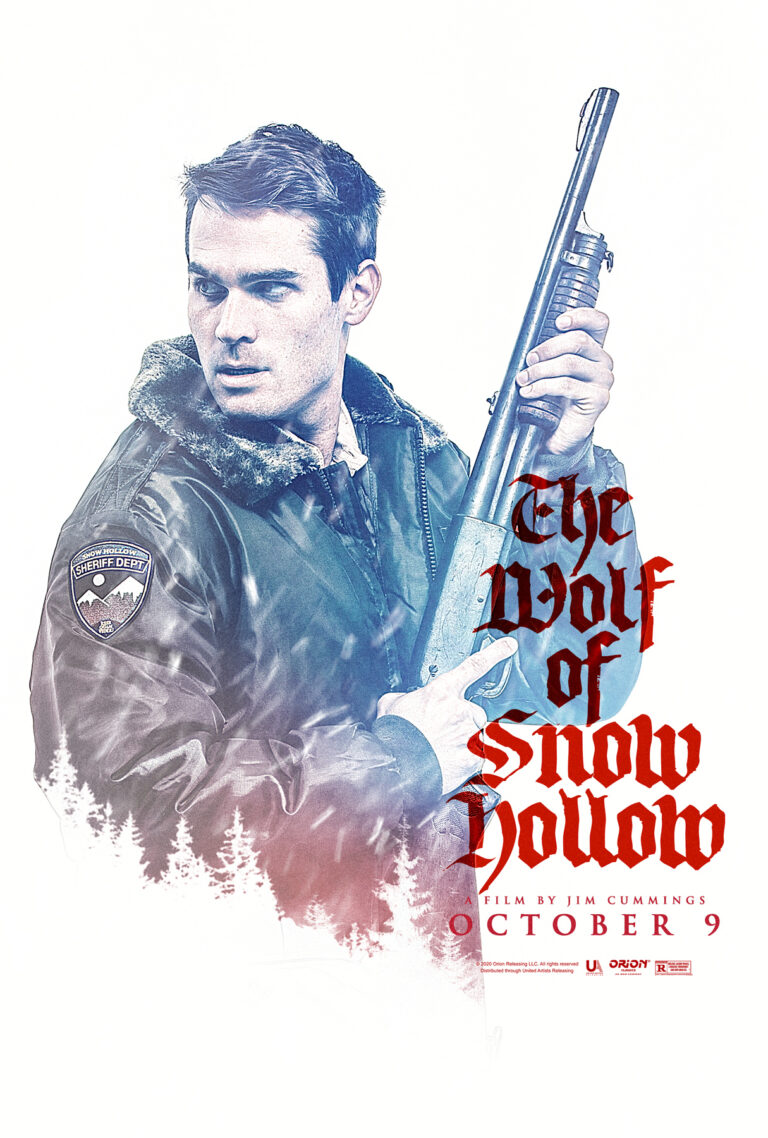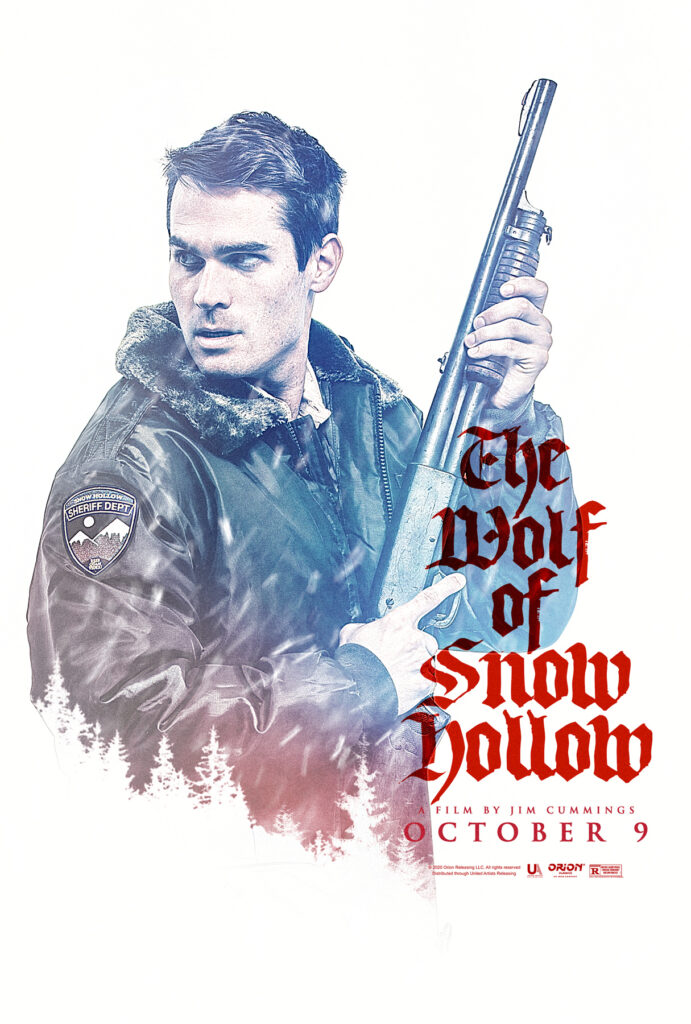 What I Dislike or Points to Consider
Don't expect a detective tale or any focus on a mystery. If this movie is anything, it's a character study of John Marshall. The killer isn't a figure we uncover through available information. The Wolf of Snow Hollow focuses on the stress that unravels our characters as they investigate. The trailer was a bit misleading, creating a focus more centered on the mystery and comedy of the film.
Without going into too much detail, some of the deaths get overshadowed by those earlier-mentioned scene cuts. While I still stand by my praise of these scenes, some of these deaths needed more silence and longevity. Though I recognize this might ruin the comedy focus of the film, death should have weight in a story.
This film isn't scary. While some moments might unnerve you, don't expect to be haunted.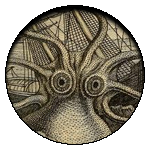 Final Thoughts
While not a traditional werewolf film, The Wolf of Snow Hollow remains a surprisingly effective horror comedy. If you like your humor dry and dark, this film might align with your taste. However, this barely makes the cut in the horror genre. Don't expect to jump or scream. If this sounds like your taste, then give The Wolf of Snow Hollow a view.

(3.5 / 5)
The Last Drive-In Season 5 Premiering April 21st Exclusively on Shudder!
They say good things come to those who wait, and boy have we been patient. It has been close to a year since our eyes have indulged a full season of 'The Last Drive-In with Joe Bob Briggs', in fact, the season 4 finale premiered on Shudder July 1st, 2022. Since then, we have been able to satisfy our appetites with festive holiday specials sprinkled throughout the past year. Specials such as 'Joe Bob's Halloween Hangout' guest starring horror's favorite Mistress of the Dark, Elvira (played by the legendary Cassandra Peterson) and 'Joe Bob's Ghoultide Get-Together'. Last month was a treat in itself, as we were able to witness Joe Bob Briggs and co-host Darcy the Mail Girl (Diana Prince) marry one lucky couple for the first time on the show with 'Joe Bob's Vicious Vegas Valentine' special.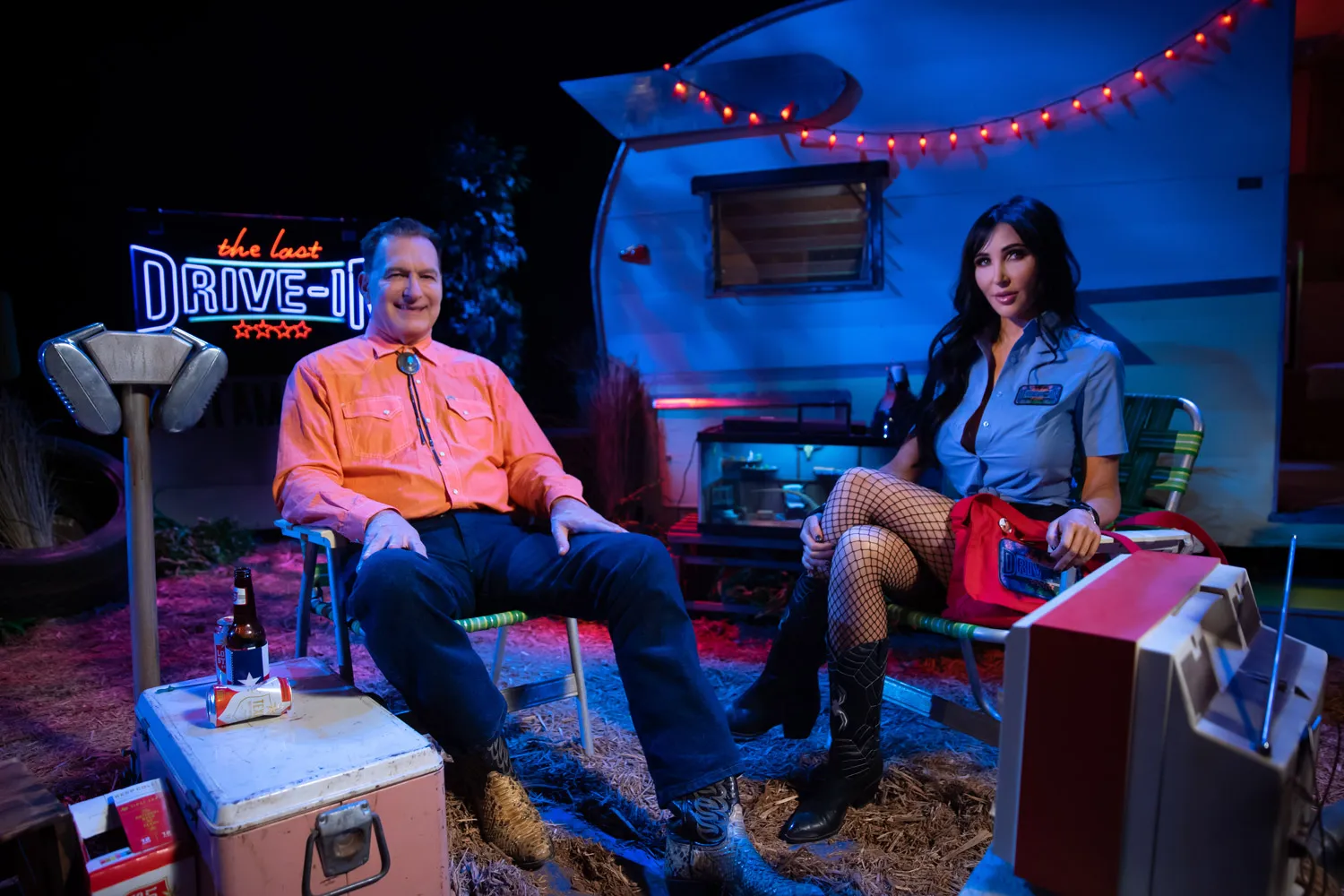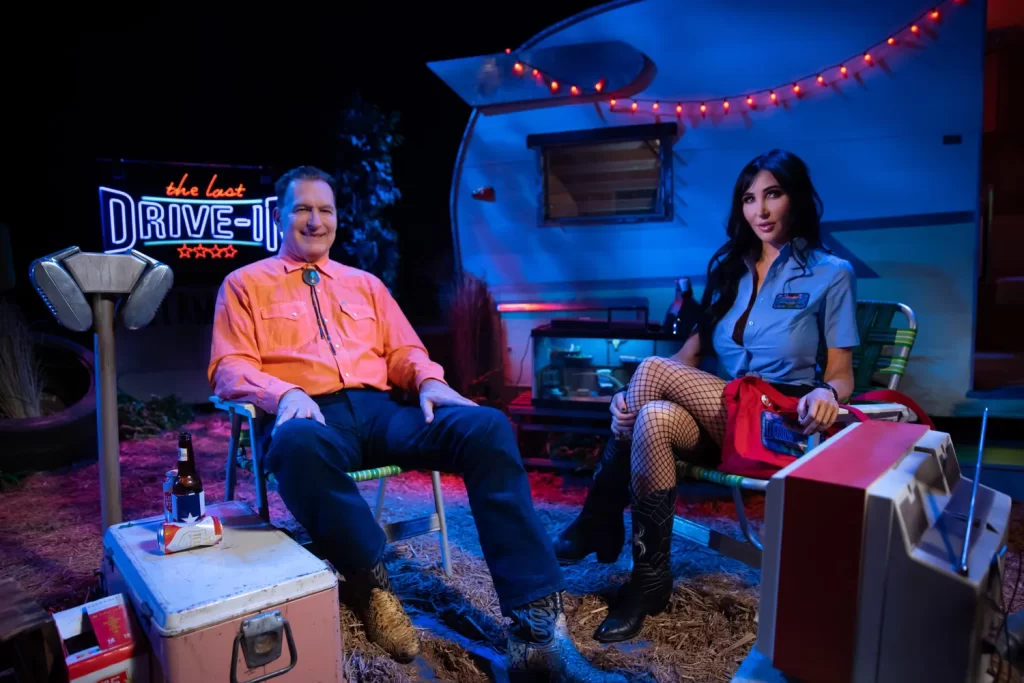 While the current changes in staff at Shudder have left fans questioning whether we will receive a new season of the popular series, I can happily say mutant family, we need not worry. In fact, to our wonderous surprise, Joe Bob Briggs has officially announced via Twitter, season 5 of 'The Last Drive-In' will be premiering April 21st, exclusively on Shudder! One thing that is noteworthy, is unlike previous seasons, it has been reported by 1428Elm that season 5 will be broken up into two parts of five double-feature blood-curdling episodes. Though we have not been provided the official release schedule for the second block of season 5, here is a sneak peek of what we can expect for the first half of the season:
April 21: Season 5 Launch Party!
April 28: Walpurgisnacht Part 2!
May 5: Cinco de Fucking Mayo!
May 12: Mama's Day!
May 19: Dysfunctional Family Jubilee!
Unfortunately, we do not have an official list of the brand-new double feature films for the first half of season 5 but, with amusing episode titles such as these, one can only imagine what grindhouse-classics will be joining 'The Last Drive-In's' already eclectic list of sloshy goodness. For those impatient mutants eagerly waiting for more hilarious Joe Bob rant-filled commentaries, or those newcomers who've yet to experience the magic that is 'The Last Drive-In', all previous four seasons, including past holiday specials are currently available to stream now on Shudder.
If you are just as big of fans of 'The Last Drive-In' as we here at HauntedMTL are, please be sure to follow us on Twitter @HauntedMTL and join us April 21st as we tweet along with Joe Bob and Darcy the Mail Girl for the season premier. As is tradition, we will be hosting live watch parties every Friday with each new episode, including fresh holiday specials. The road to season 5 is upon us…let the countdown begin!
April 21: Season 5 Launch Party!
April 28: Walpurgisnacht Part 2!
May 5: Cinco de Fucking Mayo!
May 12: Mama's Day!
May 19: Dysfunctional Family Jubilee!
. . . and that's only the beginning.#TheLastDriveIn pic.twitter.com/WfeTx0shNa— Joe Bob Briggs (@therealjoebob) March 16, 2023
Shudder March 2023 Release Schedule
Mutant family, please gather 'round as February kicks rocks and we shove our way into March. With the new month comes the shifting from winter to spring as death beautifully resurrects back to life, drunken patrons swarm our local bars like rabid locusts for St. Patrick's Day celebrations, and of course new exclusives and returning favorites on Shudder to satisfy the horror fiend in us all. To quote the prestigious Samuel L. Jackson, "hold onto your butts" and let's dive right into Shudder's March 2023 release schedule.
Shudder Exclusives
While it is true that the release schedule for the start of 2023 on Shudder has been minor and slightly mixed, with films such as the much talked about experimental low-budget indie 'Skinamarink', the surprisingly entertaining horror comedy 'Sorry About the Demon', and writer/director Neil Marshall's return to the genre with 'The Lair'. We also graciously received the wildly fun 'The Last Drive-In: Joe Bob's Vicious Vegas Valentine" special, with season 5 currently in production and premiering later this year; though it can't come soon enough. As we like to do here at HauntedMTL, let's kick off March with Shudder's newest exclusives currently streaming now and in the coming weeks.
Spoonful of Sugar – Now Streaming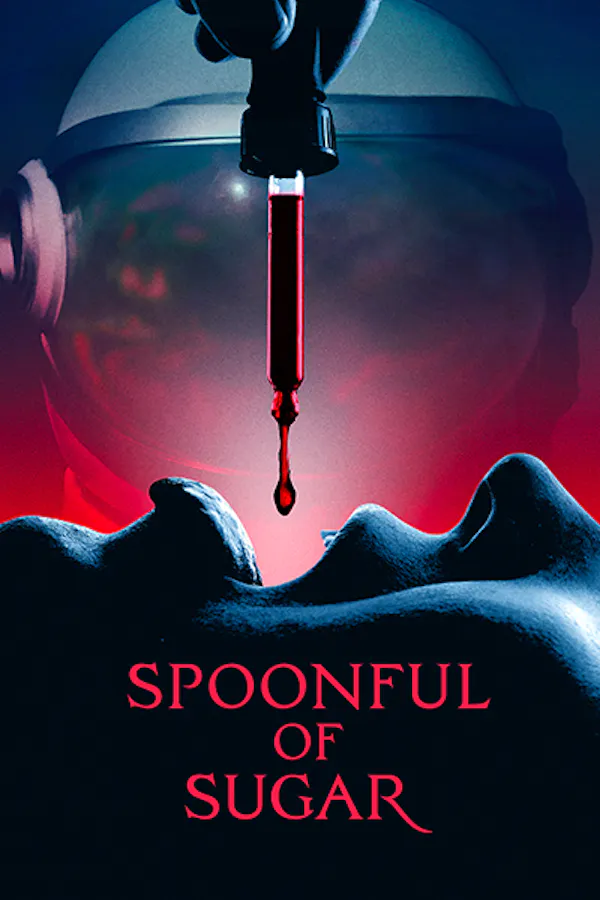 Starting off this list we begin with director Mercedes Bryce Morgan and writer Leah Saint Marie's latest film 'Spoonful of Sugar', now currently streaming.
Millicent (Morgan Saylor), a disturbed college student working on her thesis about children with severe allergies, is hired to babysit little Johnny (Danilo Crovetti), a sickly, mute child who suffers from every allergy under the sun. His mother Rebecca (Kate Foster) is an accomplished author currently focused on her newest book release, while his father Jacob (Myko Olivier) spends his days in the backyard working on frivolous carpentry projects. After experiencing a bizarre sexual awakening while using LSD as an alternative treatment for Johnny, she soon uncovers the family's dark secrets as things begin to become unhinged.
Leave – Premiering Friday 3/17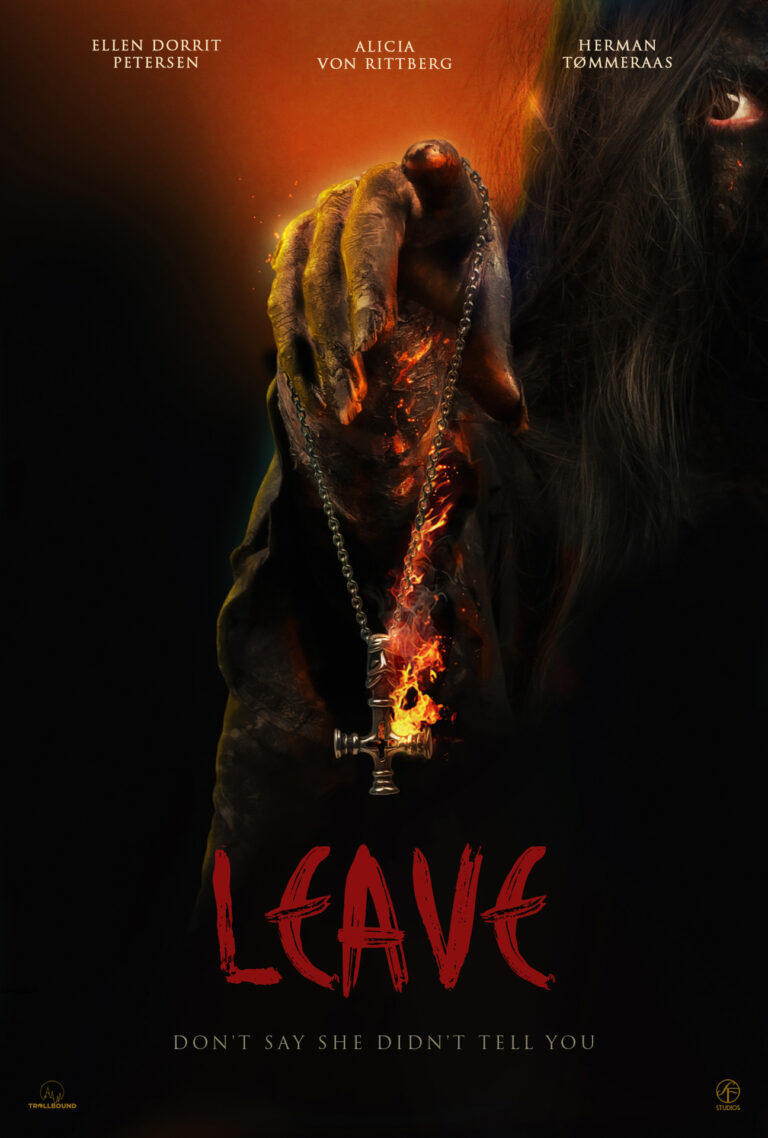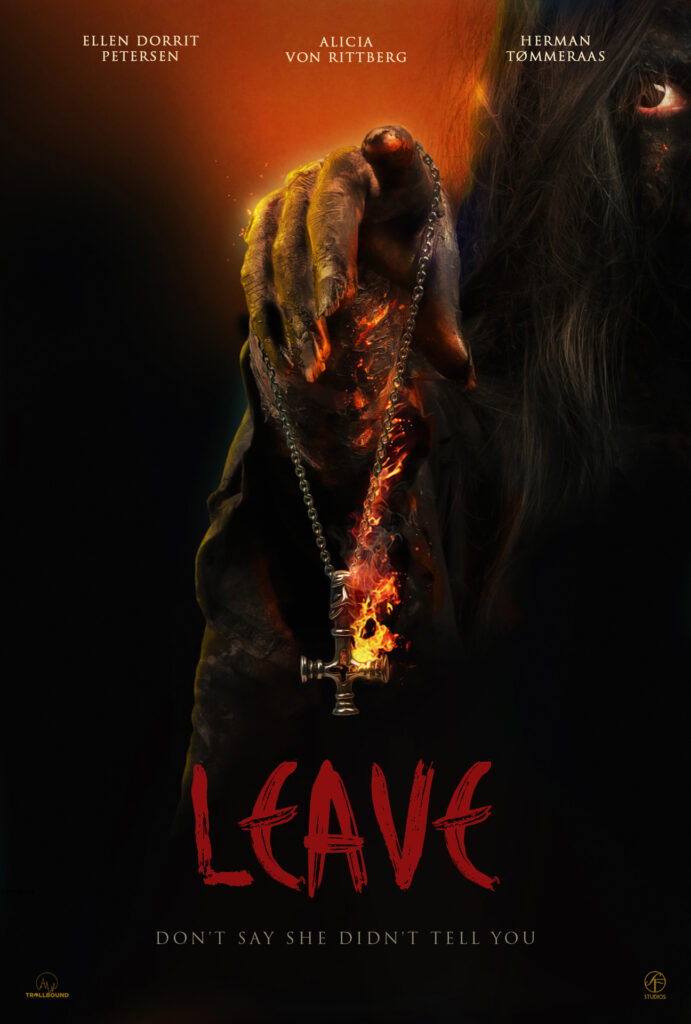 After having been abandoned as an infant at a cemetery wrapped in a cloth with satanic symbols, Hunter White (Alicia von Rittberg) grows obsessed with figuring out who her biological parents are and why they seemingly abandoned her. However, as she gets closer to the answers she so desperately seeks, a malevolent spirit is warning her to leave.
'Leave' premiers exclusively on Shudder Friday 03/17 and is directed by Alex Herron and written by Thomas Moldestad, starring Alicia von Rittberg, Herman Tømmeraas, Ellen Dorrit Petersen, and Stig R. Amda
The Unheard – Premiering Friday 03/31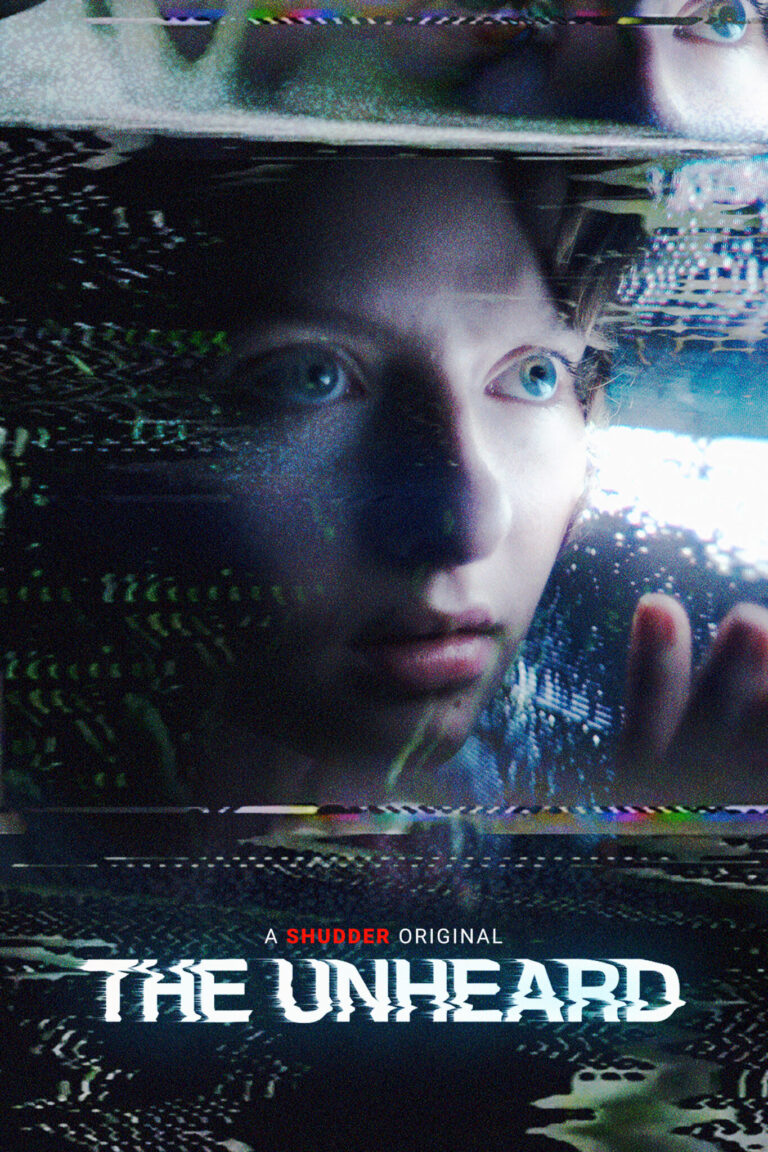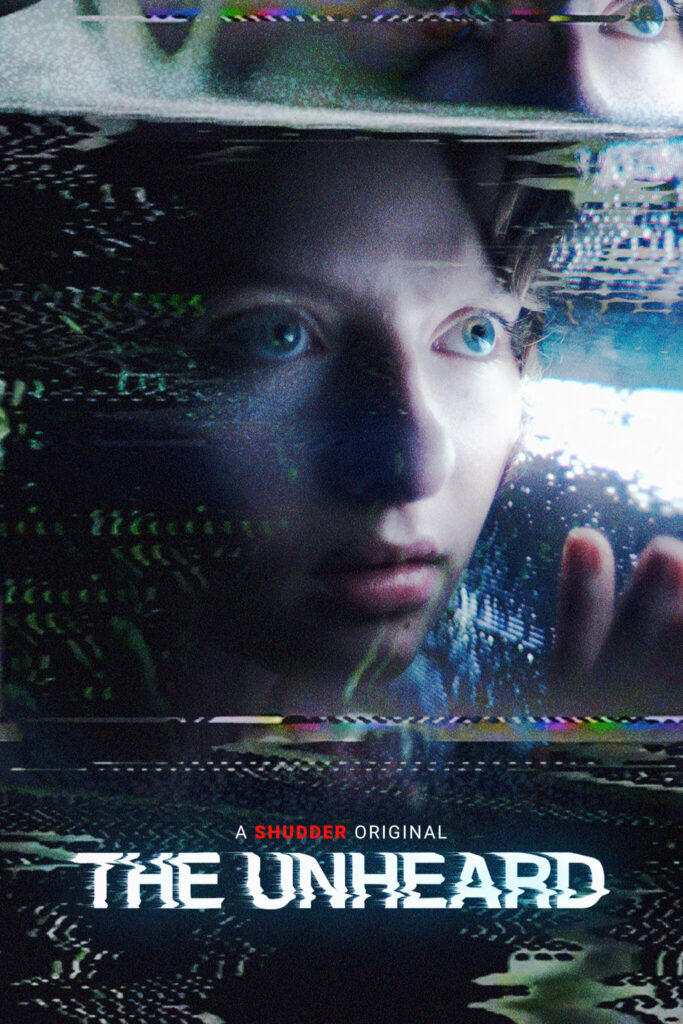 'The Unheard' follows the story of deaf 20-year-old Chloe Grayden (Lachlan Watson) after she undergoes an experimental treatment to restore her hearing. While recovering at her family's beach home after the successful procedure, Chloe begins to fear she is not alone as she begins to experience auditory hallucinations related to the mysterious disappearance of her mother.
'The Unheard' is directed by Shudder alumni Jeffrey A. Brown (The Beach House) and written by brothers/screenwriting partners Shawn Rasmussen and Michael Rasmussen (Crawl), co-starring Michele Hicks and Nick Sandow. 'The Unheard' premiers exclusively on Shudder Friday 03/31.
Returning Classic and Fan Favorites
Now that we've removed the veil for the new exclusive titles dropping this month, I think it's time we reveal the returning classics jump starting our transition into spring for 2023. Allow me to highlight some of my favorite films returning to Shudder for March including 'Gretel and Hansel' and 'The Company of Wolves'; grim re-telling's of popular children's fairy tales. We also cannot forget John Carpenter's haunted coastal horror 'The Fog'; no, not the remake…thankfully.
Gretel and Hansel – Now Streaming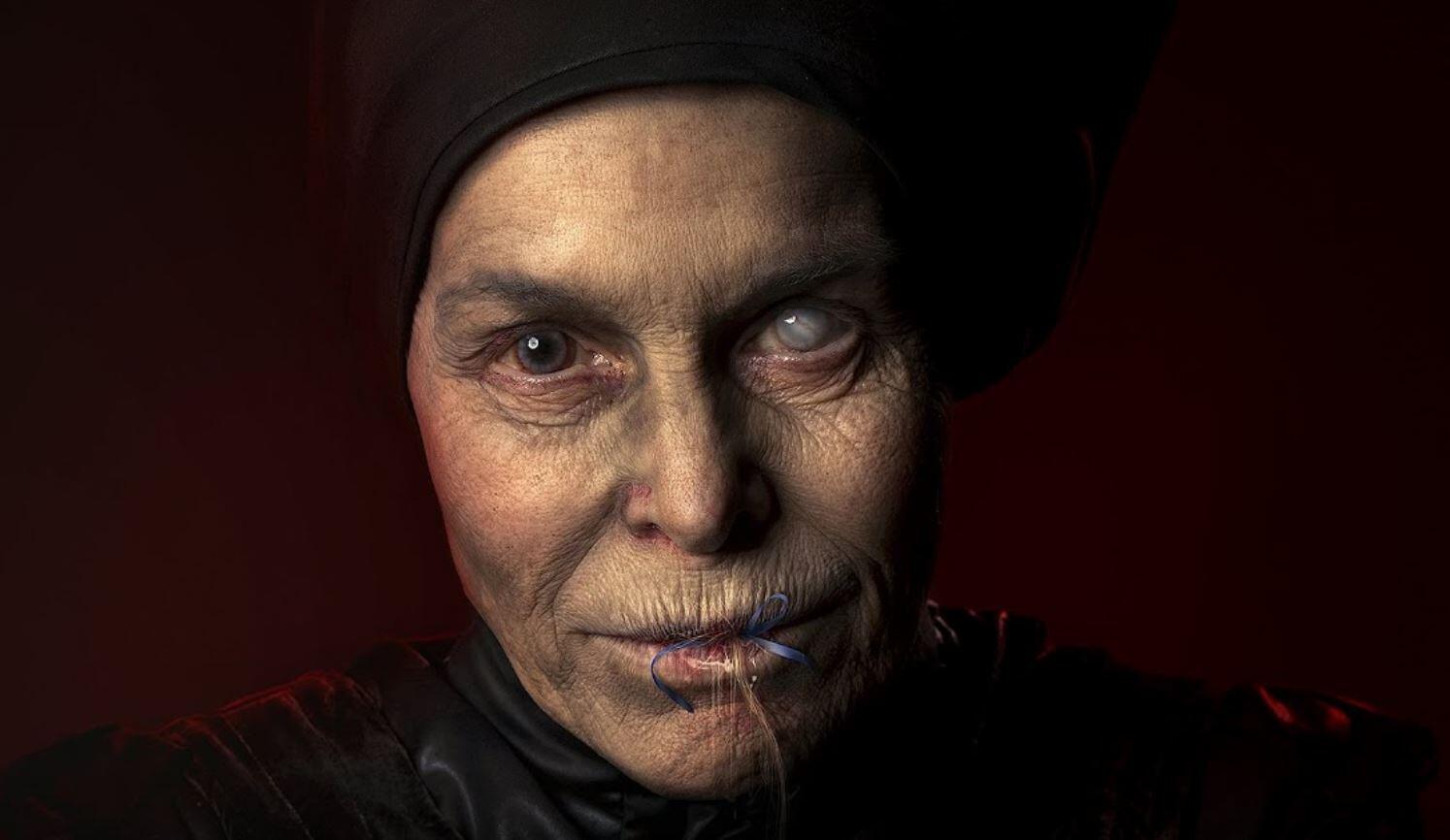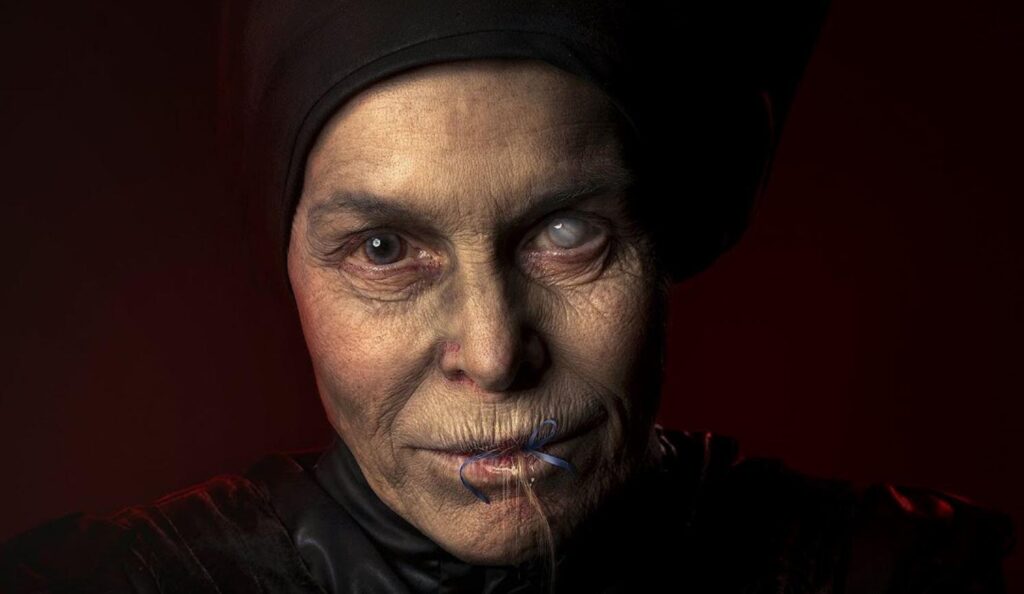 Directed by Osgood Perkins, 'Gretel and Hansel' is a terrifyingly dark and unique vision to one of history's most famous childhood fairy tales. After being thrown out of their mother's home, Gretel (Sophia Lillis) leads her younger brother, Hansel (Samuel Leakey), through the woods in search of food and work. The children soon discover a quaint cottage where a fragile old woman Holda (Alice Krige) offers fresh food and bed. The children accept all Holda has to offer, with little thought as to what may be asked of them in return.
Though it has been met with mixed reviews, 'Gretel and Hansel' offers astounding performances by veteran actress Alice Krige as the films iconic Witch of the woods and Sophia Lillis as lead Gretel. Director Osgood Perkins does well to draw his viewer in with a beautifully haunting score and unnerving cinematography, making this one grim re-telling worth checking out at least once. 'Gretel and Hansel' is available to stream now.
The Company of Wolves – Now Streaming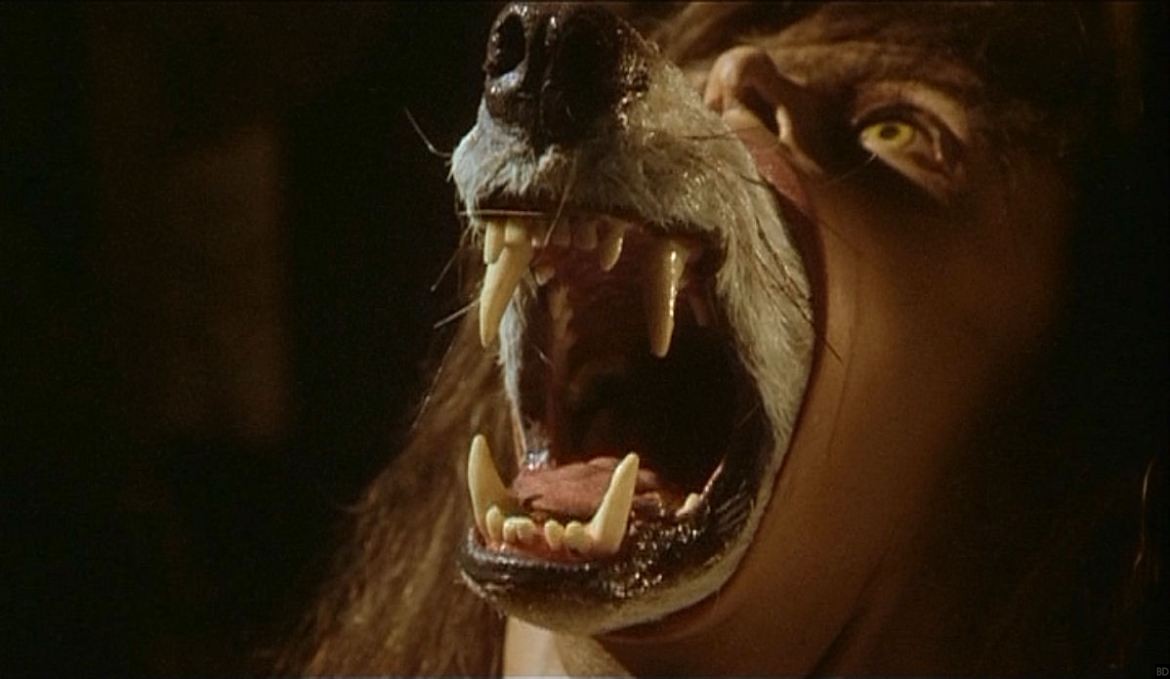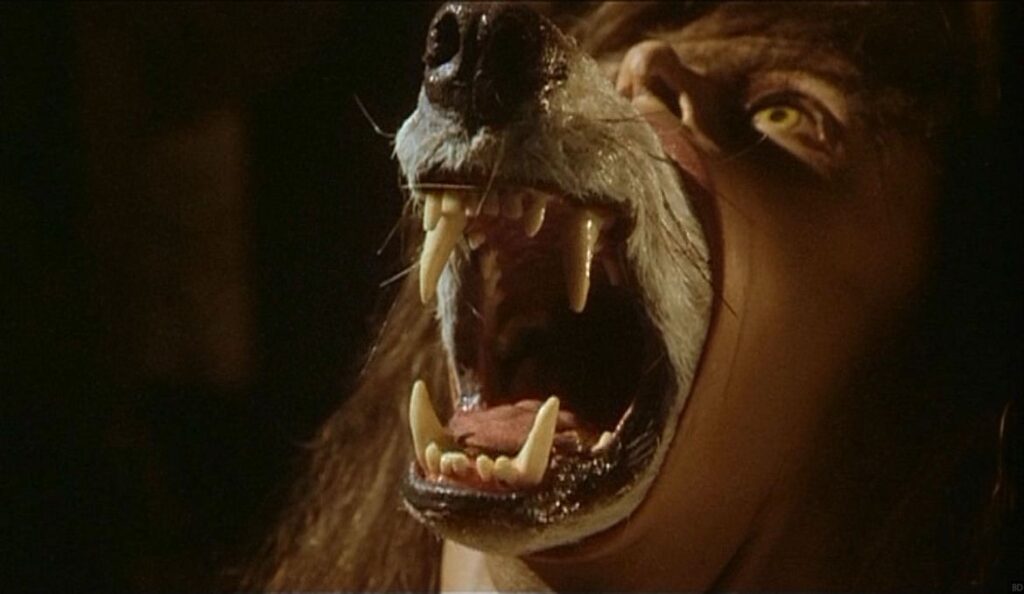 Continuing our list of returning classics, we have yet another bold re-telling of a beloved children's fairy tale, 1984's 'The Company of Wolves'. While the story of 'Little Red Riding Hood' has been retold through various forms of media, including numerous films, 'The Company of Wolves' is a beloved horror interpretation with adult themes and memorable practical effects including one of the genres best werewolf transformations.
A wise grandmother (Angela Lansbury) tells her granddaughter Rosaleen (Sarah Patterson) a disturbing tale of innocent maidens falling in love with handsome strangers … and of their sudden mysterious disappearances when the moon is full and accompanied by the strange sound of a beast in the woods.
'The Company of Wolves' is co-written and directed by Neil Jordan and stars Sarah Patterson, Angela Lansbury, Micha Bergese, and David Warner, streaming now.
John Carpenter's The Fog – Streaming 03/31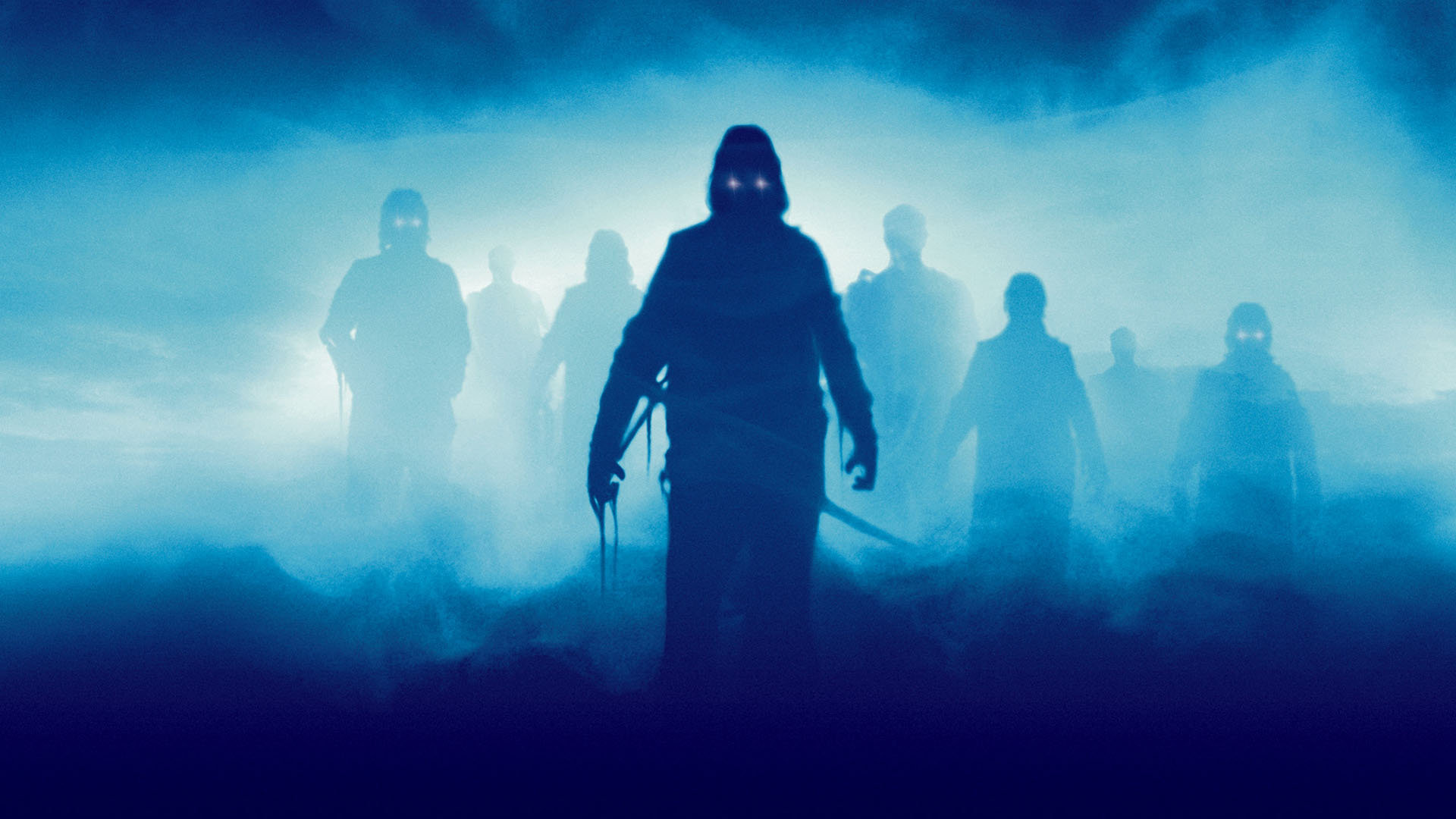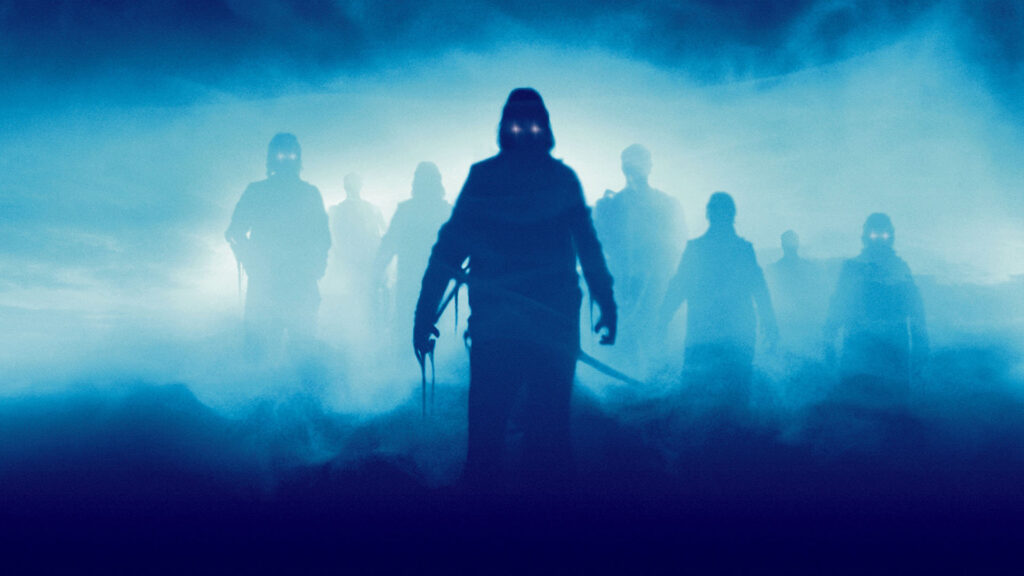 Writer, director, musician, and horror master John Carpenter is a legend in the genre having provided countless classics such as 'The Thing', a terrifyingly gruesome remake of 'The Thing from Another World'. Or his sci-fi action/horror 'They Live' where he deals with societal control through corporations and government. And of course, my personal favorite, the film that jumpstarted his career and created one of horror's most iconic slashers…'Halloween'.
1980's 'The Fog' is a terrifying shoreside tale of vengeful spirits haunting the fictional coastal town of Antonio Bay, OR. as they begin preparations to celebrate its centenary. Following exactly 100 years after a ship mysteriously sank in the town's waters, a thick unearthly fog harboring the souls of those who perished rolls in and with them, the dark secrets of Antonio Bay's past.
John Carpenter's 'The Fog' stars scream queen and recent Academy Award winner Jamie Lee Curtis, genre alums Adrienne Barbeau, Janet Leigh, Tom Atkins, Charles Cyphers, and Nancy Kyes, and was co-written by the late Debra Hill. 'The Fog' will be available to stream on Shudder 03/31.
Full Shudder March 2023 Film Releases
For a full comprehensive list of all the titles being added to Shudder for the month of January, please refer to the graphic below. Please be on the lookout for our review of 'The Last Drive-In: Joe Bob's Vicious Vegas Valentine' to drop later this week here on HauntedMTL and be sure to follow us on Twitter and Instagram for more Shudder news and spooky reviews!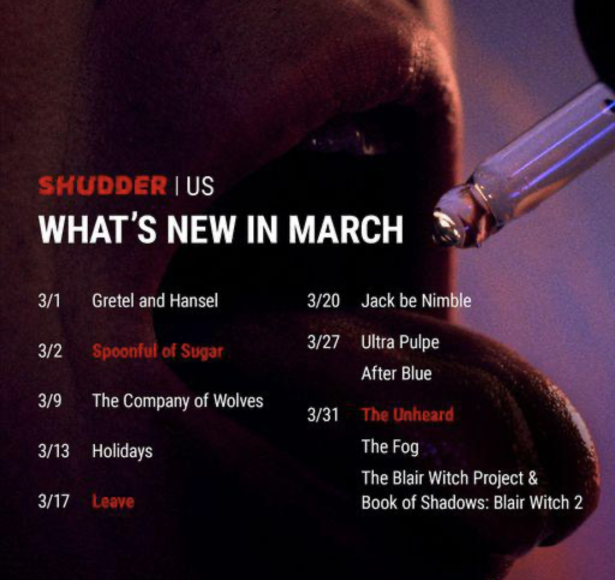 3/1:
Gretel and Hansel
3/2:
Spoonful of Sugar
3/9:
The Company of Wolves
3/13:
Holidays
3/17:
Leave
3/20:
Jack be Nimble
3/27:
Ultra Pulpe
After Blue
3/31:
The Unheard
The Fog
The Blair Witch Project & Book of Shadows: Blair Witch 2