We did it, Mutants! The Last Drive-In has been renewed by Shudder for a second season! Plus, we survived a bunch of crazy, creepy movies in this first season. Good job everyone.
Tonight's theme seems to be "one for Joe Bob" and "one for Darcy." You'll see why.
Blood Harvest (1987)
Opening Rant: Hipster hotels.
It is strange that the only film Tiny Tim ever starred in is a low-budget slasher film. He was a figure in popular culture who you would assume would have been more present in the movies. Blood Harvest is a 1987 slasher film that follows a young woman who is back home from college. She discovers things are amiss at home and finds herself stalked by a pair of siblings. Meanwhile, her friends are also being picked off by a mysterious killer – oh – and one of the brothers is dressed like a clown.
Directed by Bill Rebane and written by Frank Kinnikin, Blood Harvest stars Tiny Tim as "The Marvelous Mervo," Itonia Salchek, and Peter Krause.
Review
Joe Bob Briggs was particularly enthused by Blood Harvest. He tried on his previous shows to expand the audience and notoriety of the film to mixed results. With The Last Drive-In, Joe Bob was quite generous with the score of the film, awarding it three stars. The movie is certainly distinct among the films we've seen over the course of the season; mostly because of the novelty of Tiny Tim. The singer infused the entirety of Joe Bob's host segments and led to some incredible moments.
The show featured two guests in Justin Martell and Bucks Burnette. Martell was on to promote his biography of Tiny Tim. He was kind enough to show Joe Bob video footage of Tiny Tim watching Joe Bob talking about Blood Harvest back in the 1990s. It was an incredibly sweet moment and definitely a highlight for the season. Burnette, Tiny Tim's manager towards the end of his life, also shared a great many insights about the performer.
While Blood Harvest is not a great film, but we here at Haunted MTL appreciate how earnest it is. Of course there is the novelty of Tiny Tim who, naturally, sings several songs. The Haunted MTL rating of the film is two and a half stars. One problem is that the film has an incredibly small cast and is very much set in a single location. Ultimately this makes it feels like a very small-scale project. There is also the issue of Tiny Tim himself. Obviously a fantastic performer, he feels disconnected overall from what else is going on in the movie. This makes a lot of a sense, though, as he did not share the "stage" well, reportedly. Many of his scenes have him in isolation from the other characters.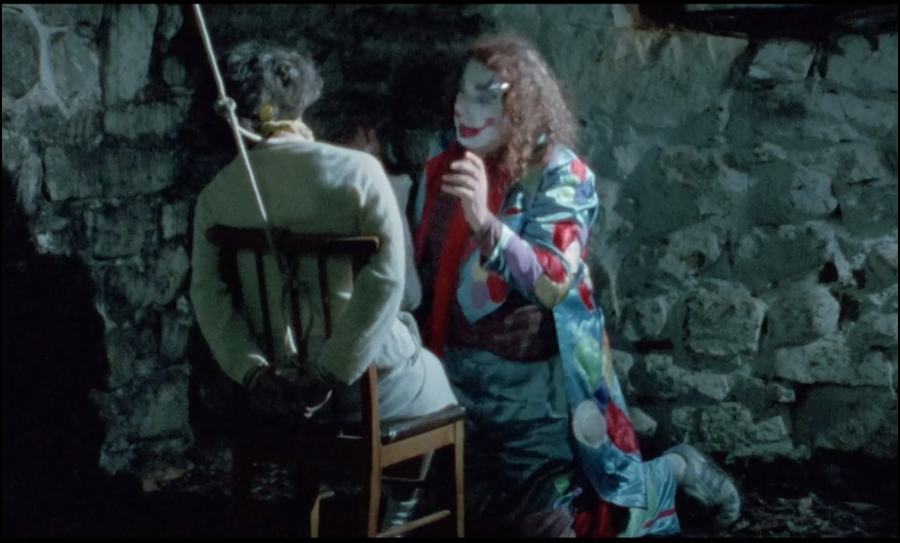 Best Line: "How about some meaningless sex?"
Hello Mary Lou: Prom Night II (1987)
Opening Rant: Joe Bob has zero tolerance for zero tolerance.
We're in Darcy's ballpark with the final film of the season. Hello Mary Lou: Prom Night II is a 1987 Canadian horror film that is only considered a sequel to the original Prom Night through marketing. Whereas the first Prom Night was a slasher film with no supernatural angle, Hello Mary Lou is the story of a high school that is tormented by the possession of a teenager by the ghost of a former student from the 1950s named Mary Lou. The titular ghost takes control of a student and proceeds to seduce and murder her way through archetypal teenagers and adults alike.
Directed by Bruce Pittman, Hello Mary Lou stars Michael Ironside, Wendy Lyon, Louis Ferreira, and Lisa Schrage.
Review
Joe Bob was particularly generous with Hello Mary Lou. It is a solid film, but given Darcy's love of it, Joe Bob awarded it four stars. While the host segments did provide a great deal of information about the origins of the film and the talents behind it, the little subplot about The Last Drive-In prom was a season highlight. Of the factoids, what was most substantial was the revelation of the film originally being titled The Haunting of Hamilton High and the fact that many of the characters were given surnames referencing key horror directors.
The real highlight of the episode, and the finale of the show revolved around a special prom for Darcy. Darcy, of course, was dressed up in a prom gown as Mary Lou, and Joe Bob looked dapper as hell in a shiny black and silver coat. The show finished with John Brennan and Bigfeet performing and the rest of the crew coming out to dance and share in the prom fun. It was a touching and hilarious moment.
Hello Mary Lou is a very good supernatural slasher film with some impressive kills, effects, and a surprisingly amount of full frontal nudity. It is honestly the perfect sort of movie for The Last Drive-In and is a four star film. The performances in the movie are also pretty impressive, especially Wendy Lion as both Vicki and Mary Lou's possessed form who is able to channel oversexed menace quite effectively. Some of the special effects are quite fascinating, such as a liquid chalkboard and maybe the creepiest rocking-horse ever put on film. Also, there is a kill involving a locker that might be an all-time-best in the season. It's that good.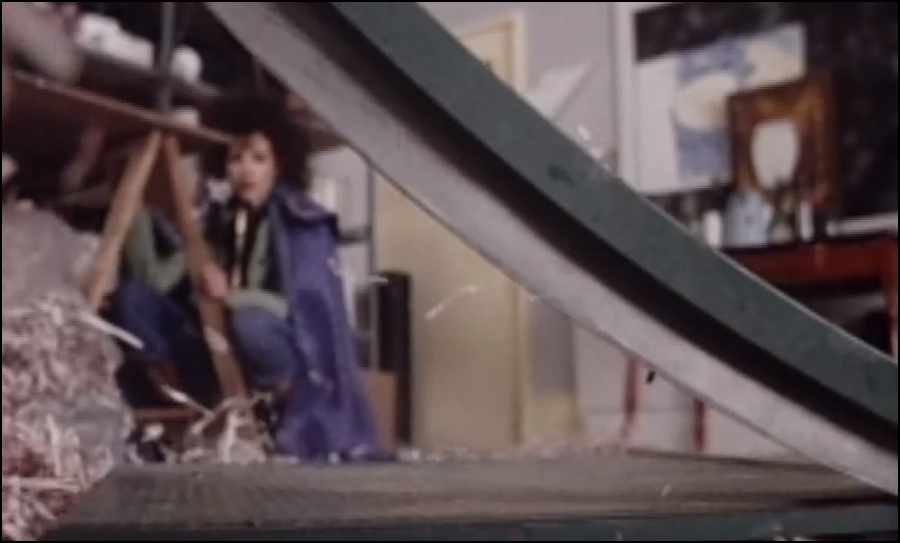 Best Line: " I can't believe this. I'm 18, I'm stunningly good looking, prom's like a week away, and I don't have a date. "
Haunted MTL Drive-In Totals
1 Ancient Artifact (hello VHS tape!)
6 seconds of a stunt-woman being on fire
9 horror director references in character names
10 Twitter Bans for Darcy
22,000 dollars to license the rights to the song "Hello Mary Lou"
Brick Fu
Foreclosure Fu
Volleyball Fu
Trapper-Keeper Fu
Human Pinatas
Double Dose of Chloroform
Gratuitous Layers of Reality
Forcible Clown Ejection
Gratuitous Leg Lotioning
Blood Harvesting
Scottish Joking
Prom Pranking with Fiery Death
Locker Squishing
Chest Bursting
Well, with that we wrap up the first season of recaps for The Last Drive-In with Joe Bob Briggs. Before we go, I just wanted to share what a pleasure this season has been for me as a fan of horror. I also wanted to share how wonderful the experience of writing these recaps has been for me.
As always, please share your thoughts with us about The Last Drive-In. Also, please check out our other great content here at Haunted MTL.
The Drive-In will never die.