Welcome back to Notes from the Last Drive-In, where we discuss the 8th episode of season 3, featuring the cult "classic" films Sledgehammer and Things. I will be very critical of the movie selection for this episode – the films presented were amateurish, bad, and hard to watch movies. With that being said, though, they are also movies I feel I can treasure, and there is something genuinely valuable and charming about them, despite their flaws, like teeny, tiny diamond encrusted in a couple of inches of muck and dirt; unpleasant to dig through but ultimately rewarding. That's kind of what you get with a VHS night, though.
Ultimately, it was a night of cinematic lows, but a wonderful night because of those lows. Thanks, Shudder.
Sledgehammer (1983)
Opening: The VHS Revolution and Joe Bob's reason for VHS Night.
Bad slasher films far exceed the number of good slasher films, but Sledgehammer may be the reigning champ of awful in the genre. Written and directed by David A. Prior and shot entirely on VHS, Sledgehammer is, according to Joe Bob, said to be the first horror film produced entirely on VHS. Some argue it was 1982's Boardinghouse, but our host suggests that because the taped film was transferred to actual film, the honor is dubious. The film stars Ted Prior, Linda McGill, John Eastman, and Jeanine Scheer, though most of the cast had minimal careers at best. Ted Prior is best known for the direct-to-VHS Deadly Prey (1988), a Rambo-knockoff, and bit-part in Surf Nazis Must Die (1987).
The film follows a group of friends who decided to spend their time partying in a house that was the site of a murder mystery a decade earlier. Before long, they participate in a prank séance that summons the vengeful ghost of a boy locked in a closet by his abusive mother shortly before her murder. Naturally, the bodies start piling up. However, the plot is a mess, and the story throws bizarre, inconsistent elements on screen. The killer has strange, arbitrary rules that are jettisoned in an instant. There is a suggestion of a Satanic ritual that serves no real purpose to confuse the overall story. Even worse, the film suggests the child who was locked in the closet went missing, yet his remains are found in that same closet ten years later during the course of the film.
The whole film has a pseudo-improvised quality to it. A story doesn't so much unfold rather than exists as a series of moments, some of which suggest a possible narrative while others feel like ideas had on the day of the shoot, such as the infamous "food fight" sequence, which may be the most horrifying moment in the movie. Furthermore, the performances are amateurish and exaggerated. Every line read has an odd cadence that makes even simple lines sound unnatural. The killer, the largest draw of a slasher film, is a lazy trope, a masked figure with a common tool used to kill. The plastic mask makes no sense, either; perhaps if it was something the kid wore before he died, there might be a reason to include it, but it is an arbitrary and laughable choice in the film as it exists.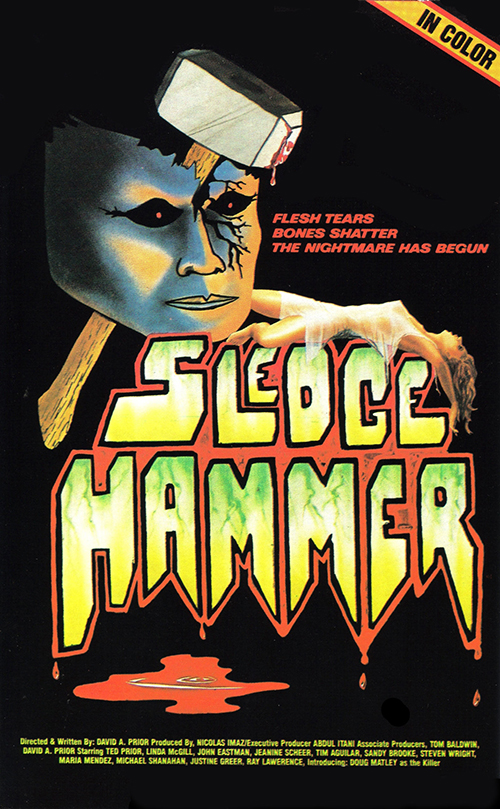 I could continue to criticize the film easily. However, something about it ended up being quite fun. It isn't a good movie by any reasonable metric – yet I enjoyed my time with it. That begs the question of how we define a "good" movie, though, doesn't it? Joe Bob's commentary throughout the night articulates that idea to a degree. The film is not technically good, but it exists. It is the effort of someone genuinely having fun and making something, and we are partaking in that joy. It may not be in the way intended by Prior, but here we are, over 30 years after Prior's friends made it, watching it as a community and pulling something from it. It's not unlike The Room or that Monkey Christ incident where we see the earnestness of the intent and do find a kind of enjoyment in bearing witness to it, though the quality itself may be lacking or laughable.
Perhaps the highlight of the host segments was discussing the VHS form and aesthetic, particularly why there is something so comforting about them. Essentially, Joe Bob reasons that there is something about the "dot pattern that lulls you into a comfort zone" of familiarity. When we watch such VHS horror, we find ourselves reading them as home movies in a way, and can project people we know into the film. This is definitely part of that larger communal reading.
Among some of the other fun bits during the host segments, we learn a fun assemblage of the history of the film – in one of the more impressive feats, Prior shot it in a two-bedroom house. Yet, it ends up feeling much larger in the final film, mostly due to a baffling number of door opening sequences, I suspect. There was also a fun history of aerobic-themed horror films, which frankly sounds like a nice double-feature for season four. Of course, there was also some of that classic poking of fun at academia and horror, which I have grown immune to – it is always a fun time when Joe Bob mentions semiotics.
It is hard to rate a movie like Sledgehammer where the end product is bad, but you enjoy it. Joe Bob gave it two-and-a-half stars, even noting he was being "generous." His rating, I feel, reflects that dichotomy of recognizing the movie is bad but still finding enjoyment from it. I guess if I had to force a food metaphor if most of the movies on The Last Drive-In are junk food, Sledgehammer is like that gas station taquito you can't help eating once a month. So while I can only give this movie a one out of five Cthulhus when it comes to the quality of the film, it is certainly worth experiencing at least once.

(1.5 / 5)
Best Line: "BLARGHARBLE." – Chuck's "Bill Murray" Impression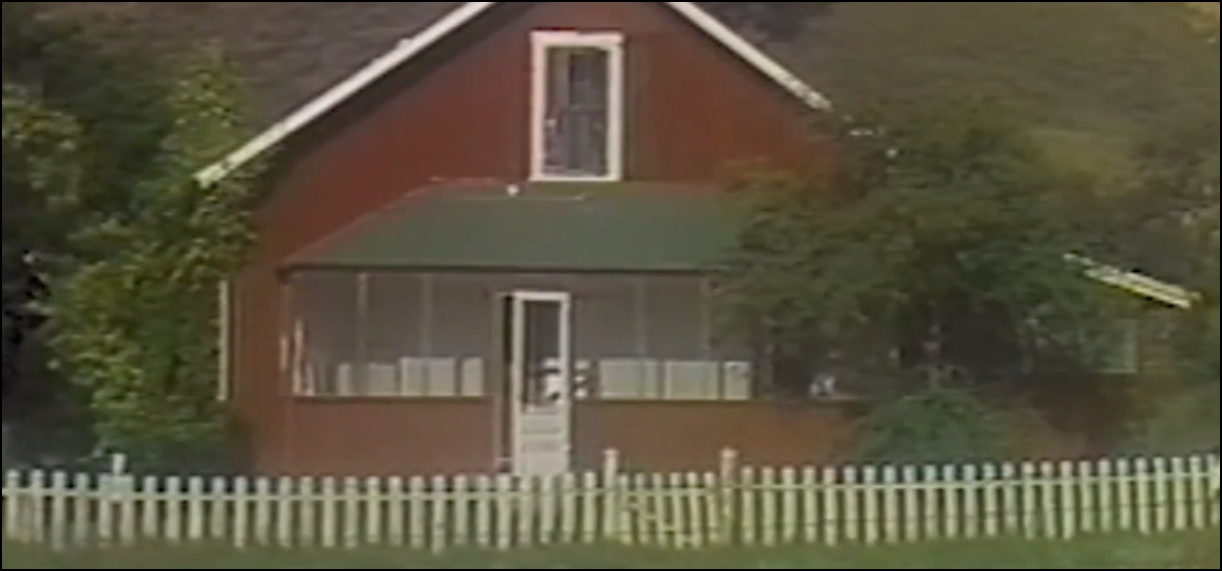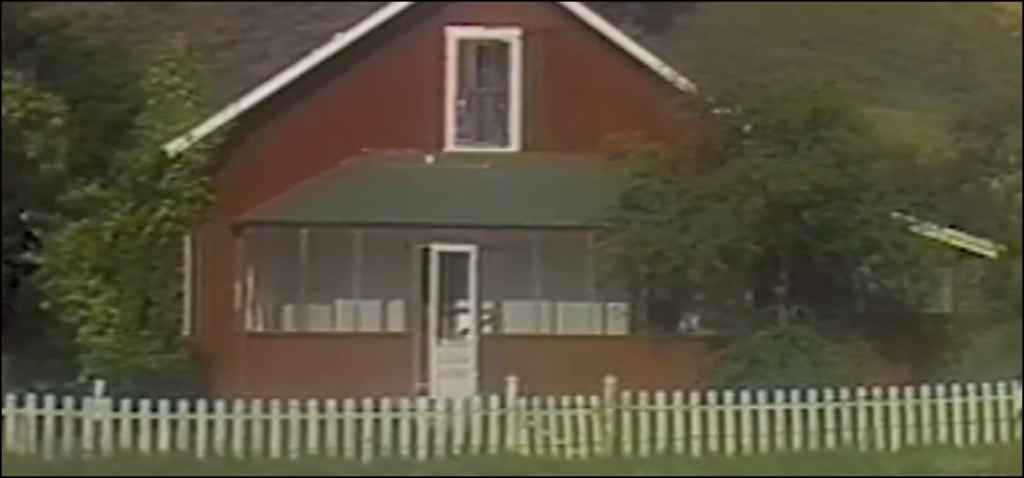 Things (1989)
Opening: We're about to go on a trip.
Muddy and dimly lit. Tinny and grating dubbing. Incoherent and minimal story. This is the infamous "classic" Things. But, believe it or not, The Last Drive-In can dig deeper and find an even worse movie for the back half of the night. This Canadian independent horror film, already a sign of danger, was shot direct-to-video – specifically on Super 8. Directed by Andrew Jordan, who co-wrote it with Barry J. Gillis, the movie stars Barry J. Gillis, porn star Amber Lynn, Bruce Roach, and Doug Bunston.
The film follows two friends who visit a friend's cabin, only to uncover a horrific experiment… I think? The plot of Things is tough to discern for many reasons. Perhaps the best description of the intended plot I could find is on IMDB:
An impotent husband, driven by a fanatical desire to father children, forces his wife to undergo a dangerous experiment. The result: the birth of a multitude of monstrous THINGS.
There is a story to be found, but the film takes every opportunity it can not progress the story. First, long sequences of poorly dubbed conversations, cheese sandwich making, and wandering around darkened rooms with a flashlight. These long stretches are periodically punctuated by Halloween prop ants or some ham-fisted gore effect. Then, of course, there are the Amber Lynn sequences that have no plot relevance – where she plays a news reporter sitting in front of an A/V shelf, reading cue cards that are obviously off to the side of the camera.
The movie has so many problems that talking about them would just come off as bullying someone who cannot fight back. Such as the case with one character vanishing for well over a half-hour of the runtime because Bruce Roach couldn't be on set. With that being said, I do feel I need to point out the absolutely hilarious dub. Much like that MST3K classic, Manos: The Hands of Fate, Things is entirely dubbed over. Unlike Manos, which the crew was unable to record audio when it was shot due to the lack of sound equipment, Things had to be dubbed over because of too much talking on set. This is important as to why Things, as bad as it is, is ultimately compelling. With that being said, the dub on Things is awful in the most hilarious way imaginable – line reads are frequently slurred, rushed through, or completely inappropriate to what is going on. Even better is when a line is spouted, which was obviously added in post, such as Don's hilarious bitching about the weight of his friend or maple syrup references.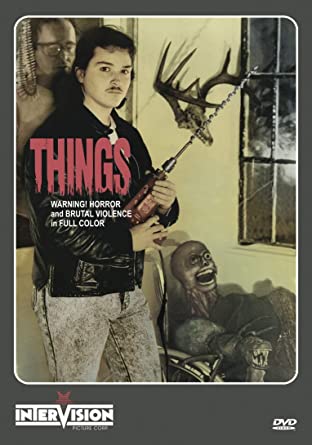 Joe Bob's host segments featured a special appearance by a friend of the Drive-In and AEW superstar Chris Jericho, likely future recipient of his own dedicated land-line for Canadian horror. He'll be the next Felissa Rose on the show, only consulting on canucks rather than mangled dicks. Jericho's interview segment was by far the most naturalistic of the season, and his utter contempt for Things was quite funny. However, his attempts to disown the film as a product of Canada are not likely to pan out. Outside of this, most of the segments would begin with a series of questions attempting to parse the film's meaning and what was seen on screen. Unfortunately, few of the answers were found. Some of the factoids worked their way in from the confused delirium: how exactly Amber Lynn became involved (they asked her) and who the nude woman was (a sex worker).
Joe Bob's impassioned speech at the end of the episode is key to the night. Both films are rightly terrible, with Joe Bob giving Things a one-star rating. Things seems to be the only movie on the show so far that has earned that dubious honor. Yet, as Joe Bob says in the conclusion of the night, the evening was a celebration of the little guy. Things is a movie that exists, a tangible thing made by someone outside the traditional pipeline of film. It is far from competent, but at least someone poured their passion into it. It is easy to judge a film as bad, but it is quite another to actually make an independent film, which should be celebrated when it happens. As for my own rating from quality alone, I would only give the film one of five Cthulhus. However, much like Sledgehammer, I am glad to have seen it.

(1 / 5)
Best Line: "Susan! They ate her down to the skull!" – Don, upon seeing the Things have eaten Susan down to the skull.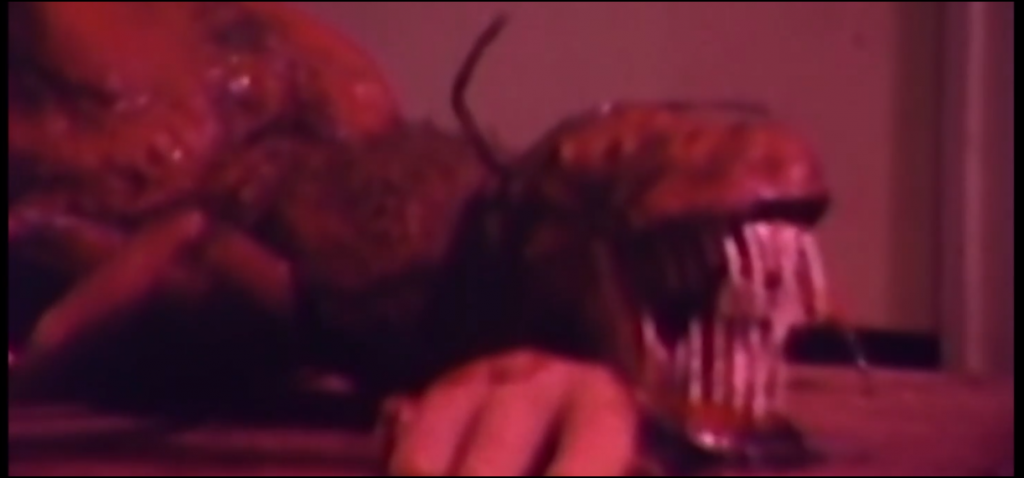 Haunted MTL Drive-In Totals
Of course we are going to include the standard Drive-In Totals, as shared by the Shudder Twitter account.
And as for our totals we have:
2 mailbag entries
"$350,000" Budget
The 8th dead dog of the season
4 breaks per movie
37 David Prior movies
Gratuitous Canadian references
"Creepy Neighbor" caps
Tracking Fu
Existential Questioning about what we are seeing Fu
Yuki sighting
Spontaneously disappearing actor
Silver Bolo Award: SOV Horror
Darcy Cosplay: Sledgehammeress and Blockbuster Darcy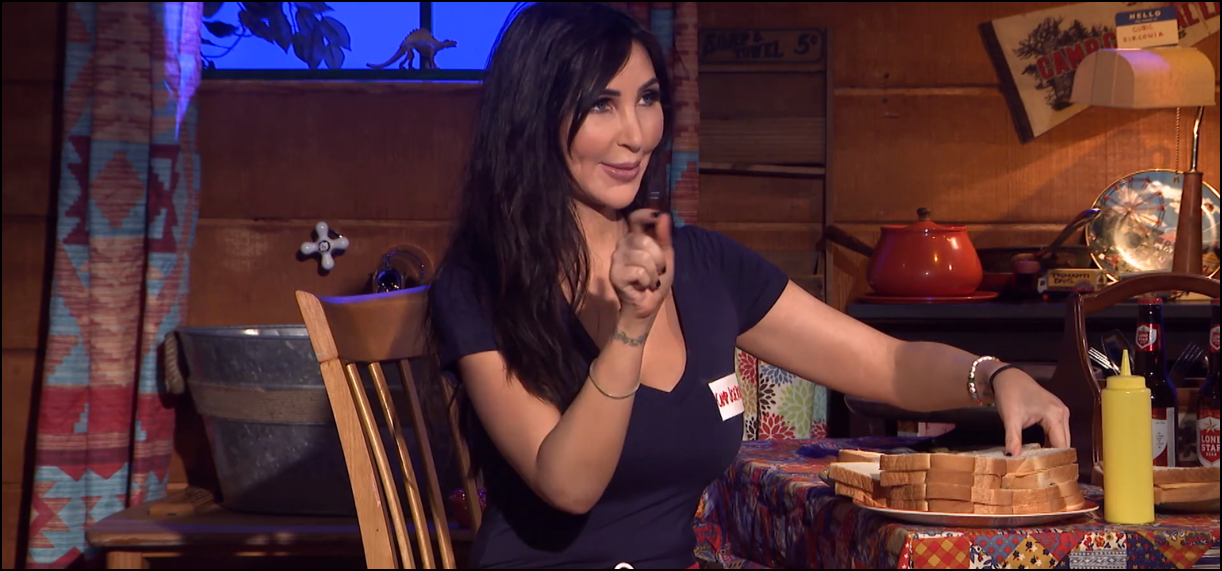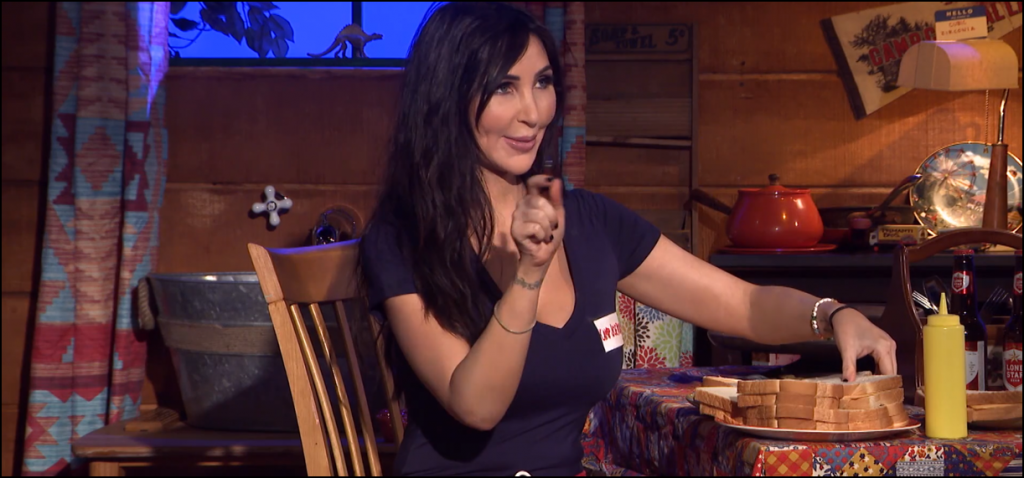 Episode Score
The movie selection tonight was terrible, yet the episode is larger than the sum of its parts. I hope that VHS night becomes a thing every season as there are so many VHS films out there that could easily find their way into the show. I think a celebration of the earnest but incompetent is something we could benefit from as horror fans from time to time. With any luck, nights like this might inspire someone to make their damn movie. The average mutant carries an entire film studio on their phone these days. Perhaps a few years down the line, they will be talking about the Mutant Renaissance?
Anyway, one star movies but a five star night. I give this episode of The Last Drive-In five out of five Cthulhus.

(5 / 5)
And with that, I am out. Join us on Twitter next week as we live-tweet the penultimate episode of the season. It's gonna be a good time.
Wheel of Time, Daughter of The Night
We've reached episode four of Wheel of Time, which means we're halfway through the season. While it doesn't seem like much has happened so far, this is the episode where things start heating up.
The Story
We begin this episode with a flashback. Ishamael is raising something dark and twisted. As we watch, it takes the shape of a woman.
More on that in a bit.
Meanwhile, Nynaeve is healing from her time in the arches. She is quiet and withdrawn. She's also awkward and uncomfortable around Egwene now that she's initiated and Egwene is not. Her new friendship with Elayne isn't helping.
But the three girls come together when Liandrin tells Nynaeve that Perrin has been captured by the Seanchan.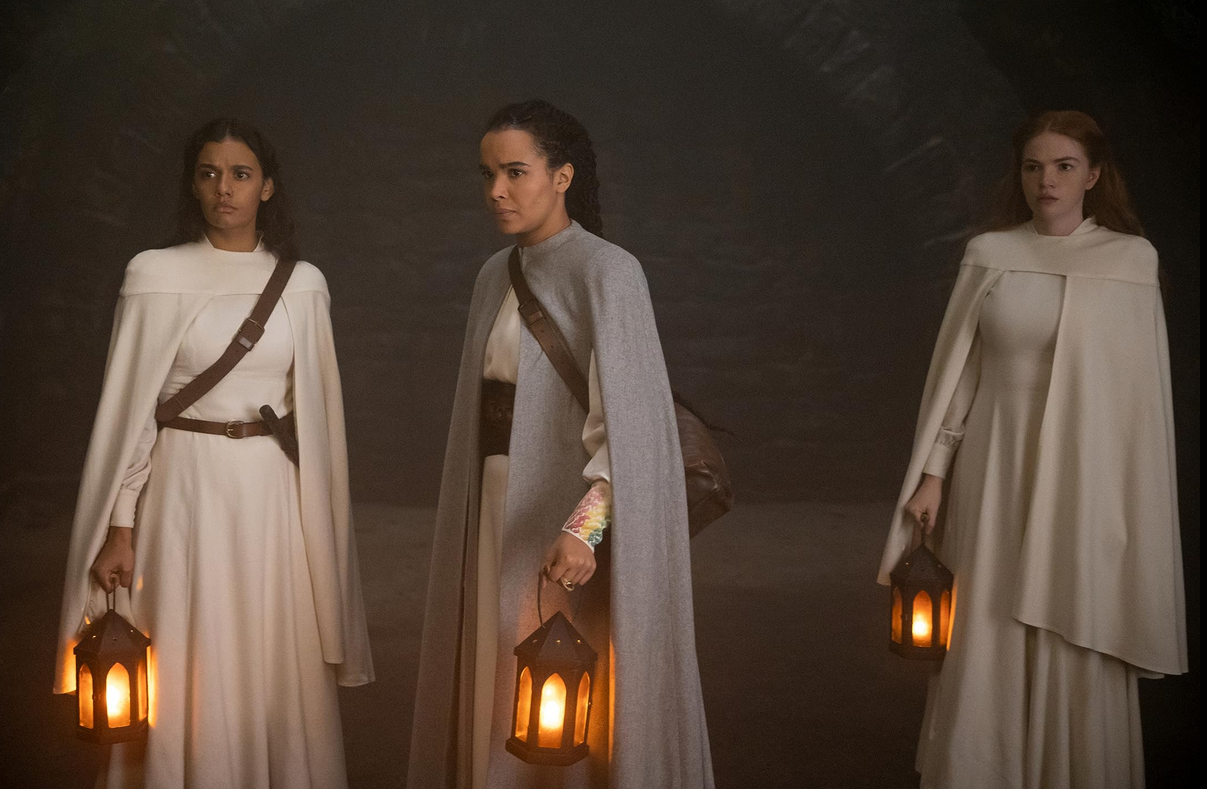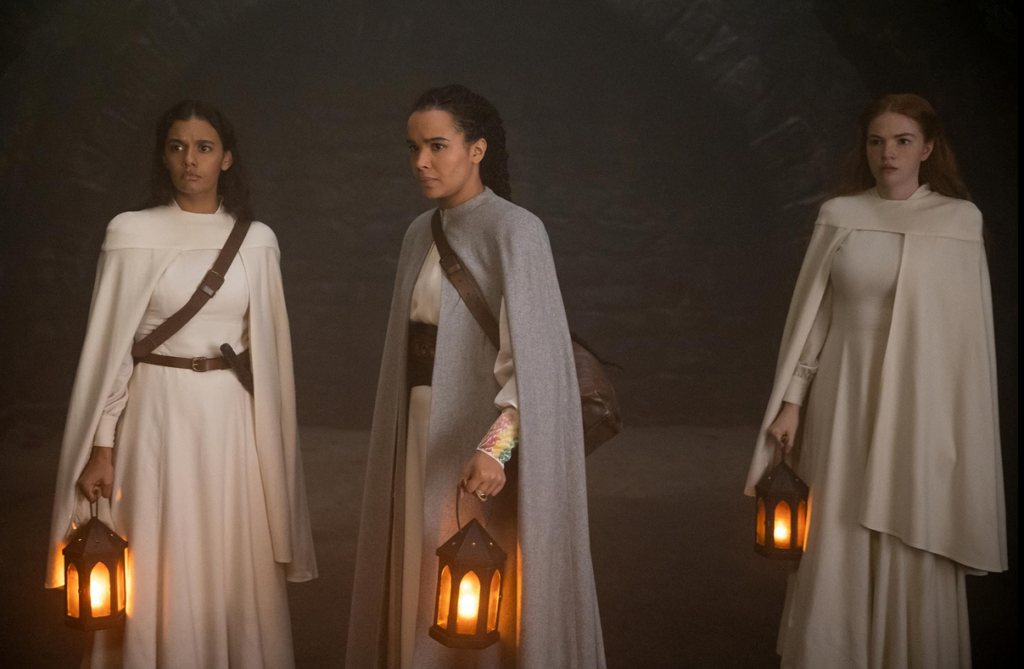 However, Perrin is no longer in the clutches of the Seanchan. He was rescued by Elyas and a pack of beautiful wolves. Beautiful and deadly AF by the way. If you have any fear of dogs, this episode might not help that.
Elyas explains to Perrin that he is a Wolf Brother. This means that he can communicate with the wolves, and eventually will gain some of their abilities. While Perrin and Elyas don't exactly get off on the right foot, he does find a fast friendship with one specific wolf. After a time, he introduces himself by showing Perrin an image of himself jumping up and down. From this, Perrin assumes his name is Hopper.
Finally, we return to Rand. He and Selene have been off in the mountains. They haven't done much more than each other so far.
And that's exactly what it appears they're about to do when Moiraine bursts into the cottage and cuts Selene's throat.
Rand is surprised and furious until Moiraine explains that the woman he knows as Selene is the Dark Friend Lanfear. With this shocking revelation, the two run off into the night.
What worked
It should be a surprise to no one that I loved the wolves in this episode. Hopper himself was worth an extra Cthulhu. But this is not just because dogs are cute. It's also because the dog playing Hopper just does a great job.
On a more serious note, I loved how Nynaeve responded upon coming back to the real world. She isn't okay.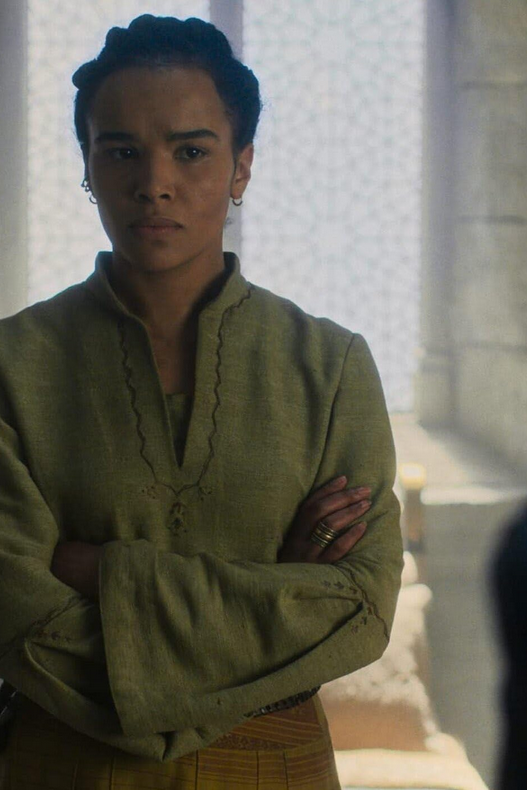 And it's a good thing that she isn't. Too often in fiction we don't see the fallout of emotional damage. Hell, we don't usually see realistic fallout from physical damage.
But she is hurt by what she experienced. And you can tell. That's realistic character building, and we don't see that enough.
I also really appreciate the special effects in this episode. The first time we see Lanfear, she's eerie. She's frightening. Part of this is thanks to Natasha O'Keeffe, who does a great job. But the effects are what really sells this.
What didn't work
If Wheel of Time has any fault, it's that there is far too much sitting about and talking about things. In this case, there's a lot of standing about and talking about things. Some of this was necessary, and some of it could have been done better. Honestly, there just has to be a better way to convey that characters are struggling.
This was most apparent with Rand and Selene/Lanfear. Honestly, anytime the two of them were on screen it was a great time for me to catch up on Instagram.
This might come as a surprise to anyone who hasn't read the books, but Rand is supposed to be the main character. And here we are, four episodes into an eight-episode season, and so far all he's done is mess about with his emo girlfriend!
That being said, the story is starting to pick up. With four episodes left, I can't wait to see how far we go.

(3 / 5)
Elevator Game, a Film Review
Elevator Game (2023) is directed by Rebekah McKendry and is the first feature-length production of Fearworks.
Elevator Game (2023) is directed by Rebekah McKendry and is the first feature-length production of Fearworks. It adapts the supernatural myth and creepypasta of the same name while providing an original plot. This unrated Shudder exclusive stars Gino Anania, Samantha Halas, and Verity Marks. In full disclosure, I had the opportunity to interview Gino Anania and Stefan Brunner about the film.
Ryan seeks to find answers to his sister's mysterious disappearance. To do this, he infiltrates a myth-busting web series that seems to have some ties to her final confirmed moments. Desperate to force a confrontation, he encourages them to play the elevator game. Unfortunately, there seems to be more truth to the myth than expected.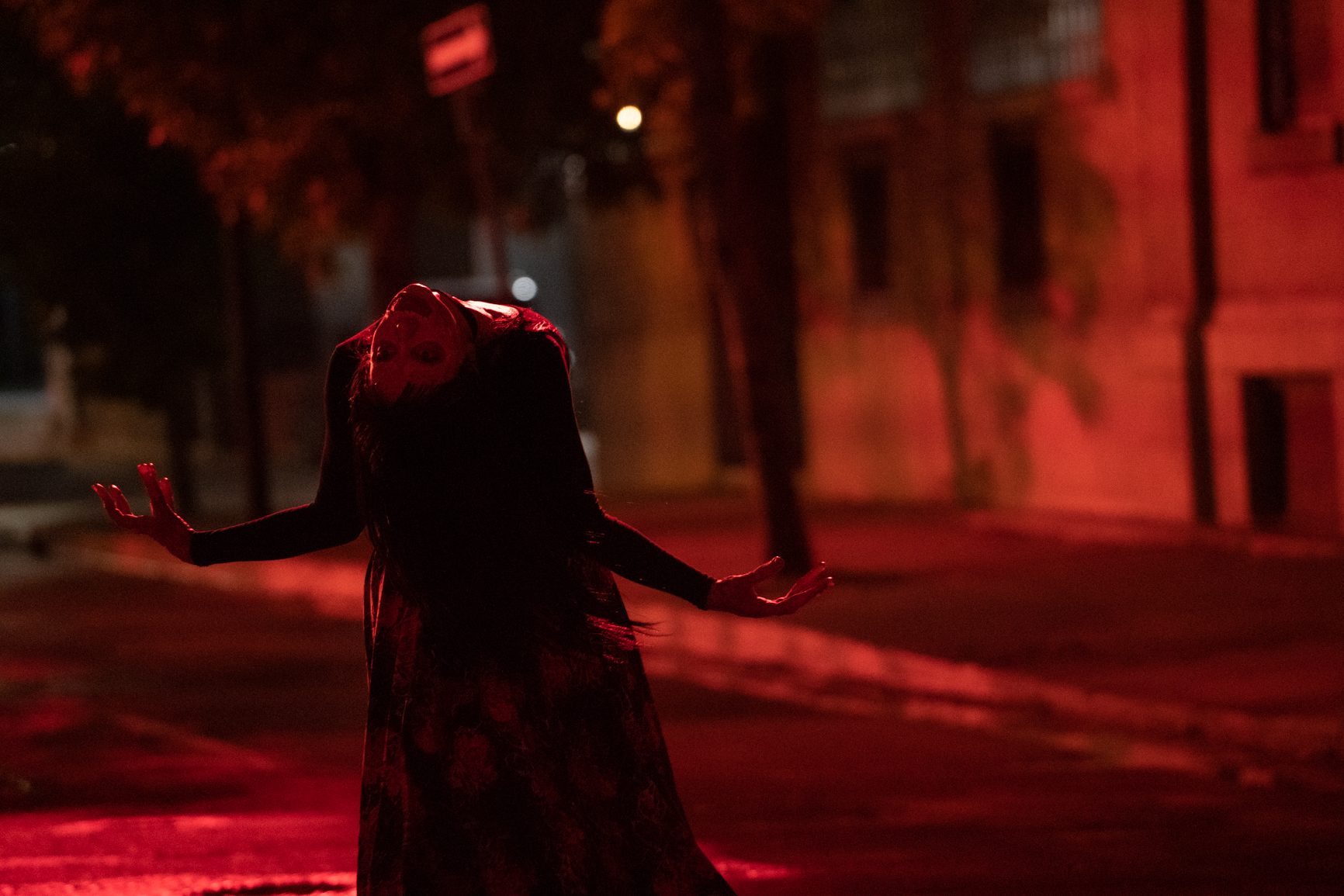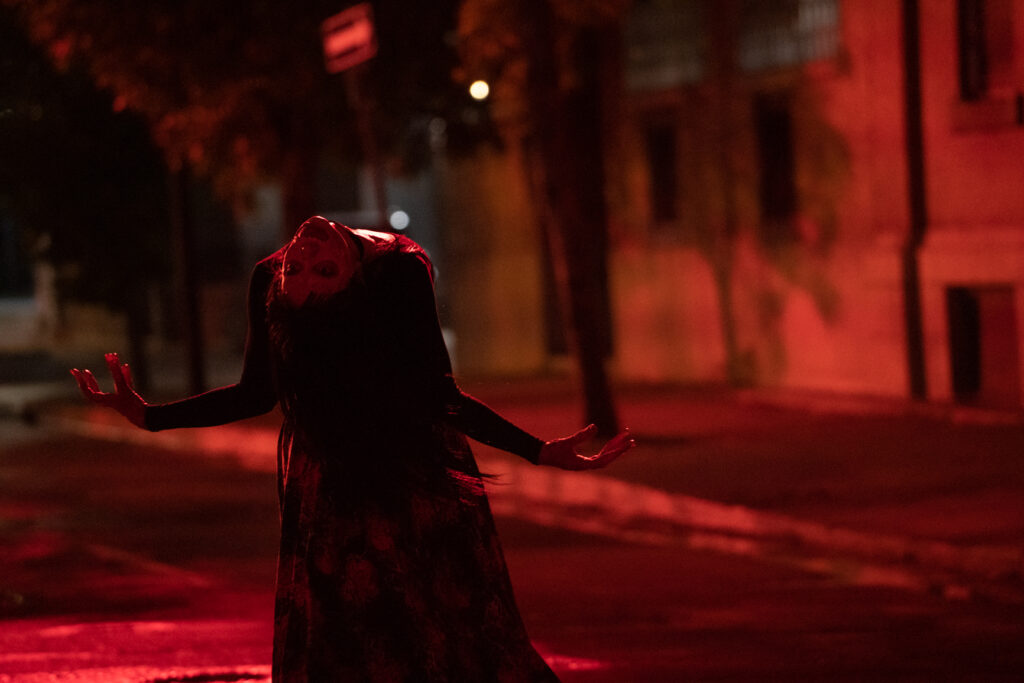 What I Like about Elevator Game & as an Adaptation
I am lucky to have additional insight into the development hell this movie overcame due to COVID. It's commendable that the film manages to make it of that, even if it requires a lengthy delay of the film.
Usually, I provide a separate section for adaptation quality. However, the source material remains the ritual, which Elevator Game performs accurately. While the myth inspires many creepypastas, Elevator Game doesn't directly take or adapt any of these works from what I've seen. Instead, it makes its own film based on the legend.
As the Fifth Floor Woman, Samantha Halas creates an eerie and disturbing character. While I won't go so far as to say terrifying, she certainly makes an impression. The revelation that the stunts and performance are all her, as an actual contortionist, I give her more credit.
Gino Anania, given a more complex role than most of his cast members, really does bring a strong performance that creates either friction or synergy with his cast members. I suppose I wanted more of these interactions as some cut sooner than appreciated.
Another amusing element is that the entire motivation for the plot to follow is a forced advertisement from an investor. Something about the chaos being a product of appeasing some investors feels uncomfortably real.
The alternate reality remains surprisingly effective. To be clear, it's not impressively realistic but stylistic. It genuinely seems like an alternate world with a skewered impression.


Tired Tropes or Trigger Warning
I feel weird mentioning this, but endangering a sister's life to push the brother's story forward seems a common trend beyond one form of media.
No discredit to the actors, but the romance feels rushed and unnecessary. Without going into too much detail, to avoid spoilers, there is synergy between the actors but little chemistry in the plot.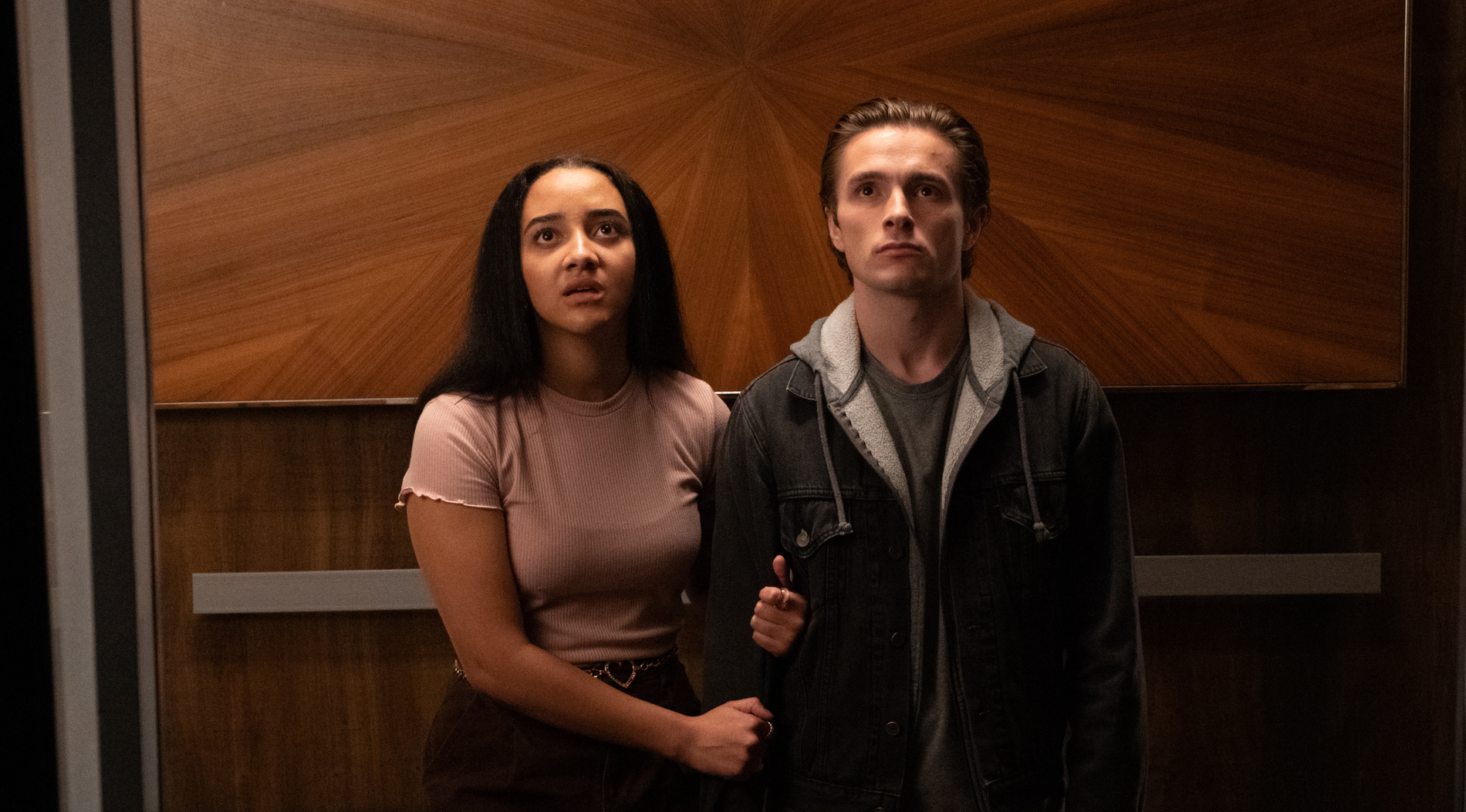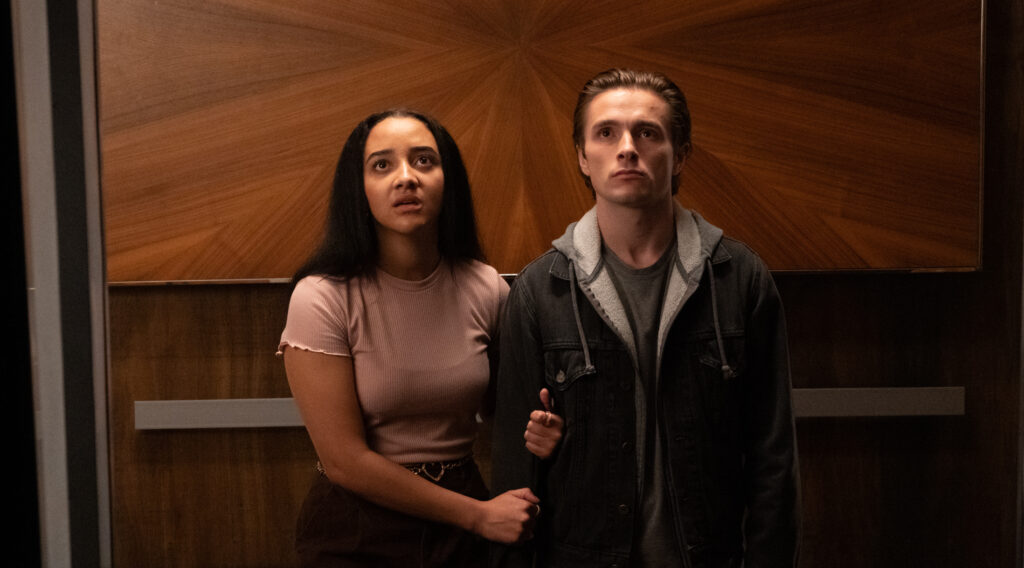 What I Dislike or Considerations
Elevator Game remains set in providing a B-movie experience. Its tight budget leaves little room to surprise the viewer visually. While I am surprised at what it accomplishes, it's far from overwhelming. This film also remains the first production of Fearworks, which shouldn't surprise anyone. I'm interested in the future, but Elevator Game leaves much to grow from.
Rebekah McKendry may have a directorial style that influences dialogue, but the line delivery evokes an overexpression that's common in Lovecraftian films. I say this not as a direct negative, but it remains a required taste best known before viewing. As this isn't Lovecraftian, I fear it removes some of the reality and tension of those haunting elements.
Many of the characters feel underdeveloped, making me wonder if cutting these roles might lead to more invested characters. While the performances hit their marks, a tighter cast might give each role more to work toward. As this is a tight cast already, it seems an odd issue to rectify.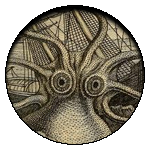 Final Thoughts
Elevator Game provides an interesting B-movie experience for those who know the legend. For those expecting something different, this film may not work for you. This film overcame a lot to exist but doesn't break the mold. While I am excited to see Fearworks pursue further ventures toward its ambitious mission statement, I find Elevator Game falling short of its goal.

(2 / 5)
My Best Friend's Exorcism, a Film Review
My Best Friend's Exorcism (2022) is a R-rated horror comedy directed by Damon Thomas, available on Amazon Prime.
My Best Friend's Exorcism (2022) is a horror comedy directed by Damon Thomas. Based on Grady Hendrix's novel of the same name, this R-rated film stars Elsie Fisher, Amiah Miller, Cathay Ang, and Rachel Ogechi Kanu. As of this review, the film is available to Amazon Prime subscribers.
Abby Rivers (Elsie Fisher) and Gretchen Lang (Amiah Miller) seek to escape the monotony of high school drama with their friends. However, in their efforts to have fun, Gretchen Lang encounters a troubling otherworldly demon bent on controlling her body. It's up to Abby to help her overcome this demonic threat.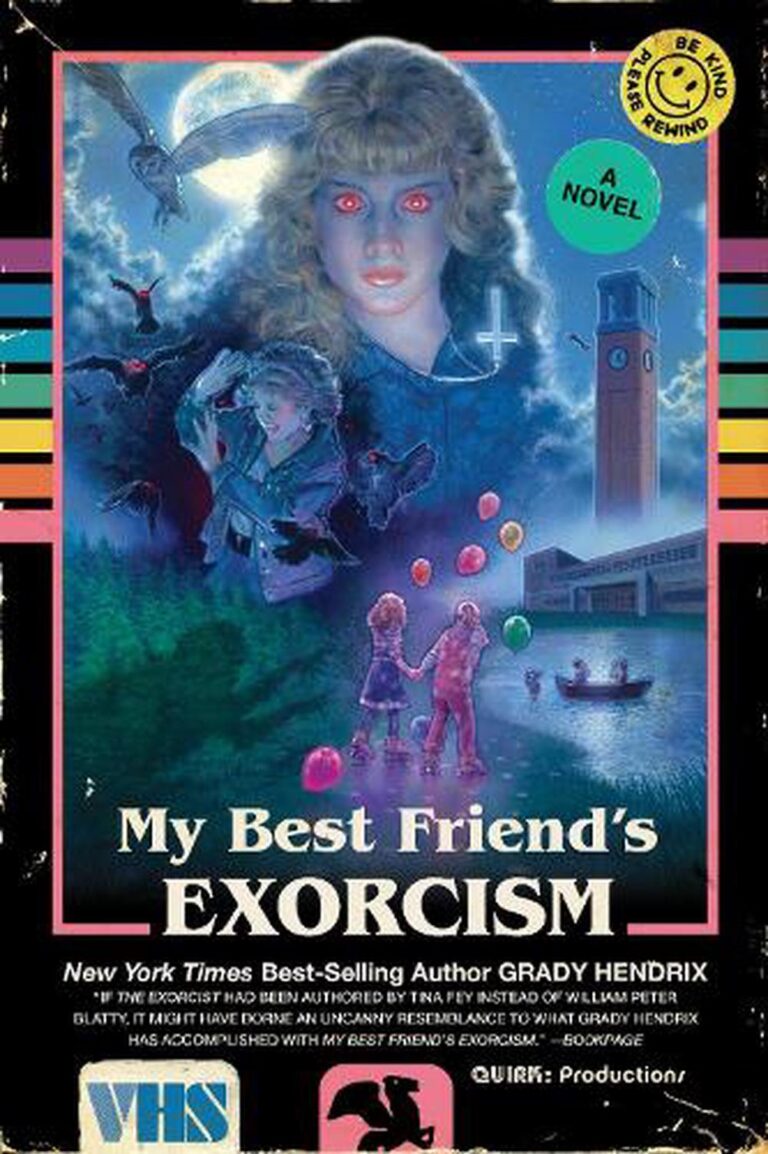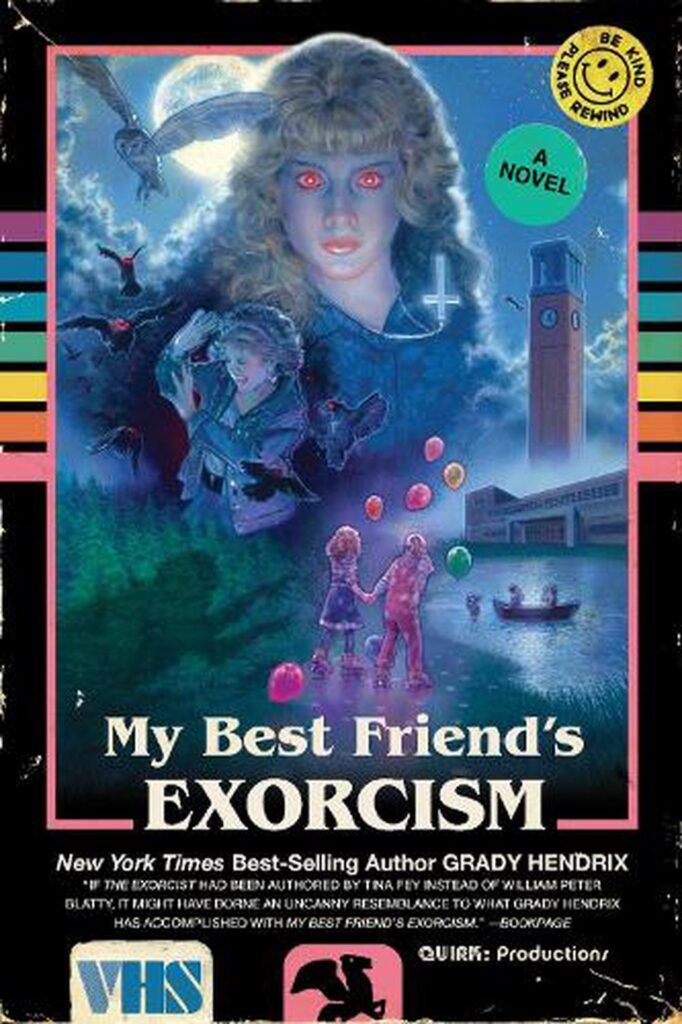 What I Like in My Best Friend's Exorcism
The effects are surprisingly good. While not overwhelming, these effects never take me out of the film. Even the less realistic scenes fit the overall tone while looking better than expected or required. The 80's aesthetic strengthens that believability.
Continuing that thought, My Best Friend's Exorcism oozes the 80's. Perhaps this comment should set an expectation for the viewer. I can't exactly comment on the accuracy of the era, but it certainly fits the era of film. If 80's films don't interest you, consider looking somewhere else.
While I don't meet the target audience, the jokes land and provide an enjoyable horror comedy feel. My Best Friend's Exorcism focuses more on comedy than horror, but this remains a common trend in horror comedies.
The performances remain strong throughout, with leads Elsie Fisher and Amiah Miller pulling off that best-friend chemistry. The cast purposely captures that 80's nostalgia. Added to the campy nature of the film, one might grow irritated with the acting choices. For me, it certainly fits with the tone and setting.


Tired Tropes and Trigger Warnings
Drug use might deserve a mention on this list. While I don't find this egregious, I imagine this point, or some other technicality, earns the film its undeserved R-rating.
The possession lends itself as a rape allegory, with some characters even believing this to be the trauma Gretchen Lang suffers from. While this isn't the case, the conversation remains for those who want to avoid such material.
Body horror describes a few scenes of the film, though sparingly. However, one scene convinces me to bring this up for those who get squeamish at the cracking of bones or slimies in the body.
A character is tricked into outing themselves and faces some homophobia because of it. This homophobia is rightfully taken as cruel, not condoned in the slightest, but it remains potentially triggering and deserves mention here.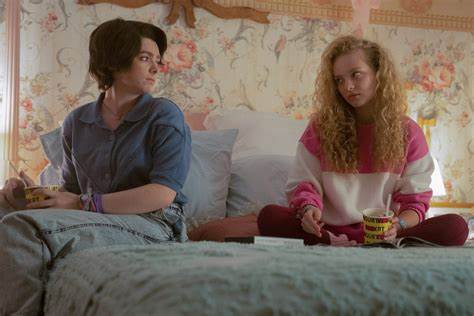 What I Dislike, or Food for Thought on My Best Friend's Exorcism
This film seems to earn its R-rating off some technicality. It is neither raunchy nor gruesome for those expecting that from their R-rated horror films. For me, it's more an issue of setting expectations. I expect my R-rated horrors to hit hard. My Best Friend's Exorcism doesn't.
It would be unfair to expect something like Jennifer's Body, as this is a lighter and zanier film. There are elements of sisterhood and bodily autonomy that echo the cult classic, but My Best Friend's Exorcism remains an entirely campier affair.
In terms of performances that lack the intended impact, three over-the-top anti-drug spokesmen outstay their welcome. It's clearly a jab at D.A.R.E., which certainly works in increments, but then one character becomes an important part of the plot and still keeps his caricature.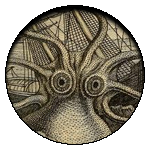 Final Thoughts
My Best Friend's Exorcism fits the taste of an 80's horror comedy fan. Don't expect to be frightened at any point, but the comedy lands well enough. The film knows its niche and hits most of its targets. It's hard to say if the film will stand the test of time, but it certainly earns its runtime.

(3.5 / 5)