Web of Darkness
Jim here. Do you like horror with an anthology flavour? If so, check out Web of Darkness, the brand new original series from the T+E channel. Voodoo Priestess and I got our hands on an advanced viewing of the first episode and let's say this is a program we're happy to come back to. So, sit back and relax. Let Jimbo drive a NO SPOILERS review of Web of Darkness – the Good, the Bad, the Ugly style!
The Good
It's Quick n Dirty. T+E touts this as 'bite-sized' horror and they deliver. Okay, so this isn't the Bite-Sized Horror podcast Nicole and I are taping, but I do like the concept of something that won't make your butt cry when you're sitting down to watch. The beauty of the bite-sized format is that you can watch an episode in one sitting or multiple ones! That's right! You don't have to be a slave to your TV when you're consuming horror.
Got a minute or two? Great! Watch one story. Got a few dozen more minutes? Awesome! Have a seat, we've got the popcorn ready for ya!
Plus, a bite-sized horror anthology means if one story isn't working for you, well, fear not true believers! We got a few more different ones coming at ya.
Production value. We've all seen some content that I won't name that really drags or the editing is goofed or the sound is subpar or the or or or….right? Well, T+E put their stamp of approval on this one and it reflects their brand. You get slick; you get smooth, and you get some scares. The production value rivals larger studios and completely sinks a lot of the made-for-TV stuff. Voodoo and I especially like T+E's 'commercial break' visual concept. I'm not sure if that's going to be in the aired episode, but it works really well from what we've seen.
Variety is the spice of life. Voodoo and I thought maybe the Web was interwoven stories (maybe…maybe not! You'll have to find out by watching!) but what works well in an anthology is a lil bit for everyone. That is the vibe we get when watching this-it's a little bit for everyone. It's family friendly (from what we've seen, but please be the judge for your own family). It's story telling done well.
The Bad
POV and Voice Overs. First person POV is hard to do in any genre that has an 'ultimate' ending. Why? It's tricky to narrate something if you're dead. It can be done (see: found footage, or ghosts) but it can fall flat more oft than not. This, along with using voice overs to explain things physically happening on the screen while the voiceover is going on, is a weak spot for some stories. It takes the audience out of the moment and forces to realize 'oh right, it's just a show'.
Scare factor. Voodoo and I are hard core horror lovers. We could see where these could be very scary (like I said, the production value is great!) but sometimes the writing falls. There are some interesting parts. There are some creepy moments. There are some good plot ideas. The writing didn't allow for a full scare, though. It isn't like a previous movie we reviewed where the third act is missing. It's more of an audience direction thing. I think little kids would fear this. I think late at night if I were to watch this alone in an old house with a thunderstorm going on…it might work. I would love to see an increase in Scare Factor but I'm willing to give this show a second episode. It's difficult to gauge scare based on one episode.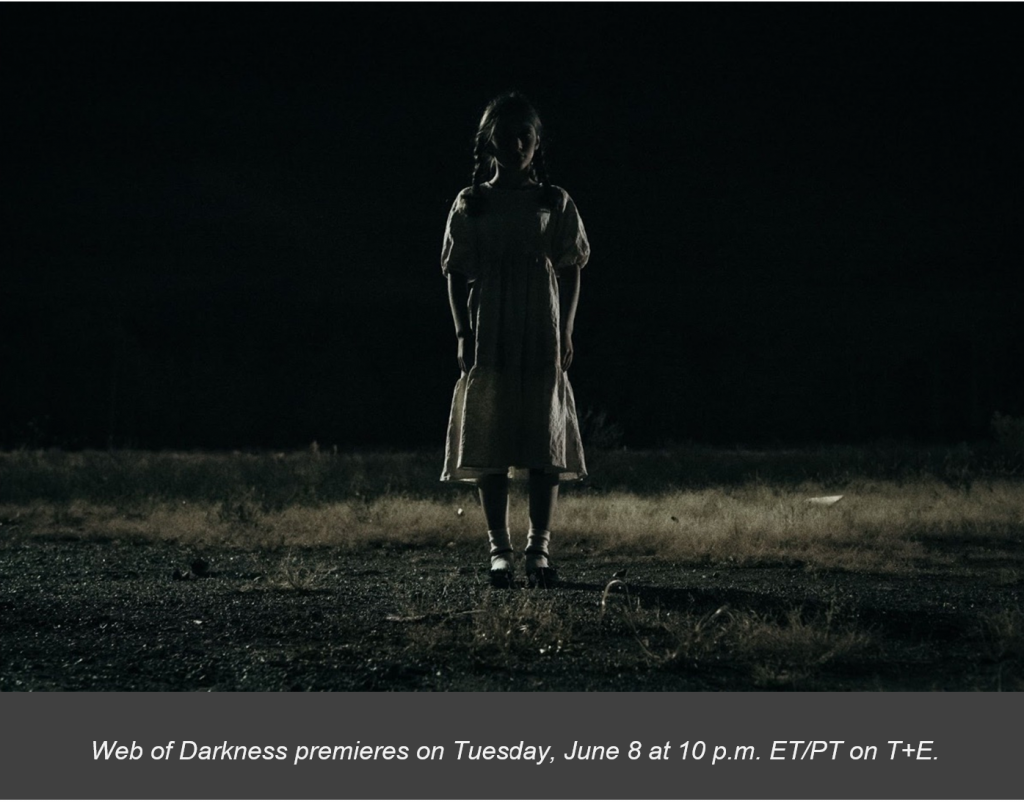 The Ugly
Blood, guts, and monsters! I mean ugly in a good way! This, again, goes back to production value. T+E has great taste in effects and the acting, music, and lighting is spot on. Heck, there is one where I wish a far bigger budget item like Game of Thrones had T+E's lighting sense (you'll know exactly the episode of which I speak when you see it). This is one reason Voodoo and I not only are willing to give Web of Darkness a second episode look, but look forward to it. We know, jumps or not, we'll be entertained.
Web of Darkness – The verdict
Web of Darkness is an original series by T+E. As a horror site owner, I push for original content (heck we have an Original content section!). Also, I like T+E so much I pitched a series called Humbug! to them (more on that later…). More horror (in entertainment) in the world, the better. I love hearing from fresh voices and seeing a well loved production. Web of Darkness is all that and more. Yes, it has some flaws (see Voice Overs) and the target audience might be on the younger side—but that's good! How boring it would be if every TV show were the same? We need new contact for a whole new generation of horror fans and I think Web of Darkness fits. It is fast; it is sleek; it is well done and, as the PR says, it is bite-sized.
My score is a 3.5 out of 5. It's definitely worth the watch, and I encourage anyone looking for that anthology fix to check this out. If you check it out, let us know what you thought via twitter @HauntedMTL
Until then, boys and ghouls….
(3.5 / 5)
T+E's new original series Web of Darkness (8×60') is a dark, modern-day anthology series that pays homage to the classic horror and sci-fi genre. Inspired by horror stories found in the deepest recesses of the web, each episode follows five chilling tales narrated by everyday characters reliving their nightmarish run-ins with the unexplained. From ghosts seeking revenge to encounters with UFOs and a resentful witch bearing a grudge, Web of Darkness accelerates the terror to deliver bursts of fright in a bite-size format. The series shows audiences what could happen if our world ever intertwined with the supernatural, offering a vivid portrayal of modern-day horror stories often caught on camera by the main characters. The world broadcast premiere of Web of Darkness airs Tuesdays at 10 p.m. ET/PT onT+E, starting June 8.

The first two episodes of Web of Darkness include:
• Episode 1 – Not So Scary Now, Are You?
June 8 at 10 p.m. ET/PT
A nurse is plunged into a frightening battle with mysterious patients who infect her with their dark qualities. A farmer is in mortal danger from a "scarecrow" that is terrifyingly more than what it seems. A UFO crash puts a doctor in an impossible and deadly battle with alien lifeforms. When an old theatre reopens, a clown ghost is reawakened and embarks on a frightening rampage. A teen couple are having fun live streaming their explorations of haunted places until they find themselves way in over their heads.


• Episode 2 – The Game's Just Begun
June 15 at 10 p.m. ET/PT
At a school with a sordid past, a desperate ghost reaches out to an unsuspecting new teacher. On Hallowe'en, a young man fatally misjudges what he thinks are only frightening decorations. Discovering her boyfriend is part of a horrifying offworld experiment, a young woman realizes she's their next target. The only survivor of an office massacre returns to work, only to be trapped with the killer who died at the scene. Discovering his family's brutal past when he returns to their old homestead, a tailor tries to outrun ferocious, newly-awakened spirits.


Web of Darkness is produced by Saloon Media, a Blue Ant Studioscompany, in partnership with the U.S.-based MY Entertainment. Michael Kot,Betty Orr, Julie Chang, Joe Townley and Michael Yudin serve as Executive Producers. Paul Kilback and Tara Elwood serve as Series Producers. Overseeing the series for T+E is Sam Linton, Head of Original Content for Blue Ant Media's Canadian channels. Web of Darkness is distributed by Blue Ant International. Studios company

T+E is a Blue Ant Media specialty channel and the ultimate destination for totally entertaining programming, providing an escape into a world that is brimming with mystery, intrigue, and unforgettable storytelling. As the home to spine-tingling paranormal encounters, T+E combines thrills and chills with fan-favourite cult series and can't-miss TV events. tandetv.com.