With Pearl, director and writer Ti West managed to create a duology of horror films loved by critics and audiences. However, does this second film in a soon-to-be trilogy stand on its own? Or do the expectations of being a prequel derail it? Does Pearl prove a worthy successor to X?
As someone who is a fan of Ti West, I can answer that simply; Horror fans feast this year. Pearl is a movie that will stick with you long after the upsetting credits sequence.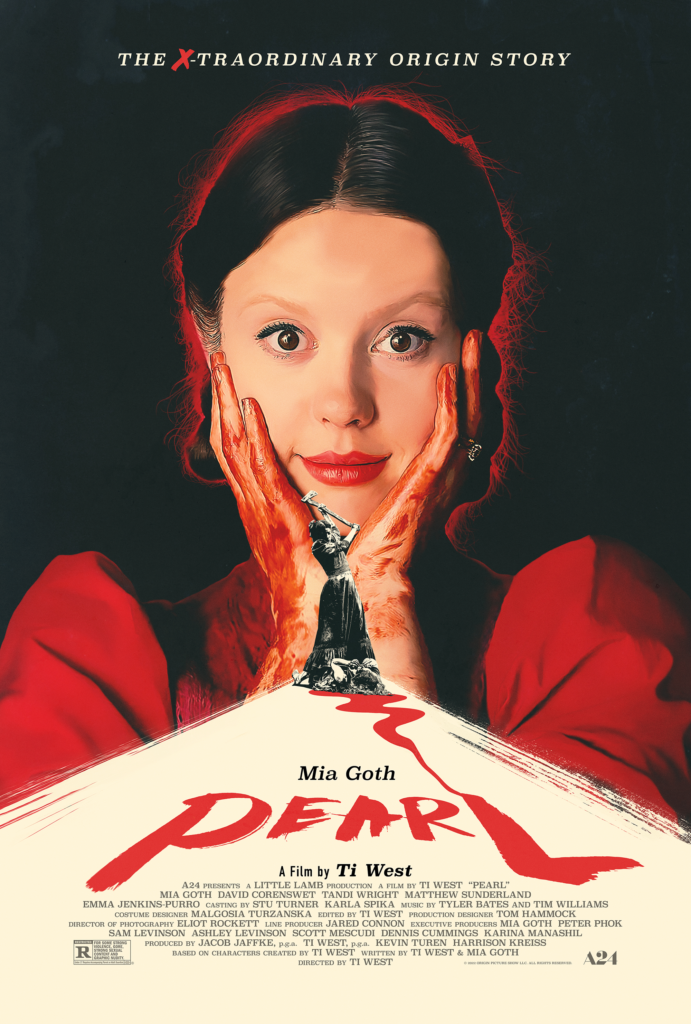 Pearl (2022)
Director and writer Ti West (House of the Devil) strikes horror gold twice in one year in his X follow-up, Pearl. Pearl is a gothic slasher film that serves as a prequel to X. The movie explores the life of a younger Pearl, X's murderous biddy, against the 1918 outbreak of Spanish Influenza and the first World War. Pearl struggles with her desire to leave the family farm and be a star. She is under the thumb of her domineering german mother, infirm father, and has a husband who is off fighting in Europe. However, Pearl's life may take a turn through a meeting with a film projectionist and news of an audition for dancers.
The film stars Mia Goth (Suspiria), who co-wrote the film's concept with Ti West during the production of X as the coronavirus outbreaks was in full swing, as she reprises the role of Pearl from X with significantly less make-up. The film also stars David Corenswet, Tandi Wright, Matthew Sunderland, Emma Jenkins-Purro, and Allistair Sewell.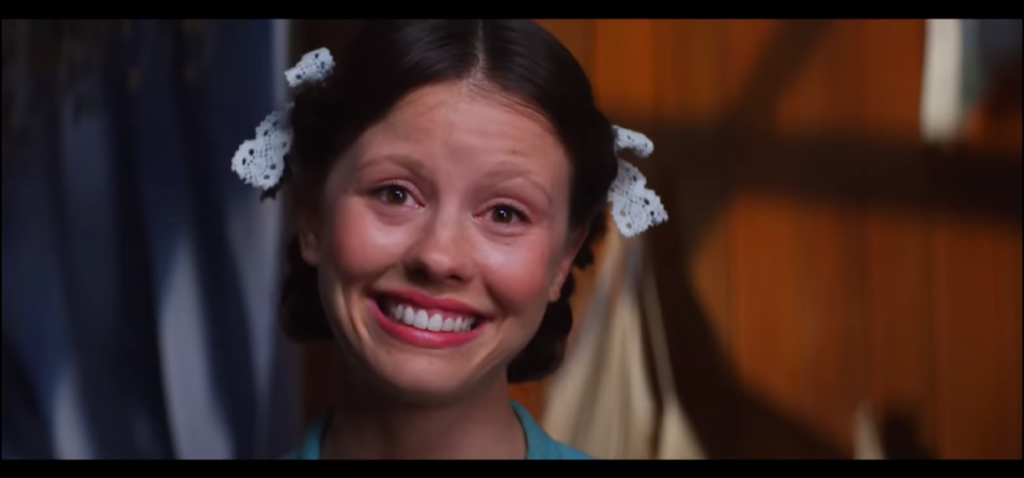 What worked with Pearl?
There is a lot to love about Pearl, and in many ways, the prequel is more surprisingly ambitious than X. Pearl, at its best, functions as a companion to X, not necessarily as a prequel that establishes story elements, but rather in themes. That is not to say the film is overly beholden to what came before it, either. The film cleverly evokes the pandemic-era anxiety with the historical Spanish Flu and weaves a pandemic into the story that feels modern but does not overwhelm the rest of the film. The film rhymes with its predecessor in several ways, such as attitudes toward sexuality and pornography, ambition and violent escapism, and even down instances of dialogue. Like Ti West's earlier collaboration with Mia Goth this year, the film has that x-factor.
"The X-Factor"
Speaking of Mia Goth. Goth is delightful in X as an elderly Pearl and Maxine Minx. However, the way she is unleashed as the young Pearl in this movie is one of the most impressive performances I have seen in a film this year and maybe in the past few years. She is frightening, ambitious, beautiful, terrifying, tragic, charming throughout, and utterly carrying the film. That is not to say that the other performers do not pull their weight, but compared to the role of Pearl, there isn't as much to do, and they're better off standing out of the crossfire as Mia Goth decimates the audience. A five to six-minute monologue in the film's climax featuring Pearl laying bare her sickness and sadness floored my wife and me.
Pearl is also a visually stunning film, down to the technicolor-era trappings of title cards and supernaturally bright colors. Ti West knows his way around a camera, and Eliot Rockett's cinematography provides a beautiful combination of old-Hollywood visual language with some of Ti West's usual bag of tricks and some of his go-to editing techniques. Zooms, in particular, carry a terrifying power in this film.
The sumptuousness of the color also works well with the film's period details, such as costuming and the music by Tyler Bates and Tim Williams. Horror films can sometimes appear overly dark or dingy, but Pearl avoids this by embracing a look of old Hollywood just as X embraced a grind-house grit.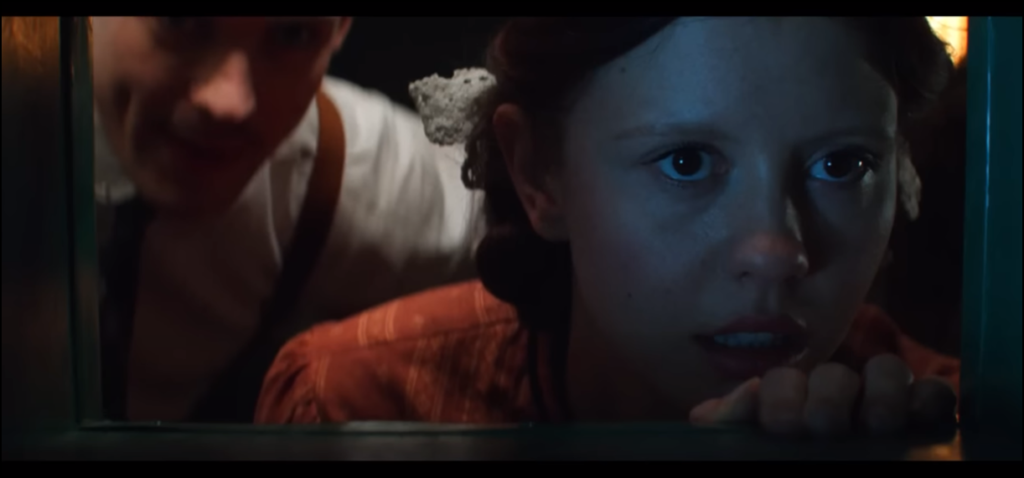 What didn't work with Pearl?
As much as I loved Pearl, two things temper my appreciation. I think the film filling the role of a prequel to X does it a slight disservice and results in some minor problems. As a prequel to X, the film must line up Pearl's story with the Pearl of the 1970s. It can be rough stitching at times. For the most part, the film is a success and rhymes with its technical sequel, but other times the threads and loose and frayed. Namely the role of Howard (Alistair Sewell) in the events that are to come in Pearl's future.
Also, because there was an alligator in X, there must be one in Pearl. These kinds of checklist moments are acceptable, but something I feel also limited the film a bit compared to X. X succeeded in surprising me in some ways that Pearl simply could not because it is a prequel.
Secondly, my other criticism of the film is that Mia Goth's Pearl so thoroughly devours it that it misses opportunities to explore the surrounding characters. In many ways, the movie sacrifices the extended cast on the altar of Pearl at the expense of a richer characterization. My complaints most derive from two characters: The Projectionist (David Corenswet) and Ruth (Tandi Wright), in that we get some tantalizing glimpses into deeper, richer characters. Frustratingly, these developments are cut short, so the characters suffer for it. Particularly the stern Ruth, whose story seems to run as deep and intertwined with Pearl's, we do not get to explore. It is less so for The Projectionist, but his scenes reveal an interesting thematic connection to X. I would have loved to see that expanded.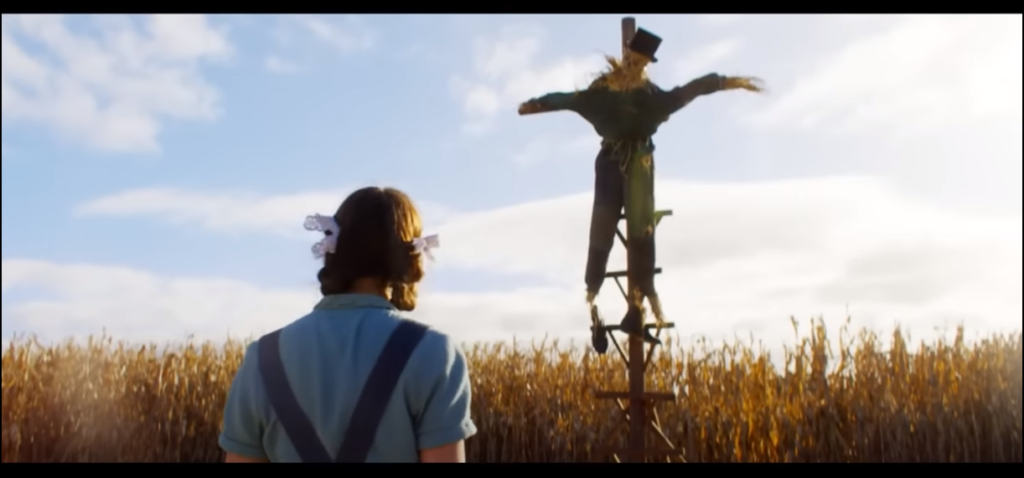 Final Verdict on Pearl (2022)
2022 is an excellent year for horror fans as Ti West has delivered two of the most substantial horror projects of the year in X and Pearl. Ti West's latest film is wholly subsumed by the charisma and presence of Mia Goth. While some of the necessary but perfunctory prequel elements are admirably handled, the strain of working within the confines of future events can take its toll on the film.
(4 / 5)
Pearl is distributed by A24 and produced by Mad Solar Productions, Little Lamb, and Bron Studios. The film's runtime is 102 minutes and can currently be seen in movie theaters.
We would love to hear your thoughts on the movie in the comments if you've seen Pearl. Enjoy the review? Check out our other horror reviews here on Haunted MTL.
Want more Pearl? (Sponsored)
Have you seen X (2022)? If not, consider picking up a blu-ray before you see Pearl in theaters. Use our special Amazon link to add to your movie collection and help support Haunted MTL.