With Pearl, director and writer Ti West managed to create a duology of horror films loved by critics and audiences. However, does this second film in a soon-to-be trilogy stand on its own? Or do the expectations of being a prequel derail it? Does Pearl prove a worthy successor to X?
As someone who is a fan of Ti West, I can answer that simply; Horror fans feast this year. Pearl is a movie that will stick with you long after the upsetting credits sequence.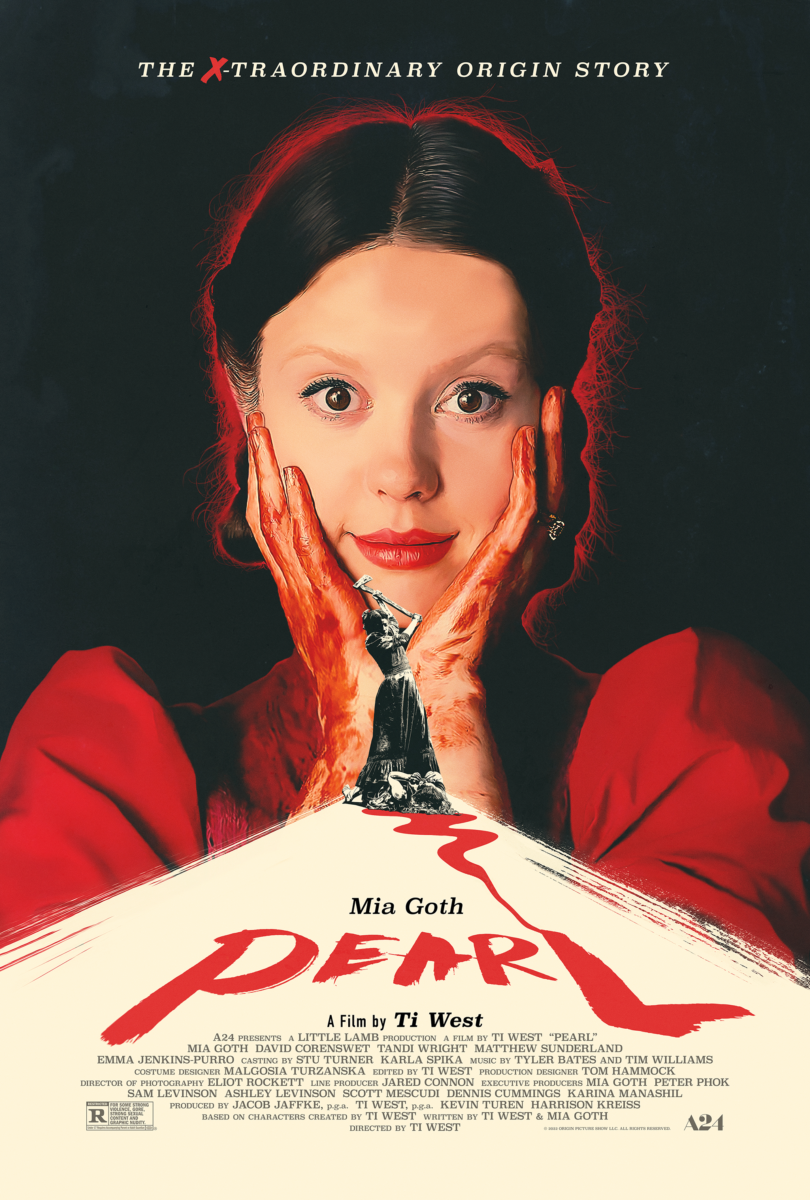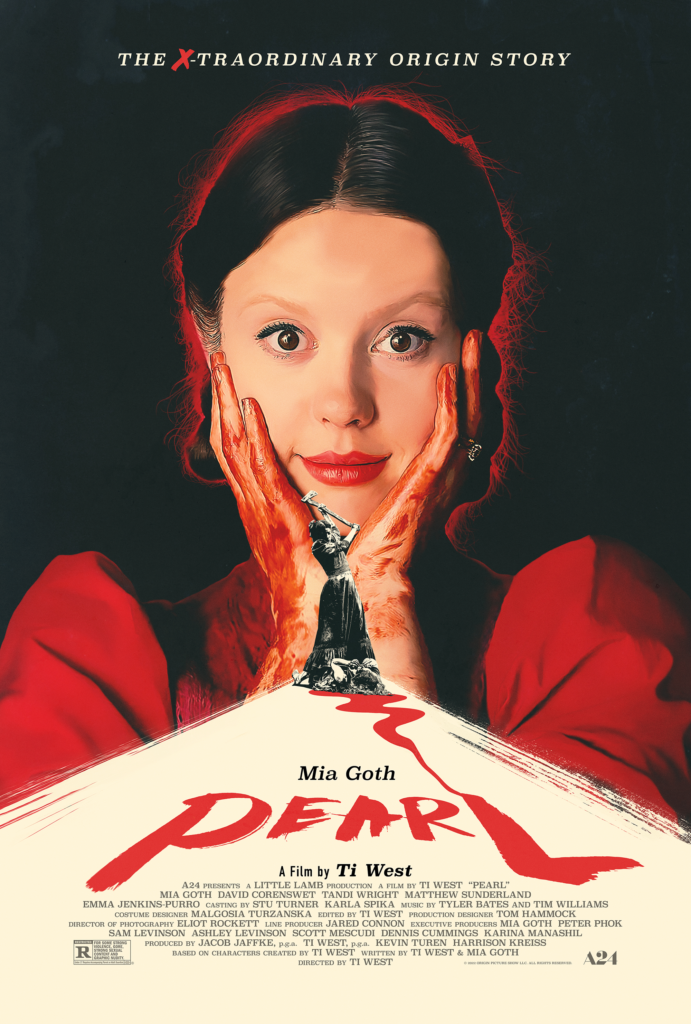 Pearl (2022)
Director and writer Ti West (House of the Devil) strikes horror gold twice in one year in his X follow-up, Pearl. Pearl is a gothic slasher film that serves as a prequel to X. The movie explores the life of a younger Pearl, X's murderous biddy, against the 1918 outbreak of Spanish Influenza and the first World War. Pearl struggles with her desire to leave the family farm and be a star. She is under the thumb of her domineering german mother, infirm father, and has a husband who is off fighting in Europe. However, Pearl's life may take a turn through a meeting with a film projectionist and news of an audition for dancers.
The film stars Mia Goth (Suspiria), who co-wrote the film's concept with Ti West during the production of X as the coronavirus outbreaks was in full swing, as she reprises the role of Pearl from X with significantly less make-up. The film also stars David Corenswet, Tandi Wright, Matthew Sunderland, Emma Jenkins-Purro, and Allistair Sewell.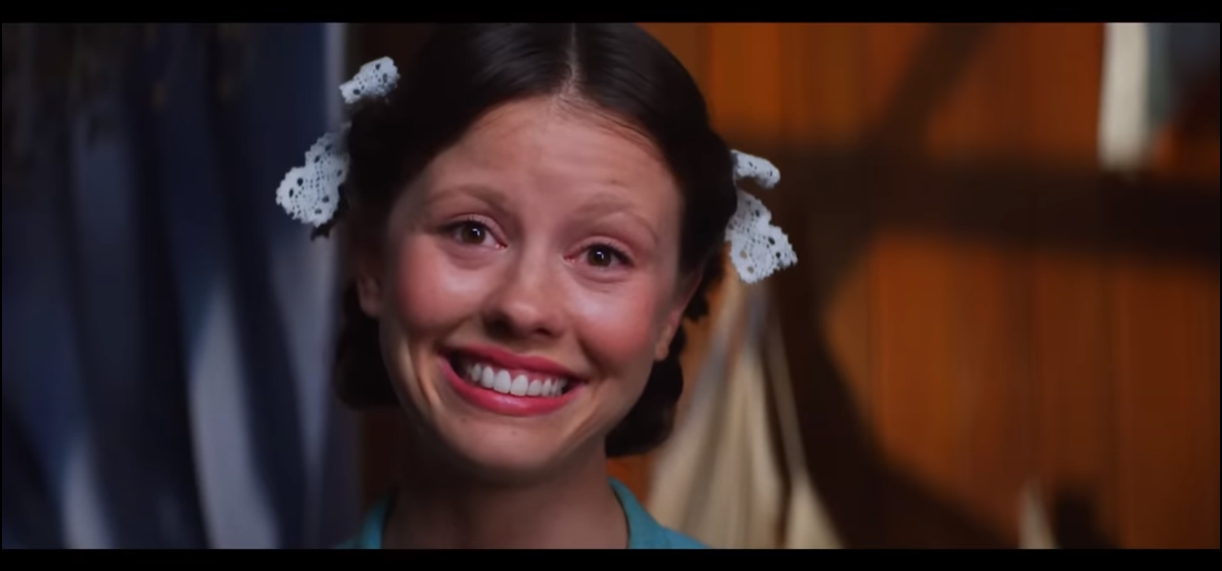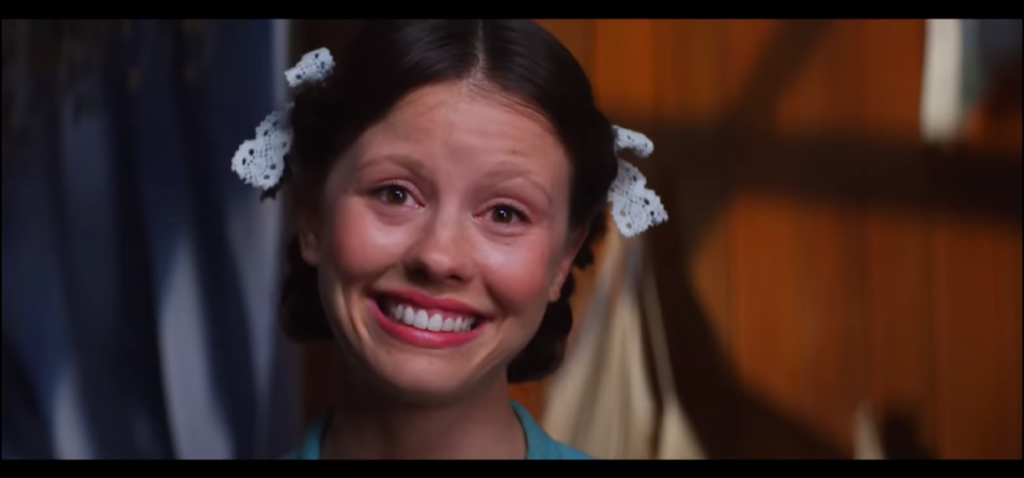 What worked with Pearl?
There is a lot to love about Pearl, and in many ways, the prequel is more surprisingly ambitious than X. Pearl, at its best, functions as a companion to X, not necessarily as a prequel that establishes story elements, but rather in themes. That is not to say the film is overly beholden to what came before it, either. The film cleverly evokes the pandemic-era anxiety with the historical Spanish Flu and weaves a pandemic into the story that feels modern but does not overwhelm the rest of the film. The film rhymes with its predecessor in several ways, such as attitudes toward sexuality and pornography, ambition and violent escapism, and even down instances of dialogue. Like Ti West's earlier collaboration with Mia Goth this year, the film has that x-factor.
"The X-Factor"
Speaking of Mia Goth. Goth is delightful in X as an elderly Pearl and Maxine Minx. However, the way she is unleashed as the young Pearl in this movie is one of the most impressive performances I have seen in a film this year and maybe in the past few years. She is frightening, ambitious, beautiful, terrifying, tragic, charming throughout, and utterly carrying the film. That is not to say that the other performers do not pull their weight, but compared to the role of Pearl, there isn't as much to do, and they're better off standing out of the crossfire as Mia Goth decimates the audience. A five to six-minute monologue in the film's climax featuring Pearl laying bare her sickness and sadness floored my wife and me.
Pearl is also a visually stunning film, down to the technicolor-era trappings of title cards and supernaturally bright colors. Ti West knows his way around a camera, and Eliot Rockett's cinematography provides a beautiful combination of old-Hollywood visual language with some of Ti West's usual bag of tricks and some of his go-to editing techniques. Zooms, in particular, carry a terrifying power in this film.
The sumptuousness of the color also works well with the film's period details, such as costuming and the music by Tyler Bates and Tim Williams. Horror films can sometimes appear overly dark or dingy, but Pearl avoids this by embracing a look of old Hollywood just as X embraced a grind-house grit.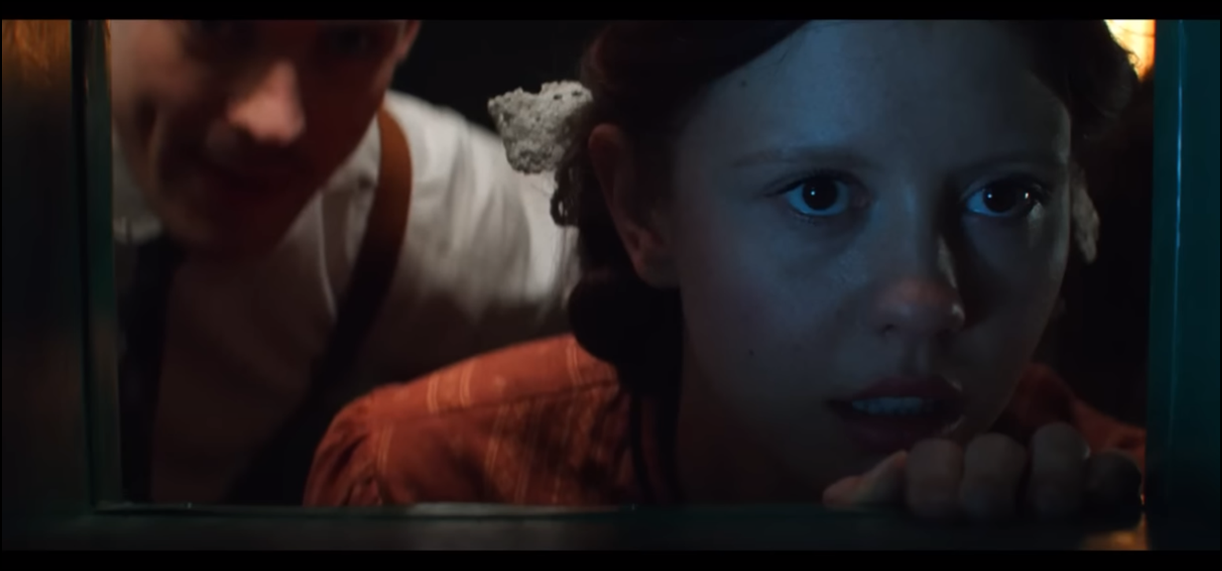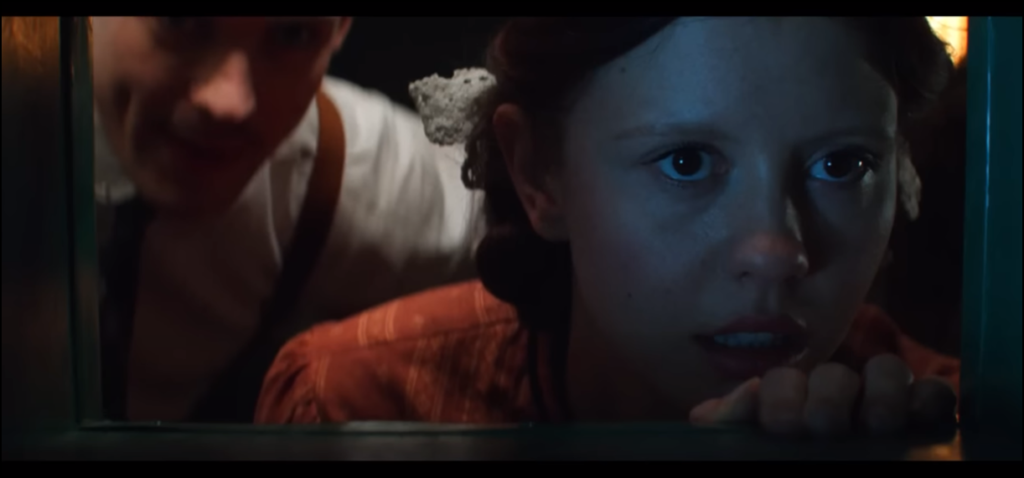 What didn't work with Pearl?
As much as I loved Pearl, two things temper my appreciation. I think the film filling the role of a prequel to X does it a slight disservice and results in some minor problems. As a prequel to X, the film must line up Pearl's story with the Pearl of the 1970s. It can be rough stitching at times. For the most part, the film is a success and rhymes with its technical sequel, but other times the threads and loose and frayed. Namely the role of Howard (Alistair Sewell) in the events that are to come in Pearl's future.
Also, because there was an alligator in X, there must be one in Pearl. These kinds of checklist moments are acceptable, but something I feel also limited the film a bit compared to X. X succeeded in surprising me in some ways that Pearl simply could not because it is a prequel.
Secondly, my other criticism of the film is that Mia Goth's Pearl so thoroughly devours it that it misses opportunities to explore the surrounding characters. In many ways, the movie sacrifices the extended cast on the altar of Pearl at the expense of a richer characterization. My complaints most derive from two characters: The Projectionist (David Corenswet) and Ruth (Tandi Wright), in that we get some tantalizing glimpses into deeper, richer characters. Frustratingly, these developments are cut short, so the characters suffer for it. Particularly the stern Ruth, whose story seems to run as deep and intertwined with Pearl's, we do not get to explore. It is less so for The Projectionist, but his scenes reveal an interesting thematic connection to X. I would have loved to see that expanded.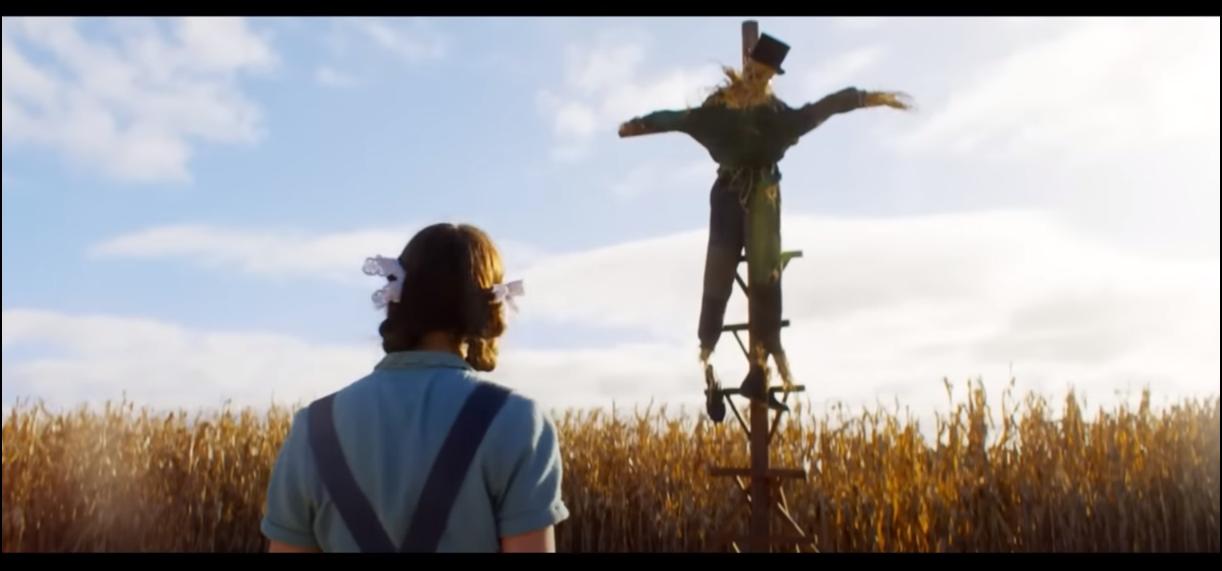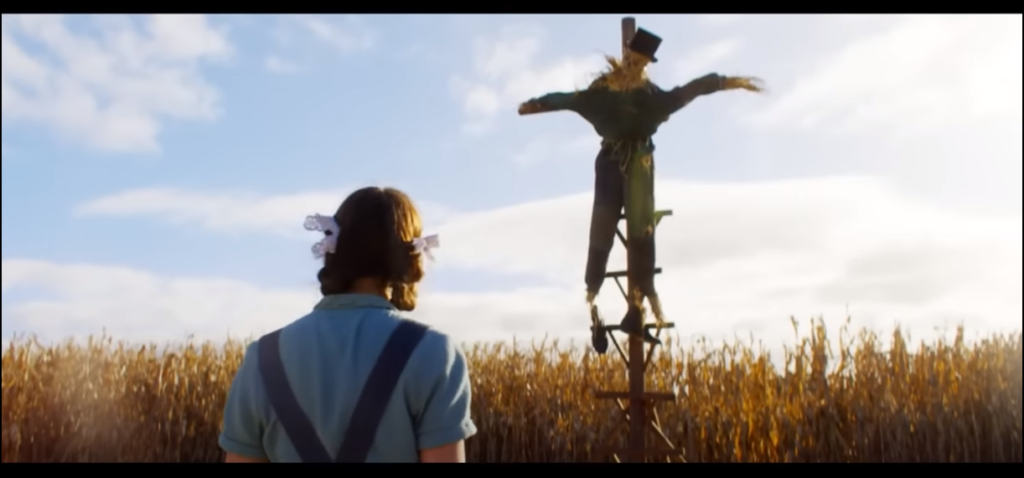 Final Verdict on Pearl (2022)
2022 is an excellent year for horror fans as Ti West has delivered two of the most substantial horror projects of the year in X and Pearl. Ti West's latest film is wholly subsumed by the charisma and presence of Mia Goth. While some of the necessary but perfunctory prequel elements are admirably handled, the strain of working within the confines of future events can take its toll on the film.
(4 / 5)
Pearl is distributed by A24 and produced by Mad Solar Productions, Little Lamb, and Bron Studios. The film's runtime is 102 minutes and can currently be seen in movie theaters.
We would love to hear your thoughts on the movie in the comments if you've seen Pearl. Enjoy the review? Check out our other horror reviews here on Haunted MTL.
Want more Pearl? (Sponsored)
Have you seen X (2022)? If not, consider picking up a blu-ray before you see Pearl in theaters. Use our special Amazon link to add to your movie collection and help support Haunted MTL.
Elevator Game, a Film Review
Elevator Game (2023) is directed by Rebekah McKendry and is the first feature-length production of Fearworks.
Elevator Game (2023) is directed by Rebekah McKendry and is the first feature-length production of Fearworks. It adapts the supernatural myth and creepypasta of the same name while providing an original plot. This unrated Shudder exclusive stars Gino Anania, Samantha Halas, and Verity Marks. In full disclosure, I had the opportunity to interview Gino Anania and Stefan Brunner about the film.
Ryan seeks to find answers to his sister's mysterious disappearance. To do this, he infiltrates a myth-busting web series that seems to have some ties to her final confirmed moments. Desperate to force a confrontation, he encourages them to play the elevator game. Unfortunately, there seems to be more truth to the myth than expected.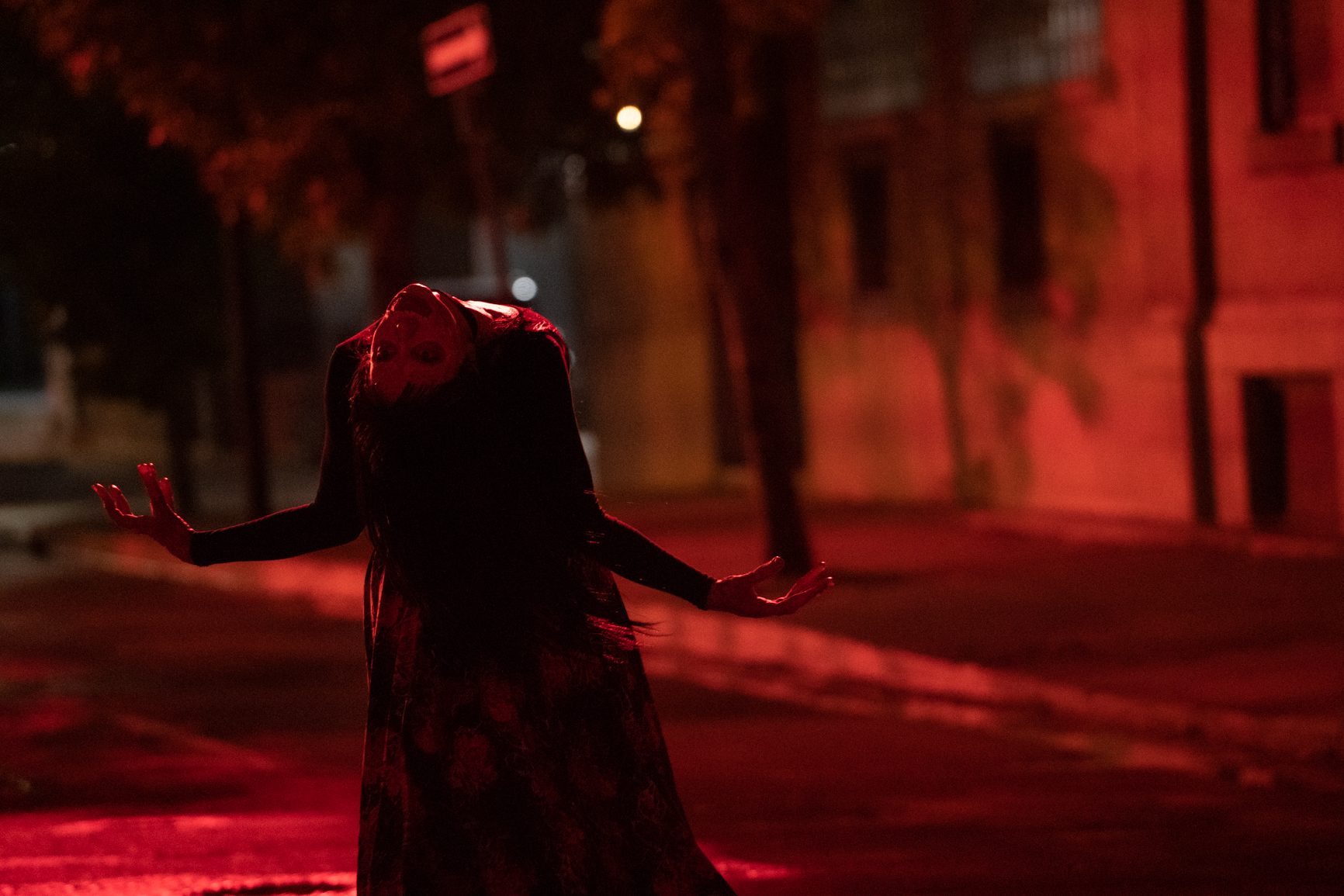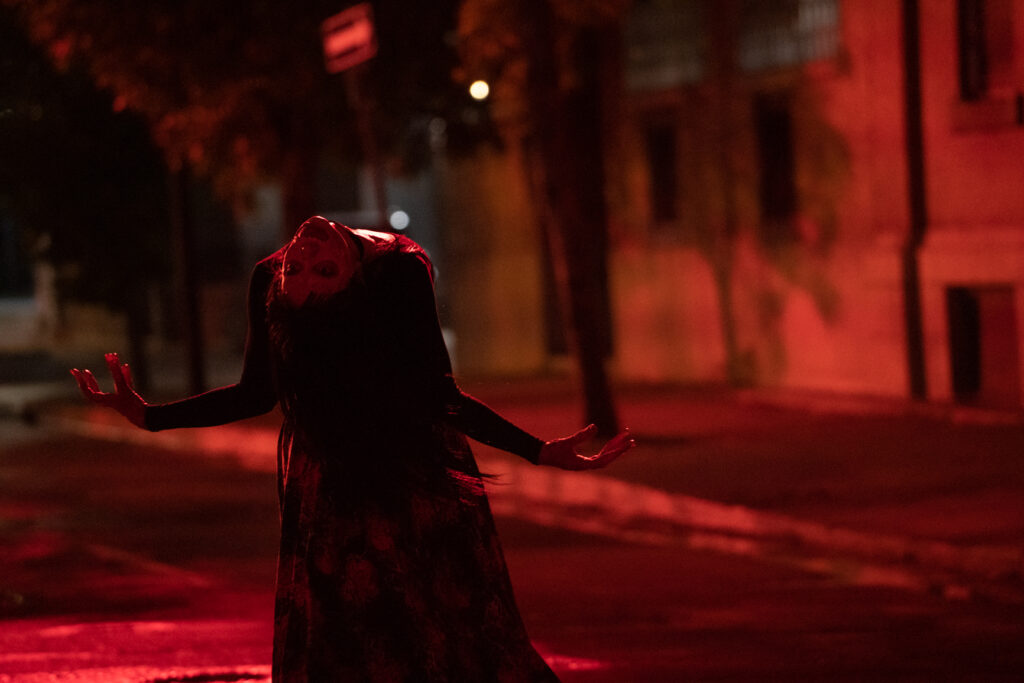 What I Like about Elevator Game & as an Adaptation
I am lucky to have additional insight into the development hell this movie overcame due to COVID. It's commendable that the film manages to make it of that, even if it requires a lengthy delay of the film.
Usually, I provide a separate section for adaptation quality. However, the source material remains the ritual, which Elevator Game performs accurately. While the myth inspires many creepypastas, Elevator Game doesn't directly take or adapt any of these works from what I've seen. Instead, it makes its own film based on the legend.
As the Fifth Floor Woman, Samantha Halas creates an eerie and disturbing character. While I won't go so far as to say terrifying, she certainly makes an impression. The revelation that the stunts and performance are all her, as an actual contortionist, I give her more credit.
Gino Anania, given a more complex role than most of his cast members, really does bring a strong performance that creates either friction or synergy with his cast members. I suppose I wanted more of these interactions as some cut sooner than appreciated.
Another amusing element is that the entire motivation for the plot to follow is a forced advertisement from an investor. Something about the chaos being a product of appeasing some investors feels uncomfortably real.
The alternate reality remains surprisingly effective. To be clear, it's not impressively realistic but stylistic. It genuinely seems like an alternate world with a skewered impression.


Tired Tropes or Trigger Warning
I feel weird mentioning this, but endangering a sister's life to push the brother's story forward seems a common trend beyond one form of media.
No discredit to the actors, but the romance feels rushed and unnecessary. Without going into too much detail, to avoid spoilers, there is synergy between the actors but little chemistry in the plot.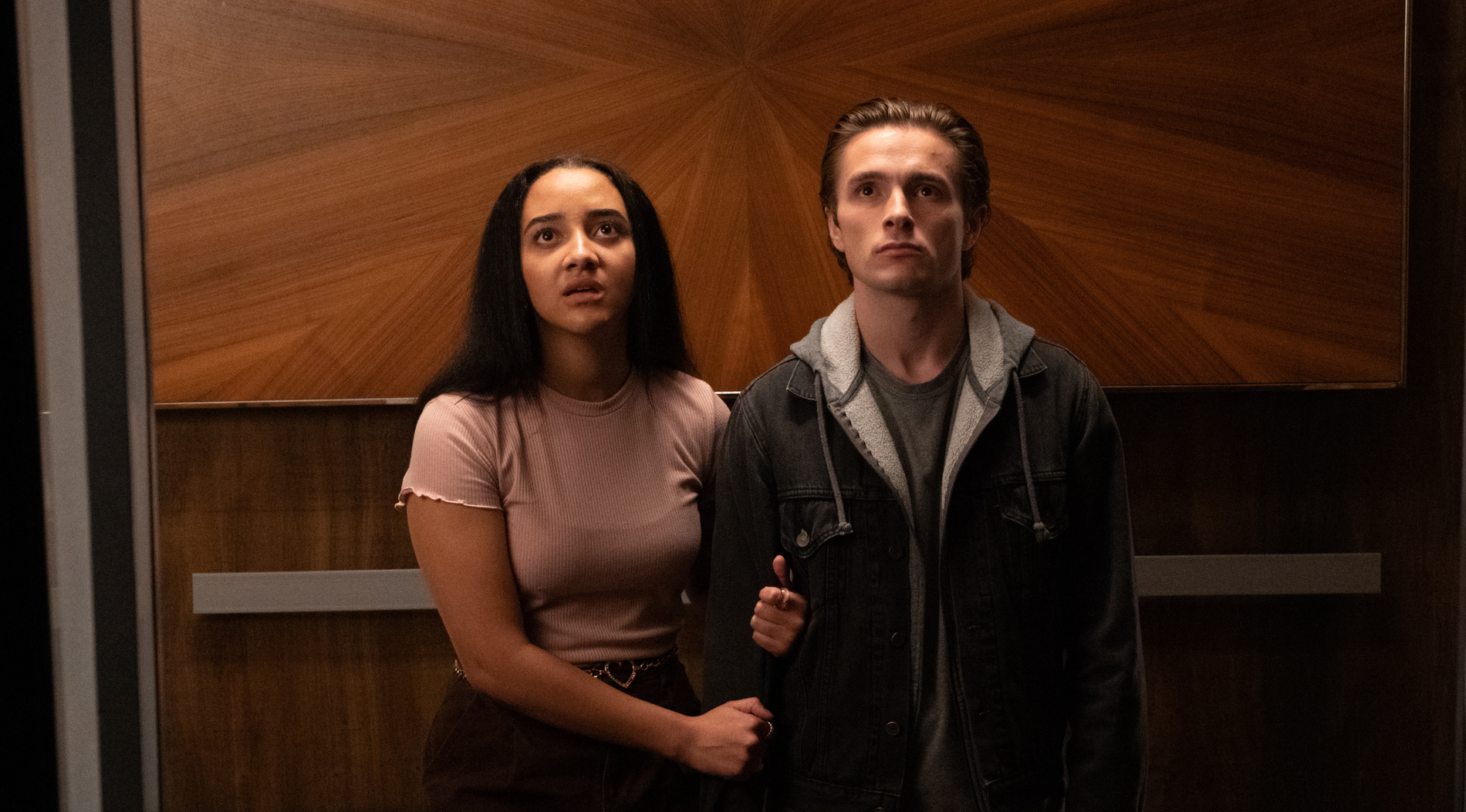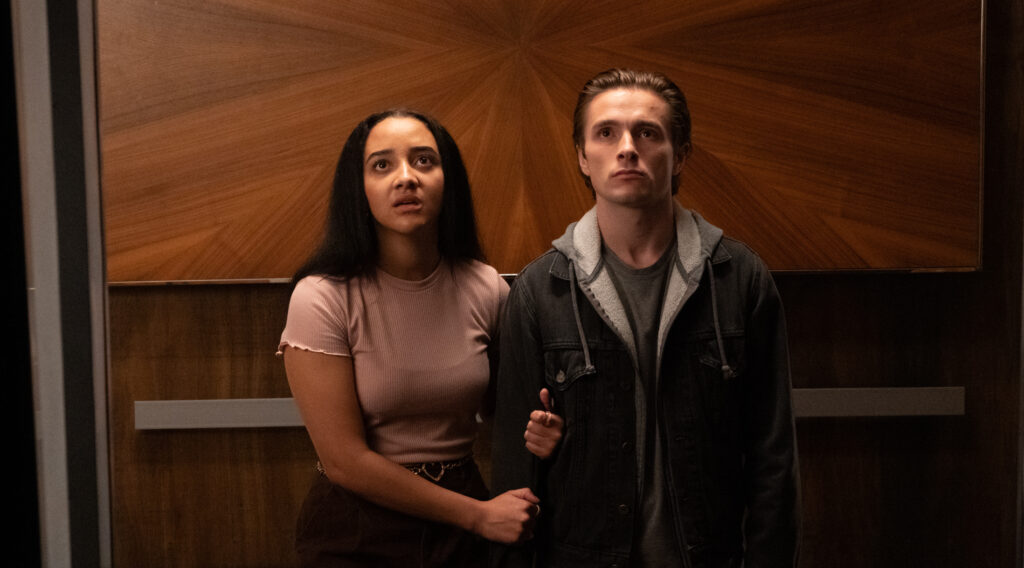 What I Dislike or Considerations
Elevator Game remains set in providing a B-movie experience. Its tight budget leaves little room to surprise the viewer visually. While I am surprised at what it accomplishes, it's far from overwhelming. This film also remains the first production of Fearworks, which shouldn't surprise anyone. I'm interested in the future, but Elevator Game leaves much to grow from.
Rebekah McKendry may have a directorial style that influences dialogue, but the line delivery evokes an overexpression that's common in Lovecraftian films. I say this not as a direct negative, but it remains a required taste best known before viewing. As this isn't Lovecraftian, I fear it removes some of the reality and tension of those haunting elements.
Many of the characters feel underdeveloped, making me wonder if cutting these roles might lead to more invested characters. While the performances hit their marks, a tighter cast might give each role more to work toward. As this is a tight cast already, it seems an odd issue to rectify.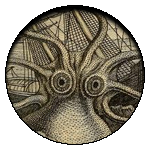 Final Thoughts
Elevator Game provides an interesting B-movie experience for those who know the legend. For those expecting something different, this film may not work for you. This film overcame a lot to exist but doesn't break the mold. While I am excited to see Fearworks pursue further ventures toward its ambitious mission statement, I find Elevator Game falling short of its goal.

(2 / 5)
My Best Friend's Exorcism, a Film Review
My Best Friend's Exorcism (2022) is a R-rated horror comedy directed by Damon Thomas, available on Amazon Prime.
My Best Friend's Exorcism (2022) is a horror comedy directed by Damon Thomas. Based on Grady Hendrix's novel of the same name, this R-rated film stars Elsie Fisher, Amiah Miller, Cathay Ang, and Rachel Ogechi Kanu. As of this review, the film is available to Amazon Prime subscribers.
Abby Rivers (Elsie Fisher) and Gretchen Lang (Amiah Miller) seek to escape the monotony of high school drama with their friends. However, in their efforts to have fun, Gretchen Lang encounters a troubling otherworldly demon bent on controlling her body. It's up to Abby to help her overcome this demonic threat.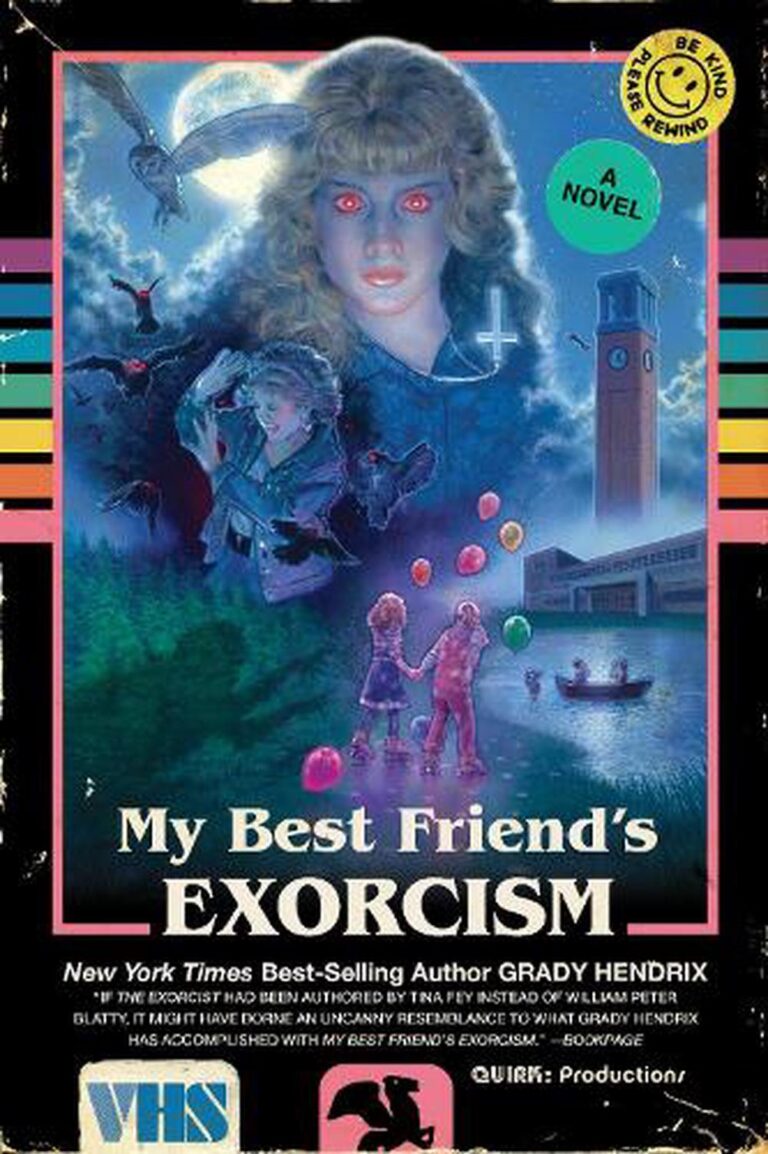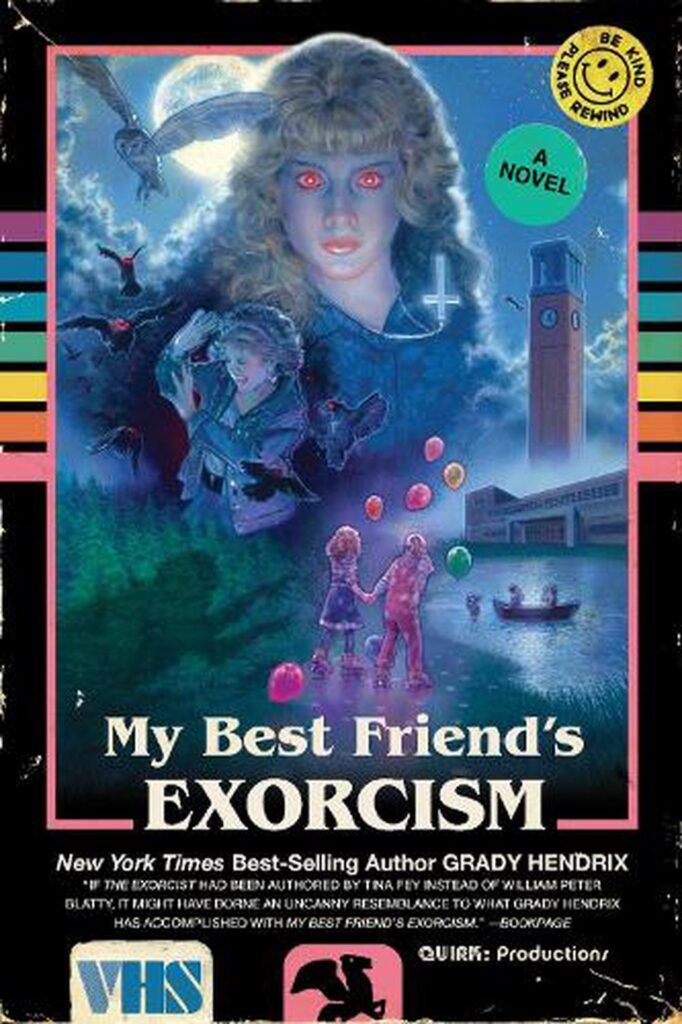 What I Like in My Best Friend's Exorcism
The effects are surprisingly good. While not overwhelming, these effects never take me out of the film. Even the less realistic scenes fit the overall tone while looking better than expected or required. The 80's aesthetic strengthens that believability.
Continuing that thought, My Best Friend's Exorcism oozes the 80's. Perhaps this comment should set an expectation for the viewer. I can't exactly comment on the accuracy of the era, but it certainly fits the era of film. If 80's films don't interest you, consider looking somewhere else.
While I don't meet the target audience, the jokes land and provide an enjoyable horror comedy feel. My Best Friend's Exorcism focuses more on comedy than horror, but this remains a common trend in horror comedies.
The performances remain strong throughout, with leads Elsie Fisher and Amiah Miller pulling off that best-friend chemistry. The cast purposely captures that 80's nostalgia. Added to the campy nature of the film, one might grow irritated with the acting choices. For me, it certainly fits with the tone and setting.


Tired Tropes and Trigger Warnings
Drug use might deserve a mention on this list. While I don't find this egregious, I imagine this point, or some other technicality, earns the film its undeserved R-rating.
The possession lends itself as a rape allegory, with some characters even believing this to be the trauma Gretchen Lang suffers from. While this isn't the case, the conversation remains for those who want to avoid such material.
Body horror describes a few scenes of the film, though sparingly. However, one scene convinces me to bring this up for those who get squeamish at the cracking of bones or slimies in the body.
A character is tricked into outing themselves and faces some homophobia because of it. This homophobia is rightfully taken as cruel, not condoned in the slightest, but it remains potentially triggering and deserves mention here.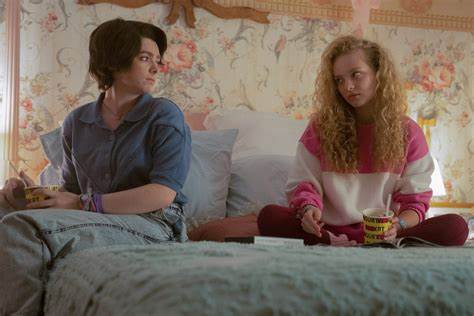 What I Dislike, or Food for Thought on My Best Friend's Exorcism
This film seems to earn its R-rating off some technicality. It is neither raunchy nor gruesome for those expecting that from their R-rated horror films. For me, it's more an issue of setting expectations. I expect my R-rated horrors to hit hard. My Best Friend's Exorcism doesn't.
It would be unfair to expect something like Jennifer's Body, as this is a lighter and zanier film. There are elements of sisterhood and bodily autonomy that echo the cult classic, but My Best Friend's Exorcism remains an entirely campier affair.
In terms of performances that lack the intended impact, three over-the-top anti-drug spokesmen outstay their welcome. It's clearly a jab at D.A.R.E., which certainly works in increments, but then one character becomes an important part of the plot and still keeps his caricature.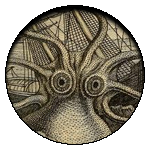 Final Thoughts
My Best Friend's Exorcism fits the taste of an 80's horror comedy fan. Don't expect to be frightened at any point, but the comedy lands well enough. The film knows its niche and hits most of its targets. It's hard to say if the film will stand the test of time, but it certainly earns its runtime.

(3.5 / 5)
American Horror Story Delicate, Rockabye
There's a lot to unpack from this episode of American Horror Story Delicate, Killer Queens, so I don't want to waste any time. I just want to take a moment and issue a trigger warning. This episode, and therefore this review, talks about several topics that might be upsetting. These include abuse, pregnancy trauma and miscarriage. It's heavy. If you're not up for that, here's a link to my review of Tucker and Dale, which is considerably lighter and funnier.
The story
Our episode starts with Anna trying to get the police to take her seriously about the break-in. There's just one problem. No one was seen coming in or out of the apartment except Dex. No one shows up on any of the security footage. The police are convinced it's just Anna's IFV medication making her see things.
But Anna doesn't have time to think about the break-in. She's just been nominated for a Gotham award, and she needs to get into full Awards Show mode. Siobhan gives her something she calls B12 and tells her that her life now revolves around awards prep.
But Anna's whole life can't revolve around that, because she's pregnant now. Even though she seems to be losing time. Like, weeks at a time without even realizing it.
Things just get stranger when she's at the Gotham Awards and accosted by an overzealous fan in the bathroom. After the woman puts her hands on Anna's stomach, she knocks her over and the woman hits her head on the sink.
Rather than aiding the woman, Anna goes out to accept her award.
Or does she? After throwing up blood on stage, she finds herself back in the bathroom, being helped up by paramedics.
Everyone agrees that Anna needs some rest and space to heal. So she and Dex go to Talia's house in the country. There, of course, everything gets much worse. Anna starts to bleed after a yoga session and is taken to the hospital. There, she gets an ultrasound by Nurse Ivy. A nurse that no one else knows at the hospital.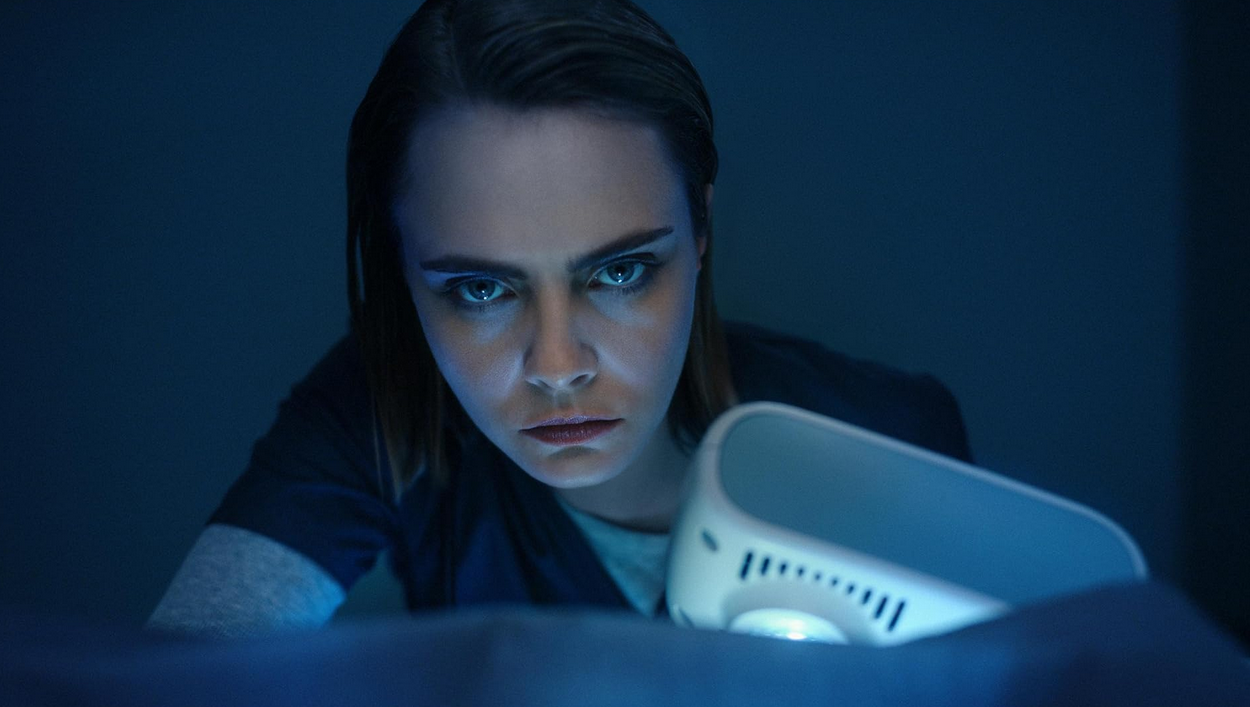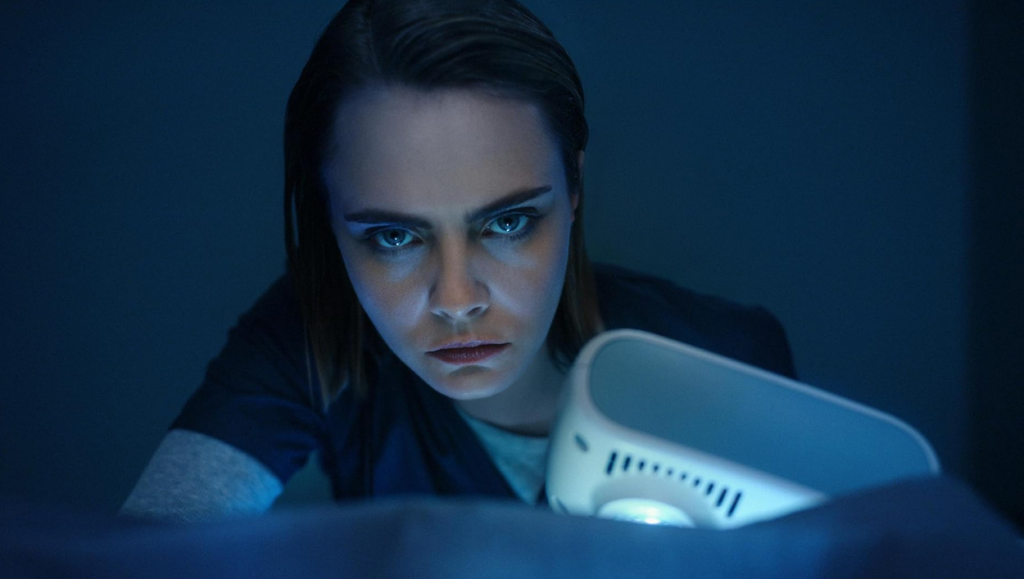 Sadly, the bleeding doesn't stop. And as we end the episode, it appears that Anna has lost her baby.
What worked
Emma Roberts is doing a fantastic job playing Anna. Proving as always that American Horror Story actors are nothing if not flexible. I find myself wanting to compare Anna to Madison Montgomery from AHS Coven. They're both actresses who experience abuse from men that one might, sadly, expect for women in their station and age range. Madison is gang-abused by frat boys, and Anna has her autonomy taken away from her as soon as a baby is in question.
That's where the similarities stop. Can you ever imagine Madison saying, "You're right, I'm sorry," to literally anyone? She'd have snapped a man's neck first. Anna's body language, voice modulation, and the overall way she carries herself in the world is so different.
This is also part of what makes her relatable. I imagine many of the female-presenting people reading this can remember a time when we've said, you're right, I'm sorry when they were wrong and we weren't sorry at all.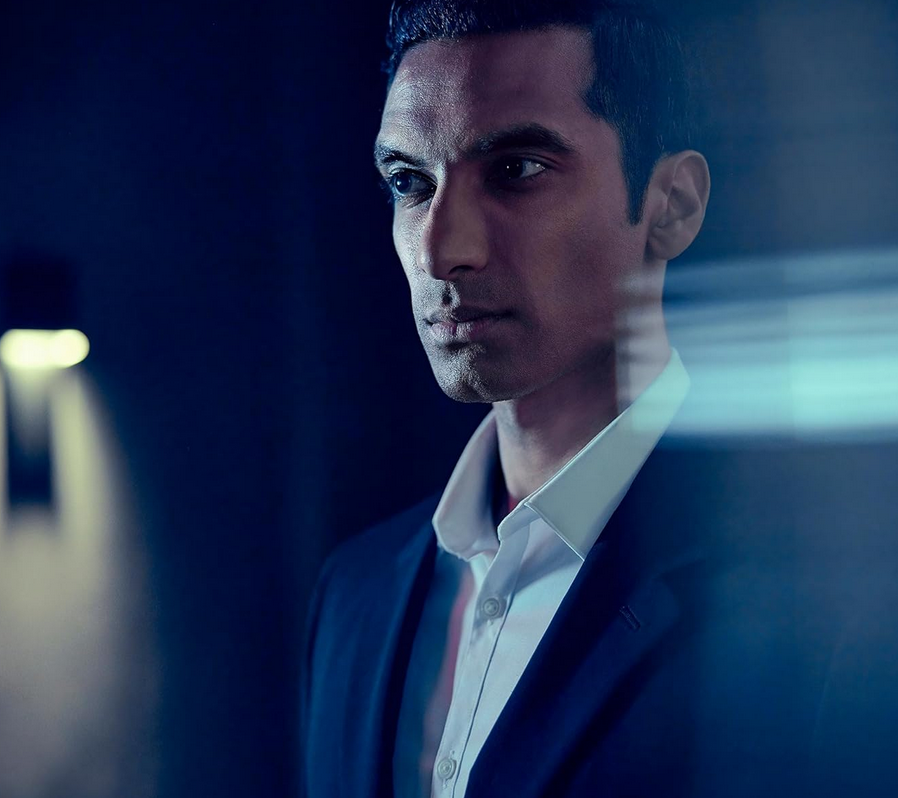 I also really loved the amount of blood in this episode. There is so much blood involved in being a cisgender woman. It's something we take for granted, but shy away from when in polite company. There was no shying away here. We're made to see all of it. I don't think the amount of blood in the miscarriage scene was overkill at all. If anything, it wasn't enough.
Finally, it's a small point but one that I appreciated. I bet you already know the one I'm talking about. When Anna is overjoyed to get to wear the same dress once worn by Madonna, Siobhan reminds her in a stern voice not to rip it.
If you didn't get the joke, look up Kim K and an incident with the iconic Marilyn Monroe dress. I do appreciate anyone who can poke fun at themselves.
The reference to 'don't rip it' with the dress was fun. I hate Kim K and her whole family, but that was funny.
What didn't work
I'm honestly struggling to find anything in this episode that didn't work. If I had to pick out something I didn't like, it was probably that we got the barest cameo from Zachary Quinto. I really hope we get to see more of him as the season progresses.
Another thing I don't like overall is the character Siobhan. I mentioned this last week, and I'll try not to mention it again because I don't see it changing. But the character in the show is a bare reflection of the one in the book.
Siobhan in the book was a loving, selfless friend. Which made the ending, well, let's say impactful to avoid spoilers for both AHS and Delicate Condition. This version, if she continues as she is, is not going to have the same effect.
I'm also quite done hearing the internet swoon over what a great job Kim K is doing. She's been acting her entire life, I'd be surprised if she wasn't good at it. And she's doing no better or worse than many other guest stars have done in the past seasons of American Horror Story. She's not bad. But she wouldn't be getting the credit she is if she wasn't who she is.
Overall, this was a great episode. It was equal parts funny, gory and infuriating. At this point, my only real complaint is that there are only three episodes left until a season break. But now that the writing strike is over, hopefully the break won't be too long.
(4 / 5)