A new Ti West horror film is a cause for celebration. If that weren't enough, he sets his sights in the late 1970s with a slasher that evokes the sleaze of 1970s horror and pornography into the brilliant X.
I was already a fan of Ti West's work, with The House of the Devil being a particular favorite horror film of mine. I have also greatly enjoyed The Innkeepers and The Sacrament, as well. So the revelation of a new Ti West horror film I had no idea was coming was an exciting prospect.
I am also thankful that it is so damn good.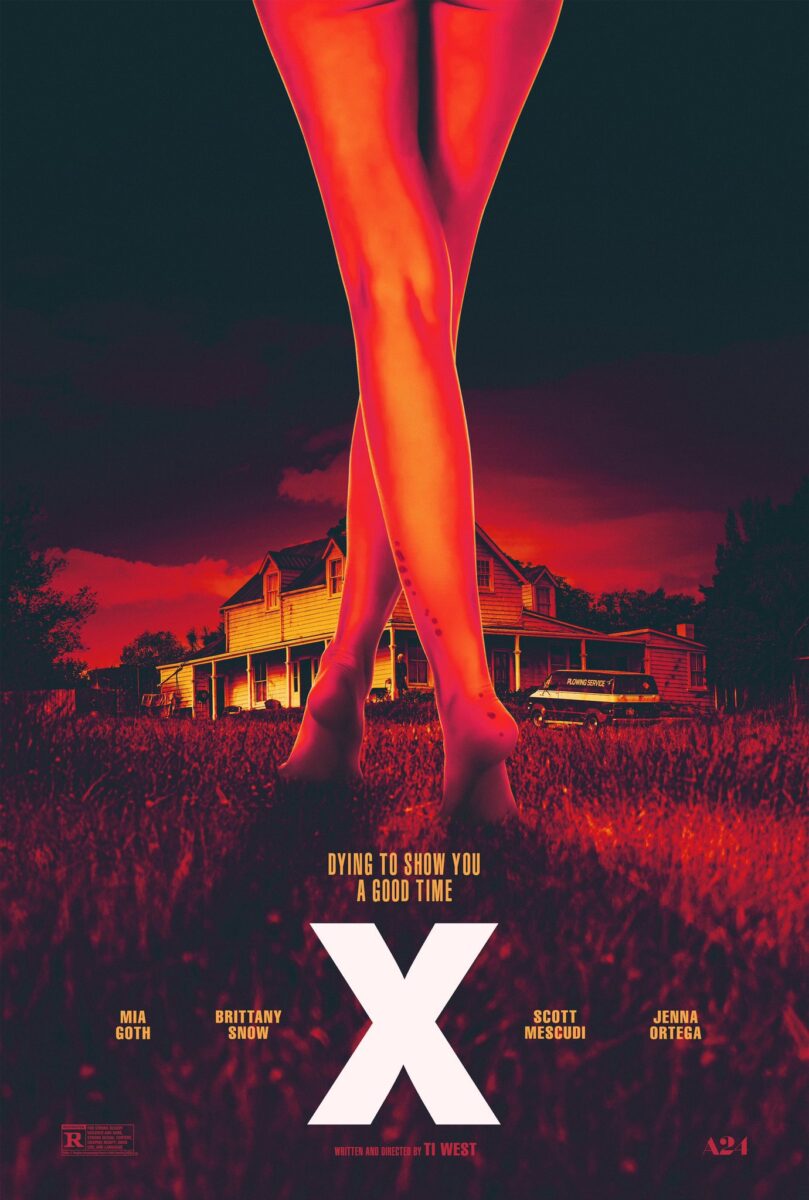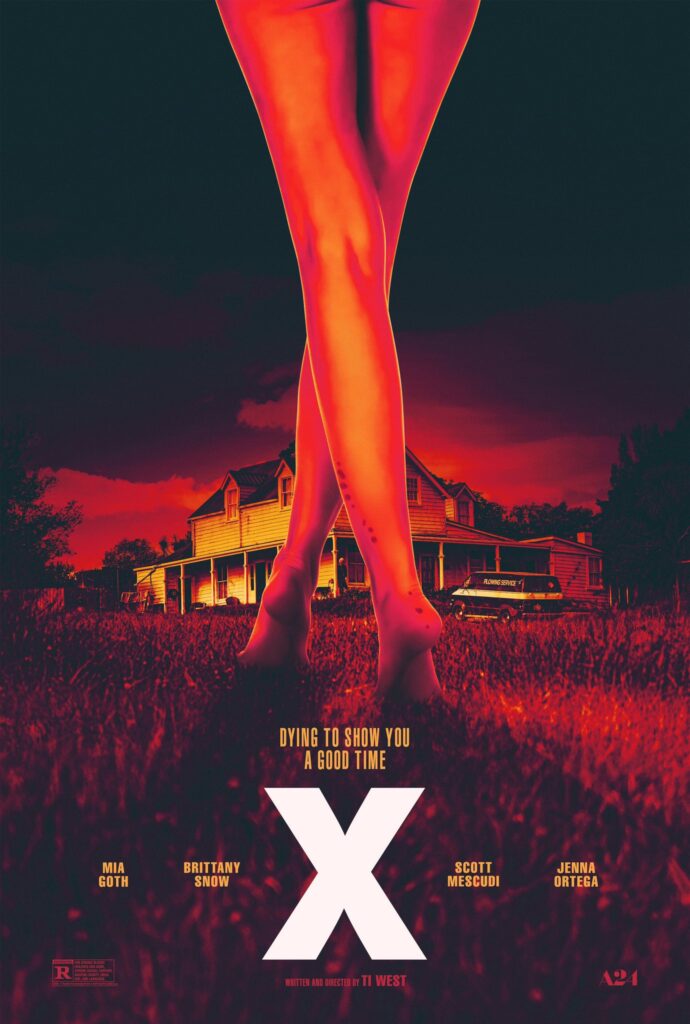 All About X (2022)
X (2022) is a period slasher film directed, written, produced, and edited by Ti West. The film stars Mia Goth, Jenna Ortega (Scream), Martin Henderson, Brittany Snow, and Scott Mescudi. The crew also features editor David Kashevaroff, cinematography Eliot Rockett, and music by Tyler Bates and Chelsea Wolfe.
The movie follows an adult film production in 1979 Texas. The crew rents out a farmhouse from an elderly couple to film their movie for the developing porn-on-tape market without informing the homeowners of their intention. The crew soon finds themselves in the predatory gaze of the seniors, and things become bloody.
The film is rated R for violence, gore, nudity, language, and drug use.
What Worked with X
X works on several levels. For most audiences familiar with slasher films, Ti West's latest film evokes classics of the genre, and for super-fans, spotting the references can be pretty fun. The whole movie is also rather intelligent, given the subject matter, exploring the intersection between pornography and horror, which have an intimate relationship as outsider arts. The film is also thrilling, combining genuine thrills of violence with perfectly-timed comedy. The dialogue is also quite sharp, with some excellent lines and conversations between characters.
The performances are top-notch, with every actor bringing something unique to the film. For example, Mia Goth's Maxine Minx offers a great spin on the final girl trope. While Mia Goth (Suspiria, A Cure for Wellness) certainly steals the show for a couple of reasons I dare not spoil, she is matched by her co-stars. Brittany Snow (Prom Night, Pitch Perfect) plays the most endearing of the characters as Bobby-Lyne, whose sweetness is offset by her potent sexuality. Meanwhile, Scott Mescudi, known to music fans as Kid Cudi, plays the only male actor in the in-film porno, Jackson Hole, but overall carries a real depth to his performance.
On a technical level, the film is excellent. The editing is pretty innovative with interesting cross-cutting for transitions, and a musical sequence with simultaneous framing juxtaposes the two sets of characters in such a way to heighten the themes.
The cinematography is also very impressive, with the film drifting from gorgeous to grotesque at times, often within the same sequence of events. The film has the necessary level of grit and grime that makes it feel like it was restored from a 1970s print. It's all very effective, down to the end titles evoking the grindhouse reels.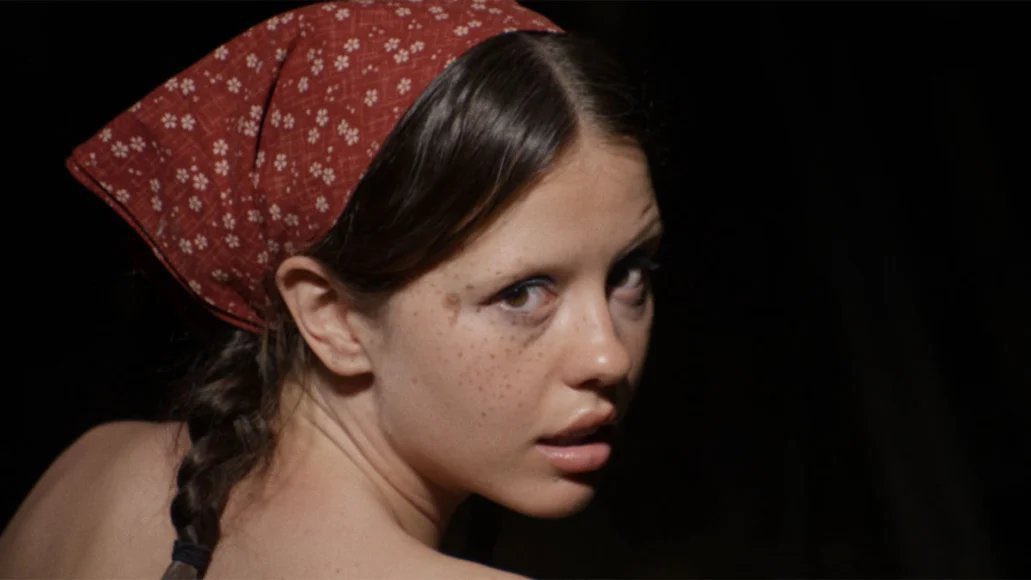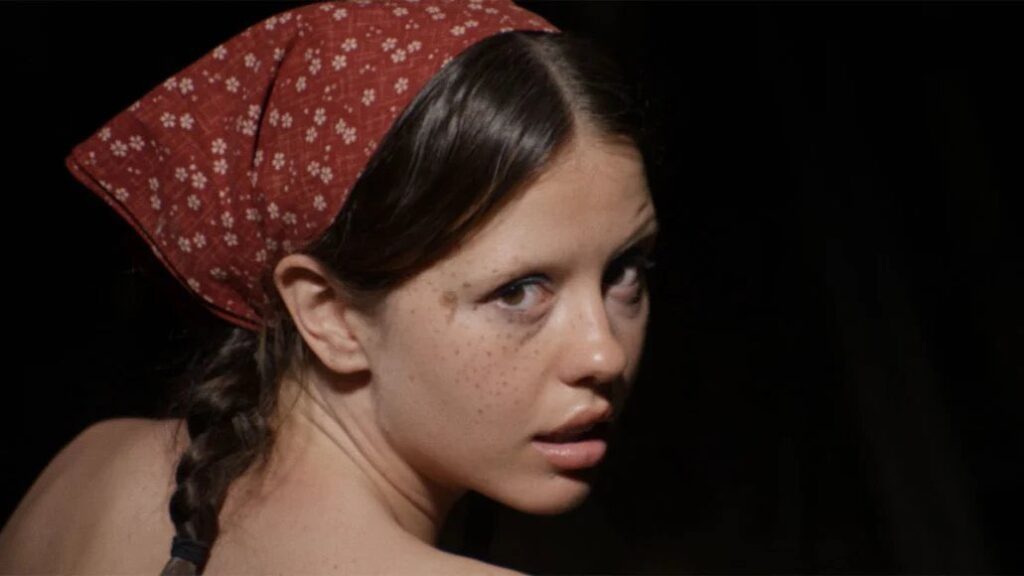 What Didn't Work with X
As a whole, the film is a triumph of genre awareness and evoking the spirit of the 1970s aesthetic. The performances are also top-notch without a single misstep in the cast. However, two elements left me unsure, especially compared to the rest of the film.
For example, one character's death ultimately took a long way round for a short and sudden conclusion at the end of a shotgun. While initially shocking, the death didn't feel like it fit in with the rest of the film due to the relatively abrupt nature and minimal gore. For a movie that plays so brilliantly with bloody chaos, this felt like a misstep. I expected something more of the character, especially given the setup.
The other concern is with Pearl, the older woman. Her reasoning for her actions is pretty straightforward, but the intent was less so. Perhaps I missed something in the dialogue concerning why she wanted a pivotal character to be kept alive. Maybe this is something that I will catch on my rewatch or something that might be established in the confirmed prequel due soon.
However, these issues are minor, given the overall enjoyment I had with the film. X (2022) is one of my best theatrical horror experiences.
Final Thoughts
X is a damn fine 1970s-style slasher film with a deft blend of terror, comedy, and tragedy and enough references to keep the die-hard horror fans talking. For a general audience, the movie offers plenty of titillation and thrills to entertain while also not being overly beholden to the genre.

(4.5 / 5)
X (2022) was distributed by A24 and was a production of Mad Solar Productions, Little Lamb, and Bron Studios. It is currently in theaters.
We would love to hear your thoughts on the movie in the comments if you've seen X. Enjoy the review? Check out our other horror reviews here on Haunted MTL.
More Ti West?
These sponsored links feature a curated list of Ti West horror films you can grab at Amazon.
Let the Wrong One In, a Film Review
Let the Wrong One In is a horror comedy directed and written by Conor McMahon, starring Karl Rice, Eoin Duffy, and Anthony Head.
Let the Wrong One In is a 2021 horror comedy directed and written by Conor McMahon, starring Karl Rice, Eoin Duffy, and Anthony Head. This film is currently available per subscription to Amazon Prime (through Shudder) or Shudder directly.
Matt (Karl Rice) and Deco (Eoin Duffy) are estranged brothers, but when Deco finds himself strangely ill, he seeks his brother out. Through obvious signs and tropable behaviors, the brothers realize Deco is a vampire. What follows spirals into a plot of brotherly guilt, passive aggression, and bloody retribution.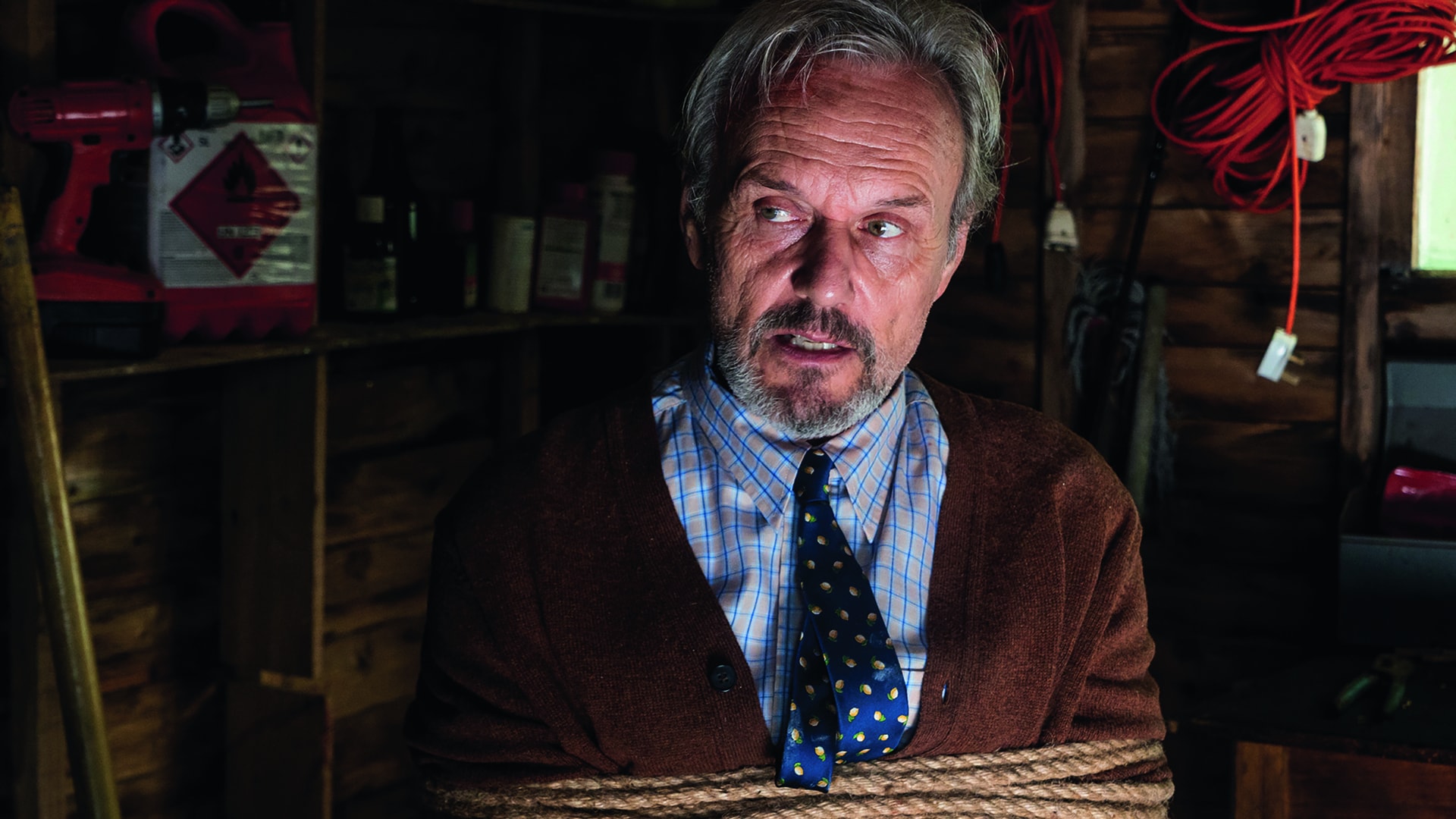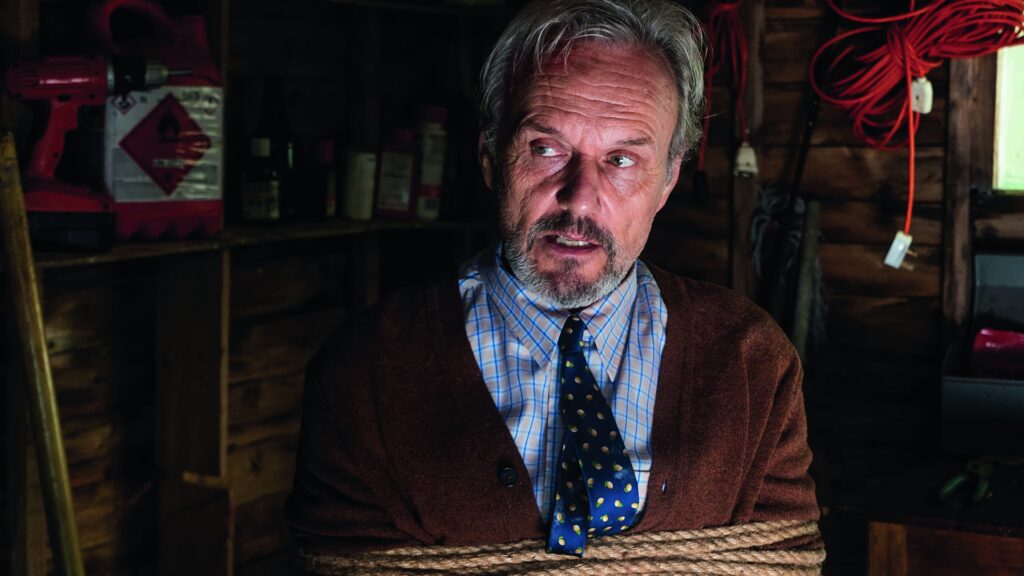 What I Like
With the titular reference to Let the Right One In, the idea interested me. After the trailer, I realized this film doesn't relate to or parody the novel or film aside from being about vampires. As a fan of the franchise, it would have been interesting to find a subversion. However, the film can charm a viewer at certain points, receiving a few laughs from me.
Either Let the Wrong One In is a micro budget film or imitates such films. The special effects ensure you know this as intended, if perhaps out of necessity. If you can accept these points, the film might be an entertaining viewing experience.
The chemistry between the two leads is where the film shines. Both Karl Rice and Eoin Duffy feel like bickering brothers. With Deco's performance as an addict, the film even ties into elements that family members of addicts know all too well.
Anthony Head (of Buffy fame) also plays his campy and ridiculous vampire hunter role to perfection, even seeming competent in the profession despite the character being more of a joke. Anthony Head can chew a scene, becoming an easy highlight of the film.
I like how vampires are named vampires without the cliche attempt to figure out what they are. It seems to be a rare thing to see on film. When this standard of logic does appear, it helps me believe the characters a little more. Though Let the Wrong One In doesn't care if you believe in its characters.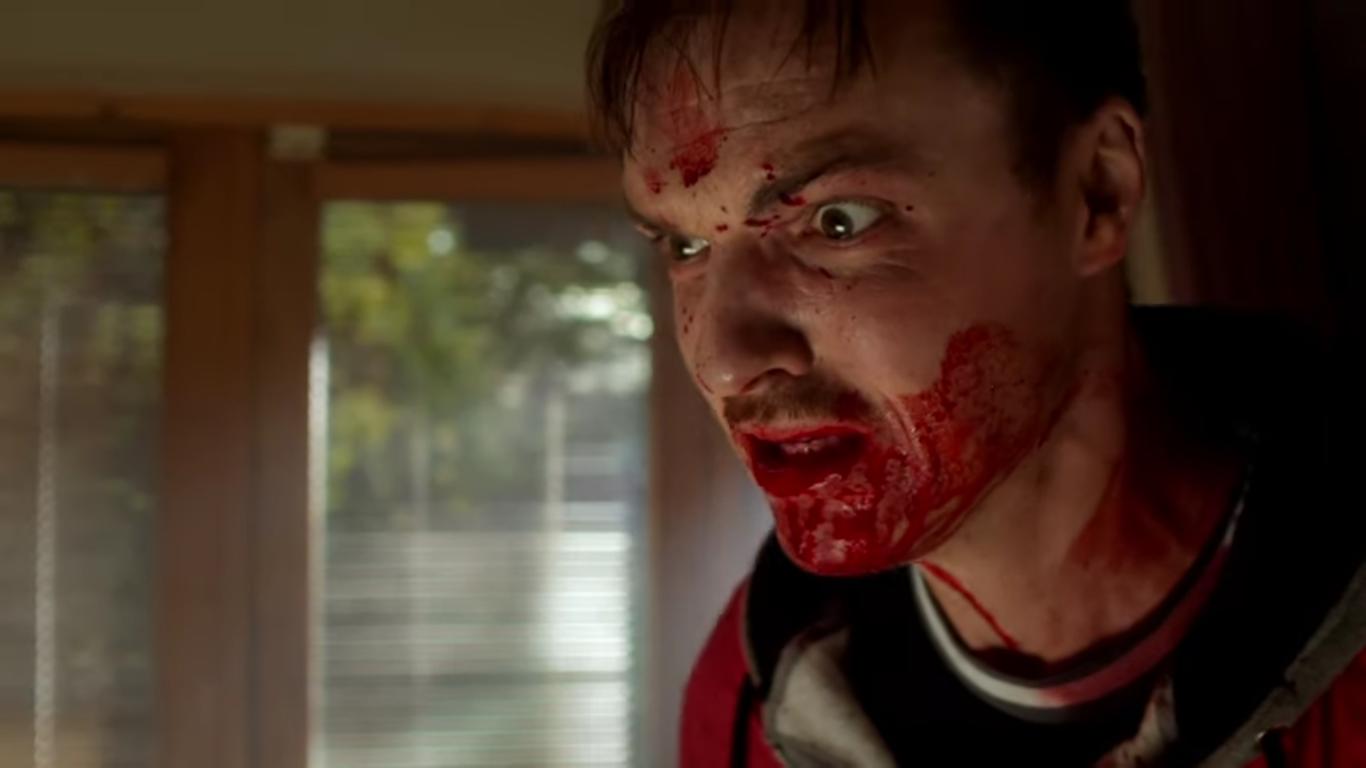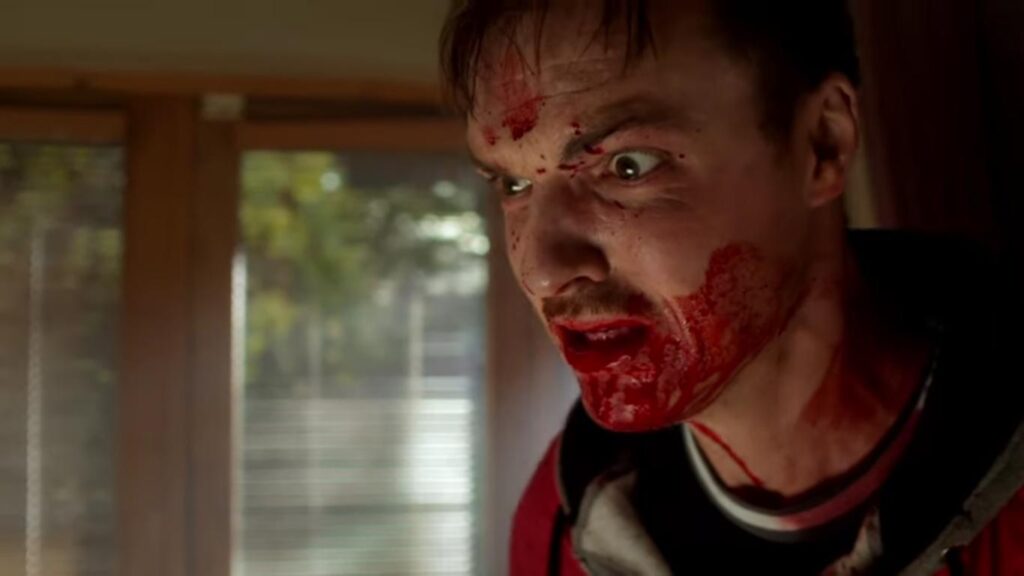 Potential Trigger Warnings or Tired Tropes
The film is a collection of tropes wrapped around a campy and zany direction. I wouldn't particularly say they are tired or are different enough to have a pass, but one goes into a film like this with these expectations. Don't expect unique and refreshing subversions.
Addiction plays a role in the film, including the emotional manipulation addicts deploy to control others. The film doesn't depict these elements effectively or abhorrently, existing as a plot point first and foremost. If this plotline upsets you, perhaps give this film a skip.
There is a point where implied violence occurs on an animal, but it certainly doesn't take this idea too seriously. In fact, the creature gets a few shining moments. Still, I understand some get squirmy at this.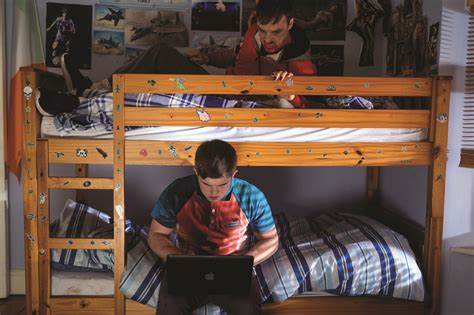 What I Dislike
Let the Wrong One In falls under the "so bad it's good" category, though purposely done to be so. It's a campy and dumb movie for those interested in passing the time. There is nothing wrong with satisfying this niche, but it's not an enjoyable time for all.
The brotherly relationship should be the center of the film, which might have focused the film more. However, the film has a big bad that feels somewhat out of place and unnecessary. It also adds to the runtime, which isn't long at 1 hour and 40 minutes. But it feels too long for this plot.
Again, I wonder why Let the Right One In exists as the film's namesake as it has no notable connection to the franchise, even in parody.
While I must admit that more jokes landed with me than I expected, most of the zany humor falls flops. This film seems to be a Shaun of the Dead clone but falls far from the other's success, lacking the focus of its predecessor.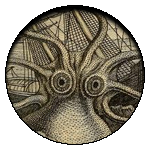 Final Thoughts
As mentioned, if you want a horror comedy to turn your brain off to, Let the Wrong One In can certainly be that film. However, there are better examples to pull from. The lack of direction and comparisons to greater options makes this fall even further on the recommendation list. One additional point in the film's favor is that you will likely know if the film is for you within the first few minutes of viewing.


(1.5 / 5)
The Wolf of Snow Hollow, a Film Review
The Wolf of Snow Hollow is a 2020 horror comedy directed by Jim Cummings, starring Jim Cummings, Riki Lindhome and Robert Forster.
The Wolf of Snow Hollow is a 2020 horror comedy directed by Jim Cummings. The cast of this horror includes Jim Cummings, Riki Lindhome and Robert Forster. This R-rated film is currently available for DirecTV and Shudder subscribers.
Deputy John Marshall (Jim Cummings) faces a messy divorce, an ill father, a serial killer and crippling addiction. With Marshall's life spiraling, he focuses on a mysterious killer plaguing the town. The brutality of the crime convinces locals that the murderer is a werewolf, a possibility Marshall cannot entertain. As John Marshall tries to keep order in the town, his conviction crumbles.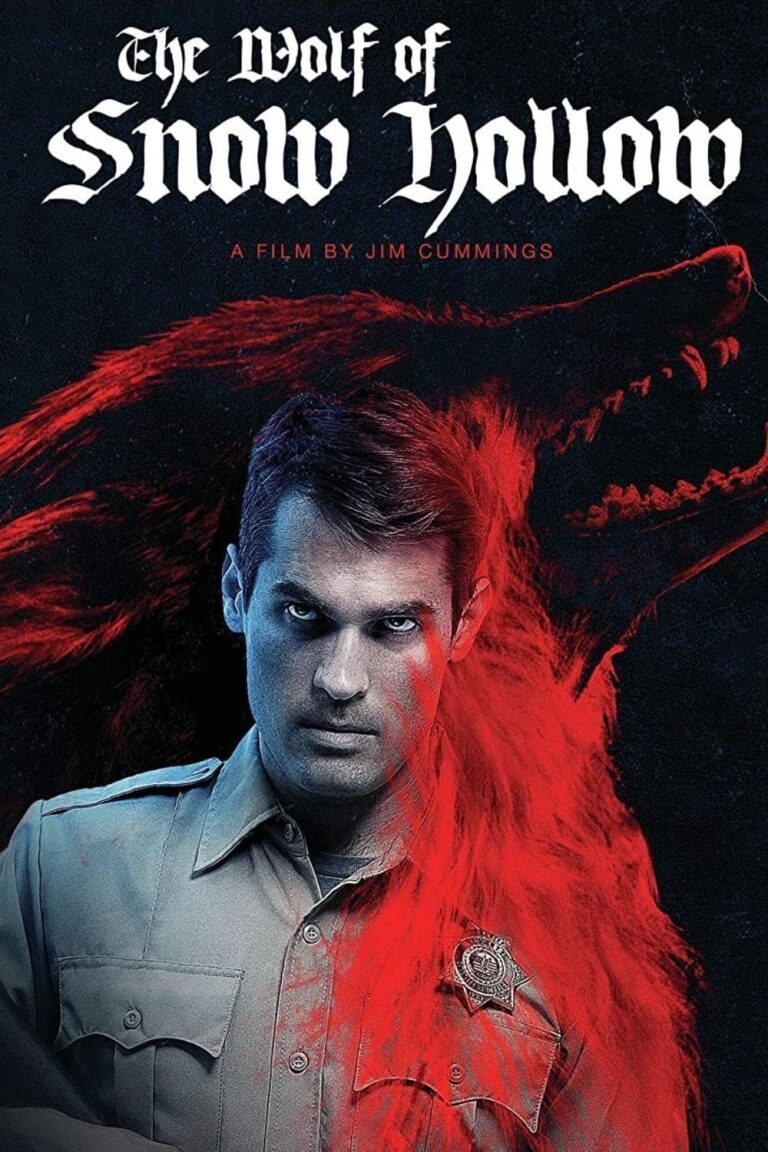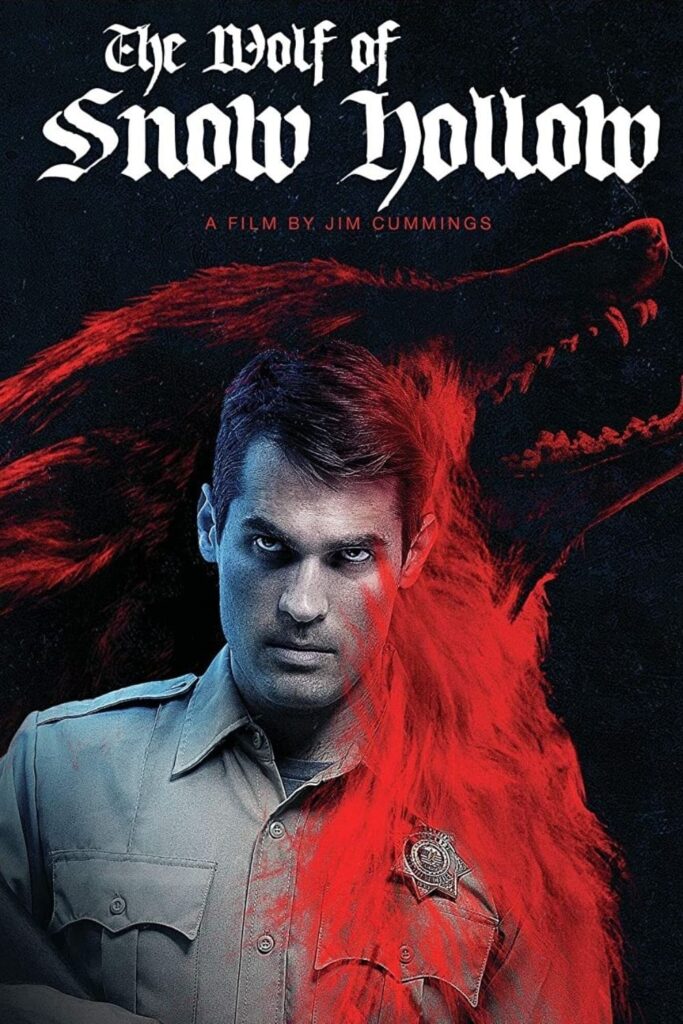 What I Like
The comedy reflects the spiraling chaos that runs through a control freak's mind as they lose control. This comedy lands best as Marshal spirals further and further into disarray. Viewers should expect a dry wit layered with sarcasm. If this type of humor doesn't sound like your cup of tea, The Wolf of Snow Hollow would be hard to recommend. Nearly every character plays their part to perfection, building off each other. Jim Cummings seems to have created a team to complement his project.
Another impressive comedic element comes from the film's ability to jump between serious issues and comedy without the humor undercutting the weight of those essential moments. Though somewhat flawed, it remains consistently effective.
Despite the fact this is a horror comedy, the monster adds genuine horror to the film. Part of the mystery comes from that line between the possibility of a killer or a real-life werewolf, which I won't spoil here.
The werewolf design, though traditional, is consistently believable. With one exception that felt purposeful in context, the creature works surprisingly well for a horror comedy.
Jim Cummings creates these rapid scenes that show time passing. As mentioned earlier, these scenes reflect Marshall's mental state. It surprises me how clearly and haunting they convey information while noting elements of comedy. Again, not always perfect, but effective.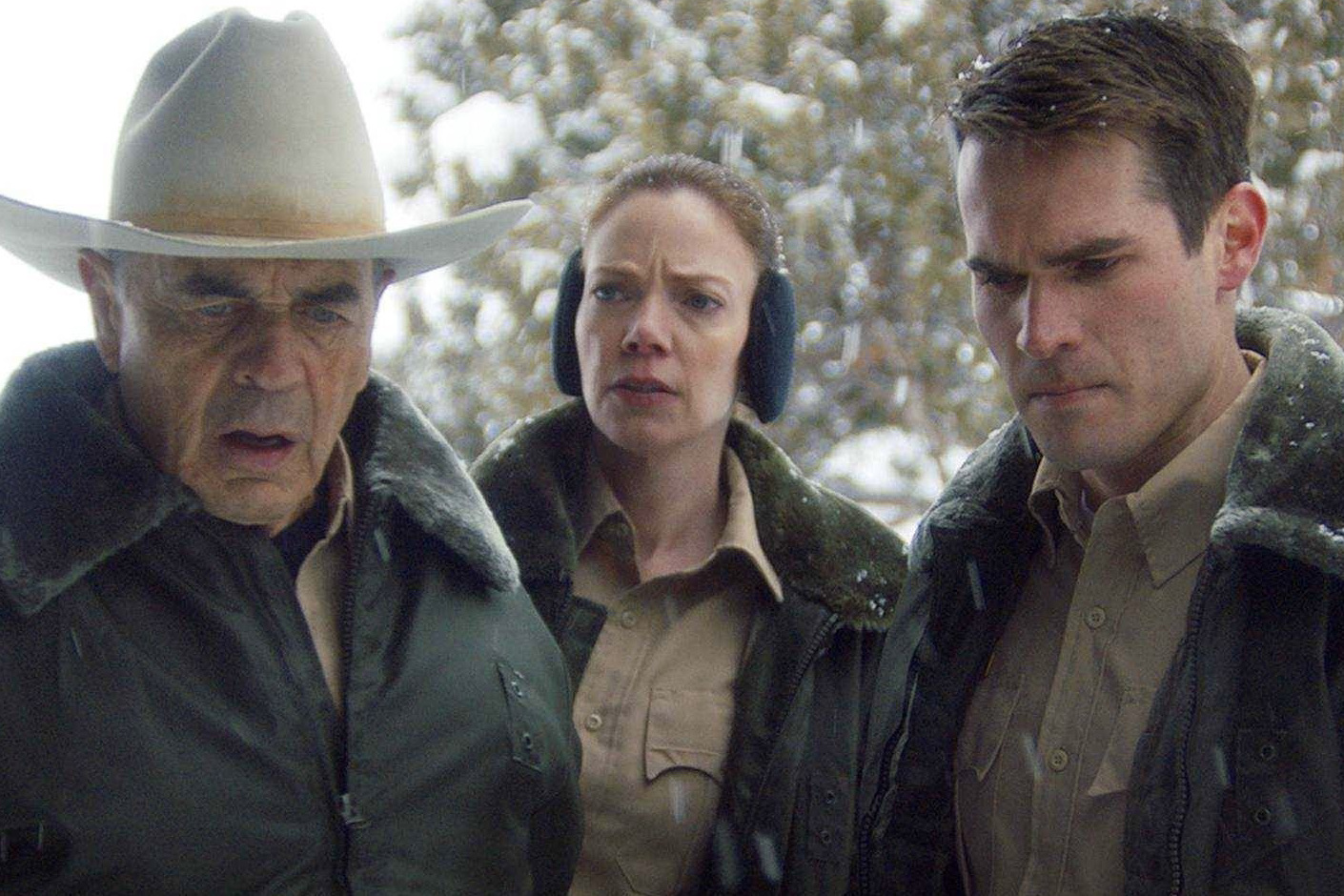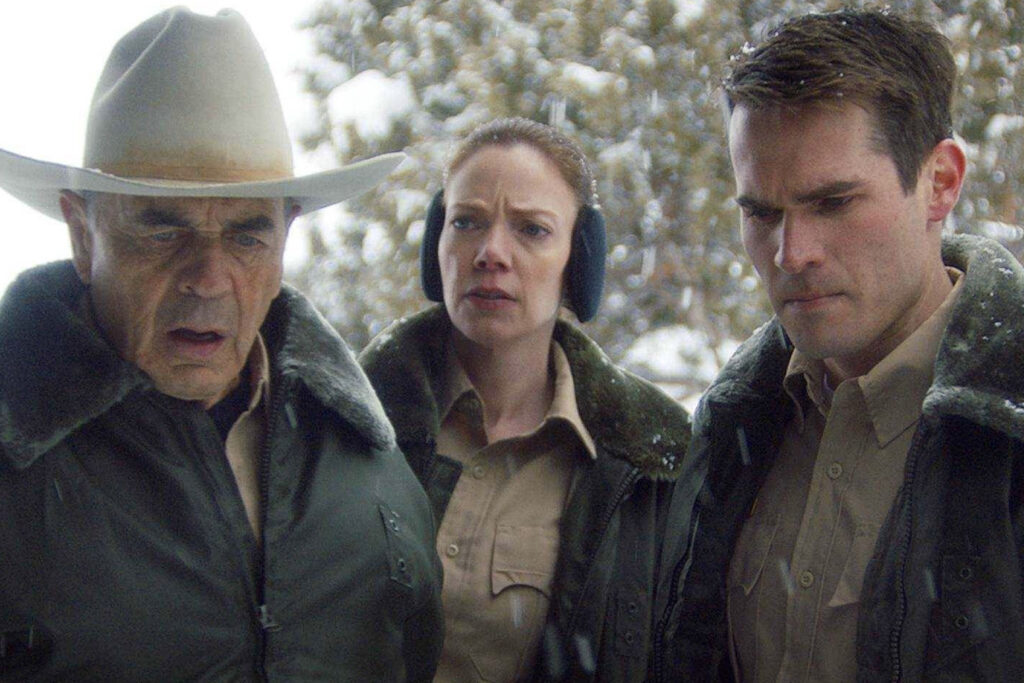 Trigger Warnings and Tired Tropes
John Marshall struggles with alcoholism, often falling victim to the disease. Despite the comedy label, this element remains mature and respective. Regardless, I understand this is a sensitive issue that worth noting.
The film can get gory and dark, but rarely more than a horror fan expects. However, one of the victims is a baby. Though no act appears on screen, viewers may require prior knowledge.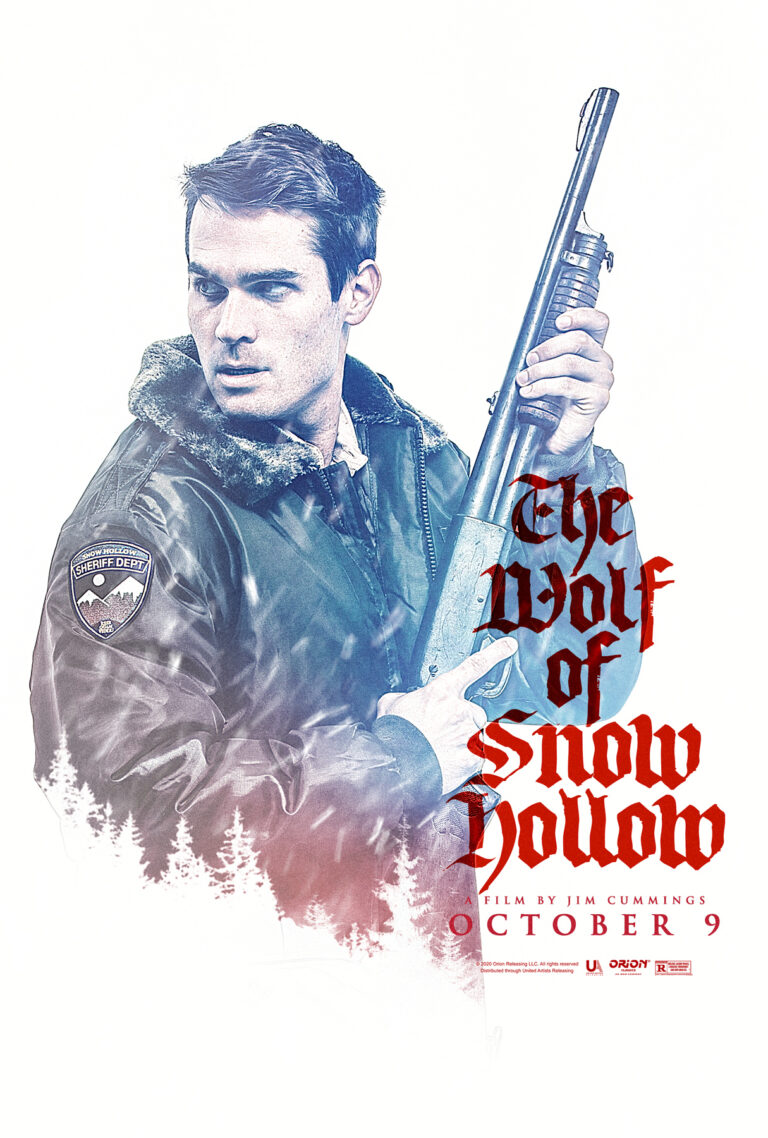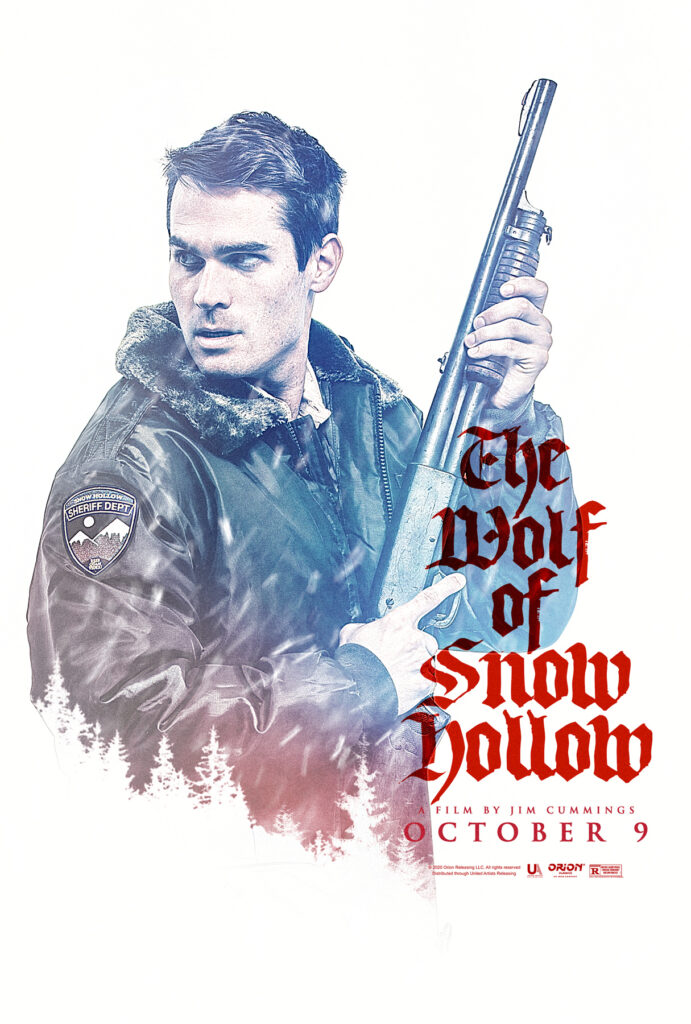 What I Dislike or Points to Consider
Don't expect a detective tale or any focus on a mystery. If this movie is anything, it's a character study of John Marshall. The killer isn't a figure we uncover through available information. The Wolf of Snow Hollow focuses on the stress that unravels our characters as they investigate. The trailer was a bit misleading, creating a focus more centered on the mystery and comedy of the film.
Without going into too much detail, some of the deaths get overshadowed by those earlier-mentioned scene cuts. While I still stand by my praise of these scenes, some of these deaths needed more silence and longevity. Though I recognize this might ruin the comedy focus of the film, death should have weight in a story.
This film isn't scary. While some moments might unnerve you, don't expect to be haunted.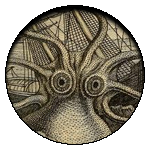 Final Thoughts
While not a traditional werewolf film, The Wolf of Snow Hollow remains a surprisingly effective horror comedy. If you like your humor dry and dark, this film might align with your taste. However, this barely makes the cut in the horror genre. Don't expect to jump or scream. If this sounds like your taste, then give The Wolf of Snow Hollow a view.

(3.5 / 5)
The Last Drive-In Season 5 Premiering April 21st Exclusively on Shudder!
They say good things come to those who wait, and boy have we been patient. It has been close to a year since our eyes have indulged a full season of 'The Last Drive-In with Joe Bob Briggs', in fact, the season 4 finale premiered on Shudder July 1st, 2022. Since then, we have been able to satisfy our appetites with festive holiday specials sprinkled throughout the past year. Specials such as 'Joe Bob's Halloween Hangout' guest starring horror's favorite Mistress of the Dark, Elvira (played by the legendary Cassandra Peterson) and 'Joe Bob's Ghoultide Get-Together'. Last month was a treat in itself, as we were able to witness Joe Bob Briggs and co-host Darcy the Mail Girl (Diana Prince) marry one lucky couple for the first time on the show with 'Joe Bob's Vicious Vegas Valentine' special.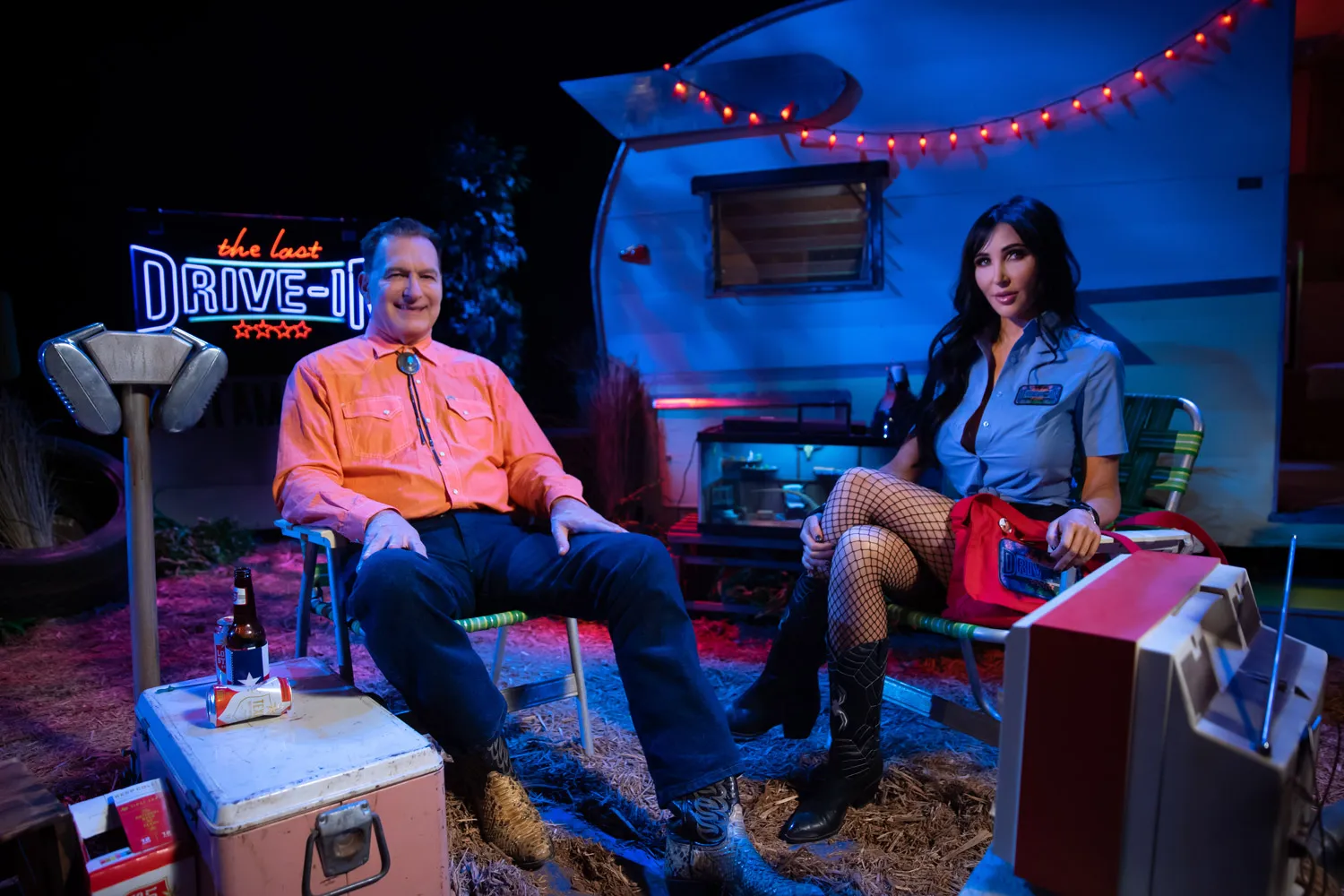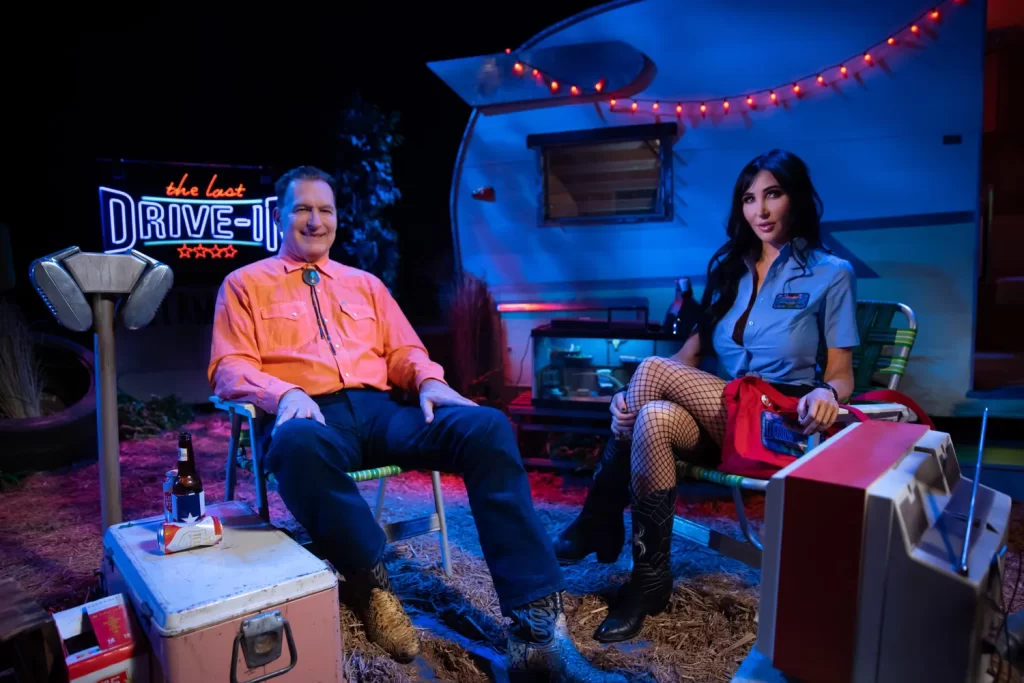 While the current changes in staff at Shudder have left fans questioning whether we will receive a new season of the popular series, I can happily say mutant family, we need not worry. In fact, to our wonderous surprise, Joe Bob Briggs has officially announced via Twitter, season 5 of 'The Last Drive-In' will be premiering April 21st, exclusively on Shudder! One thing that is noteworthy, is unlike previous seasons, it has been reported by 1428Elm that season 5 will be broken up into two parts of five double-feature blood-curdling episodes. Though we have not been provided the official release schedule for the second block of season 5, here is a sneak peek of what we can expect for the first half of the season:
April 21: Season 5 Launch Party!
April 28: Walpurgisnacht Part 2!
May 5: Cinco de Fucking Mayo!
May 12: Mama's Day!
May 19: Dysfunctional Family Jubilee!
Unfortunately, we do not have an official list of the brand-new double feature films for the first half of season 5 but, with amusing episode titles such as these, one can only imagine what grindhouse-classics will be joining 'The Last Drive-In's' already eclectic list of sloshy goodness. For those impatient mutants eagerly waiting for more hilarious Joe Bob rant-filled commentaries, or those newcomers who've yet to experience the magic that is 'The Last Drive-In', all previous four seasons, including past holiday specials are currently available to stream now on Shudder.
If you are just as big of fans of 'The Last Drive-In' as we here at HauntedMTL are, please be sure to follow us on Twitter @HauntedMTL and join us April 21st as we tweet along with Joe Bob and Darcy the Mail Girl for the season premier. As is tradition, we will be hosting live watch parties every Friday with each new episode, including fresh holiday specials. The road to season 5 is upon us…let the countdown begin!
April 21: Season 5 Launch Party!
April 28: Walpurgisnacht Part 2!
May 5: Cinco de Fucking Mayo!
May 12: Mama's Day!
May 19: Dysfunctional Family Jubilee!
. . . and that's only the beginning.#TheLastDriveIn pic.twitter.com/WfeTx0shNa— Joe Bob Briggs (@therealjoebob) March 16, 2023