(Look, I know it says October 6 above, but on my side of the globe it is still October 5. So let's all just acknowledge that time is fake and pretend that it is actually October 5 everywhere on Earth.)
On this day in history, October 5 , Alonzo T. Cross patented the ball point pen. Now that I've got your attention, it's time for another recap of our favorite annual Halloween special. For today's episode, we encounter demons, aliens, vampires and donuts. Lots and lots of donuts.
The Plot
Bart walks us through a gallery of paintings, stopping at three different pictures that illustrate the stories he is about to tell. The first is "The Devil and Homer Simpson," in which Homer sells his soul to the devil, Ned Flanders, for a donut. Just when Ned is about to drag Homer to hell, Lisa comes to the rescue and demands her father receive a fair trial to determine who Homer's soul actually belongs to. Mr. Simpson's fate rests in the hands of a jury consisting of Lizzie Borden, Blackbeard, Richard Nixon and many other real-life villains.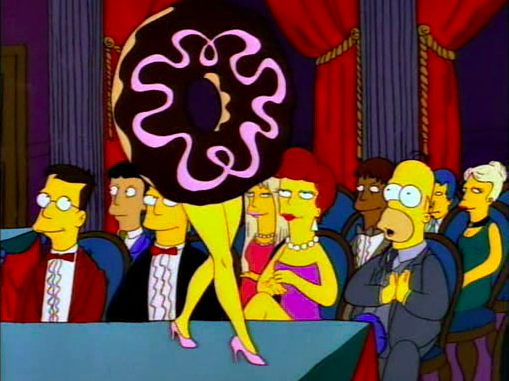 Next up is "Terror at 5 1/2 Feet," a parody of the Twilight Zone episode "Nightmare at 20,000 Feet." Despite the difference in height, Robert Wilson and Bart Simpson encounter monsters of equal horror. The story begins with Bart waking up from a nightmare in which he dies from a bus crash. This nightmare ends up being a kind of premonition when Bart looks out his school bus window and sees a blue creature tearing the vehicle's exterior apart. The young Simpson makes it his mission to destroy the monster and save the school bus, but "easier said than done" is an understatement in this matter.
Our final tale of terror is "Bart Simpson's Dracula," which is, yep, you guessed it, a parody of my hopes and dreams. And also some vampire movies. Mr. Burns bought a blood bank (classic Mr. Burns), then invites the Simpsons to his castle in Pennsylvania. Lisa has a sneaking suspicion that Mr. Burns is actually a vampire, but no one else takes her seriously because – duh – vampires aren't real. This story quickly goes off the rails in the most wonderful, nonsensical way, complete with a stairway to hell and Halloween-Christmas music.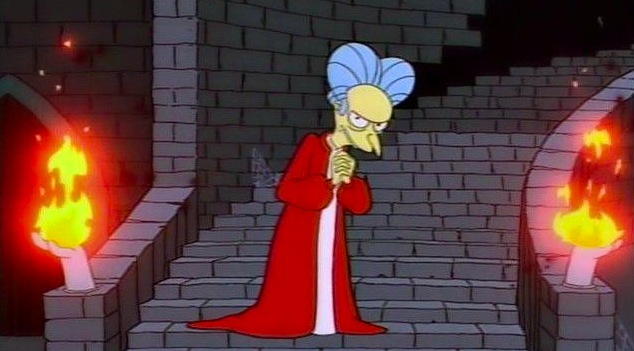 The Verdict
"Treehouse of Horror IV" has a lot of old school references, including Night Gallery, Lost Boys and The Devil and Daniel Webster. I love how frequently the Simpsons' creators are using Twilight Zone references, but tomorrow we are going to take a little break from good old Rod Sterling. Instead, we get to see a Stephen King classic and some science fiction/dystopian goodness.
If you like this, you should check out this movie and this book.