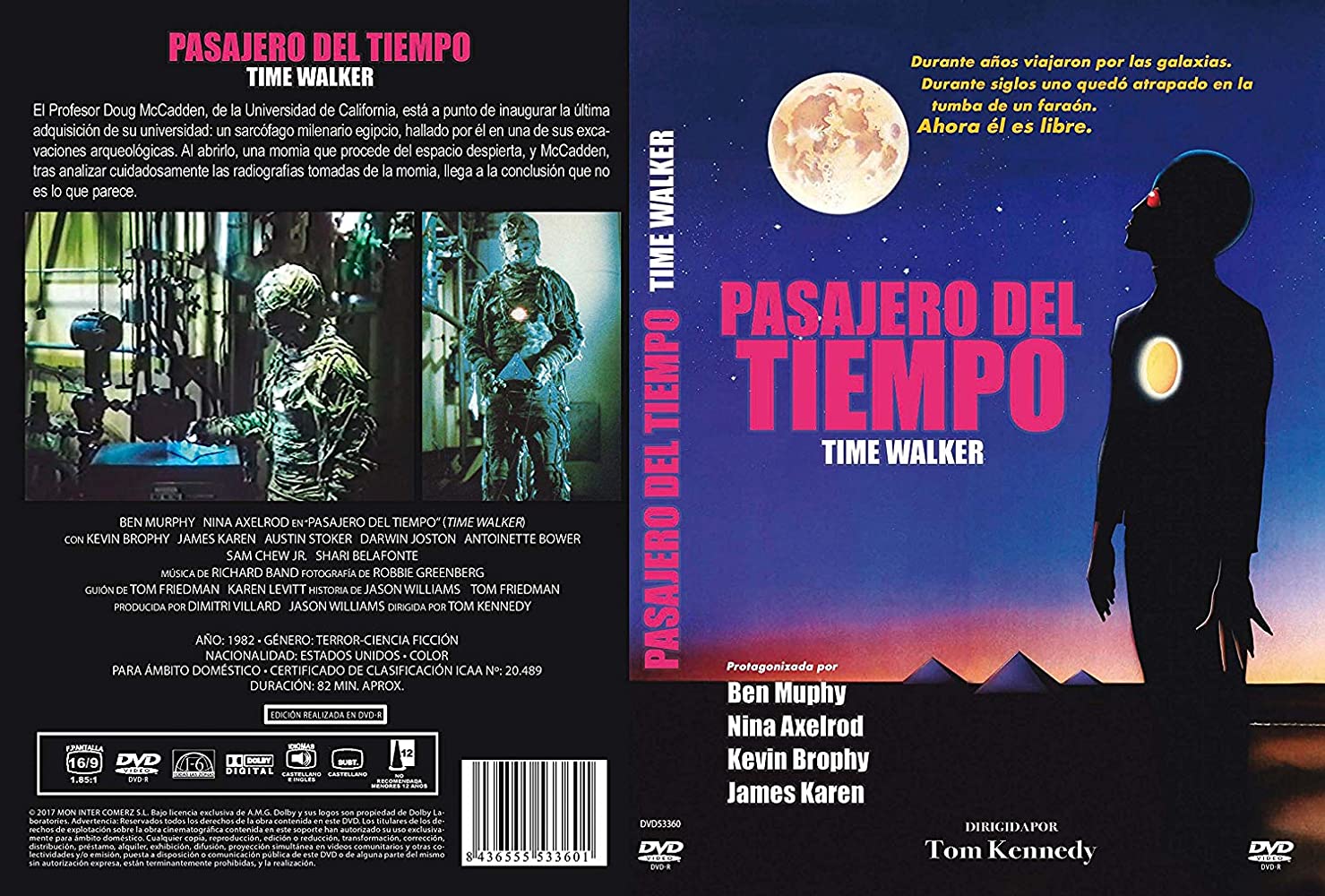 Time Walker (1982): An Ultra-Crappy Fungal Mummy Movie
Known to MST3K fans as Being From Another Planet, Tom Kennedy's Time Walker is a very difficult movie to be nice about. Let's try to dissect this turd!
Known to MST3K fans as Being From Another Planet, Tom Kennedy's Time Walker is a very difficult movie to be nice about. It's weird because, honestly, I can almost see what they were going for with it. There's some weird mummy creature that goes around killing people to get some crystals that were stolen from it. The creature (and its crystals) can also spread a fungus that's potentially lethal to anyone who touches it. In itself, that's actually not the worst sci-fi concept, especially if you're an ultra-nerdy mofo. Still, the concept is only half the battle to making a decent movie. If the execution is lacking, even a great idea (let alone a mediocre one) can end up doing significant damage to the overall work. That's sorely the case with Time Walker.
Here's something you have to understand, too: I am fully capable of liking sub-par or outright shitty movies. It actually happens fairly often. Still, I'd really have to strain myself to try to enjoy this one. Even the Mystery Science Theater 3000 commentary only helped so much, and Joel and the bots are pros! Perhaps the real question is, how could this movie have been better?
How Could 'Time Walker' Have Been Better?
I just watched this movie 3 days ago and I barely remember it. While that could reflect some early-onset Alzheimer's, I think it has more to do with the movie itself. For starters, the characters are uninteresting, including somehow even the mummy creature. How is this possible, you might ask? I don't even know, because the story definitely could be interesting. So, at best, I can only estimate what the problem is. If there were some better moments of dialogue, cooler characters, more memorable scenes, and more overall style, this movie could have been substantially better. Also, I'll go ahead and say there isn't any social commentary of value, either, which even plenty of crappy sci-fi/horror movies manage to do effectively.
Humor could have helped, too. In fact, that's probably exactly what saves other movies, such as anything by Edward D. Wood, Jr. Almost everyone (including most fans) agree that Ed Wood's movies sucked, but they have character, possible laughs, and definitely memorable scenes. If he didn't have any of that stuff, he would also basically fade from memory. In other words, this movie would probably be better if it was worse. As is, you can't even say "It's so bad it's good." This movie stars Ben Murphy, Nina Axelrod,
Kevin Brophy, and Shari Belafonte (daughter of Harry Belafonte). You probably won't remember any of their performances, though.
Are There Good Mummy Movies?
Could part of the problem be my lack of respect for mummies as monsters? Maybe, but only to an extent. They are not my favorite kind of movie monster, so I'm a little bit guilty as charged. Still, there are some halfway decent mummy movies. For this very website, I've written about Abbott and Costello Meet the Mummy, referring to "a classic contrast between the dignity of Princess Ara's legend and the slapstick humor of Bud Abbott and Lou Costello."
However, my potential appreciation for mummy fare doesn't end there. My actual favorite mummy story comes from John Harrison's Tales from the Darkside: The Movie. Although the movie seems sorely underrated, I really appreciate how creepy the mummy is in the "Lot 249" segment — even if far from the mightiest villain imaginable. Based on Arthur Conan Doyle's short story, there are moments that might send a shiver up someone's spine. It also has good performances by Steve Buscemi, Julianne Moore, and Christian Slater (who, honestly, seems a bit underappreciated in his own right).
Yes, I'll Probably Still Give 'Time Walker' Another Chance
I pride myself on not being like other film critics who relentlessly rip into something, being utter dicks about it. Hell, I don't particularly want to be known as a film/TV critic, but just as a guy who watches stuff, writes about it sometimes, and maybe occasionally wrestles a buck or two out of it. So that's why, yes, I'll probably check this movie out again at some point. Maybe I'll have an extended mummy movie marathon or some bullshit like that. Maybe I'll just feel like I need a dose of light torture. Who knows? I will say, though, it'll have to be with the MST3K boys or that torture won't be nearly as light. Lemme tell you unequivocally: This movie does stink.
Do you agree that Time Walker stinks to high heaven? If not, what brand of clothespin did you use to shield your nostrils? Let us know in the comments!
The Last Drive-In: Joe Bob's Vicious Vegas Valentine Special Live Watch Party February 10th!
The sweet putrid stench of love lingers through the air which can only mean one thing…Valentine's Day and its annoying little winged cherub mascot, Cupid, is fast approaching. Soon, partners will be spoiling one another with extravagant bouquets of roses, heartfelt Hallmark cards, obnoxiously large teddy bears, glistening diamond jewelry, and heart-shaped candies or boxes filled with assorted mediocre chocolates. You know? Normal things couples do. I tend to prefer my chocolate boxes filled with bleeding hearts, à la 'My Bloody Valentine' but, beggars can't be choosers, right? All jokes aside, Valentine's Day is special for many couples, however, there are also many others who find themselves celebrating this day without a significant other. Luckily, Shudder, along with drive-in king Joe Bob Briggs and co-host Darcy the Mail Girl (Diana Prince) will graciously be keeping us lonely mutants', and yes, all you horror fanatic couples' company on Friday, February 10th as they return with The Last Drive-In: Joe Bob's Vicious Vegas Valentine, premiering live at 9pm EST.
Love Spells Abound…
Back in 2021, Joe Bob and Darcy invited us to a gruesomely passionate night of spell-binding love witches and animatronic dinosaurs infused with teenage human brains during The Last Drive-In: Joe Bob Put a Spell on You. Many, including myself, were introduced to the tantalizing 70's inspired retro throwback 'The Love Witch' and the graphically goofy cult classic 'Tammy and the T-Rex', providing the perfect viewing pleasure to mend any broken heart. While the two films for this year's morbid love-induced special have yet to be announced, as a special treat, Briggs has announced for the first time on The Last Drive-In, he will be marrying one lucky couple during the live showing. We here at HauntedMTL are eagerly awaiting the return of the ghoulish duo so, as is tradition, we will be proudly hosting a watch party on Twitter during the broadcasting of The Last Drive-In: Joe Bob's Vicious Vegas Valentine. Be sure to follow us on Twitter and tag us @hauntedMTL as well as @shudder, @therealjoebob, and @kinky_horror to partake in this night of unholy love.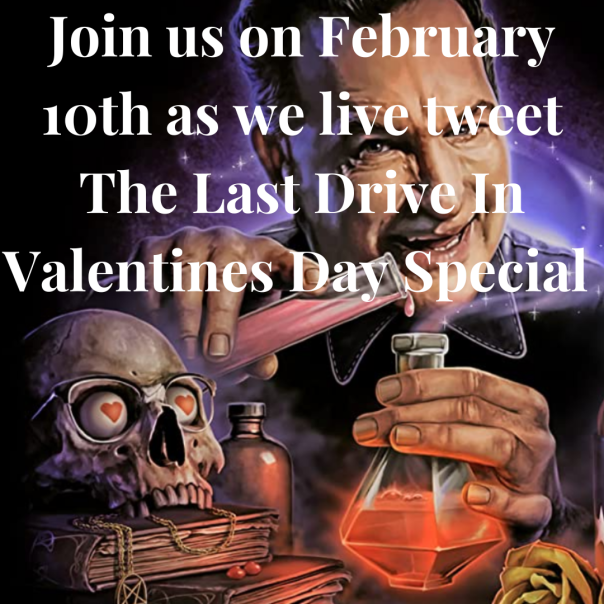 What started off as a one-time special premiering on Shudder July 13, 2018, 'The Last Drive- In' was originally meant to be Brigg's swan song; one last special before hanging up the bolo tie in retirement. However, due to so many mutants, excuse me…viewers tuning in and breaking the Shudder servers, it was only natural to announce an official full season of 'The Last Drive-In', which would make its explosive debut March 19, 2019. Since then, Darcy and Briggs have spawned many exclusive holiday specials, have graciously donated to many charities within the community, and have accumulated 4 seasons of 'The Last Drive-In', with a fifth currently in production premiering on Shudder's 2023 schedule sometime this year, let's hope sooner rather than later.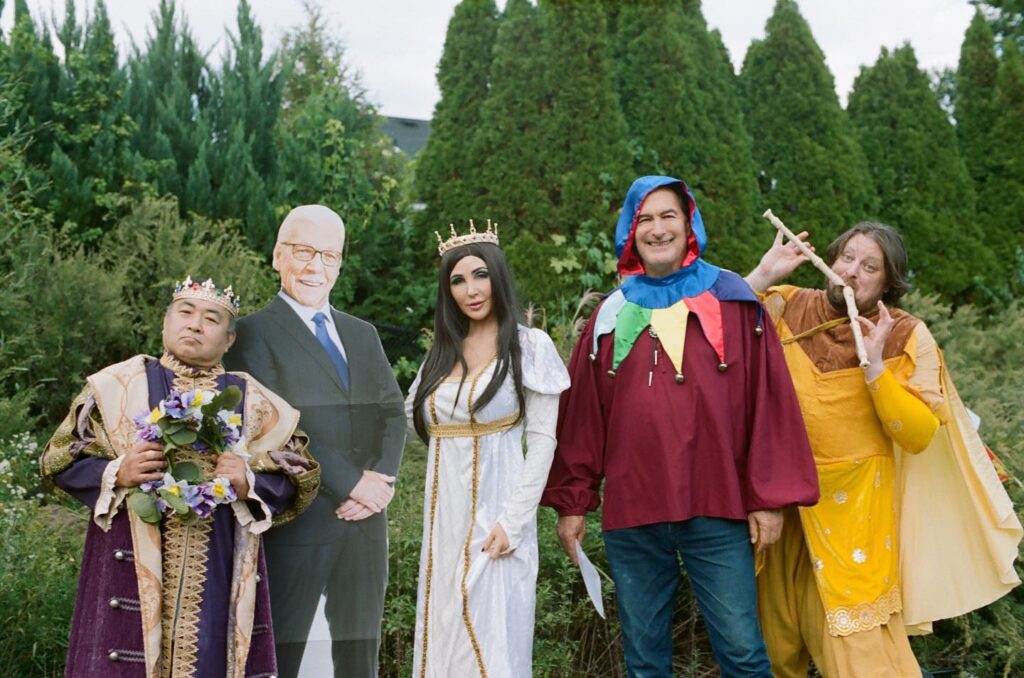 Horror Noire, a Film Review
Horror Noire is a horror collection that includes "Daddy," "The Lake," "Brand of Evil," "Bride Before You," "Fugue State," and "Sundown."
Horror Noire is a horror collection brought by the combined efforts of AMC+ and Shudder. The collection includes "Daddy," "The Lake," "Brand of Evil," "Bride Before You," "Fugue State," and "Sundown." Horror Noire boasts Black directors and screenwriters, providing six unique stories.
As this collection explores six stories, I will skip the usual synopsis to assess the genres and ideas explored, albeit limited as needed. Expect to find supernatural horror, creature features, and psychological thrillers. Many short films deal with these genres while exploring Black issues, but this isn't universal for the collection.
The directors and writers include Zandashé Brown, Robin Givens, Rob Greenlea, Kimani Ray Smith, Steven Barnes, Ezra Clayton Daniels, Tananarive Due, Shernold Edwards, Victor LaValle, and Al Letson.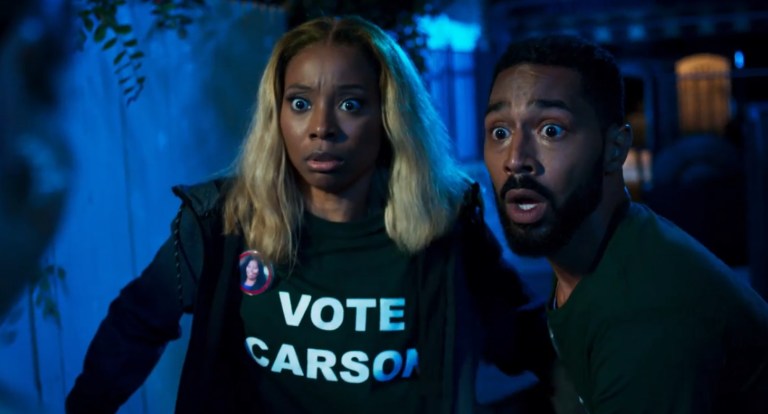 What I Like
Each story remains unique, holding different strengths and weaknesses that highlight drastically different perspectives. Collections like VHS hold a similar premise to create their collection, but Horror Noire gives more creative freedom to its talent to be independent.
My personal favorite short film is Zandashé Brown's "Bride Before You." This period piece unravels a fable set in the Reconstruction Era. The entry feels Fabulistic in approach, which happens to be my preferred niche.
However, the best example of horror goes to Robin Givens' "Daddy," providing an existential horror tied directly to the characters involved.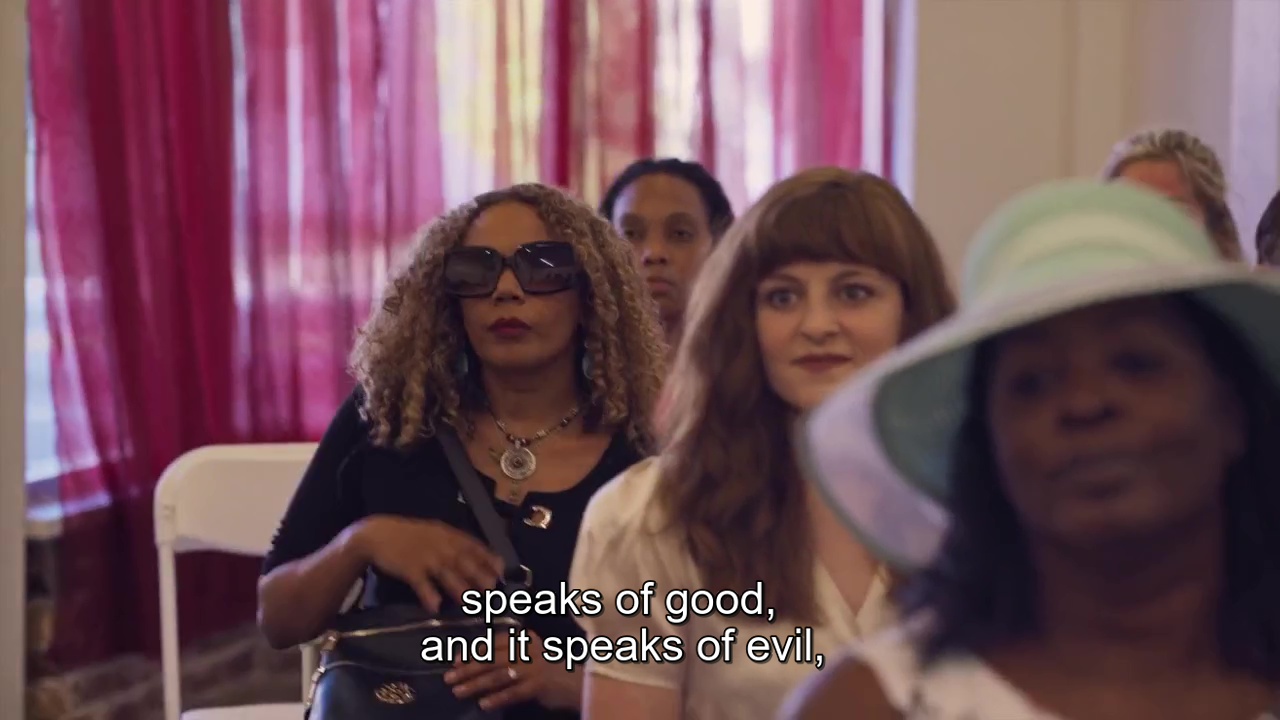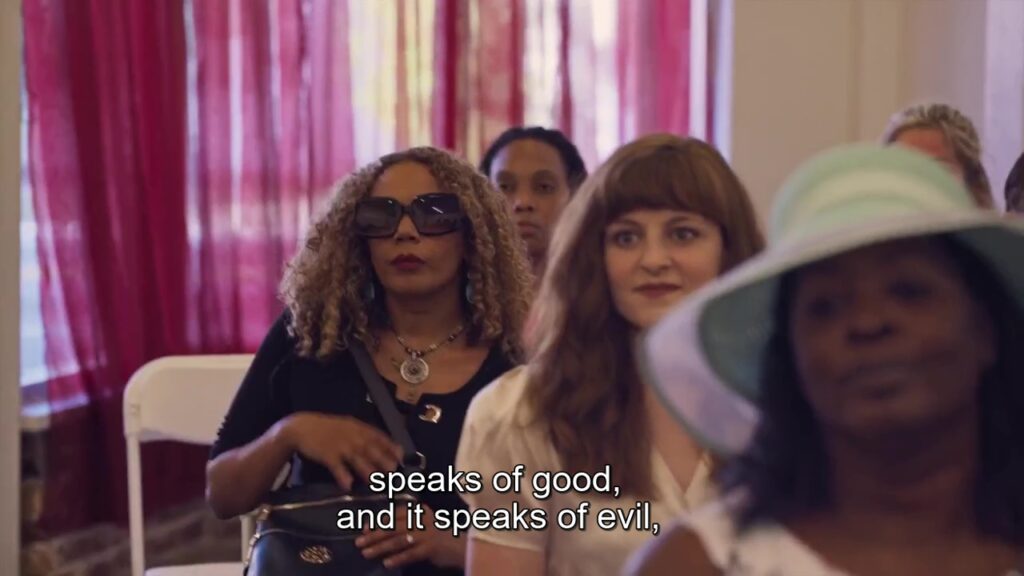 What I Dislike
As mentioned, all have a particular style and idea. The downside of this approach always remains to keep the viewer interested long enough to find their favorite. If you find several underwhelming choices, this becomes a chore. But I imagine that is rare as the variety makes the options refreshing.
Personally, "Brand of Evil" had an interesting premise, but the execution fell short. On paper, it might have sounded like my favorite, which makes the lackluster execution a bigger letdown.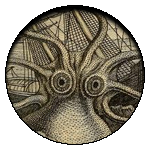 Final Thoughts
Horror Noire gives power and control to Black creators, providing a formula for a unique collection against others in the space. While the various subjects and approaches mean you aren't likely to love them all, there should be a short film for everyone.

(3.5 / 5)
Episode six of Netflix's Dahmer was not, honestly about our title character. Instead, it was about one of his victims, a man named Tony. We've actually seen Tony a few times during this series. We just didn't know it was him.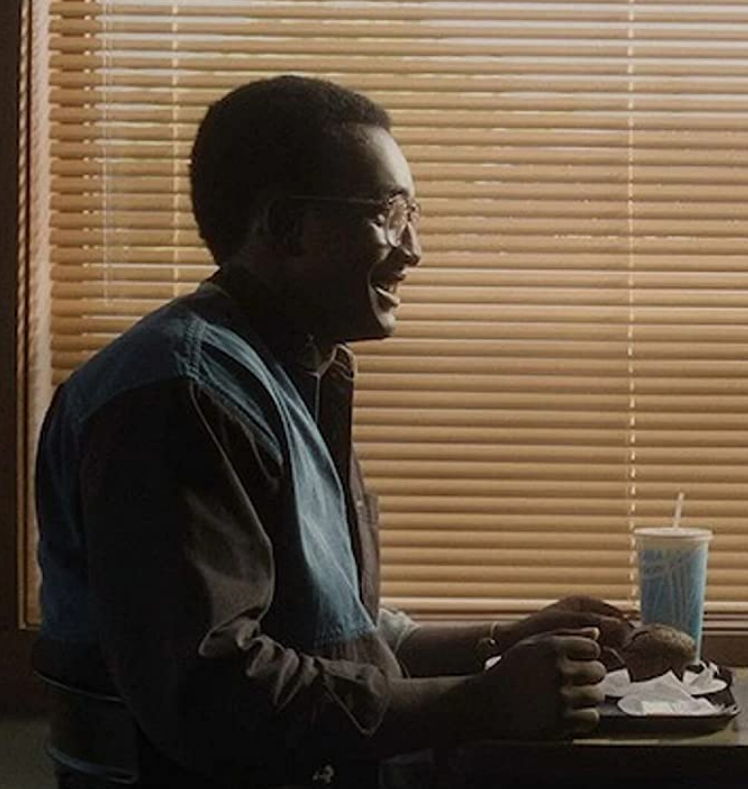 And, well, he wasn't exactly alive the first time we saw him.
Tony was born into a supportive, loving family. This is good because soon after he was born a viral infection took his hearing. He is black, deaf, and gay in the early 90's.
Tony has a dream of becoming a model. And he certainly has the looks for it. He is beautiful, body and soul. He has lots of opportunities for romance, but it's not what he's looking for. He wants a real relationship.
Eventually Tony moves to Madison, trying to pursue his dream. He gets a job and starts getting modeling work.
Then, he meets Jeff Dahmer at a bar.
At first, we can almost believe that it's going to be alright. Jeff seems happy. He's taking care of himself. He's not drinking as much. He even has his dad and stepmom over for dinner. It seems like his life is getting on track. Even better, he's treating Tony right.
Then, of course, things go bad.
One thing that has always bothered me as a true crime fan is that we know so much about the killers, but not as much about the victims. Not so much if we don't know who the killer is, of course. But the names that are part of our pop culture are those of the killers. Dahmer, Manson, Jones, Bundy, Holms. The names we don't know are Roberta Parks, Beth LaBiancas, Leno LaBiancas, and Tony Hughes. And clearly, we should know them.
If Tony Hughes was half the shining, positive person that the show Dahmer made him out to be, I'm so sad that he isn't with us anymore. We need so many more people like him. And many of Dahmer's victims were likely just like him. After all, he was attracted to them for a reason.
This was a significant episode, and I understand why it's the highest-rated episode of the series. I finished it with a heavy heart, saddened by the loss of a man who should still be with us today. 

(5 / 5)