Well, this is it. The end of our True Blood run. We've had a great time and I feel like the series finale was well-deserved and thought out. Let's get started!
Assisted Suicide
We open this episode with Sookie and Bill inside her home talking through his decision to die. Bill explains that he visited his family in the cemetery and that his memorial is basically a lie. He is not buried there with his family, but it says he is. Sookie slowly begins to understand why Bill is asking her to let him die, telling her about how she won't be able to live a normal life with him around.
Sookie seems to really get it and Bill asks her if she would kill him with her light. This plan would afford both of them what they want. Bill will be out of her life so that she can move on as per his hopes and Sookie will not be a fairy anymore – something she has been wishing for the entire series. Sookie is really upset by this proposition and asks Bill to leave.
New Blood
Eric and Pam formulate a plan to free Sarah, feeding her Pam's blood so that they may find her again, and kill Gus. Eric plans to steal the idea for New Blood and get rich off of it himself. It turns out to be pretty easy when Eric and Pam kill Gus' men and burn Gus alive in a tunnel as he goes after Sarah.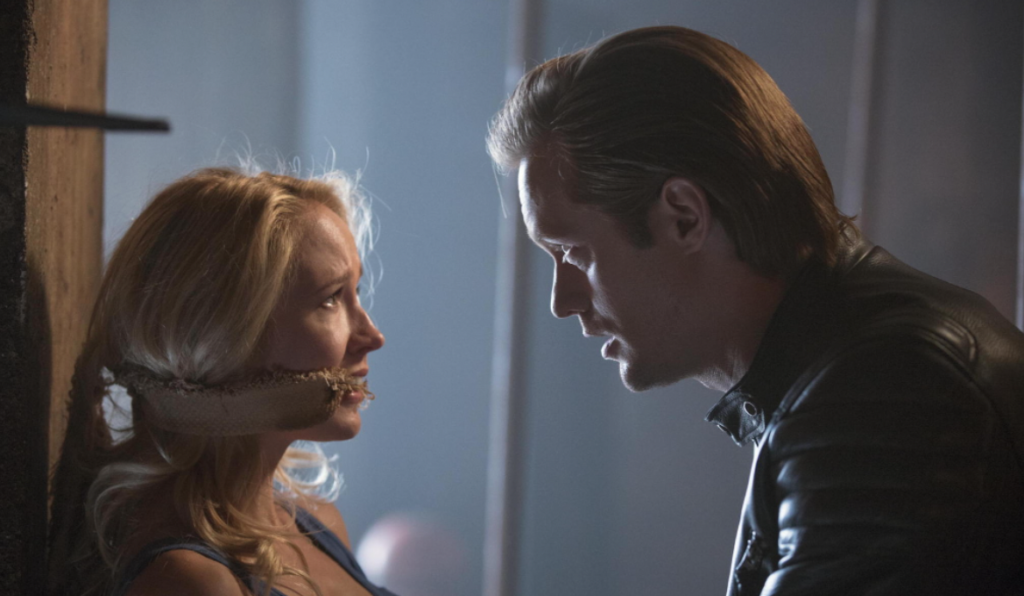 Pam finds Sarah at an amusement park and Sarah begs Pam to turn her into a vampire. This is laughable. Worst idea ever. Pam declines and feeds off Sarah to "vaccinate" herself.
A Marriage
Jessica goes over to Bill's with Hoyt and makes amends with the fact that Bill has chosen to die. Bill asks Hoyt if Jessica is the reason he has decided to stay in Bon Temps. When Hoyt confirms, Bill asks if he ever intends to marry Jessica.
This tailspins into the impromptu wedding of Jessica and Hoyt where Bill is able to walk his daughter down the aisle before his death. It's all very sweet but rushed. I mean, I guess you're not legally married so there are no repercussions, but that was fast (especially for Hoyt – who has no memory of their past relationship).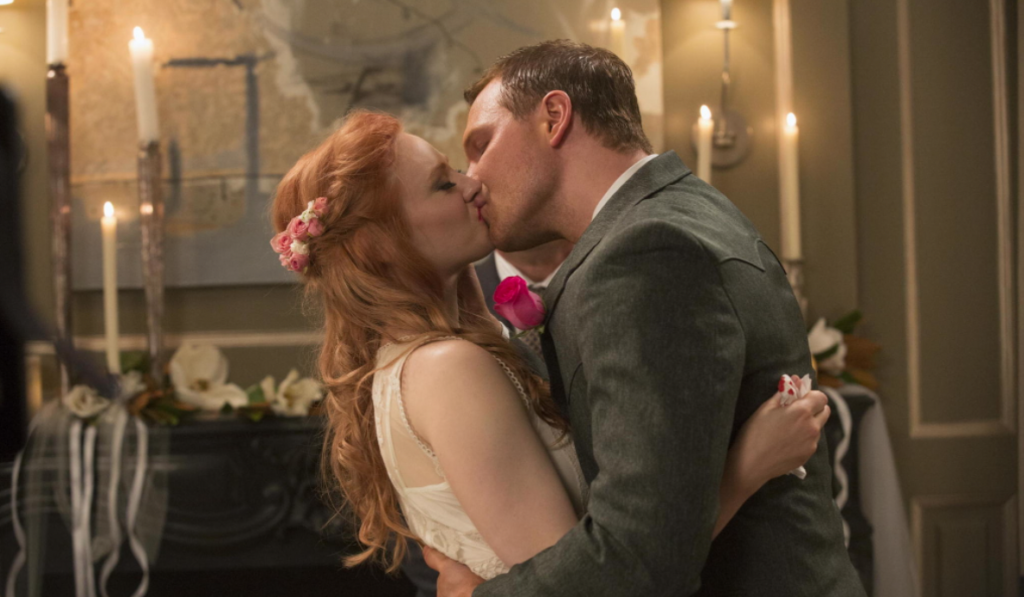 Sookie speaks with Jason at his home about Bill's proposition of her killing him. Jason doesn't give advice and just listens. Sookie lets Jason know that Bridgette likes him – she listened to her thoughts. Sookie gives her blessing even though Jason says he definitely won't be a girlfriend fucker again. Sookie brings up the fact that they just left Jessica and Hoyt's wedding so Bridgette definitely isn't Hoyt's girlfriend.
At the wedding, Sookie heard Bill's thoughts about how he wished a normal life for Sookie because he loves her. He wishes Sookie could experience what Jessica and Hoyt have. Sookie also goes and seeks advice from Reverend Daniels. It's a nice talk where she comes to the decision to help Bill end his life and end her fairy powers.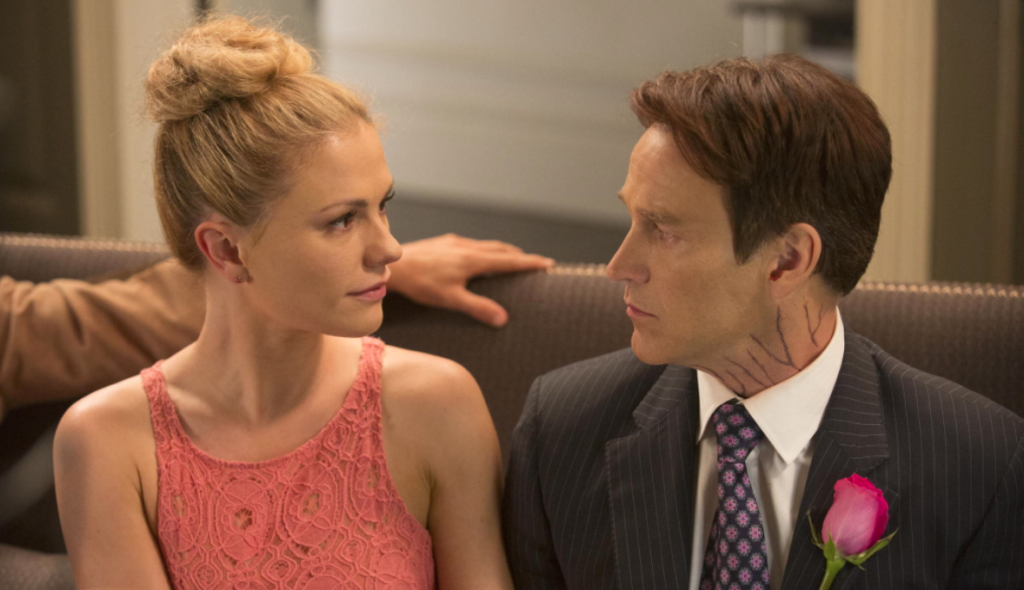 The End
Sookie has made arrangements with the cemetery and she meets Bill there at night. They open his empty coffin that was buried in his place when he didn't return from war.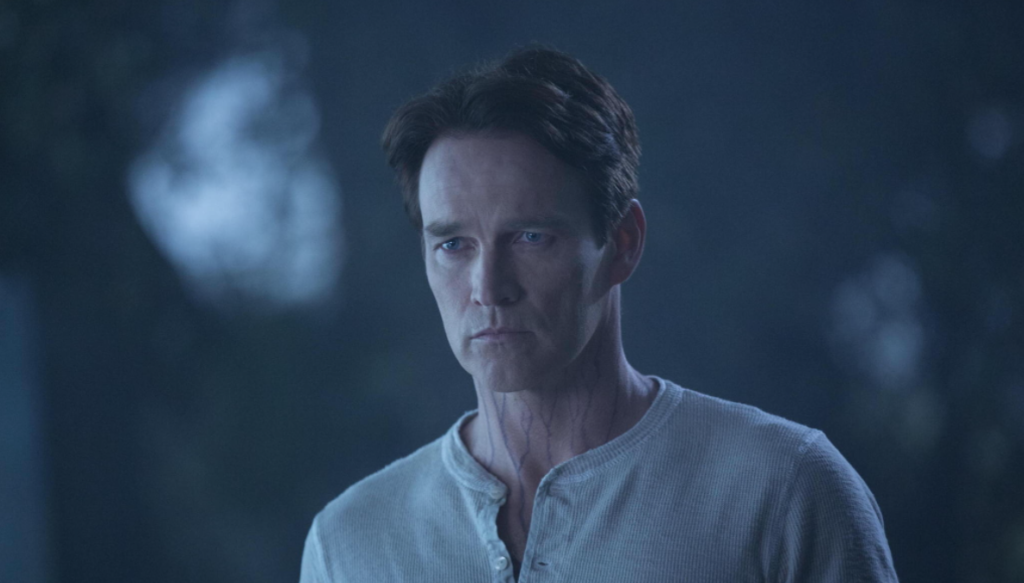 Bill climbs inside the coffin and Sookie summons her light, but is unable to do it, realizing that being a fairy makes her who she is. She climbs into the coffin with Bill and uses a broken shovel handle to stake him. This scene is devastating and Sookie is covered in her lover's guts and his mourning her loss.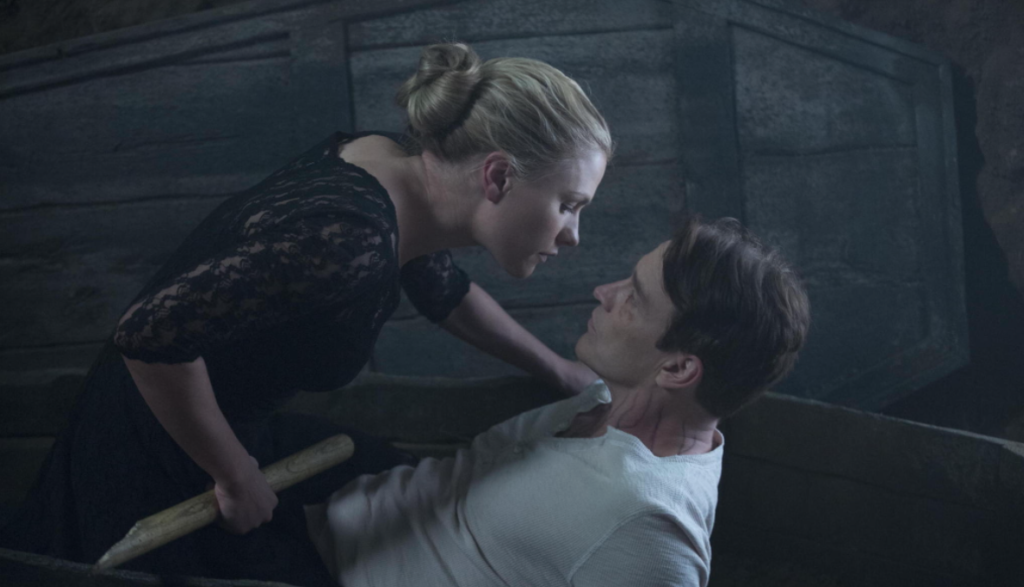 A Year Later
The episode flashes to a year later where we see Eric and Pam filming a commercial for New Blood. They prattle on about how they searched for Sarah Newlin after she swallowed the antidote to Hep-V but could never find her. However, they did find a drop of her blood from a broken windowpane as she escaped her sister's home and they synthesized it into New Blood.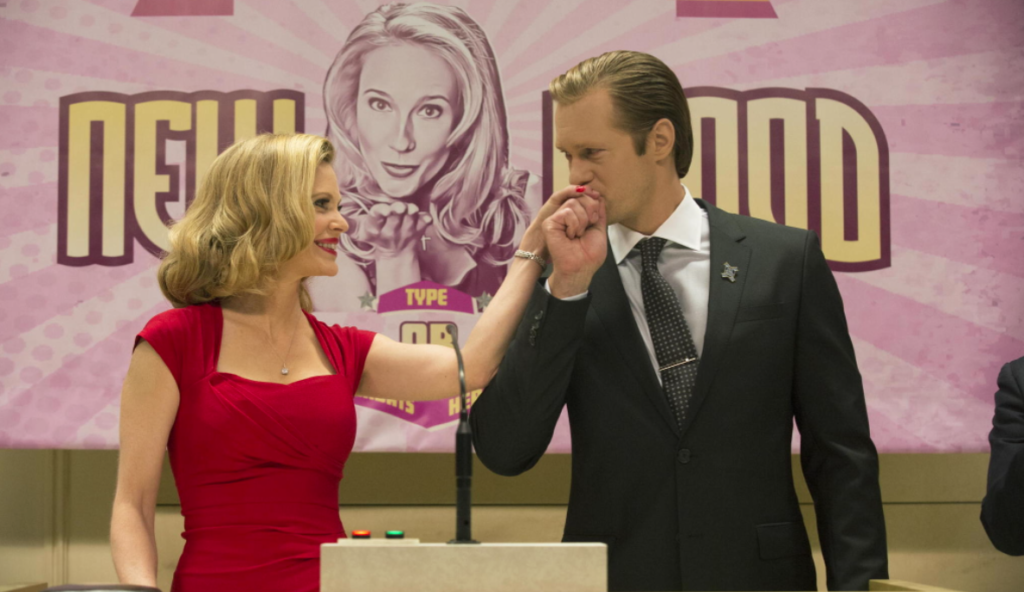 Three Years Later
We cut to Eric and Pam making huge money on New Blood on the stock market. This is a great ending to the pair of our favorite vamps.
That Next Thanksgiving
During the following Thanksgiving, we see Jason and Bridgette with their three children as well as a very pregnant Sookie.
At Fangtasia, Eric is on his throne and Pam is selling 60 seconds with Sarah Newlin and her blood for $100,000 a pop.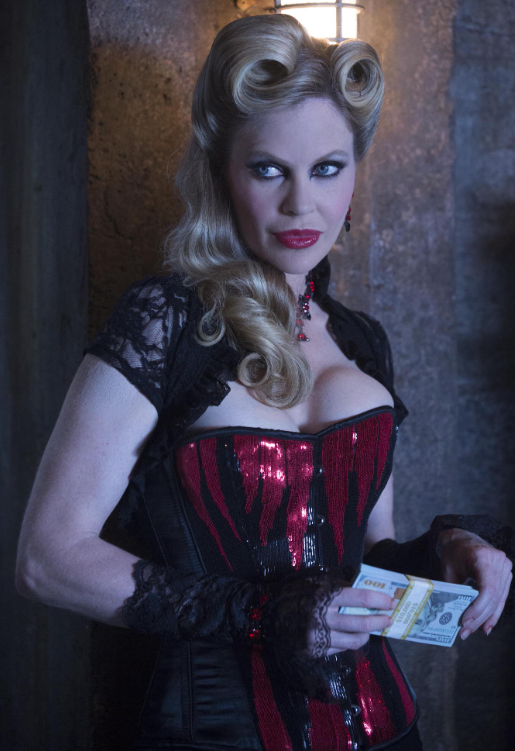 Sarah sees a vision of Steve who asks her what she's thankful for, to which she replies "Nothing." Everything that Sarah got was coming to her and I don't feel bad about it.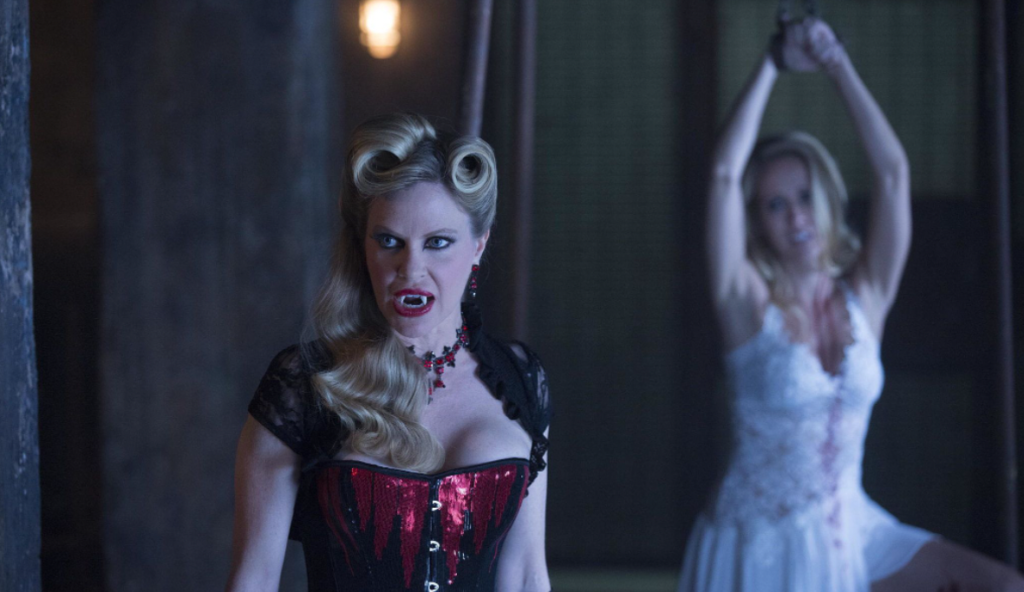 Back at the Thanksgiving feast, we get to see a lot of our favorite couples still together, making a toast with beers and New Bloods. Sookie hugs an unknown man who is clearly her husband as the screen fades to black.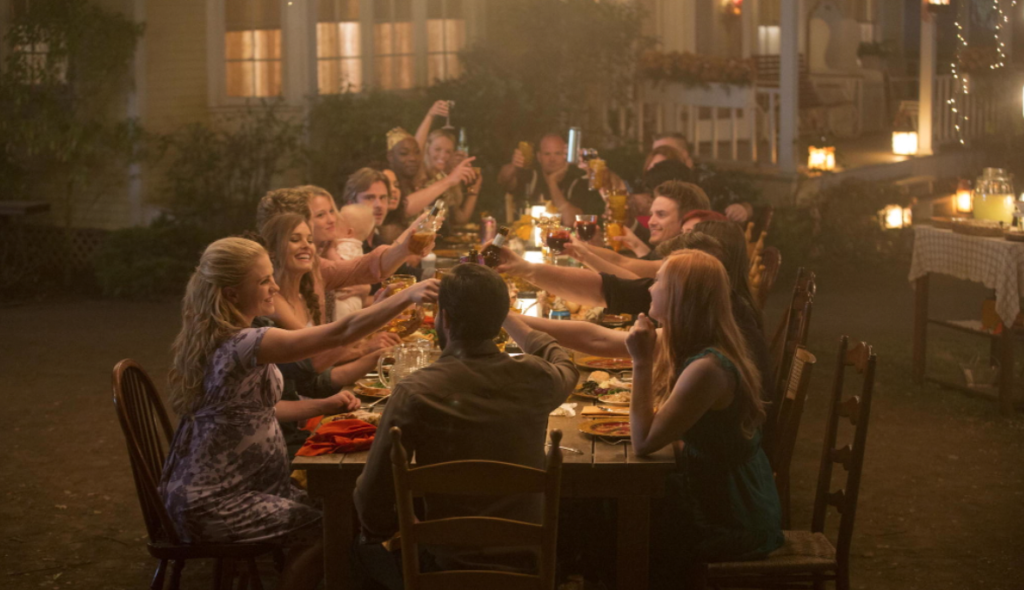 The Verdict
What a great ending to a seriously killer show. The love story of Sookie and Bill is finally complete and I enjoyed how Bill received closure for himself, even if he had to die. Sookie found her own way and did end up happily ever after, as did some of our other favorite characters. This show is one of the best vampire sagas to exist and you can't convince me otherwise. There were only small places in the entire series where I felt bored. I was always throttled by the newest revelation and the story propelled itself. Bravo!

(5 / 5)