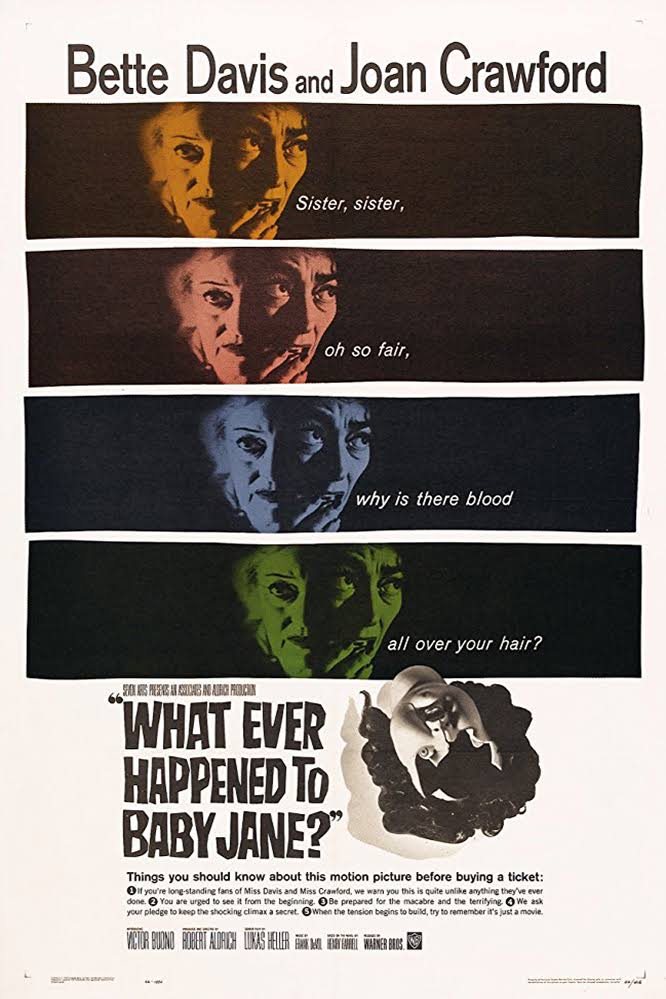 Whatever Happened to Baby (1962) is exemplary in cinematic history – the grotesqueness of a crazed Bette Davis serving a dead rat to her sister, Jane Crawford, has stood the test of time in the horror and cinematic canon. The film focuses on two aging sisters, one a psychotic former child star – the aforementioned Baby Jane – and paraplegic movie star Blanche who has escaped the public after being run over by her sister years before. 
The film was nominated for five Academy Awards and is notorious for its pre- and post-production feuds between the stars. If the gossip interests you, I recommend the mini-series Feud: Bette and Joan by American Horror Story creator Ryan Murphy.
Blanche and Baby Jane
The gothic setting may conjure the thought of hauntings, though this is quickly circumvented by the very real and very haunting Baby Jane who doesn't need a ghost to haunt. The horror is primarily psychological, though despite a lack of blood, guts or demons, it creates a distinct isolation and panic in audiences as Blanche becomes more desperate to escape her sister.
Black and white horror can be difficult for some to approach but I would suggest that making an exception for this film (and Some Like It Hot (1959) but thats for my Marilyn Monroe column). The performances of Bette Davis and Joan Crawford transcend the visual markers of its age. They are fantastic. Actors take note.
You Mean All This Time We Could Have Been Friends?
I highly recommend this film. Whatever Happened to Baby Jane? is a cinematic marvel, both of its time and today. Four and a half Cthulhus out of five.

(4.5 / 5)