When I last left Graphic Content, I had just finished up Sink, one of my favorite horror and crime comics of recent years. Since then, I have also been able to interview the creator, John Lees. Well, we're back with Graphic Content this week, and we will start catching up on the issues released since my previous catch-up reviews of Killadelphia.
So, where does Rodney Barnes' vampire epic take us in this issue?
Killadelphia #21 – "The End of All – Part Three: The Truth"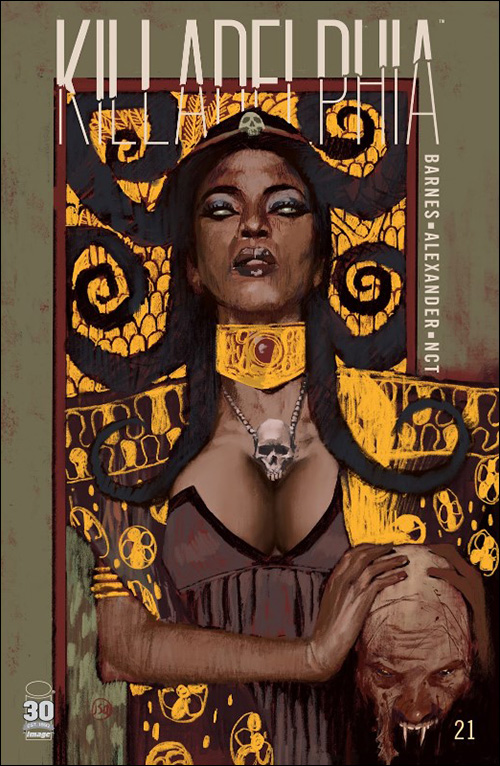 In Killadelphia #21 – "The End of All – Part Three: The Truth," Rodney Barnes' vampire epic takes us from the day-to-day survival of a vampiric Philly to a more cosmic theme involving the origins of humankind and the nature of the universe and a revelation that humanity is not necessarily at the top of the food chain. In hindsight, given the fact vampires exist, this should be a given, but the revelations of the issue go back far further into history than any previous stories, showing the long, long existence of the vampiric race.
Barnes does a good job balancing the high-stakes epic storytelling of two species sharing a planet, and the smaller stakes but equally poignant drama of survivors in an apocalyptic scenario. The issue's b-plot featuring Jose held at gunpoint by a band of survivors with surprising motivations works well against the grander scale a-plot featuring Tevin. The storyline reminds me of "Vatos" from season one of The Walking Dead.
Jason Shawn Alexander's art continues to impress. Though, his art can sometimes grow a little too loose and impressionistic. It fits the series overall, but from time to time, panels can appear a little vague to the detriment of the scene. The looser style of art may work better in the cosmic story, but on the street level, it feels less suitable. My concern is that sometimes characters appear as though they are set against increasingly formless shapes rather than tangible locations.
Overall, we get a good sense of progression in this issue. I know in previous installments, I have been a bit critical of pacing from time to time, but this issue does a great job laying out a distant past while providing a view of the current circumstances in Philly. Introducing another group who makes their appearance and filters out of the story is a solid way to establish the new normal.
Oh, and now there is a vampire hunter in the mix. Things keep getting more interesting, issue by issue.
Final Impressions on Killadelphia #21 – "The End of All – Part Three: The Truth"
An issue that features several surprising revelations on the nature of vampirism and a larger, more cosmic struggle is punctuated by a surprisingly human b-plot and the introduction of a new adversary. Killadelphia #21 is an excellent issue to kick on the stretch of Killadelphia's 20s. Some looser illustrations don't necessarily spoil the moments but manage to distract, however.

(4.5 / 5)
Killadelphia is written by Rodney Barnes and illustrated by Jason Shawn Alexander. Luis Nct handles colors. You can find Killadelphia via Image Comics or your local comic shop.
Amazon Spotlight (Sponsored)
Want more vampiric fun? Consider pre-ordering the Killadelphia Deluxe Edition, Book 1, using our Amazon sponsored link. You'll get an incredible volume of comics while supporting Haunted MTL.