In essence, Killadelphia #1 is a new vampire horror series published by Image Comics set in a vampire-infested Philadelphia. To be more accurate, however, the full title for the current arc and issue, however, is Killadelphia: Sins of the Father – Part 1 – "A Call To Arms." For brevity's sake, we're just gonna roll with Killadelphia.
Writer: Rodney Barnes
Artist: Jason Shawn Alexander
Colorist: Luis Nct
Letterer: Marshall Dillon
Editor: Greg Tumbarello
Faster 'delphia! Kill! Kill!
Killadelphia follows James Sangster Jr., the beat-cop son of a recently murdered detective, as he travels from Baltimore to Philadelphia to bury his old man. The circumstances surrounding Sangster Sr.'s murder are strange, and James Jr. works to uncover his father's fate.
Turns out its Vampires.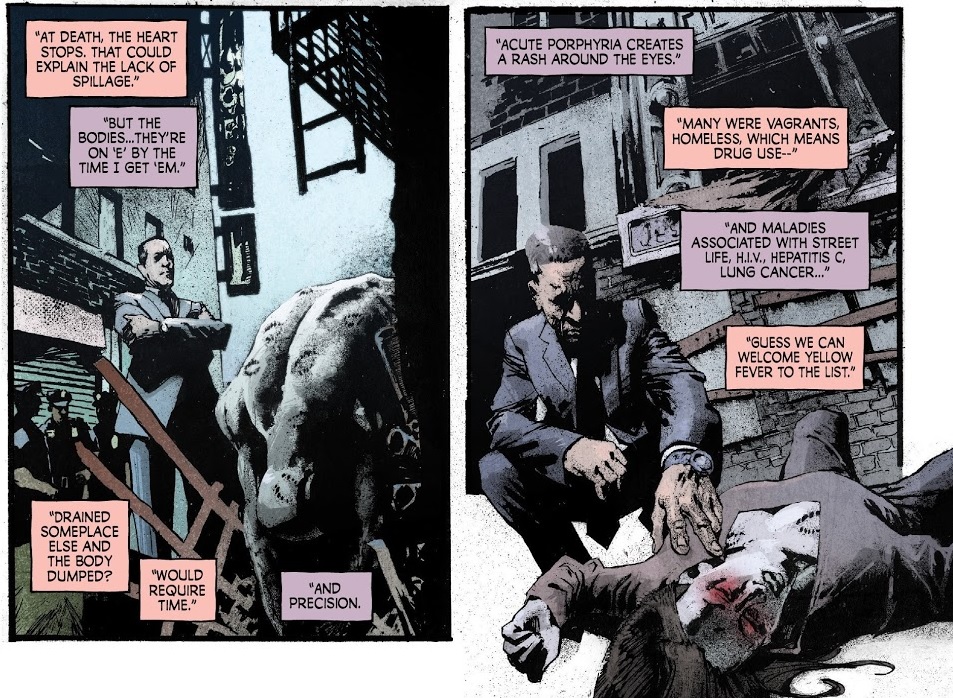 But How is the Book?
Killadelphia #1 is a quality first issue all around. It has some fantastic production values, and most importantly, establishes a lot of fantastic ideas in a trim 20+ pages. The writing is very strong, presenting a nice, gritty street-level horror story involving vampires, cops, and the history of Philadelphia.
Rodney Barnes pens the series. Barnes' previous works include Wutang: An American Saga, Marvel's Runaways, and American Gods on Starz. Barnes' writing combines the supernatural history of the setting with a procedural edge that suits the subject matter quite well. Digging deeper, the series is not exactly solely about Vampires in Philadelphia, but rather it uses vampires to frame a story about how the city has been failed over the decades. The themes are pretty blatant, but never in a way that feels distracting. Both of the Sangsters in the first issue provides important observations about the city and a legacy of violence, poverty, corruption, and brutality of Philly. The introduction of the re-election-seeking mayor, J.T. Gaskins, for example, serves as a tease of something that will figure into the greater story as the series progresses.
As for the vampirism, there are some rather interesting details revealed about how vampires function in this setting. Additionally, there is a surprising historical connection between current vampiric killings in the setting and one of the U.S. Presidents. To say that vampirism hits close to home to James Jr. is an understatement.
How's It Look?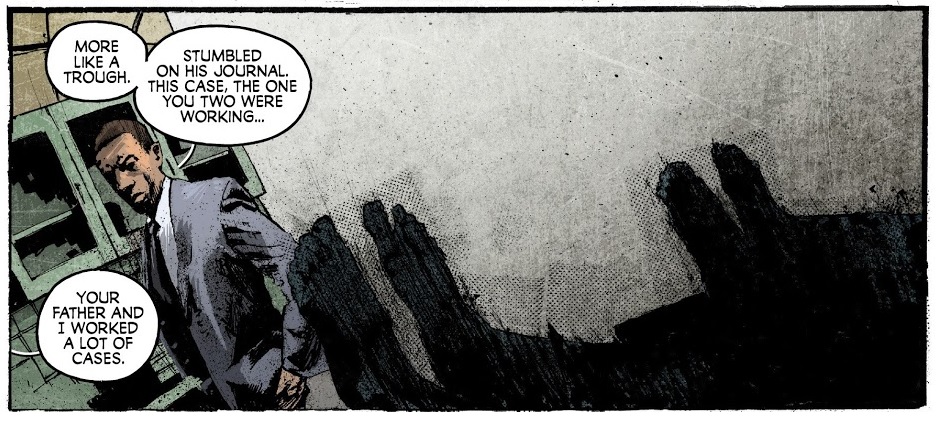 Jason Shawn Alexander (SPAWN) delivers some fantastic, moody neo-noir art with the color assistance of Luis Nct (Empty Zone). The world of Killadelphia is visually-oppressive. For instance, there is a lot of heavy black shadow, punctuated by dribbles and toning of an airbrush. Additionally, colors as a whole are muted, but well handled by Luis Nct. Yet, befitting a story involving vampires, some of the most vibrant colors you'll see across the pages are shades of red.
There is one particularly troublesome element of the production, however. The journal of Sangster Sr. is presented in hurried, cursive scrawl. The decision to do so makes sense, as these are the hurried, secretive scribbles of a detective, but for readers, the journal text is more of a strain to decipher than what is comfortable.
Final Verdict
Killadelphia opens with a pretty solid set of circumstances and ends with a fairly novel reveal. Ultimately, it is too early to tell if this will be a horror comic classic, but it is more than enough to keep track of at least for the first few issues.
(4 / 5)
If you enjoyed this dive into Killadelphia, please continue reading our reviews.