We are back with another batch of horror comic reviews in Haunted MTL's original comics column, Graphic Content. We had a host of horrific new #1 titles to dig up last week; we have three more this week. Do these new comic titles offer something exciting for horror comic fans? Do we have a bold new Lovecraft comic in the rotation? What about revisiting the world of Hellboy, which is a kind of Lovecraft comic?
For the week of Sept. 12th, 2022, we have Lovecraft – Unknown Kadath #1, Castle Full of Blackbirds #1, and The Boogyman #1.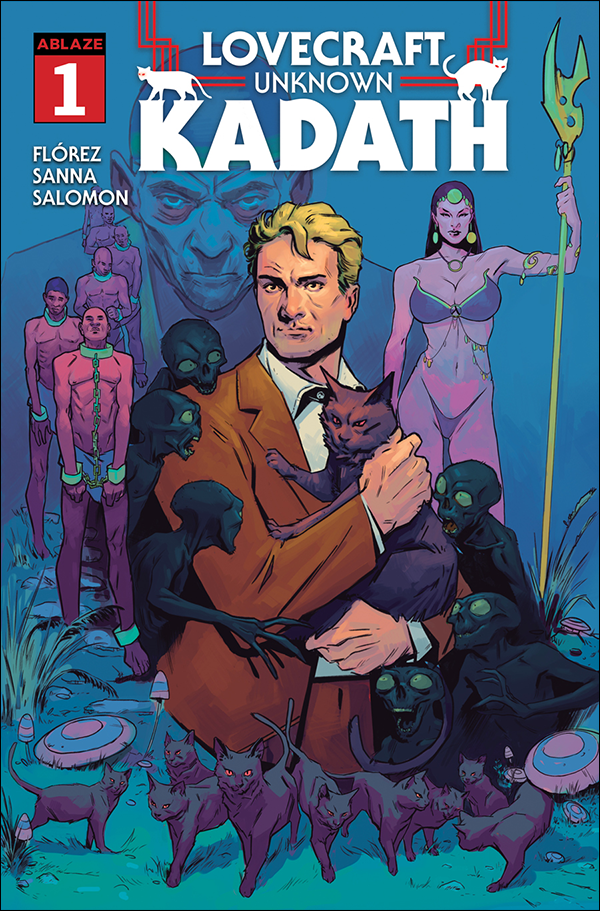 Lovecraft – Unknown Kadath #1 – "Dylath-Leen"
It's always a good day for me when I get to start it off by reading a Lovecraft comic. I also knew I would like this title after the initial pages derive stylistically from Little Nemo in Slumberland. The rest of the comic turned out to be a fun, whirlwind tour of themes and elements of H.P. Lovecraft's work, most notably the character of Randolph Carter, which I enjoyed quite a bit.
Something about Lovecraft's universe lends itself well to severe and psychologically-derived horror. Still, it also makes for fun pulpy-adventure fodder, hence the longevity of the Call of Cthulhu tabletop game. The latter is where Florentino Florez draws his inspiration for his comic, it seems. Florez's writing is solid, and he has created a breezy Lovecraftian adventure I am curious about.
As for the art, the comic opens with a lovely Little Nemo riff and establishes the dreamlike imagery found in the rest of the issue. Artists Guillermo Sanna and Jacques Salomon have created some excellent work here that, to me at least, evokes Mike Mignola in surreality and Hergé in great, lived-in details. I haven't quite figured out each artist's contribution to the overall work, but I am excited to learn more by the next issue.
Impressions of Lovecraft- Unknown Kadath #1
Lovecraft – Unknown Kadath #1 is an excellent start to a series that gives me the 1920s adventure vibes I love in some Lovecraftian adventures. "Dylath-Leen" is a fun Lovecraft comic that evokes the tone and spirit of the dreamlike world that hides Kadath and pairs it with excellent artwork. Florez's writing is well-paced, with enough explanation to keep the reader motivated. Sanna and Salomon's illustrations are equally lovely and horrid as needed.
I am already dreaming of more.

(4.5 / 5)
Lovecraft – Unknown Kadath is written by Florentino Florez and illustrated by Guillermo Sanna & Jacques Salomon. You can find more about the comic from Ablaze or your local comic shop.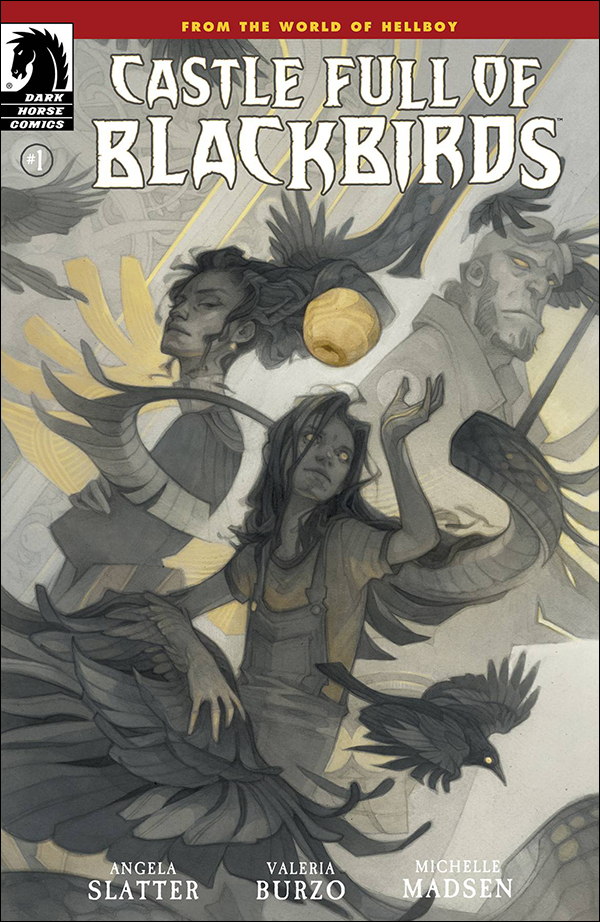 Castle Full of Blackbirds #1
From the pages of Mike Mignola's Hellboy and the BPRD comes Castle Full of Blackbirds. The exponential growth of the Hellboy IP has made it hard for me to keep up, so having not read the prior material leading to this one, I am somewhat new to this side of the larger franchise.
This story is set in the late 1960s, around the start of Hellboy's early career, if I remember my continuity, and follows a young girl named Sara May Blackburn who seeks out a mysterious Linton School for Girls. Readers immediately get the sense there is a lot of background before these first pages, including a flashback to Hellboy himself. Writers Angela Slatter and Mike Mignola provide hints at what has come before, but new readers are likely to be lost as to what is going on. At least I was. Hellboy has always had a problematic relationship with witches at best, so how a school of witches connects to his adventures is enough to drive me forward.
Visually, the comic feels adjacent to what I've seen in the larger Hellboy universe without skewing too hard trying to emulate the angular look of Mignola. Valeria Burzo's art is expressive and textured when needed but is also relatively simple and naturalistic. I am less keen on the colors by Michelle Madsen. They are effective for what they are, but the coloring style feels washed out, and the non-black-filled shading appears slightly muddy. Using gradients in spots is particularly noticeable and doesn't complement the line art.
Impressions of Castle Full of Blackbirds #1
I find myself exploring the Hellboy universe with this new limited series Castle Full of Blackbirds. I am enjoying the ride though this is the most disconnected from the universe I've been. This is due to the sheer avalanche of stories out there right now. The comic serves as an introduction, yes. However, it expects that readers know more than writers Mignola and Slatter are willing to recap. Visually, the art succeeds based on the strength of Burzo's art. Yet, I feel Madsen's coloring choices put a damper on the issue.
I am intrigued, but I worry that the comic may ask too much of new readers.
(3.5 / 5)
Castle Full of Blackbirds #1 is written by Mike Mignola and Angela Slatter. The art is by illustrator Valeria Burzo and colorist Michelle Madsen. You can find out more about the comic from Dark Horse or your local comic shop.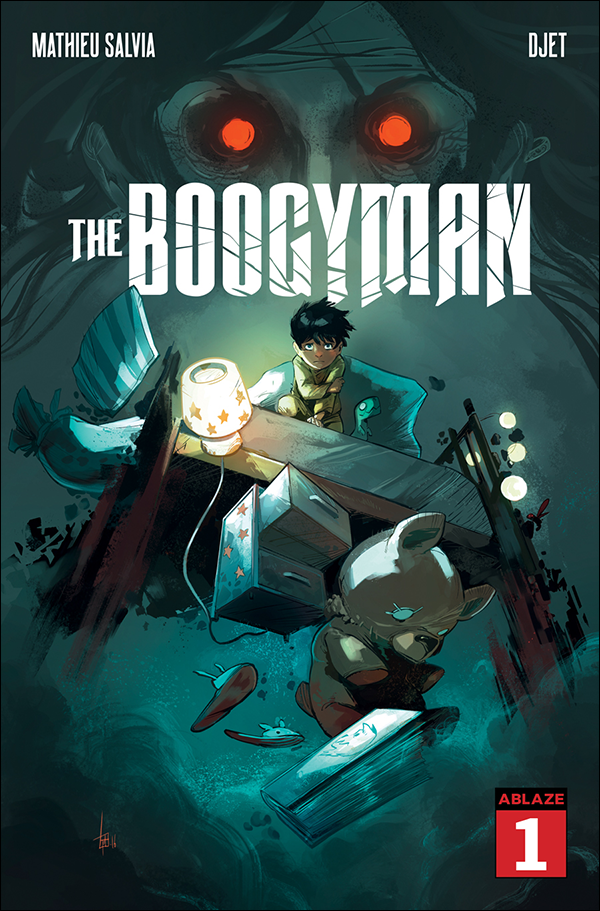 The Boogyman #1
Ablaze has had a terrific week with two intriguing #1s that play with horror themes. I enjoyed the first issue of The Boogyman, and I am looking forward to what is next. I especially like that it presents a Filipino approach to childhood monsters called the Aswang.
Mathieu Salvia had crafted a fun and grim little tale of childhood trauma, murder, and fantastical guardians. Some fun questions arise from what precisely the boogymen are and their purpose that I am eager to see explored. I also find the mystery of Father Death and his relationship to the other boogymen an intriguing hook. I do wonder how far ahead young Elliott's narration comes from, however, because I feel a misstep between what is being presented as internal expression and his status as a child. Then again, I could also be underestimating the mind of a child though, too.
Visually, I think Djet, new to my radar, is just my speed in stylistic expression and detail, finding a real sweet spot in the art for this horror comic. Character forms are overall realistic in their proportions, but stylistic choices give them expressive faces that read well on the page. The level of detail is also lovely overall, with some extra spice when it comes to the nasty, creepy stuff. The sketchy nature of the line art is also complemented well by the coloring choices using some fun lighting overlays and a subtle but effective shading style.
Impressions of The Boogyman #1
The Boogyman looks to be a strong contender for an ongoing horror comic. The juxtaposition of children's fears and what seems to be deeper mythology is compelling enough. The cliffhanger written by Mathieu Salvia has inspired me to await the second issue. I think the artwork by Djet is particularly strong. It finds the right mix of exaggerated expressiveness and serious, grim tones. Consider me intrigued.
(4 / 5)
The Boogyman #1 is written by Mathieu Salvia and illustrated by Djet. You can find more about the comic from Ablaze or your local comic shop.
---
What do you think about this week's assembled comics? There seems to be a bit of a Lovecraft comic theme between the topics of dreams, witches, and Hellboy. Do any catch your eye? Let us know in the comments.