Welcome back to Haunted MTL's ongoing horror comic review feature, Graphic Content. In our fourth installment, we'll be keeping up with John Constantine: Hellblazer and Sink. With previous favorite Killadelphia on break, we're giving a new series a try titled The Grieviling, from a well-regarded horror comic team.
As always, we're always looking for title suggestions. So please let us know in the comments what you'd like for us to tackle.
John Constantine: Hellblazer #6
Issue #6 is a single-issue story titled "Quiet." This issue spends some quality time with John's newest assistant, Noah who has been floating in and out of the hospice care where his mother resides since we were introduced to his character. This episode uses time with him to examine some of the other lives within the ward, but more to the point, provide a glimpse of the ills of society. This issue plays on a larger leftist critique on the Tory government though Noah's own story. This is classic Hellblazer storytelling; monsters and metaphors. The comic turns the satirical eye to a building of the elderly and the infirm, unable to die, turning it into a site of stalking by a ghost, feeding on the lives of the dying.
A ghost that just so happens catches the eye of John Constantine thanks to Noah. While John is quick to figure out what is going on, the day is "saved" as much as it can be in Hellblazer through Noah. John may be forever damaged goods and a right bastard, but something about him seems to make others into better people. It's a quick, single-issue story, but it's fine stuff.
Aaron Campbell returns to art duties and as expected his art is a perfect fit for Constantine's world. The illustrations are about as rough as prior issues, in that the forms are solid but the lines have a rougher quality to them, like a pencil or a pen that is drying up. It gives Hellblazer's London a certain aura. Especially given Jordie Bellaire's coloring style. Characters are given full-color consideration whereas the backgrounds offer more unified and slightly limited pallets. There are, of course, the glimpses of the magical world which have a very painterly and abstracted air to them. The Campbell and Bellaire team-up continues to impress.
(4 / 5)
John Constantine: Hellblazer #6 was written by Simon Spurrier, illustrated by Aaron Campbell, and colored by Jordie Bellaire.
Sink #3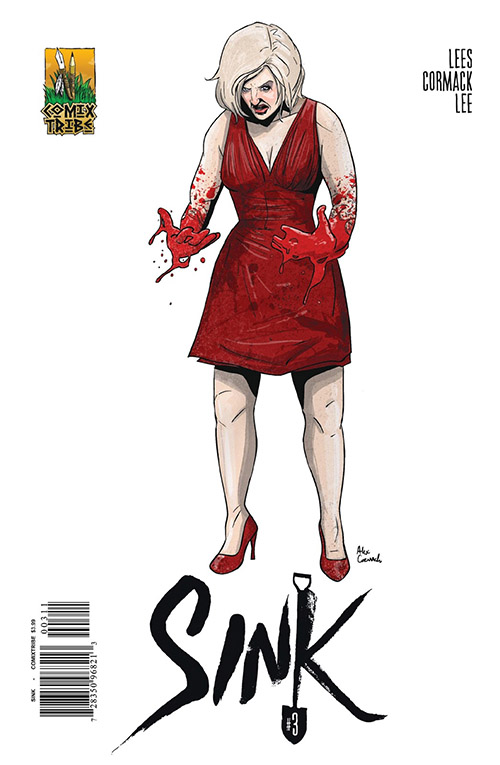 Sink #3 is a story titled "A Head Full of Wasps" and continues the anthologized glimpse at the damaged lives of Sinkhill. This time around, however, the story starts us off in Edinburgh and introduces us to another Sinkhill toughie, but one who has changed significantly in their time away from the neighborhood. The story follows the old killer, at the behest of the children of a recently passed friend, returning for revenge.
It's a fascinating issue revolving around identities, dead-names, and again, as with the prior two issues, the ways trauma manifests within and around people in this community. Also, the clowns are back. Horrifying. While this is definitely more of a crime book, I feel comfortable tackling it as horror. I mean, sure enough, horrific things happen. If you read horror for monsters then maybe with Sink it works because the monsters themselves tend to be so abstract. Sinkhill itself is a monster. Transphobia is a monster. The various horrible bastards of each story are monsters in their own ways.
While each issue has been anthologized in tackling different figures, there are connections being formed. I also hope we see more of Florence again. That's an interesting view of the world I'd love to experience more.
Alex Cormack's artwork here is stunning and the paneling in a particular moment with a shattered glass is fascinating and an example of the kind of visual storytelling only ever possible in comics. Of course, the comic is also suitably bloody with buckets of gore after a particularly brutal bar brawl. Of particular notice are the way Cormack tackles scarred and lacerated hands.
(4 / 5)
Sink #3 was written by John Lees and illustrated and colored by Alex Cormack.
The Grievling #1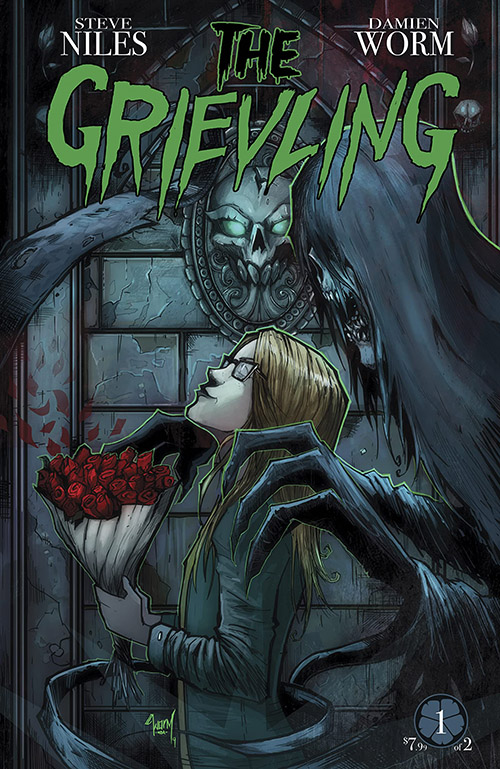 The Grievling is a two-part limited series that pairs horror-comic icon Steve Niles with artist Damien Worm. The first issue is a moody, simple tale of accidental murder and asks difficult questions of the culpability of minors.
Lily is the "weird" girl at her school. The sort of arbitrarily chosen punching bag of the normative-skewing children at her school. Lily's time spent at the graveyard, at her mother's grave freaks out local kids and on Halloween night their bullying of her results in tragedy. Lily comes out of the experience with a new lease on life and a strange new entity along for the ride. It's very much like the first half of a pilot of a Netflix-style drama. It's effective storytelling and there is a good setup to something larger, but it feels extremely calculated. Less a true desire to tell a story on its own terms and more of a desire to have a book to pitch to studios.
Granted, the story isn't bad, and sure enough there is potential for an amazing show, but The Grievling is just a pre-visualization for something else. It's not a comic because it needs to be a comic. It's a marketing tool. It is a fine read, and it is interesting, don't get me wrong.
It just feels so much like a marketing tool. The arbitrary two-issue length seems too calculated and whatever elements that interest most about the concept are not likely to be explored well enough. There is a compelling story in here about the dark side of children but that is likely not going to be explored well enough within two issues, leaving the antagonist children as just hollow characterizations of kids gone bad with little of the exploratory depth the characters deserve. Hell, Lily's relationship with her father and the tragedy within her family also need room to breathe, but two issues just does not seem like enough space to tackle that.
Damien Worm's artwork is great for the material and it's no wonder Niles and Worm have continued to work together. They seem like a perfectly aligned creative entity. Their previous work on The October Faction is well regarded, and Worm's style delivers for the story playing out in the first issue.
I just wish the end product didn't feel so calculated for a Netflix deal.
(3.5 / 5)
The Grievling #1 was written by Steve Niles and illustrated by Damien Worm.
---
Stay tuned for another installment of Graphic Content this month. If you have a comic you'd like to see us cover please let us know!