Well, it took a bit, but I am back to reviewing comics here at Haunted MTL. I am wanting to tackle a few titles, but my previous style of long reviews, while fun, isn't super conducive to that.
So, welcome to Haunted MTL's Graphic Content. Here I will review two or three titles in one go. The aim is to post a couple of comic review updates a month. On that note, I am always on the lookout for new titles, so please drop a title you want to see me cover in the comments.
So, let's dive in. This week we are covering the continuing adventures of John Constantine and taking another trip to Killadelphia.
John Constantine: Hellblazer #3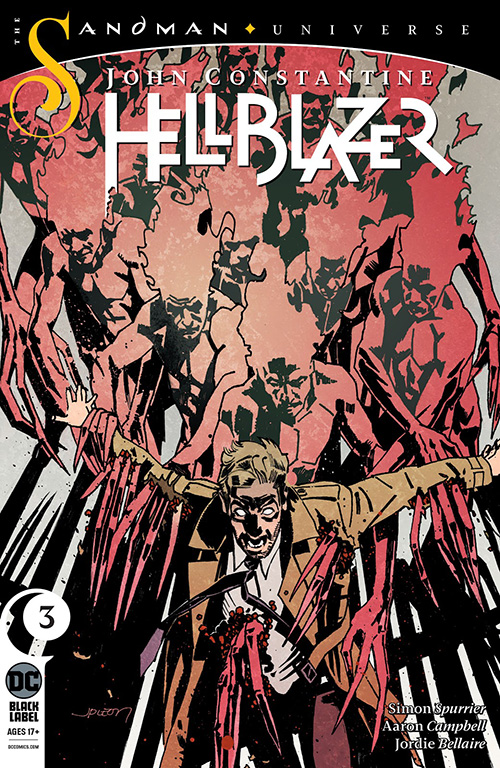 Where we last left John Constantine he was dealing with invisible angels. This time around he confronts Tulpa magic and faces complications in the form of the street gang he is working for on behalf of his new assistant, Noah.
Spurrier's writing and plotting still very much evokes some of that 1990s Hellblazer goodness. I am still very much entranced by the London being shown in this title, though the slang can, at times, feel a bit overwhelming. It takes me a little more time than I'd like to parse out some of the sayings, but I am glad to say three issues in that that is definitely less of an occurrence. I do worry the comic might be tapping that well too deeply, however. Regardless, the surrounding cast including Nat and the phone-bound demon Vestibulan are adding a lot of texture to the story.
The art continues to impress as well. One particularly poignant moment of loss, fallout from the cross-universe shenanigans of Constantine's past is rendered with the requisite amount of heartbreak. Hellblazer's London is still suitably grimy and there are some particularly fun shots present. A bit featuring British Sign Language takes full advantage of the displaced timing present in comic framing.
Ultimately, this storyline seems to conclude with the simple act of John leveraging his different sources and using words to solve the crisis at hand. It is all very on brand.
(4 / 5)
John Constantine: Hellblazer #3 – "A Green and Pleasant Land, Part Three" was written by Simon Spurrier, illustrated by Aaron Campbell, and colored by Jordie Bellaire.
Killadelphia #4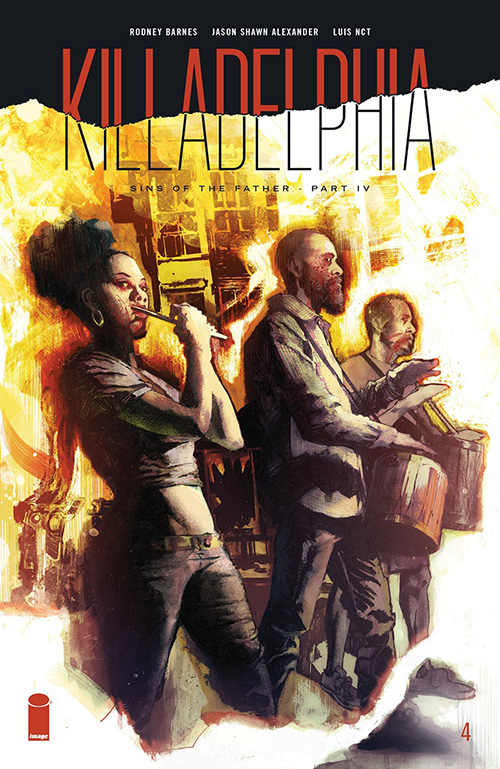 When we last left off with Killadelphia we learned a lot about the secret vampiric history of the United States in a very satisfying third issue. This week we continue the "Sins of the Father" story arc with the fourth part, "… Cry Out for Revolution." Killadelphia has had three strong issues out the gate, but can that continue into the fourth issue?
Killadelphia's fourth issue begins with the crisis of Philadelphia's secret vampire population engaged in large scale attacks against the population. These scenes of carnage are rendered beautifully. Barring some unusual discrepancies in how characters appear from panel to panel, the overall issue is visually stunning.
The characters continue to prove compelling. The modern, vampiric take on John and Abigail Adams, in particular, are striking antagonists. Yet I am less sold on another key pairing. It takes a romantic turn and for me, it seems a bit fast. Despite that, I have found most of the story to progress appropriately even with the added impetus of the vampiric attacks.
The fact I am getting to this issue as late as I am, given the current unrest and protests against law enforcement around the US carries extra resonance here. The fact that the primary protagonists represent two generations of law enforcement and the vampiric population is largely comprised of people of color definitely provokes something uneasy. Particularly when the reluctant vampire, Tevin, talks to Sangster Sr., asking of the now-vampiric detective "How do Police see people like me?" Sangster Sr.'s response is disheartening and unsurprising: "As the enemy." And no, he just doesn't mean in the undead sense, here.
I think Killadelphia is an important horror comic right now. That is not to say that it wasn't already important, but Barnes and his team have done a great job dealing with very tough topics. Keep them coming.

(4.5 / 5)
Killadelphia #3 – "…Cry Out for Revolution" was written by Rodney Barnes, illustrated by Jason Shawn Alexander, and colored by Luis Nct.
---
See you soon for another installment of Graphic Content here at Haunted MTL.