We are finally back with "Just Swamp Things." In case you missed it, last week, I reviewed three horror comics in Graphic Content #31. I decided to take this week to revisit one of my favorite comic book series ever. We last tackled this comic in Graphic Content #19. I am glad to be back at it here to cover issue six of the original 1970s run of Swamp Thing from DC Comics.
Swamp Thing #6 (October 1973)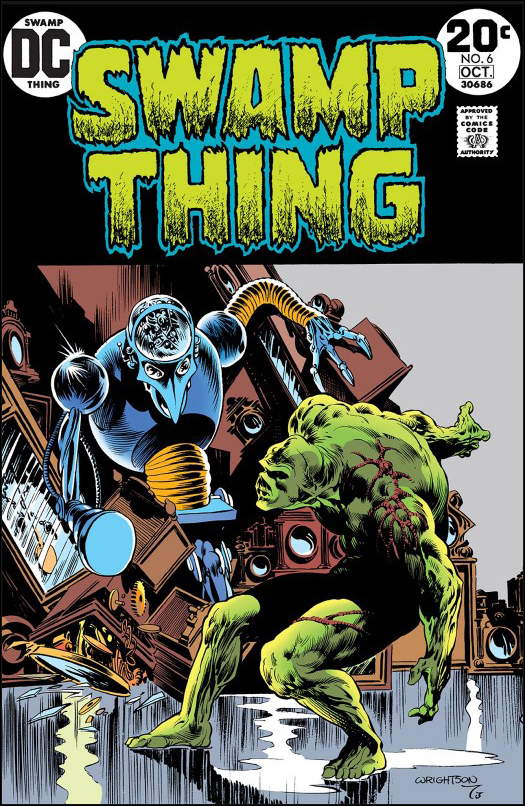 "The Clockwork Horror" offers a strange little tale of Swamp Thing in a Swiss village and his encounter with The Conclave's Task Force Four. Plus, there are robots and heavy German accents. This is a weird one.
The sixth issue of Swamp Thing was published in October 1973. This issue continues the legendary pairing of Len Wein as the writer and Bernie Wrightson as the artist. Wrightson also colors this issue. As for our other contributors, Gaspar Saladino handles lettering, and the editor is, naturally, Joe Orlando.
You can, as always, find this issue in the Swamp Thing: Dark Genesis collection. Please order it through your local comic shop!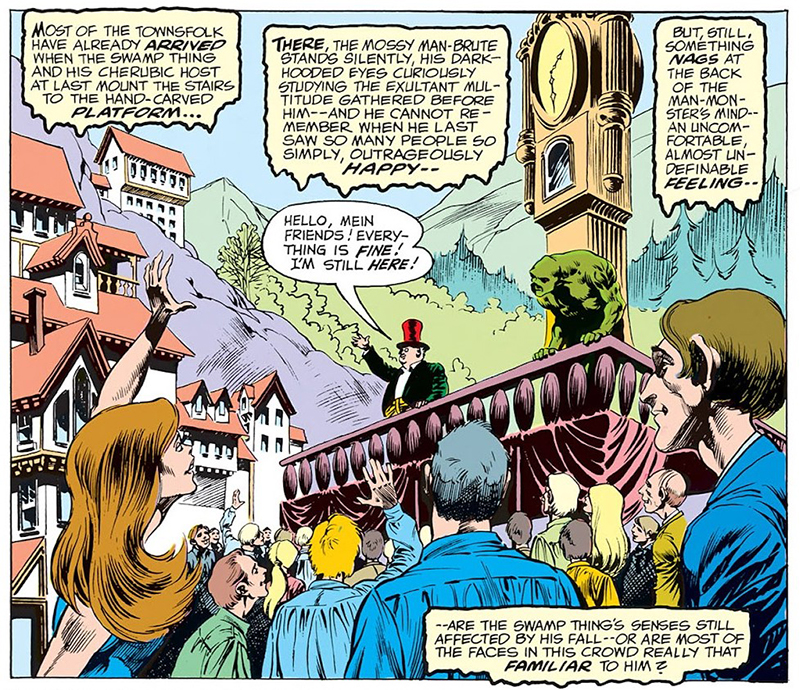 Swamp Thing #6 – Issue Impressions
"The Clockwork Horror" finds Matt Cable and Swamp Thing on a collision course in a strange Swiss village. The village, Bürgess Town, VT, is in the middle of nowhere. Their chance crossing, however, is disrupted by The Conclave. Meanwhile, Swamp Thing struggles with seeing robotic duplicates of Alex Holland and Linda Holland, opening all sorts of wounds.
Swamp Thing #6 is a largely silly affair, but it carries a level of pathos associated with Swamp Thing throughout the run and some moments of genuine sadness. Yet, it is also about Swamp Thing and Matt Cable arriving at the same clockwork village in the middle of nowhere where costumed gunman slaughter the town of robot people. All that, plus, Swamp Thing gets his dog back! Early Swamp Thing is fascinating.
Of the run so far, this is probably my least favorite issue as it arrives at the border of "a little much." I also found the execution of the ideas to be a bit lacking. That's not to say this is a bad issue, either. There is a lot to admire here. I appreciate the first major showing of The Conclave in force, even if their look is a bit ridiculous.
Plus, the issue ends us at an intriguing spot. Swamp Thing is heading to Gotham City.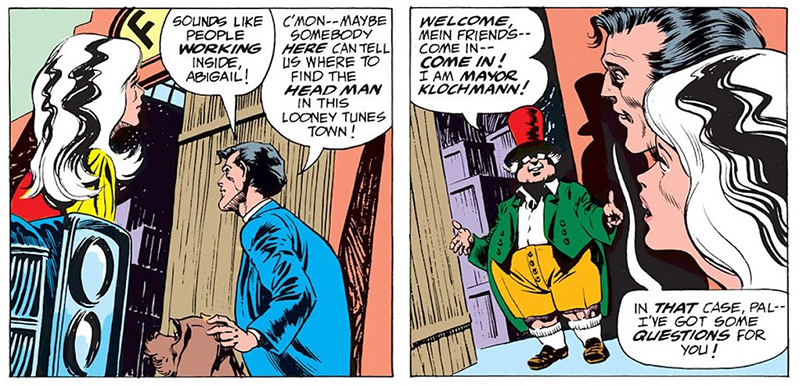 Developments
The characterization remains strong in this issue, with emphasis put on Matt Cable's continually unwinding mental state in his pursuit of truth and the emotional toll Swamp Thing's life has been on what is left of the psychic imprint of Alex Holland. The story also gives them satisfying emotional developments; Matt is given evidence of a deeper conspiracy and that he is not obsessing, whereas Swamp Thing gets another chance to be with Linda, of a sort, and must struggle between his desires and his reality.
Unfortunately, Abby Arcane doesn't get much to do; she is reduced to a sounding board for Matt Cable to be angry and frustrated and ask questions for the audience. I am eager to see her role expand and begin her bond with Swamp Thing because, at this point, she serves little purpose beyond being beautiful. Mayor Klochmann is every bit as ridiculous as you'd expect, down to the heavy German accent.
The robotic body Nathan Ellery controls also allows him to mock and taunt Matt Cable and Swamp Thing, indirectly allowing them to encounter their nemesis. Bernie Wrightson's robot design for Ellery is straight out of the 1950s B-movie style, and I really appreciate that approach, especially in contrast with Klochmann's robotic citizens. Those robots look human, even down to skeletal-like structures rendering the visuals of charged, smoldering robot skeletons evocative of the genocide it technically was.
Goddamn, Bernie Wrightson is good.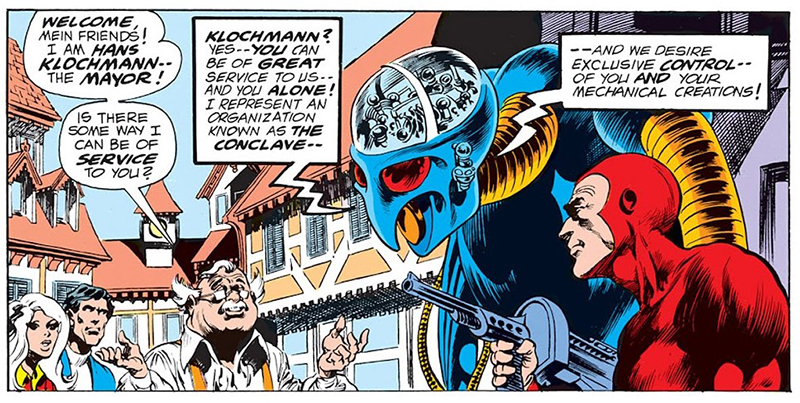 Swamp Seeds
These are some general notes and observations about Swamp Thing #6 I want to make. I have a few notes about continuity here, as well.
Mutt continues to be a good boy doing bad things. He is now with Swamp Thing but still seems to be bugged by The Conclave.
Matt Cable's desk is a clever way to handle the credits for the issue while showcasing his apparent obsession.
We even see Maxwell Ferrett in issue #1 appear in a dossier on the desk. Very fun.
Less fun is that this is the first and only appearance of Bürgess Town, VT, and its residents in the DC Comics canon, as they are all wiped out by the end of the issue.
Next time, we'll see the first encounter between Swamp Thing and The Batman. The connections of Swamp Thing to DC's larger canon would become cemented then, rather than just oblique references.
One of my sources for tracking some of this stuff has been the DCU Guide. I only have so much memory devoted to some of this stuff.
---
See you next week with a batch of comic reviews for Graphic Content. Thanks for checking out this installment of "Just Swamp Things." Please let me know what you think. I would love to hear from other Swamp Thing fans about my impressions of the issue.