Welcome back to Haunted MTL's ongoing horror comic review feature, Graphic Content. In our third installment, we'll be keeping up with John Constantine: Hellblazer, Killadelphia, and Sink.
We're always on the lookout for new titles to cover, so leave your suggestions in the comments.
John Constantine: Hellblazer #5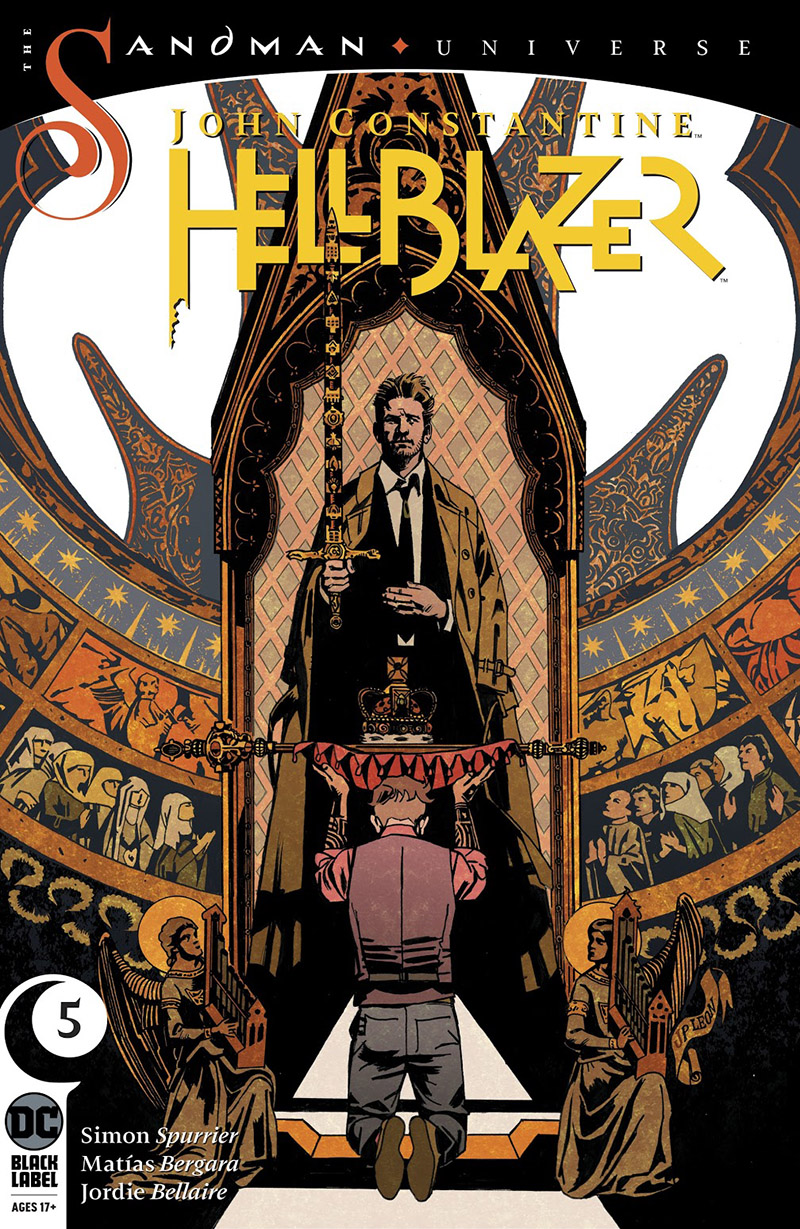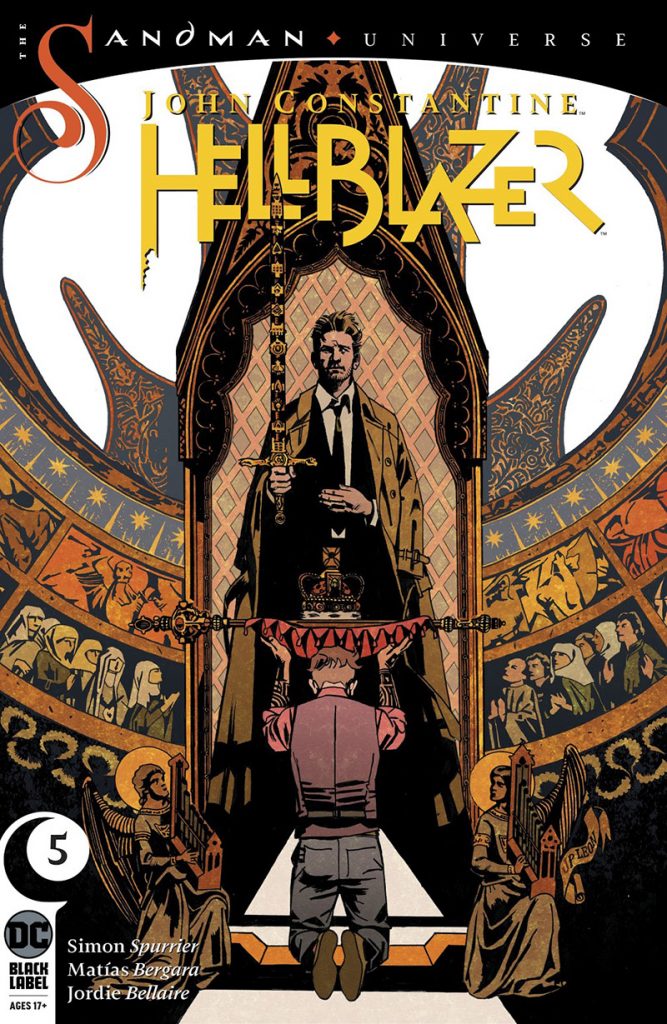 This issue we continue to spend time with John's current generation of characters while also dipping back into the past. For fans of Vertigo's run, a familiar set of names should prove exciting. It has been fun to see the new-world magic butt up against John's old-world magic. Even back then, however, John was a rebel, so his positionality in the magic world allows him to bridge a gap and highlight what seems to be the idiosyncrasies of both eras in a fun way.
John's old Vertigo-era contact, Clarice Sackville, pops up to let John know about something key, a prophecy of sorts: the final death of John Constantine is approaching. Particularly entertaining is Clarice playing on John's ego with expertise. As for Map's fate, we'll need to stick around for more information.
Also enjoyable? John's frustration with Tommy Willowtree. What is especially fun is the polyamorous representation in the book with John, not a stranger from sampling carnal delights from anywhere he can take them, even a bit shocked by Willowtree's more modern concept of relationships.
What has been most fun about this current arc is a sense of growth in John. When it comes to comics from "the Big Two" progression in characterization is often something that is temporary at best, and non-existent at worst. With John Constantine: Hellblazer, we've managed to see John grow in significant ways, and this issue may be the most substantial example of that with him putting aside his own crap and supporting someone else that is not an immediate benefit to himself.
This is, unfortunately, the last issue with Matías Bergara on art duty. His style may not be what one immediately thinks of for Hellblazer, but I appreciate the look and it worked perfectly well for what the story was. It wasn't necessarily that this arc, "Scrubbing Up" was a light sort of story, but it was certainly a bit more whimsical than what one may expect. Bergara's work was solid and he is definitely in a short-list of artists I would love to see on the book again.
Five issues into Hellblazer and I am still very much looking forward to each and every installment.

(5 / 5)
John Constantine: Hellblazer #5 was written by Simon Spurrier, illustrated by Matías Bergara, and colored by Jordie Bellaire.
Note: As of this installment of Graphic Content, John Constantine: Hellblazer #5 does not seem to be listed on DC's website.
Killadelphia #6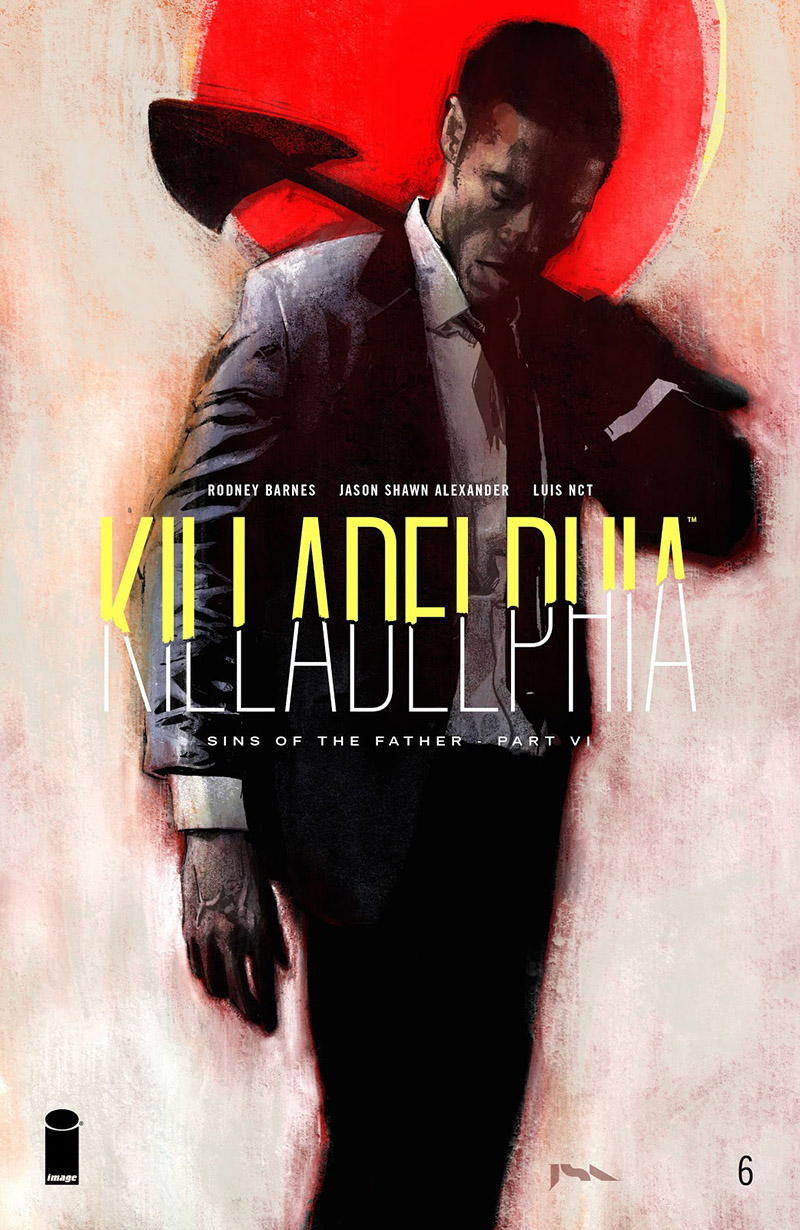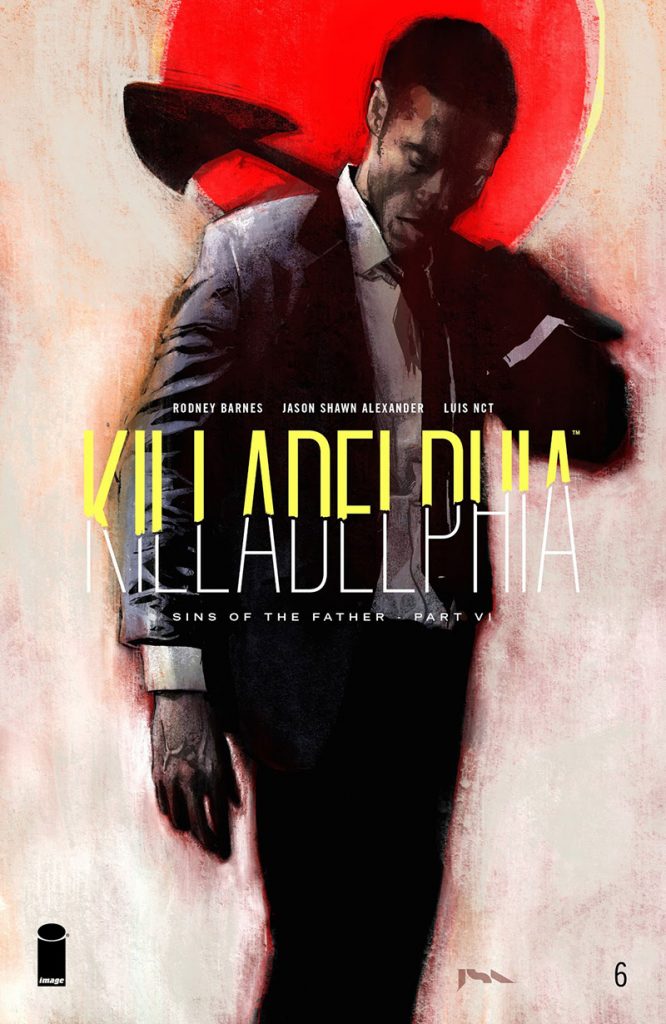 We conclude the first arc of Killadelphia with this sixth issue, "Sins of the Father Part VI, For God and Country." Does one of my favorite horror comics around stick the landing?
Overall, yes it does. This issue does a great job of presenting a level of finality while leaving the series open to move forward, as one would hope. Yet, I have my quibbles, but it is fairly minor stuff. My main concern is the vampiric "battle" that wraps up Adams, John Sr., and Tevin's plotlines. I'm not really a fan of big, flashy vampiric powers and while I think Killadelphia as a whole presented some great vampires, I am not the biggest fan of what feels like a DragonBall Z kind of beam combat. It just doesn't feel appropriate for the tone of the book.
Also, having the complete volume, I can safely say that I wish the series was a little less compressed. Specifically, I think two more issues might have fixed some overall pacing that I see going on now with the entirety of the volume available. This is all hindsight, of course.
What I am intrigued by most regarding this issue, though, is where it leaves the series going forward. Two particularly key figures seem to be gone, now, and while I am concerned about their absence, I am also intrigued by the potential in the shakeup of the world. Particularly given the rather public appearance of the vampires as the book progressed. This has the chance to really alter the landscape of the book and Philadelphia itself. Overall, as a first volume, it is very satisfying and I am very much eager to read volume two.
From what I have gathered, Jason Shawn Alexander will be continuing art duties going into volume two, and I am highly pleased by that. I've written quite a lot about Rodney Barnes' storytelling here, but Jason Shawn Alexander's artwork is a pretty perfect vehicle for what Barnes is doing. In one of my first reviews of the series I spoke about a level of grittiness to the artwork, and the series has not only kept that consistent but also refined it. This is a great looking book, and volume two should maintain that trend.
I also should mention the great coloring choices by Luis Nct. The palette is very subtle with a heavy emphasis on reds, as one would expect from a vampire book, but the usage of those reds is particularly skillful across the first volume.
It's going to stink not having Killadelphia to read in my monthly pull from my local comic shop (shout out to Digger's Comics!) but I am glad there will be more in the near future. As a whole, I think the first volume stands out as one of the best vampire comics I have ever read, despite some minor issues I had here and there.
(4 / 5)
Killadelphia #6 was written by Rodney Barnes, illustrated by Jason Shawn Alexander, and colored by Luis Nct.
Sink #2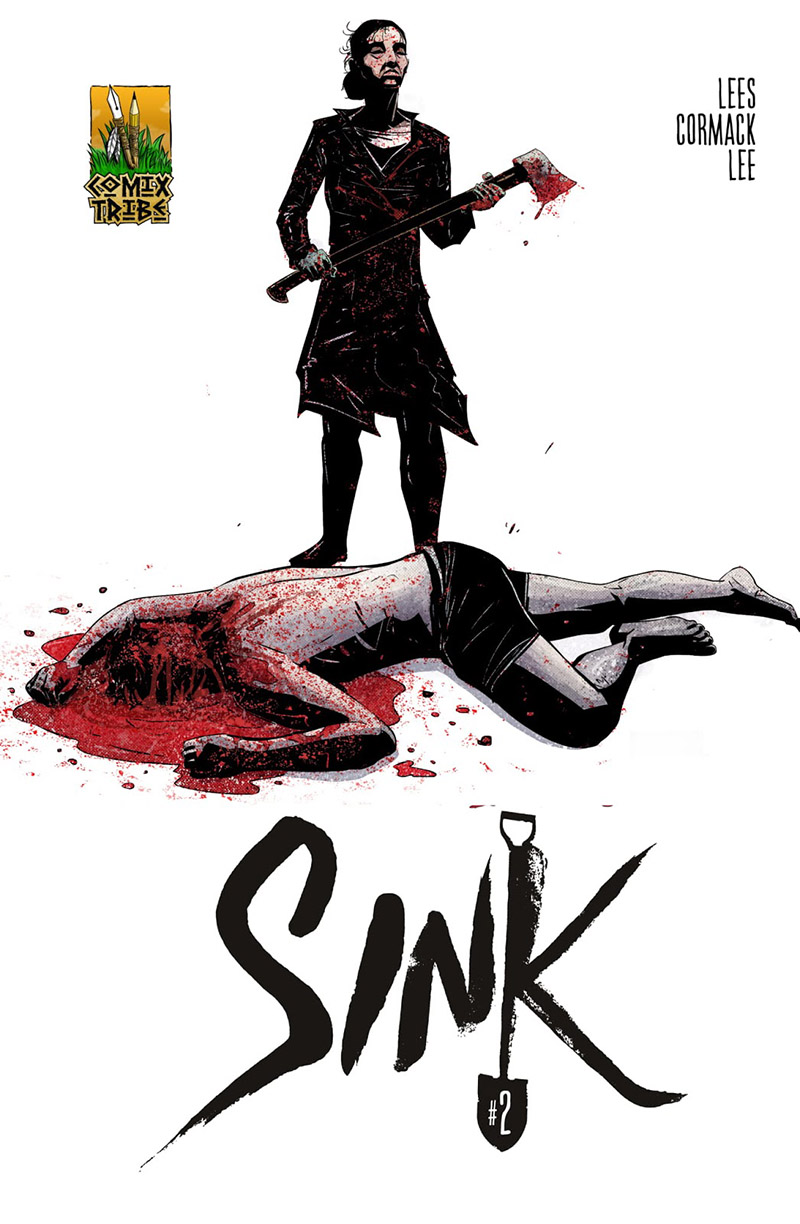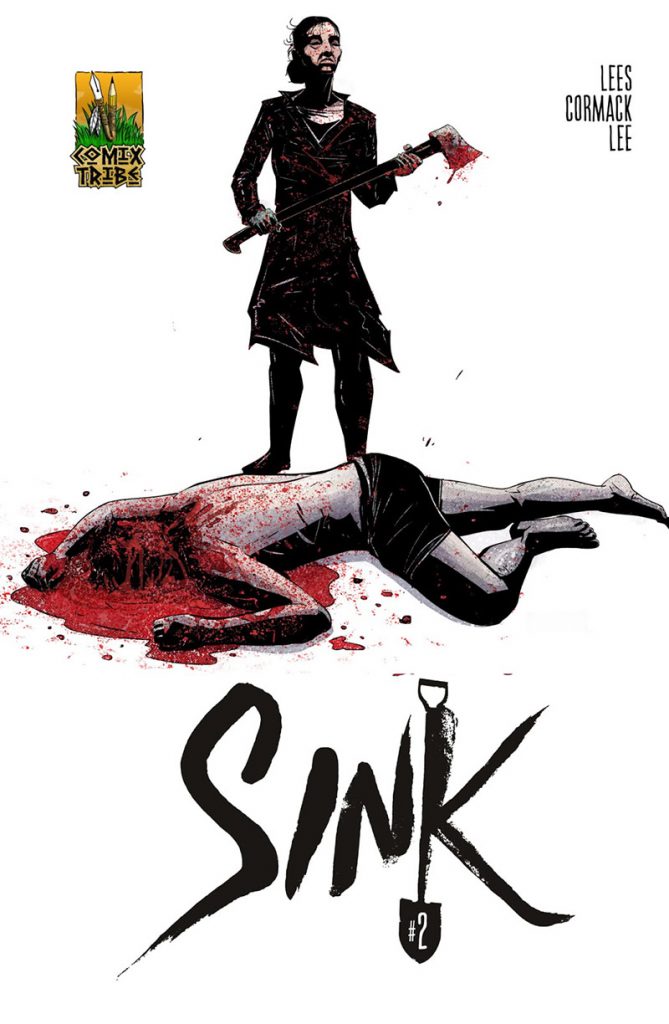 I enjoyed how utterly messed up the first issue of Sink was to keep reading it. Sink #2, "The Door at the End," is more of the same, so your own mileage may vary if you would be down for it. For someone like me, it is a perfectly fun comic. I am still having a little trouble with some of the Glasgowisms present, but we can chalk that up to my being an ignorant American.
The series, at least going off of the first two issues, feels anthologized. Different slices of a fucked up, hyper-violent Glasgow. This time around we follow the fallout of a Ménage à trois gone horribly, violently wrong through the perspective of a new character. This new character, Sharon, is a fixer of sorts who hails from Sink Hill, the neighborhood that gives the series its name. She arrives to dispose of a corpse.
Only what was dead doesn't seem to stay dead in this case. Or does it? What follows is a dance party with an apparently homeless man, a discussion of a really messed up dream, and a surprisingly effective fake-out.
It's all very moody stuff but there is a certain catharsis in that. Sink isn't a feel-good story and among the selections in this installment of Graphic Content it has the distinct vibe of feeling hopeless, in a way. That's not a bad thing though. Sink seems to be a series of feel bad stories but that is not meant to disparage what is going on in them as the stories are very much rooted in exploring trauma… just violently. John Lees seems to be looking at a very damaged place that just seems to try to sort that damage by inflicting more damage and it's a good read. Very sad, but good.
Alex Cormack's art is well suited to this type of storytelling. It's a broader, cartoonier style than Jason Shawn Alexander's work in Killadelphia, but it has the same sort of overall grunginess. Sink is a rough read about a rough place, and the visuals are just as rough. It all fits.
Overall, Sink is shaping up to be a fun anthology series. It's definitely made for an interesting portrait of Sink Hill over the course of two issues, and it makes one wonder what other stories lurk in that seedy, violent neighborhood.

(4.5 / 5)
Sink #2 was written by John Lees and illustrated and colored by Alex Cormack.
---
With Killadelphia on a break, looking forward to a new title entering the mix with Graphic Content #4.
Agree or disagree with the reviews? Have a title you think I should cover? Let us know in the comments.
A Murder in Reverse: "Wrong Place Wrong Time"
The Plot
"A brilliantly genre-bending, mind-twisting answer to the question How far would you go to save your child?"  — Ruth Ware, #1 New York Times bestselling author
Jen watches her son murder a stranger. Stab him to death. She and her husband, Kelly, watch as their son Todd is taken into custody.
The next morning, Jen wakes up and it's yesterday. Jen knows that at the end of the night, her son kills someone. She is determined to stop it.
Jen goes further and further back in time trying to discover why Todd murdered a stranger and how to stop it.
The Verdict
This book is twisty. Right when you think you know the ending, something else is there to prove that the story is more multifaceted than that. While the premise of the novel is simple, Gillian McAllister elevates a simple concept with deep, dark twists.
It is best that you don't know too much going into this one. For fans of Blake Crouch, this is such a good thriller with time travelling vibes.
(4 / 5)
Woom: An Extreme Horror Novel
"That doesn't invalidate it," Angel said. "There's no statute of limitations on pain."
The Plot
Angel is a man who knows pain: physical, mental, sexual. The story begins with Angel visiting Room 6 at the Lonely Motel and ordering a plus-size sex worker to his room. What comes next is Angel's retellings of painful stories while performing sexual acts on the sex worker, Shyla.
The novel reads as a book of short stories, as Angel relays stories to Shyla and she tells him stories back. This is a novel of pain and disgust. Angel's stories are so dark and traumatic that Shyla can't believe they are true. As Angel bares his soul, we see a side of him that is melancholy and unable to process hurt in a natural way.
The Verdict
This novel is full of disgusting visuals and isn't afraid to get dirty. This truly is an extreme horror novel. As a warning, there is discussion of feces, blood, rape, sex, and body horror. This novel is not for the faint of heart. You'll close this short novel feeling dirty. Angel is a character that begs for sympathy while his stories narrate that he may not be as innocent as he perceives.
When the subtitle says this novel is extreme horror, believe it. Only the strong will survive Duncan Ralston's Woom. It is more splatterpunk than anything, but true literary quality lies beneath the filth.
(4 / 5)
Read it yourself by clicking below!
Did She Do It? Stacy Willingham's "All the Dangerous Things" Asks Us Just This
One year ago, Isabelle's life crumbled when her baby was abducted from her home. Her marriage to her husband, Ben, is destroyed as they try to navigate the fallout.
The Plot
Even one year after the abduction, Isabelle seeks answers. She is still doing appearances at true crime expos to get information on the attendees, thinking the abductor will be there one day. Abductors usually revisit their crime and Isabelle swaps her appearances for the event guest list, never taking any money for her talks.
Some think that Isabelle killed her own baby as evidence from the case says the perpetrator came from inside the house. Isabelle hasn't slept – not fully – since Mason was abducted. Her therapist is worried that she may be having hallucinations. Is Isabelle the killer or is she on a quest for true justice?
The Verdict
I absolutely loved the complication of not knowing whether Isabelle was a reliable or unreliable narrator. This was my favorite aspect of the novel. It made me question everything that Isabelle had to say and the actions she executed.
Isabelle is a character that, as a mother, I really felt for. I wanted to believe that Isabelle was innocent, but I was hanging on the edge of my seat waiting to find out. Stacy Willingham is the master of a story that winds all around, waiting for you to find the truth.
If you are interested in reading Willingham's first novel, A Flicker in the Dark, check out my review here.

(4.5 / 5)