Count Crowley: Reluctant Midnight Monster Hunter feels very familiar. Riding a wave of nostalgia, Count Crowley features material that evokes things that you already know and love. That's not a bad thing though. The comic seems to be very specific about what it is doing, and it seems to be doing that well.
Count Crowley is a 4 part limited series from Dark Horse Comics. We're tackling the first issue with this review. The comic follows the supernatural misadventures of a local reporter who takes over hosting duties for a midnight horror program after the disappearance of the previous host, Count Crowley. But, what starts as a second chance in Jerri Butler's career becomes a supernatural mystery.
The comic is a collaborative effort with David Dastmalchian handling the story and Lukas Ketner on the art. Lauren Affe provides the colors, and Frank Cvetkovic is on the lettering. Dastmalchian might sound familiar to you; He was one of Joker's goons in The Dark Knight. He was also Kurt, one of Scott Lang's associates in Marvel's Ant-Man. And most close to my interests, he will be appearing as Piter De Vries in the upcoming Denis Villeneuve adaptation of Dune.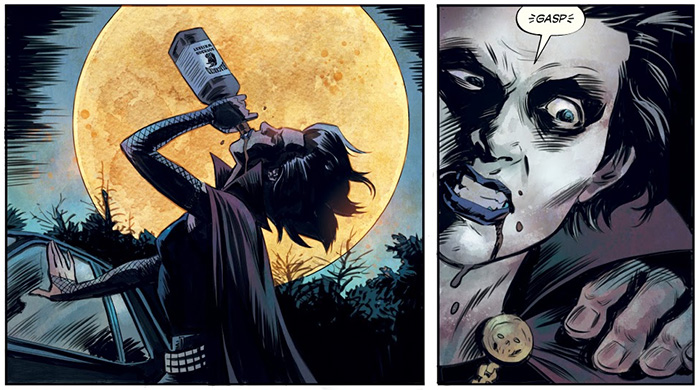 The Story
Count Crowley feels a lot like Fright Night, though there are worse things for an 80s-themed horror-comedy to aspire to. There is a very similar set-up: someone dealing with a supernatural problem, lycanthropy, seeks out the aid of a TV horror host. The wrinkles are three-fold: one, the host is actually someone who seems to be dabbling in the supernatural. Two, he is missing. Three, he has been replaced on his show by a drunkard former reporter, Jerri Butler.
The familiarity works out pretty well for Dastmalchian's story. All the familiar beats we'd expect from a project like this are in here in the first issue. The familiarity may initially feel like Count Crowley introduces nothing new. This is not true, though, these elements help to ground readers for what is to come. From Jerri the lush to the weariness of her producer brother, Ben, these elements work harmoniously to get us to what we need to know, so we can follow the real story.
The writing is strong with every character having a distinctive voice and personality. Jerri in particular is the sort of hot mess character that is perfect for these sorts of stories. The fact that she slides so easily into an on-screen persona as Count Crowley also indicates she is a much more complex person than she initially lets on.
Overall, you can definitely feel the love of the subject matter: horror, the 1980s, local television, and horror hosts. It's all a very nostalgia-inducing package that works well as an introduction. We'll just need to see how the remaining three issues end up.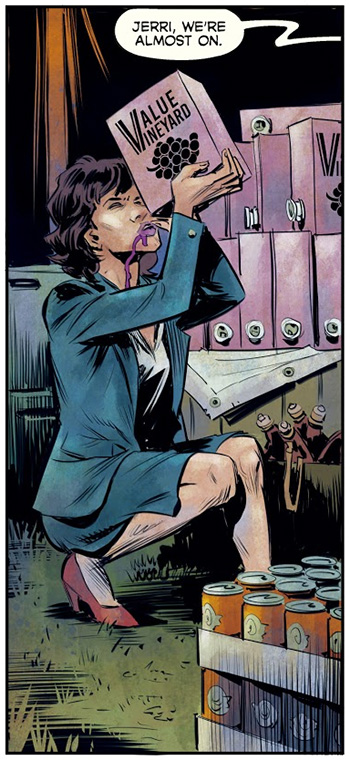 The Look
Lukas Ketner's illustrations are quite a strong match for the tone and spirit of the book. At times, there is a visual similarity to some of the classic, EC Comics. Specifically, the heavy black inking and shadows present across the story, particularly in the moments of mystery, terror, and sadder moments of Jerri's existence. Ketner's attention to detail also firmly plants the story in the 1980s, from fashion to hair, to the cars. The comic very much looks like it is set in the 1980s.
While any "action" scenes are limited in this first issue, the timing is pretty impressive where each panel feels like an appropriate snapshot of the relevant action. Furthermore, the expressions of the characters and their body language are heightened, but not enough to come off as overly cartoony. It's all very appropriate for the story.
The coloring and color choices by Lauren Affe are also fantastic. The comic as a whole has a textured feel with little watercolor dabs. Scenes are also color graded to convey a specific mood and time as well, which I absolutely love to see. What stands out most to me, however, is the usage of blue as a highlighting element across many of the panels. The blue doesn't quite mix in with some of the other colors and it creates a kind of strange and unique highlight.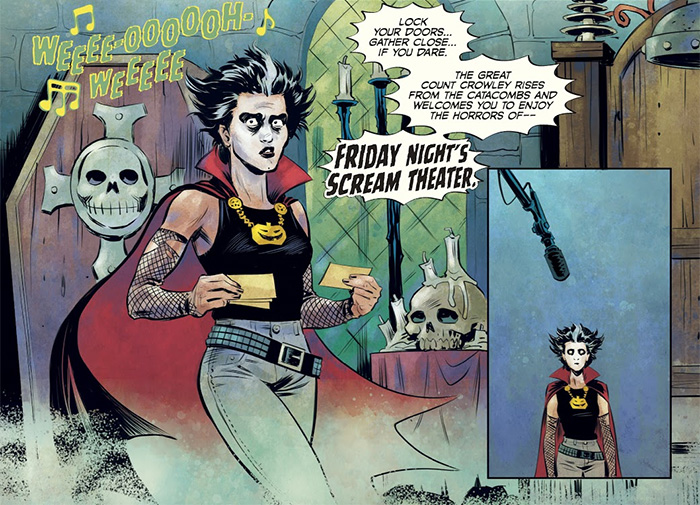 Final Verdict
Count Crowley starts off with a really fun issue that leaves me interested. The concept is just goofy and fresh enough cleverly evoking feelings of some other classic horror projects.

(4.5 / 5)
Continue following Haunted MTL for more horror comic coverage.