After a brief aside, we are back with Graphic Content this week. Last time we returned to the pages of the classic 1972 run of Swamp Thing. If you haven't read my coverage of ol' Swampy, consider checking out all the stuff I have written about my favorite DC Comics character! However, we now return to a Last Podcast comic and some new books.
We have Sweetie: Candy Vigilante from Dynamite Entertainment and a new Mike Mignola-penned comic, Leonine the Vampyr, from Dark Horse. We also return to the world of Soul Plumber this week, the Last Podcast comic, after I never finished the run over a year ago! Oops!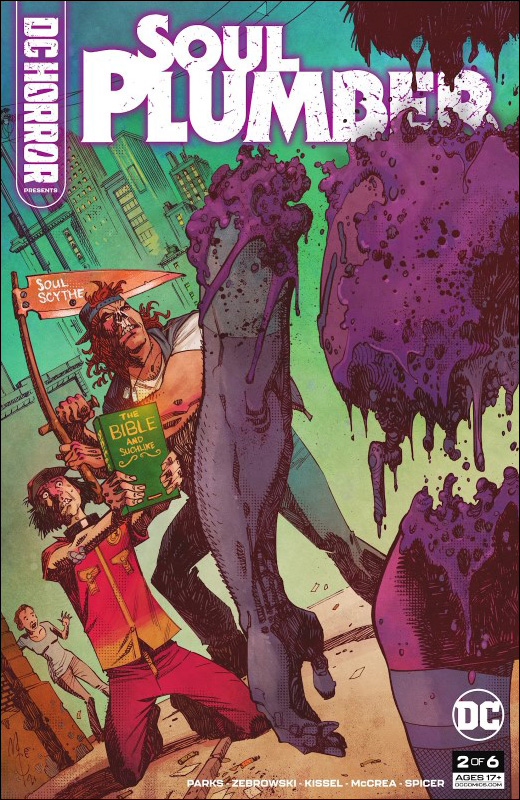 Soul Plumber #2
I read Soul Plumber #1 about a year ago and never had a chance to sit down and read the following issues, so this week's Graphic Content gives me a chance to catch up, starting with #2. This issue follows up directly with Edgar's earnest but misguided attempt at soul plumbing on a local man named Scuzz, which goes about as well as you'd expect from the minds of Henry Zebrowski, Marcus Parks, and Ben Kissel. The series is part of the DC Comics horror imprint.
The story is sacrilegious and gross and carries the general aesthetics of projects in the orbit of Last Podcast on the Left and Your Pretty Face is Going to Hell. It is pretty much what the target audience expects. It is quite fun. There is also some fun plot trajectory by the end of the issue as Edgar and Elk seek to clean up a mess, and two forces appear to have an interest in Edgar in particular. I am also intrigued by the entity that is Blorb and its interest in the realm of humans.
The art continues to suit the writing quite well, with fun combinations of gore, vomit, and liquid shit when needed. John McCrea and PJ Holden's art carries plenty of texture; plus, the grungy colors of Mike Spicer help this version of Indianapolis feel lived in. The mild screen tones add a little more texture here and there.
Overall, the Last Podcast comic delivers what you'd expect.
Impressions of Soul Plumber #2
My impression of Soul Plumber, two issues in now, is that it will be an acquired taste. It probably isn't for every horror comic fan. The particularly gross-out nature of the supernatural elements is much more tongue-in-cheek than other horror series. I enjoy it, but I am also a fan of Last Podcast on the Left. When it comes down to it, the comic is pretty much for the show's fans – a true Last Podcast comic. The storytelling isn't groundbreaking, but it is funny. The art is gross but cool. This is just a fun little ride without rattling the cages of comics too much. We'll see how much soul is left to plumb in the remaining run.
(4 / 5)
Soul Plumber #2 is written by Marcus Parks, Henry Zebrowski, and Ben Kissel. John McCrea and PJ Holden illustrate the comic. You can find more about the comic from DC Comics or your local comic shop. You can learn more about the Last Podcast comic team at their official website.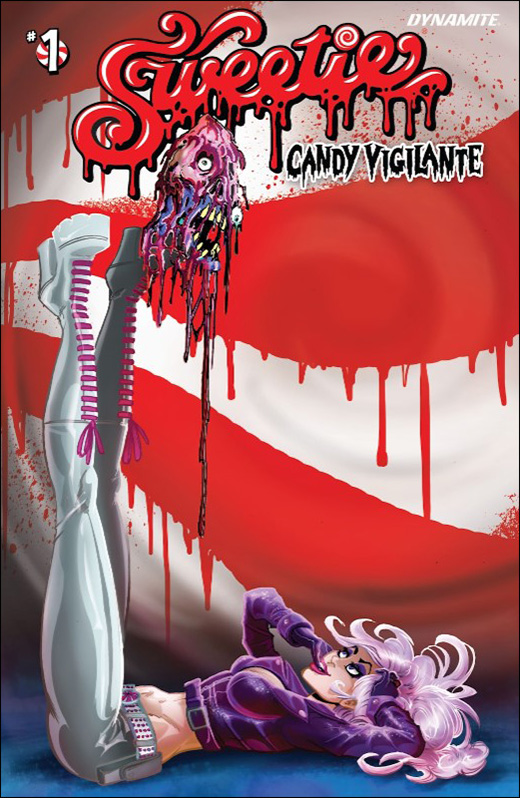 Sweetie: Candy Vigilante #1
You have a problem when your issue synopsis says more about your comic than what is said in the comic. To say I was unimpressed by this comic is putting it in the most diplomatic way possible. Sweetie: Candy Vigilante #1 is also based on a character designed for an Osaka Popstar album which seems to be a branding attempt for the band.
The writing annoyed me by spending excessive time in a scene that said nothing, complete with unnecessary and pointless moments of sexual assault and inane dialogue. The story offers nothing that indicates any form of parody, so I found the whole approach by writer Suzanne Cafiero to be more annoying than entertaining.
I am okay with ridiculous violence and shocks for humor, but generally, those are supplemental to a story for me, and nothing here makes me want to read further.
The art is okay, but Jeff Zornow's style feels inconsistent between panels at key points. There are inconsistencies in figures, faces, and proportion shifts in many characters. Honestly, the art style here evokes the early to mid-2000s for me. It's not terrible and pretty polished overall, but the style also feels uninspiring. Also, I saw a particularly blatant inconsistency in the dialogue balloons on one panel. How something like that slipped is concerning.
Impressions of Sweetie: Candy Vigilante #1
Sweetie: Candy Vigilante #1 is not the worst comic I've ever read, but I am struggling to justify the existence of this non-existent story. The comic seems like an indulgence of a band who came up with a sexy character for a project, but I do not see it being an ongoing thing beyond an arc. Given the issue comes packed in with Osaka Popstar's take on The Archies' "Sugar Sugar," I don't see this as much beyond a "why not" kind of project.

(1 / 5)
Sweetie: Candy Vigilante #1 is written by Suzanne Cafiero. The comic is illustrated by Jeff Zornow and colored by Antonio Fabella. If you want to know more, you can pick up a copy from Dynamite Entertainment or your local comic shop.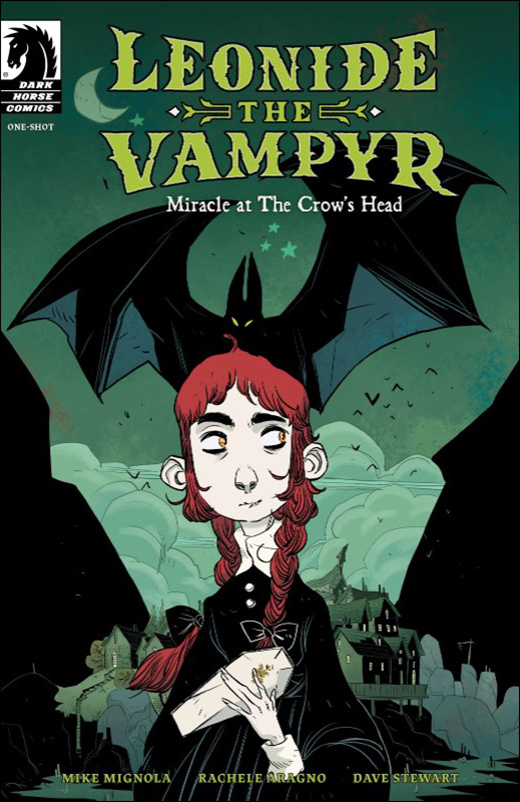 Leonide the Vampyr: Miracle at The Crow's Head (One-Shot)
Another week, another Mike Mignola release. This time we get a one-shot from the Hellboy creator that evokes classic vampiric fables combined with a more all-ages setting and approach.
Granted, even for all ages, the story is dark and has a sinister air, but it is not overly grotesque or violent. It feels like a traditional, folkloric approach seen so often in Hellboy but also gives a sense of whimsy through the art. I do feel the story itself was a little light, however. I'd have difficulty justifying the single issue's price of $4. The set-up of an ongoing story is also quite excellent.
One thing I am confused by: The title is listed as a one-shot by the cover, but the first page suggests Leonide's adventures will be ongoing. Will there be a series of single self-contained issues? The issue implies as much.
Rachele Aragno's art is lovely here, finding a fantastic blend between the heavy shadows identified with Mignola's own work but cartoony enough to work for the book's tone. The character designs are pleasing, and the character of Leonide is quite striking in appearance. The story was a pleasure to read and to look at.
Leonide the Vampyr: Miracle at The Crow's Head Impressions
Leonide the Vampyr looks as though it could be a good, ongoing series to introduce a younger set to creepy comics. It's nice to have a comic that can provide a genuinely chilling effect but not be overly beholden to shock and gore. I think the price is a bit steep given the limited story, but a collected series seems like it would make an excellent library staple for the horror-curious kids out there.
I am eager to see what is next, but I certainly hope the ratio of story to price is better.
(4 / 5)
Leonide the Vampyr: Miracle at The Crow's Head is written by Mike Mignola with art by Rachele Aragno and colors by Dave Stewart. If you want to know more, you can pick up a copy from Dark Horse Comics or your local comic shop.
---
What do you think about this week's assembled comics? I think my winner for the week would be Soul Plumber #2, but what about you? Does this Last Podcast comic strike your fancy?