We return to the occult adventures of John Constantine. This new series follows the one-shot that introduced him back into a world he had left long ago. A world where he hung around with Swamp Thing, Batman, and Zatanna. However, London isn't quite how John remembers since he's been away. Sure enough, flesh-peeling angels are just what the old boy needs to get back into the swing of things.
Hellblazing new territory
John Constantine, the Hellblazer, returns to his old London stomping grounds in the midst of a magical shadow-war being waged. One side is the dealer gang of the Haruspex (a meat-gazing, tattooed oracle) and literal angels. John, however, is back, but his old school ways don't exactly fly in modern London. He's become a bit of an old hat around town. Thankfully, he meets a young woman named Nat who should provide him some guidance later on. He also gets a new Chas of sorts in Noah, a mute member of Haruspex's gang.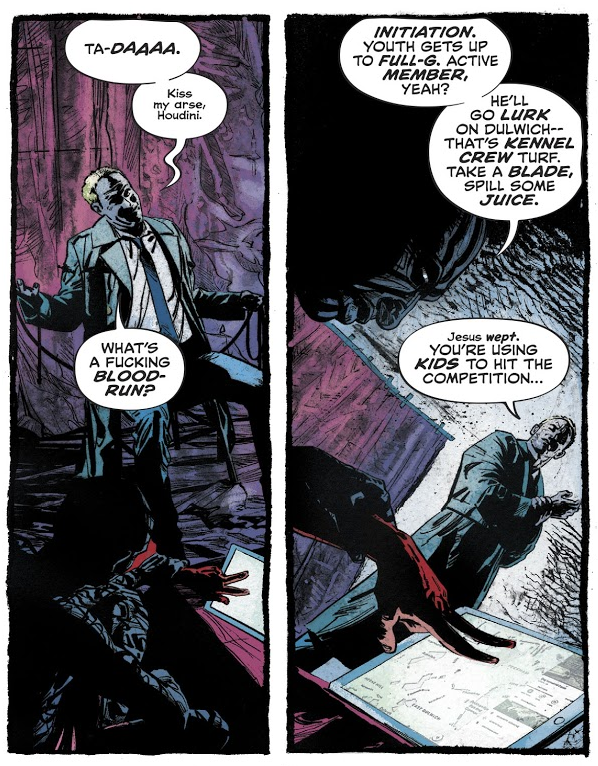 But how is the book?
Author Simon Spurrier's approach to Constantine is that he is being shifted away from mainline DCU-continuity as much as possible. John's appearance in this less "super world" is played as though he's been abroad and has come back to town. And for the most part, this works quite well. John Constantine is a character who is so well defined at this point, he slides back into his own haunts easily. Tonally, this is putting John back into a sort of Garth Ennis and Warren Ellis era. I am all for it.
The first issue is a tight little introduction the sets some immediate stakes. It introduces some classic-style Hellblazer weirdness and gore and also positions John as a bit older and wearier. John's shtick is old at this point; he's returning to a world he abandoned for the capes and tights crowd years ago. Yet, in coming back to his roots the world outgrew him. He gets the piss taken out of him a few times in the issue to great effect. Such as when he comes to terms with ableist thinking regarding his new body man Noah, who is mute.
The issue is, John Constantine's world of magic and the occult is deep, messy, and can be confusing. Unfortunately, Noah and Nat aren't exactly quite ready to serve as the sort of reader's eyes and ears into this strange world of John Constantine just yet. The set-up is there, but the roles just haven't solidified as of yet.
Visions of Hell
Visually, Hellblazer #1 can be quite stunning at times. Aaron Campbell has a highly textured style when it comes to line work and the characters are consistently rendered with wrinkles, lines, and hatching. For the most part, all of this is great and works quite well with some fairly muted and complementary colorwork from Jordie Bellaire. Comparisons to the artwork of Tim Bradstreet are not completely unfounded. The spread of the angels and their victims on page two, for example, is haunting and beautiful
The problem lies, however, in that sometimes John Constantine can look a little inconsistent. This can be especially prevalent when it comes to the heavily rendered style of art pursued by Campbell. Every wrinkle and line of the face and lips ends up being defined, and if something is off, it seems way off due to the level of linework involved.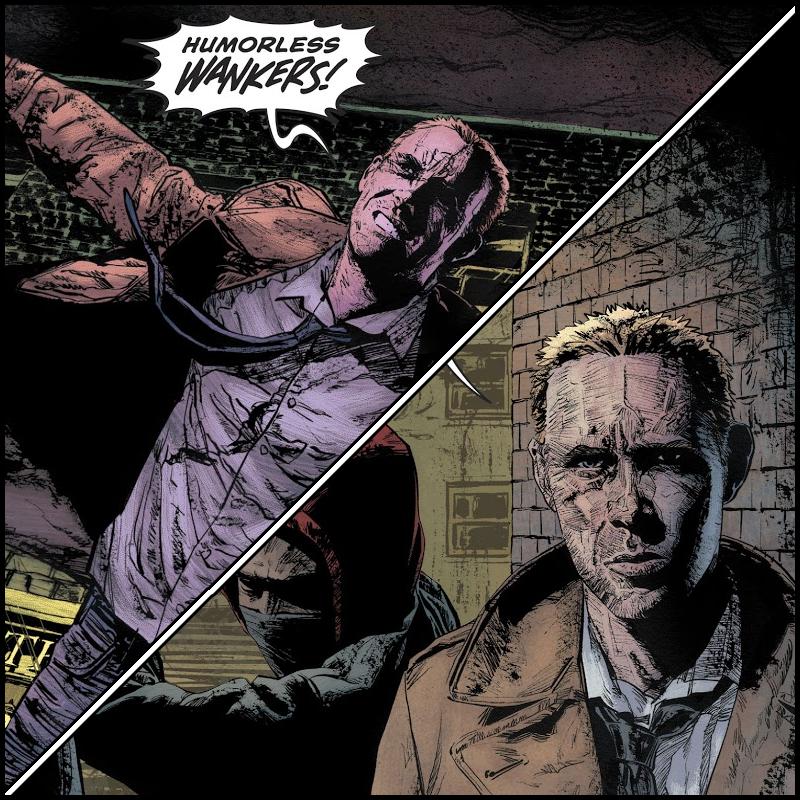 Final Verdict
Sure, Vertigo may be dead as a comic imprint, but the legacy of its characters, stories, and themes persists across DC's Black Label. John Constantine: Hellblazer #1 is a fine expression of that Vertigo-spirit.
(4 / 5)
Keep checking Haunted MTL for more Hellblazer coverage.