We're now two-issues deep into the John Constantine: Hellblazer-revamp. Does the second issue continue the strengths of the relaunch, or does the team find themselves getting lost in the weeds? No major shakeups to the talent behind the book to be found in the second issue, which is clearly a good sign. Simon Spurrier pens the issue, while Aaron Campbell and Jordie Bellaire tackle the art and colors, respectively. This issue's cover was handled by John Paul Leon, who might be recognizable to fans of Milestone's Static.
Let's dive into "A Green and Pleasant Land, Part Two," then, shall we?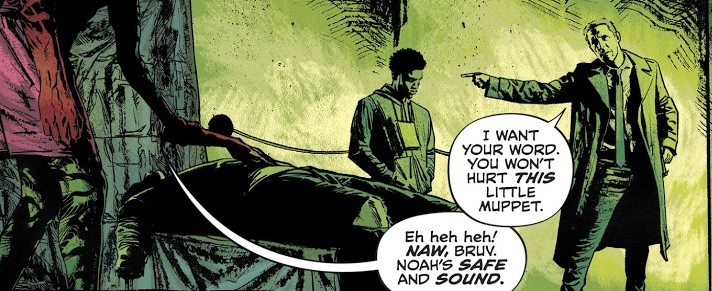 The Story
Spurrier's take on Constantine is pretty authentic; Constantine is not a good guy and putting the dodgy, magical asshole in a more diverse London creates some friction. It's all great. His "team" is rapidly expanding as well. I will miss Chas, of course, but Noah and Nat seem like they'll make fine companions. Better companions than John deserves, of course.
John's investigation into the skinning angels in Peckham Rye Common meets a couple of complications this issue. We have Tigers, gang war, pressure from the gang led by the flesh oracle, a homeless veteran and… William Blake. It's all very much in that high-strangeness wheelhouse of Vertigo-era Hellblazer. To actually go into any of these details would ruin the fun little twist, but it's very satisfying and just makes the mystery so much stranger.
The addition of the Sikh police officer who confronts John in the bathroom about young Noah is a nice, additional wrinkle in the scummy sorcerer's life. The officer seems to have some sort of protective relationship to Noah, enough to accost John in the pisser with a knife to his balls. We'll see how this potential angle plays out.
One downside of this story? It has a connection to another comic, Books of Magic in the demon Vestibulan, trapped in a cellphone. This isn't an entirely bad thing, but it does pull me out of the story because of the metatextual nature of referencing another title I am reading, to explain a plot point in the John Constantine: Hellblazer. I understand continuity and connecting stories, but I was not sold by the usage here. I believe such connections should be supplementary, rather than fundamental. Yes, Constantine narrates the connection in such a way you don't need to read Books of Magic, it ends up feeling like an obligation, regardless.
It all depends on how familiar you are with Timothy Hunter.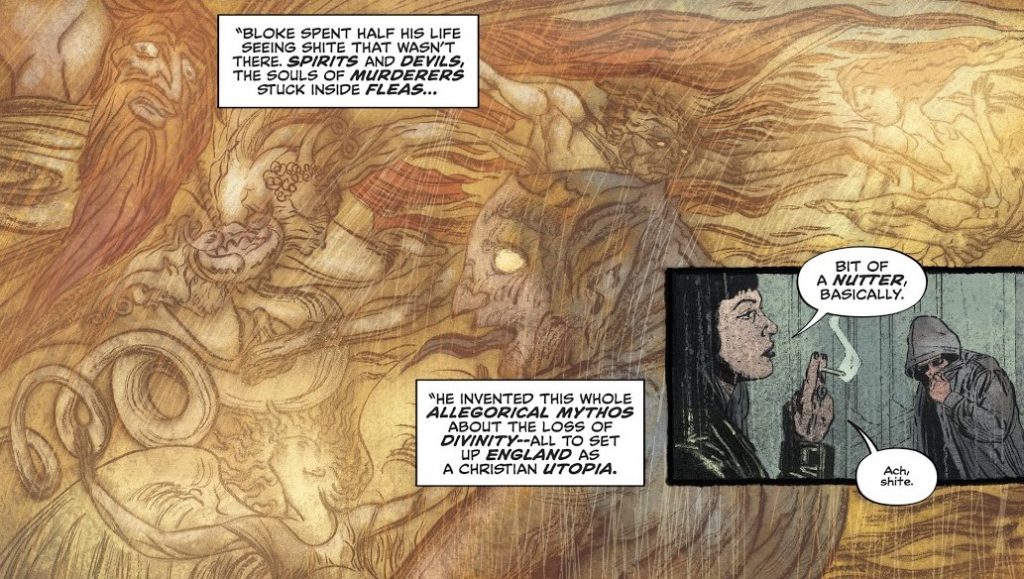 The Art
Jordie Bellaire's art is still quite strong. I had some quibbles with characters being a bit inconsistent in the first issue, but thankfully that doesn't seem to be the case with this issue. Everything is still grimy, gritty, and spackled in shadow, as is befitting Constantine as a series.
Where the book is really shining, however, is the apocalyptic biblical imagery the swarms and coalesces around the case. John's story may be shrouded in darkness and shadow, but the supernatural he is dealing with often portrayed with blooming, heavenly light.
It is legitimately creepy. A great deal of that comes from color choices by Jordie Bellaire.

Final Verdict
John Constantine slides into modern London pretty well, warts and all. It is enduring to see the petty dabbler, rough as he is, meshing well with a world that left him behind in the 90s. The book's diversity is also worth celebrating.
(4 / 5)
I mentioned Books of Magic in the review. Would there be any interest in reviews of that title? Please let us know in the comments.
Otherwise, enjoy our comic book coverage here at Haunted MTL.