The petty dabbler is back in a big way in DC Comics' Black Label imprint. John Constantine is part of the extensive new Sandman Universe headed up by Neil Gaiman himself. So, how does this little taste of magic fare, and is it enough to drum up interest in the ongoing launching this month?
Same old sorcerer but with a new trick
It's no secret that integrating John Constantine into the larger DC Universe, while fun, definitely dulled the punk rock feel of the character. In DC's largely cape and tights crowd, Constantine both stood out and faded away based on the needs of the larger continuity. While DC has feigned maturity to a degree through drama and extreme violence, it's all inherently silly stuff.
That is not a bad thing.
And yes, the Hellblazer, John Constantine is a silly thing as well, but the anarchistic, punk rock aesthetic and themes lent the older titles with a certain edge. Not a bad edge, either. It's decidedly adult in the way Vertigo books were in their prime.
This new series, being introduced through this special, is bringing John Constantine back to his roots, as it were, away from the cape and tights crowd. Though it is set in the larger "Sandman Universe" led by Neil Gaiman, this new book feels distinctly old-school Hellblazer by the end. The stakes are a bit more personal and the reality feels just a little bit more heightened.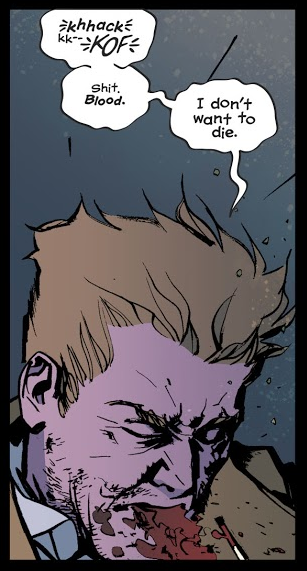 But how is the book?
This Hellblazer special, in a way, can be described as meta. It follows John Constantine around the big "Books of Magic" crossover. What we end up getting is a sort of "reset" to Constantine's origins. There are oblique references to DC figures like Zatanna and the like, from a rather fed-up-with-it-all Constantine. To get into what exactly happens is going into spoiler territory, but the end result is John Constantine, back in an asylum in a world that has largely moved past him. It's all a bit heady and the knowledge of DC history required to get the full effect of this reset might leave some readers feeling cold.
Writer Simon Spurrier mostly handles this thankless task of the reset quite well. The end result is the most important thing, and Constantine is put into a position that very much brings him back to his roots. it's all very exciting, even though the journey there is a bit confusing. Thankfully, Spurrier gets Constantine's voice, so you have John whispering in your ear all the way using all manners of swearing. It's pretty great.
The special's artist, Marcio Takara, delivers some utterly fantastic visuals with the assistance of Cris Peter on colors. Takara's line work is strong and the magic is depicted appropriately volatile and wispy, as fits the world of Hellblazer. Magic, here, is not all light shows and wands, as Constantine lays out in the dialogue. It is chaos and the art delivers on that.
Final Verdict
John Constantine is back, baby. "The Best Version of You" does just enough to pull Constantine from the chaos of DC's continuity into a small, more tailored imprint that suits the horror and magic where he does his best work.
I am definitely adding the upcoming ongoing to my pull list.
(4 / 5)
Want more comic reviews? Stick around for our comic book coverage here at Haunted MTL.