I am finally starting to find something called a "work-life" balance, so I hope to keep the regular reviews coming at a steady clip. This week we return to the wonderfully wacky world of Sink (see, that is called a misdirect), and I also check out a comic that has been on my radar for quite a while, Stray Dogs.
Welcome to Graphic Content. Now, let's read some horror comics.
Sink #7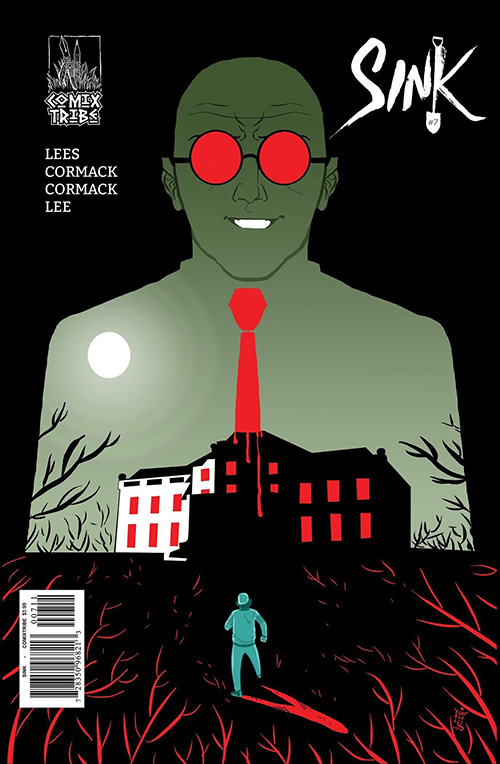 We last tackled Sink back in March. When we last left off, we enjoyed a sensory overload issue involving those roaming clowns who have haunted the periphery of events in Sinkhill. It was a brutal, ugly, and generally pretty entertaining issue, despite some minor flaws. Issues #7 is titled "Lead Balloon" and follows a character we only briefly saw in Emma's story. Each issue has, in a sense, been its own little slice of Hell, but the anthologized connections make their way into each story, creating a larger world.
The story follows Jordan, who is rapidly approaching his 30th birthday with the threat of a "lead balloon" hanging over his actions. As for what the "lead balloon" is, to say anything else about it would spoil a fun subversion. Well, subversion to a point – Sink can be happy up to a point. Eventually, something bad happens. That's just how this book works.
The issue was solid overall, making a compelling story about a down-on-his-luck dickhead trying to ingratiate himself into his gang through cruel and stupid pranks but ultimately unable to seal the deal because he is a fundamentally decent person. The issue is almost a happy little story, albeit with a sense of dread that does hang over the events. This being Sink, however, there is a bloody, tragic ending. I do applaud how writer John Lees almost made me think that finally, for once, something nice could happen in Sinkhill.
Alex Cormack's art continues to suit the series perfectly. The issue felt cinematic – the storytelling of the failed pranks, a series of panels depicting each consequence. It worked out very well. Color also played out interestingly in this issue, with mostly monotone environments punched up with bright spots of color here and there. It felt somewhat representative of the character of Jordan himself, mostly stuck in a drab life but his inner goodness shining through.
Overall, I think this was a fine issue of Sink, maybe one of my favorites in the run so far. It's still very much sad, tragic, and gory, but there is a certain flexibility to the setting, as Lees indicates in his supplementary essay in this issue. The bonus of a small backup comic in this issue is also a nice touch, making the world of Sink that much larger and grimmer.

(4.5 / 5)
Sink #7, written by John Lees and illustrated by Alex Cormack, is available on Comixology and your local comic shop.
Stray Dogs #1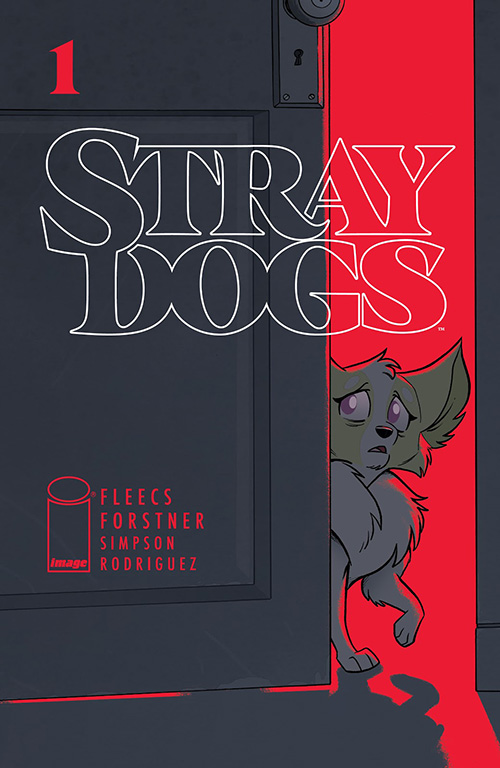 I've been intrigued with Stray Dogs since I first heard the pitch: A murder mystery from dogs' point of view. I am happy to read the first issue finally. I am very much intrigued to see where the story is heading. The team consists of writer Tony Fleecs (My Little Pony) and artist Trish Forstner (My Little Pony) with color assistance by Brad Simpson and Lauren Perry. They have a pretty sizable team behind to book as well, with layouts by Tone Rodriguez, Lauren Herda with the logo, and pre-press by Gabriela Downie. This is all evidence of a big, meticulously planned book.
"Chapter One: Good Girl" follows Sophie, a small, trembling dog clearly wrapped up in trauma. We accompany her on a traumatic vet visit only to find Sophie elsewhere – a home out in the country full of dogs in the care of a mysterious man only know as "Master." Sophie meets the other dogs in the house, led around by Rusty. But something has Sophie nervous, and she can't seem to remember. Until, of course, a trigger object reminds her of her actual owner. Sophie's new home may be the result of the most heinous of crimes. That is if her memory can be relied on.
The first issue is excellent, establishing several themes that I expect will be followed throughout the rest of the run. Particularly ideas about memory. Memory can be tricky and inconsistent, and trauma only intensifies memory issues. Are we experiencing the point of view of an unreliable narrator? We'll see. I also appreciate the characterizations of the dogs, though only two or so of the dogs outside of Sophie have a significant presence in the story. I am sure that will change, and I understand the necessity of so many dogs, given the story being told. I wonder if Fleecs can give each of the canine characters a defining moment. It would certainly be a good trick.
The art is also exciting. The dogs have a cartoony, Disney-esque appearance full of character. They look fantastic – brightly colored, generally unshaded against shaded and textured backdrops. It quite honestly feels like still from a cartoon, and that's so wonderfully dark given the story's subject. Trish Forstner's also capable of taking things in a more serious direction, contrasting the dogs' cartoonishness with the more realistic appearances of the humans who pop up within the pages. The coloring team does a great job utilizing color to reflect mood and time. However, I think the characters could be shaded a bit more often – there are panels where a lack of shading on Sophie or any of the other dogs feels inconsistent with the environment.
Overall, I am glad I finally get to dive into Stray Dogs. At this point, the series is finished – it just comes with the territory of jumping on board late. However, I am looking forward to reviewing the run and seeing how the story plays out over five issues.

(4.5 / 5)
Stray Dogs #1, written by Tony Fleecs and illustrated by Trish Forstner, is available from Image Comics and your local comic shop.
---
I aim to wrap up the John Constantine, Hellblazer run this week, which means I'll also be covering Killadelphia. Ideally, that will let me handle a new Just Swamp Things next week.
If you want to keep me honest, drop me a line on Twitter and ask me about the next review article. I could use that. See you next time.