We're very excited at Haunted MTL to reach out to the horror community and spotlight creative and talented folks where we find them. We love to add to our interview series when we can, and this week we are talking to a crafty horror fan who specializes in the art of cross-stitch! A few weeks ago, we reached out to the Mutant Fam, fans of The Last Drive-In with Joe Bob Briggs, to find out who is out there.
This week, we would like to introduce you to Miriam Owens, horror fan, Drive-In mutant, and cross-stitcher… or more to the point, a gothstitcher. We pick her brain about horror fandom and cross-stitch art and spotlight some of her work.
Cross-Stitcher Miriam Owens Interview
Haunted MTL: What gave you the idea of pairing your love of horror with cross-stitching?
Miriam Owens: Actually, nothing specific, honestly. It gave me something to do while I watched tv/movies, so that's how they got paired initially. I was never one for the cutesy patterns, so unless I were making it for someone else, I'd only stitch what I liked and what appealed to me. Finding stuff like that is a different story.
HMTL: Were there any specific horror movies you rented over and over?
MO: There's nothing that I can specifically remember renting over and over again. I wanted to see everything, so I'd try to do something new every time. This was also when I started really getting into physical media, so anything I liked, I would try to get on DVD (or VHS – this was the tail end of that) so I could have it and watch it whenever I wanted.
HTML: How did you get into cross-stitching? What came first, a love of horror or the craft?
MO: My mom got me into cross-stitching. I think I saw her doing it one day and asked what it was so she showed me, and that was the end of that. Oh, my love of horror started in utero, so that definitely came first. My mom also helped with that by introducing me to the classics. My dad helped by letting me rent and watch whatever messed-up movie I picked for the weekend.
HMTL: What would an average project entail for you when it comes to time and materials?
MO: What a typical project entails is the pattern, the fabric, the floss, and then anything extra the pattern might call for, like beads or charms or anything. As for time, it all depends on how big the project is, how complicated it is (meaning how many colors, different types of stitches, etc.), and how much time I can devote to working on it on a daily basis.
HMTL: How could someone get started with cross-stitching if they are curious?
MO: For getting into cross-stitching, the first thing I'd recommend is getting a kit. That way, you have everything that you need for the project in one place, and the instructions will walk you through it. Once you've gotten the hang of it, then you can start to branch out and find patterns on your own or even make your own patterns. Also, never be afraid to ask questions. Find groups on FaceBook and such to build your community and find all kinds of new and fun resources.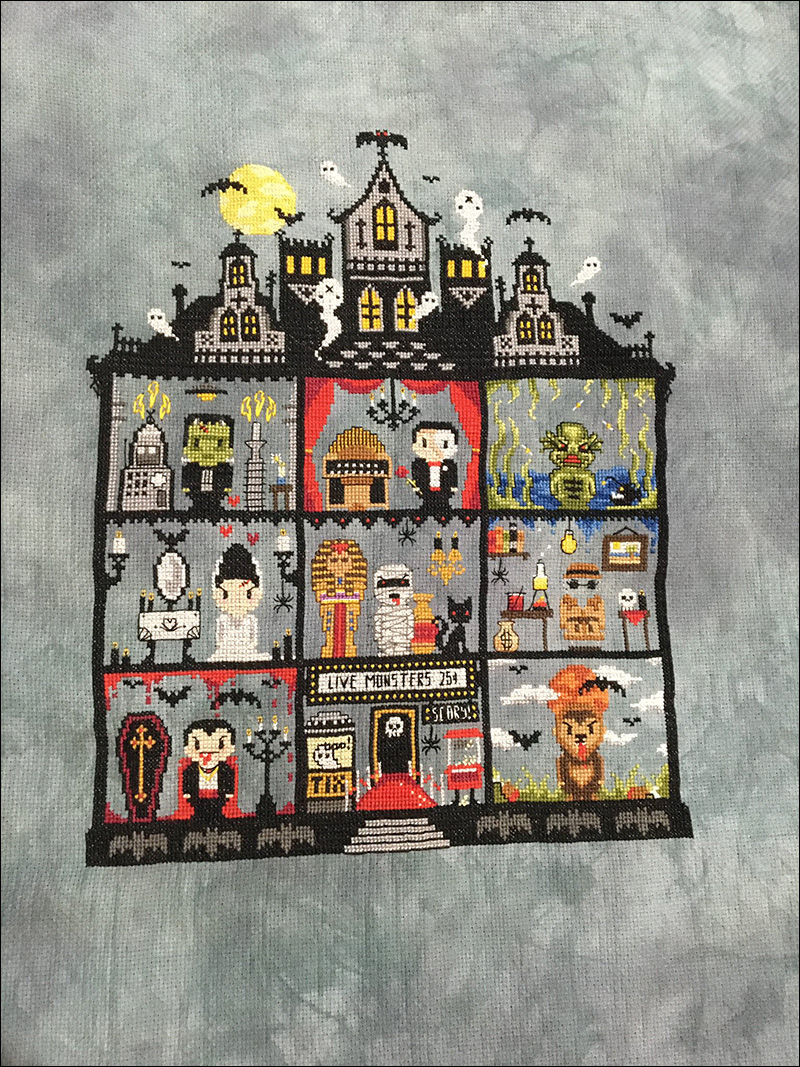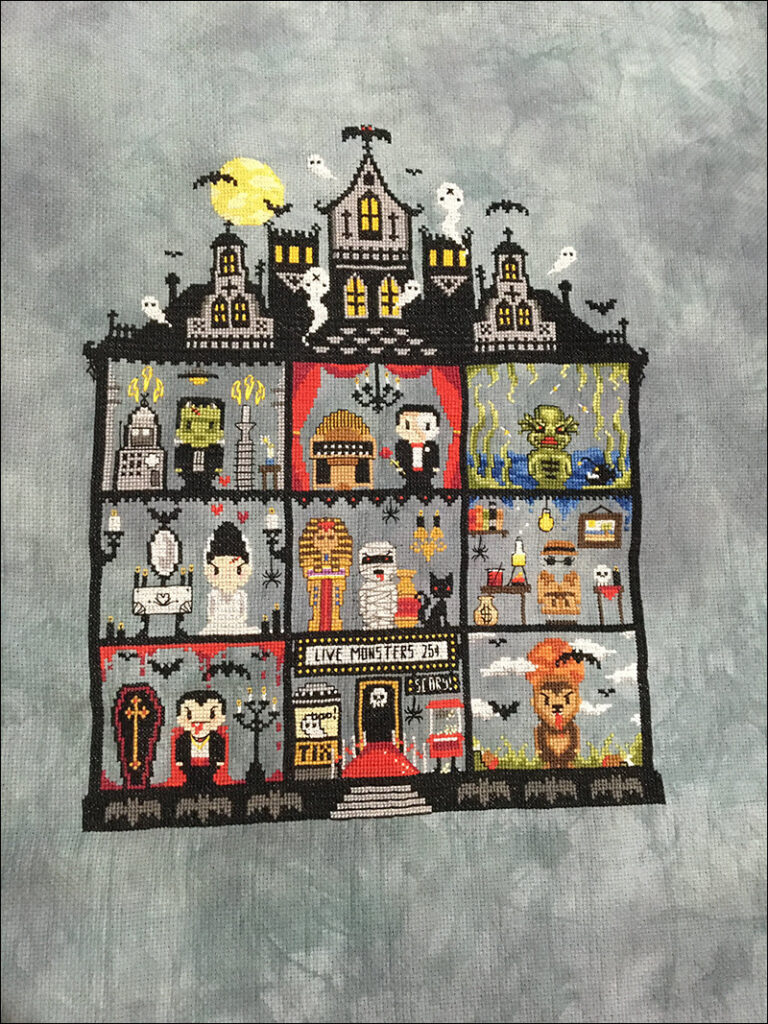 HMTL: Is there a decent size group of horror cross stitchers or are you a rarity?
MO: I don't know specifically about a group of horror cross-stitchers. If there is, I'd love to find them and completely nerd out. I have been able to find a group of goths who are into cross stitching and all other kinds of needlecrafts, so that's a lot of fun. On the other side, all of the horror people/groups seem to be really supportive of my work when they see it.
HMTL: What has been your favorite project? Can you pick a favorite?
MO: Oh man, that's like asking me to pick my favorite movie. I don't think I can pick a favorite project. I know that's a boring answer, but it's the truth.
HMTL: What is your favorite horror media?
MO: My favorite horror media, I think, would have to be films. I'm a huge movie nerd in general, and horror is hands down my favorite genre. But if it's horror and/or related, I'm in. Books, shirts, games, toys, video games, decorations, conventions, etc., I'm all for it. I'm even working on a horror tattoo sleeve on my left arm.
HMTL: Do you have a specific genre within horror you are particularly keen on?
MO: No, I'll watch anything once. I can do a least favorite subgenre, though. My least favorite subgenre of horror is found footage. I've seen a bunch and haven't really been thrilled with any of them. I guess it just doesn't do it for me, but that doesn't deter me at all from my one-watch rule. If it's horror, bring it on!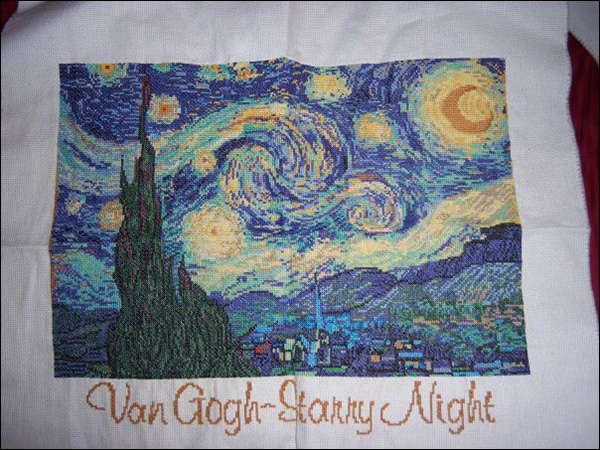 Want to learn more about Miriam Owens, Gothstitcher?
You can learn more about this member of the Mutant Fam and their craft by following Miriam on Instagram and Twitter. You can even track her current cross-stitch project, which has taken well over a year to complete but looks fantastic already!
Lastly, if you are a horror fan who does horror-centric crafting, please contact us via Twitter and share your work. We're always looking to spotlight the craftiest members of the horror scene. Hell, send us your cross-stitch projects if you have them. We want to see them!
Care to get crafty? (Sponsored)
Do you want to dive into the cross-stitch world and not deal with the usual puppies and flowers? This collection of iconic paintings as cross-stitch kits can be an introduction to the craft. Please pick up a cross-stitch kit using our sponsored link and help out the site as you learn something new.