They're creepy and they're kooky… mysterious and spooky… they're all together ooky… it's a crafter's fantasy…
So what's with the Creepy Crafters site? It's been all the rave all over my eBay feed… Apparently it's like etsy but with creepy horror and Halloween-themed merchandise. You can search items by vendor or by type, or just browse the home page.
What Will You Find Today?
The answer is all kinds of crazy things, from zombie voodoo dolls to stage props to housewares to art prints and more. Do you want your very own scarecrow burlap sack mask? They have those. Skeleton mermaid doll? They have those too. Crocheted eyeball ornaments and Nightmare Before Christmas shirts and Ouija board metal pendant necklaces and undead coloring books and even hand-painted electric guitars… oh, my!
You have to have an account to sell or buy anything, and it's all linked. Vendors create their own stores. Some sell works of their own design; others base their creations in fan art. All have their own style and specialty. I purchased a wonderful zombie baby cameo necklace (pictured here) from Snowee Creations, a beautiful and talented Himalayan cat who creates talismans and charms imbued with energy that transfers to the wearer.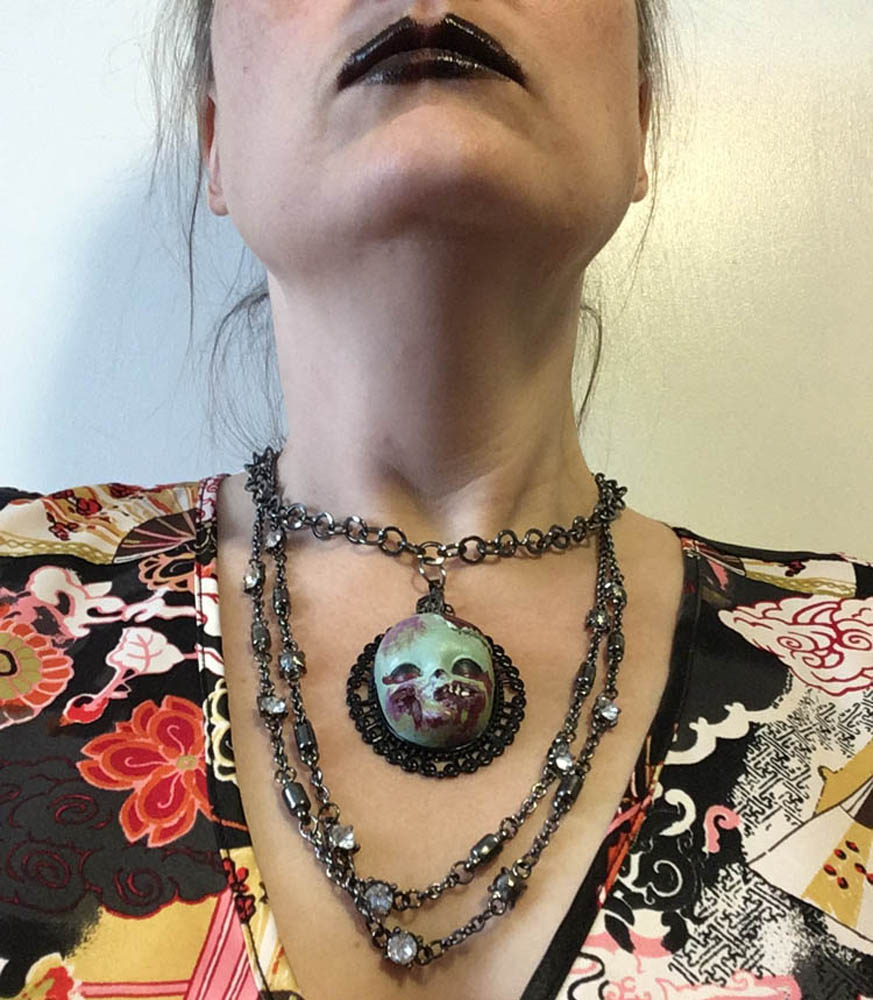 Overall, the site has some seemingly high quality products (they photograph well at any rate) represented by a wide range of crafters. But it's not the easiest content to navigate or find similar items later if you liked something, unless you remember exactly what it is. And as more creepy crafters join, the more daunting it is to peruse things just because of the sheer volume of the madness… It simply cannot be contained!
Essentially, if you have a couple hours and want to wander aimlessly adrift at sea while looking at a spinning compass centered on a haunted ship, you are probably good to go. But, if you are looking for something in particular, I hope you have a detailed account of just how hairy and big its feet are or it may just recede back into the woods sight unseen.