The British synthwave band GUNSHIP is no stranger to incorporating horror in their music and videos. "Cthulhu" and "The Drone Racers" are among their horror-filled content, but my favorite of the bunch is their 2014 song "Tech Noir," an upbeat song that tells the story of love and fear in an apocalypse.
The Song
"A 300,000 degree baptism by nuclear fire."
The song begins with a monologue by John Carpenter, whose voice is supported by a suspenseful rising synth, akin to the sound of a siren. Tension takes hold. A world overcome by "radioactive oblivion" is meeting a rapid end. Bombs fall from the sky. Cities are decimated. Yet Carpenter's tone is one of indifferent pessimism. "I'm not sorry. We had it coming," he says, words indicative of a helpless, hopeless society. He signs off with a most devastating cynicism: "Please remember me. There is no more." Then the base drops and the song takes off.
Alex Westaway, the singer of GUNSHIP, takes over with his smooth, wide-ranging vocals. The lyrics are vague compared to Carpenter's intro, the latter of which are written in graphic detail. Yet the former still holds onto the atmosphere of the song. "Feel the breeze/ I feel alive" invites listeners to a world where not all hope is lost. "Keep your heart/Out on the road/Will you come/To Tech Noir with me" alludes to an exciting adventure to the future.
It is the intro and lyrics intertwined with the synth instruments that make the song a powerful, nostalgic, horror-driven, synthwave adventure. It conveys an experience of juxtapositions; peace and tension, despair and hope; dystopia and utopia.
The Video
VHS Mania
"Tech Noir" is a music video dedicated to classic VHS horror and action films with the charm of claymation characters. It completes the story the song is trying to tell.
The video begins with a male viewer who pops in a VHS film and grabs a bowl of popcorn. A clay figure, who looks quite a bit like the movie watcher, enters the screen and lip synchs Carpenter's monologue. The nameless hero takes a ride on a motorcycle with a beautiful girl, and they journey through a neon world. But it doesn't take long for the two to encounter a series of ruthless attacks by classic horror villains like Alien, Hannibal Lector, Leatherface and Jason Voorhees.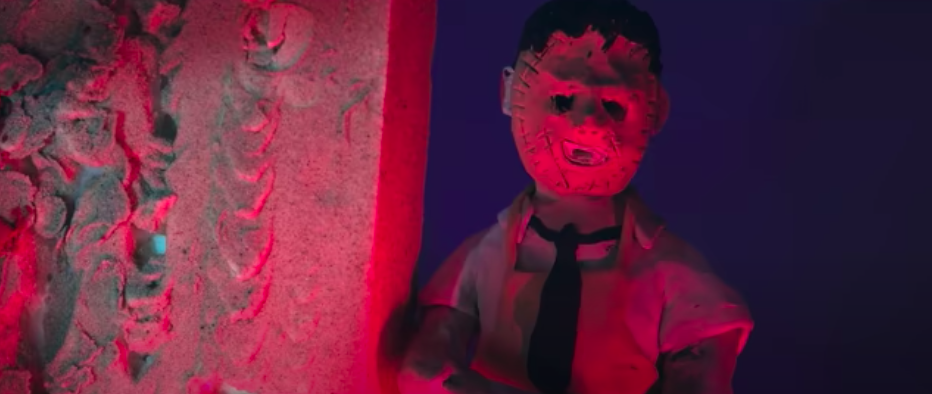 The Verdict
"Tech Noir" is a horror-claymation-electric experience. It hits the nostalgia button right on the head, but does so with creativity and nuance. While it has the elements of a basic synthwave song, the addition of Carpenter and the artsy music video enhance those elements. You can feel, see and hear the dedication poured into the song and video with each note and shot. It is filmed like an exciting, weird adventure/action short film. It is a song you should watch immediately.

(5 / 5)