We are back, Killer Queens! And we have a whole new season of Hulu's American Horror Stories to talk about. 
The last season of the American Horror Story spinoff was not, frankly, what I wanted it to be. It leaned too much on the popularity of Murder House without bringing enough new stories to the AHS universe. 
This disappointment was heavy on my mind as we started season two. But so far, I've been pleasantly surprised.
We start our tale with Coby, an overachiever at a job interview. She's graduated valedictorian and she's ready for a job as a secretary at a toy company. Because that's how things used to work, I guess.
Instead of hiring her, Mr. Van Wort decides to abduct her and place her in his lifesized dollhouse. There are several other women there already, and none of them are thrilled.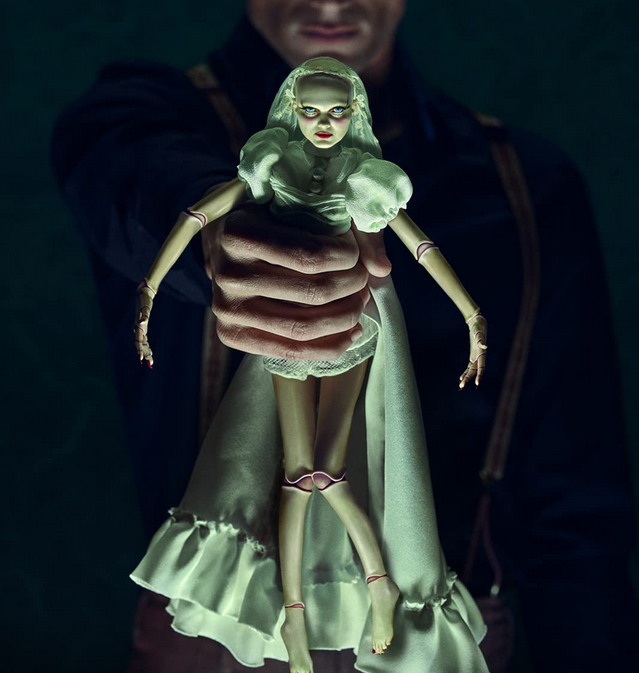 What are they doing there? Why, they're competing in a twisted competition to see who will become the new mommy for Mr. Van Wort's son. What happened to his old mommy? Her husband caught her cheating, so he threw her down a well. Now, he wants to give his son a perfect mommy. A real doll.
Coby, as it turns out, has a secret weapon. She's telekinetic, and intrigues Otis, the little boy, by making his toys move around. They form a fast bond.
Befriending Otis is only half the battle, of course. At night, Mr. Van Wort has them perform domestic tasks and grades them. Those who don't perform as well as the others are culled. And by culled, I mean tossed down the well.
If this was simply a tale of a sexist old man with a doll fetish torturing women, that would have been enough. This was a creepy little tale, and I loved it.
But it's more than that, as we discovered in the last few moments of the episode. I don't want to ruin it for you, but there's a tie to another season of American Horror Story. A lot of things suddenly make sense regarding a character I hadn't spared much thought for.
If you're an American Horror Story fan, you'll love how this ended. But what's nice is that you don't have to be an American Horror Story fan to appreciate this episode. You could pick this episode up, enjoy it for what it is, and leave the rest of the series alone. It's a good story all on its own, without having to rely on the good faith the original series built up over eleven seasons.
If the same can be said of every episode this season, I can't ask for anything more.
You can join me next Thursday on Twitter, at 7:00 EST and watch episode two together. It's a fun time. See you then.
(4 / 5)