As mentioned in the previous review, this series follows Netflix's Love, Death & Robots. Feel free to skip this paragraph if you read any others. Tim Miller developed the series and incorporated the talents of several studios. As each episode is independent, there isn't a need to watch them in any order. I will also note that the episode order shifted from the initial release. These reviews will cover the current order for 2022. Love, Death & Robots targets a mature audience, so some episodes have mature language, nudity, and adult subjects. This review will cover "Suits" and "Good Hunting."
Suits, or the Dangers of Mech-farming
Based on Steven Lewis' short story and animated by Blur Studio, "Suits" follows a small farming community on an alien planet as they fend off the local wildlife. An action-packed small adventure, "Suits" expands a little more on the context and seems to recognize the fact our heroes are colonizers in cute packaging.
The cast includes Neil Kaplan, G.K. Bowes, Scott Whyte, Courtenay Taylor and Tudi Roche. The short film has a 17-minute runtime designed to make these characters more three-dimensional. I don't inherently say that it is successful, but it is effective enough to warrant mentioning. However, the short film doesn't linger on the colonizing perspective, which might mean I'm reading too much into that final scene. However, its proximity to the next episode adds more certainty. While the animation is good, it doesn't carry a unique style as some of the other entries.
[Usr 2.5]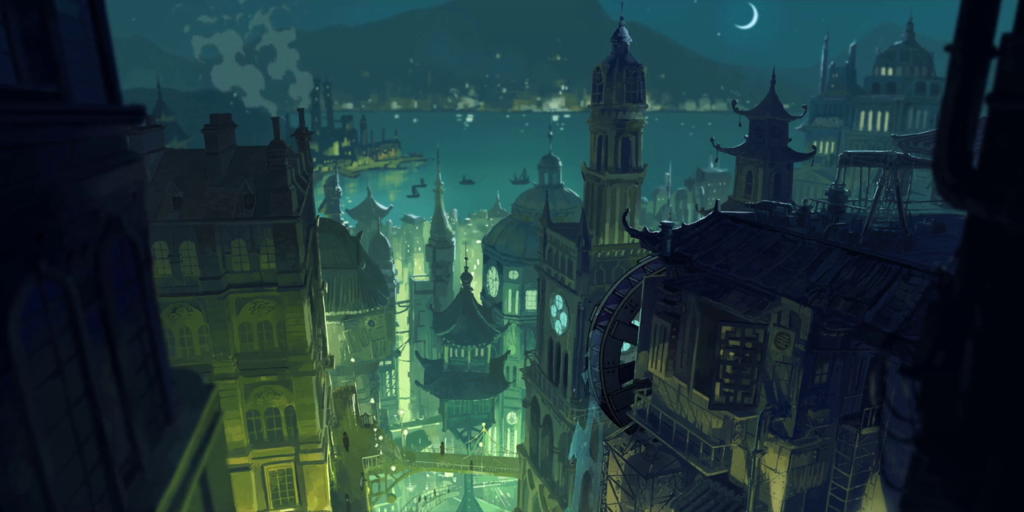 Good Hunting, the Techno-Fable
Based on Ken Liu's short story and animated by Red Dog Culture House, "Good Hunting" follows a young exorcist and a Huli Jing as they survive British colonized Hong Kong. A techno-fable with steampunk influences, "Good Hunt" expertly combines the fable in a sci-fi environment to produce something unique.
The cast includes Elaine Tan, Matt Yang King, Gwendoline Yeo, Maddox Henry, Sumalee Montano, and JB Blanc. With a 17-minute run time, "Good Hunting" displays the layers and complexity that a Hugo Award winning author can provide in a short story. The animation is vibrant and effective but not inherently unique.

(3.5 / 5)