We've reached the second to last episode of American Horror Story NYC. And it has been a hell of a ride. Some people have called this the deadliest season. I don't know about that. But I do know it's been the saddest so far.
We start with Sam passing out at Theo's funeral. He wakes up in a hospital, panicking. He's surprised to find Billy and Theo looking after him. And no one else.
None of the beautiful people he surrounded himself with cared enough to be there with him while he was dying. And he was, of course, dying.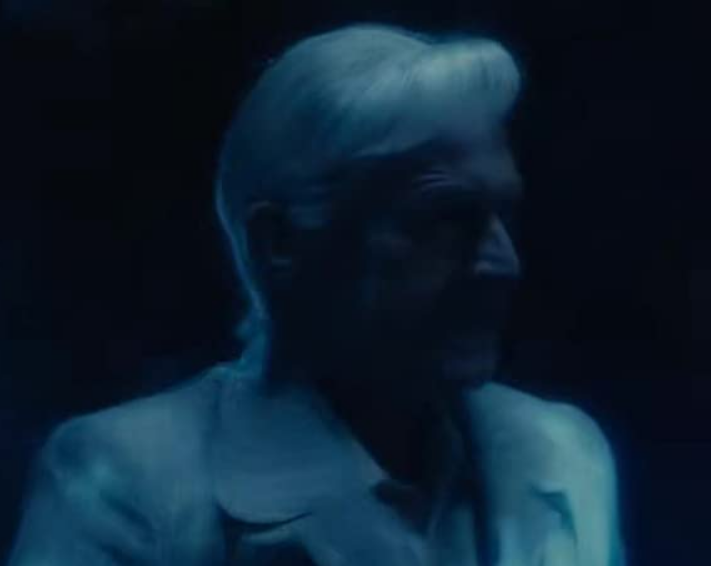 Sam is walked through his past by first Theo, then Henry. He is forced to consider the people he hurt, terrified, then left when they no longer interested him. Finally, he's forced to face Big Daddy and his herd of beautiful deer boys.
Patrick, I'm afraid is in a similar situation. He's lost his sight due to the Aids virus. They are finally calling it by name, by the way. This whole time I was expecting them to have some made-up illness that was supernatural. Instead, they dropped all pretenses and just told us straight. This is aids. This is what happened to people who had Aids in the eighties. Many, too many, died alone in hospital rooms. Their families abandoned them. Their friends were afraid to be around them. Even hospital staff wouldn't come close to them without hazmat suits. It was a painful, lonely way to die. And as Theo points out, no one should have to die that way.
Patrick at least has Gino with him. Gino, God bless him, acts exactly how we'd all want someone to act for us. He argues with the doctors who are giving substandard care. He comforts Patrick. He brings him food and cares for him.
But even the most devoted partner can't be at the hospital all the time. And in the night, Patrick finds himself all alone. Alone that is, except for Barbara.
Barbara walks him through memories of his past. Memories of throwing a fellow gay police officer under the bus to save himself. Memories of his abusive father. Patrick has to face the fact that he's broken, and that he's spent his whole life trying to stitch himself back together.
This was an emotionally devastating episode, leading up to what I firmly believe is going to be an explosive finale. See you back here tomorrow for the last episode of American Horror Story, NYC.

(5 / 5)
The Invitation, A Film Review
The Invitation is a 2022 horror thriller directed by Jessica M. Thompson and written by Blair Butler, starring Nathalie Emmanual.
The Invitation is a 2022 horror thriller directed by Jessica M. Thompson and written by Blair Butler. This PG-13-rated film includes the talents of Nathalie Emmanuel, Thomas Doherty, and Stephanie Cornelissen. As of the time of this review, it is available for free to Netflix subscribers.
Growing up in the system, Evie (Nathalie Emmanuel) tries to find relatives through the program findyourself. She finds success through a distant cousin who is more than eager to meet her. With the promise of more family desperate to meet her, this cousin (Hugh Skinner) convinces her to visit this family in England to attend a wedding. When a Lord named De Ville (Thomas Doherty) becomes smitten by her, life begins to look up. But she learns her host, this estranged family, and even De Ville have ulterior motives.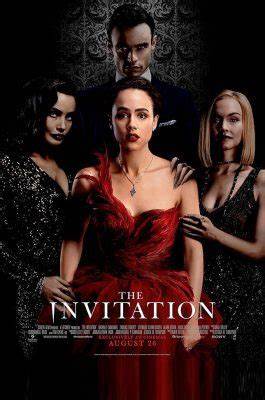 What I Like
Nathalie Emmanuel and Thomas Doherty have good chemistry. It may not be exceptional, but De Ville charms with a confidence that Thomas Doherty hardly needs. With the fact that he's a lord, it's easy to see why the passion develops.
Another key performance is Stephanie Corneliussen's Viktoria, who plays a towering and intimidating figure. Her natural friction with Evie makes her an interesting creative foil to the lead. I might even say this friction remains the selling point for me.
One final praise in chemistry is the friendship between Evie and Courtney Taylor's Grace. If Viktoria plays the foil, Grace plays the voice of reason. The actresses work well off each other and make me wish Taylor's role was a bit bigger.
However, one of the best performances comes from Sean Pertwee's Renfield, who is so needlessly aggressive that it almost borders comical. To me, it's more impressive that this performance still lingers and feels genuinely threatening. The nature of the role can easily fall into that camp, but Sean Pertwee's calm exterior makes him seem like a man ready to bash a skull into a wall.
There are some surprisingly good scares. While they aren't exactly haunting, it sets up the expendable view the elite families have for the working class around them. The horror remains the strongest in the beginning.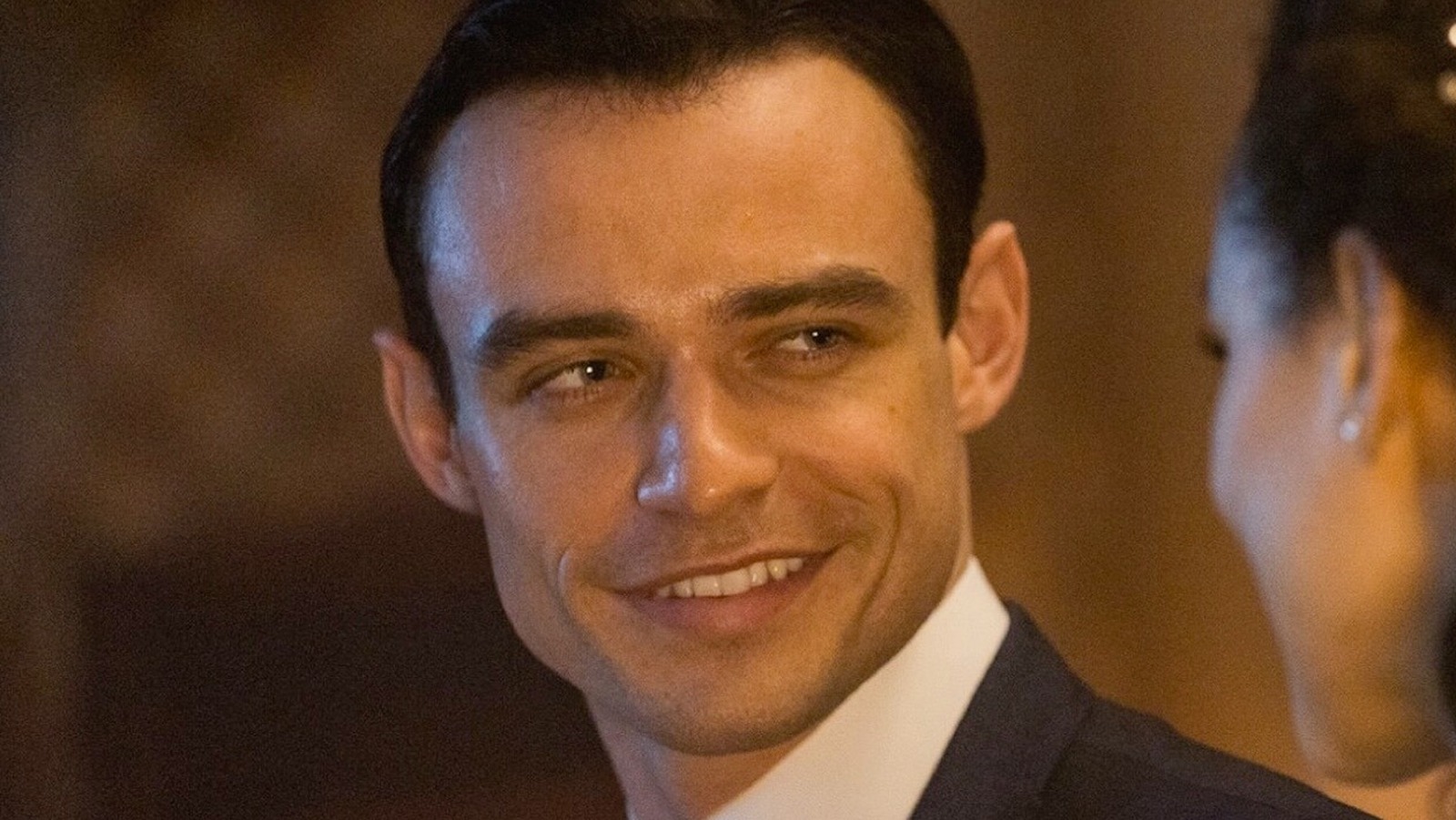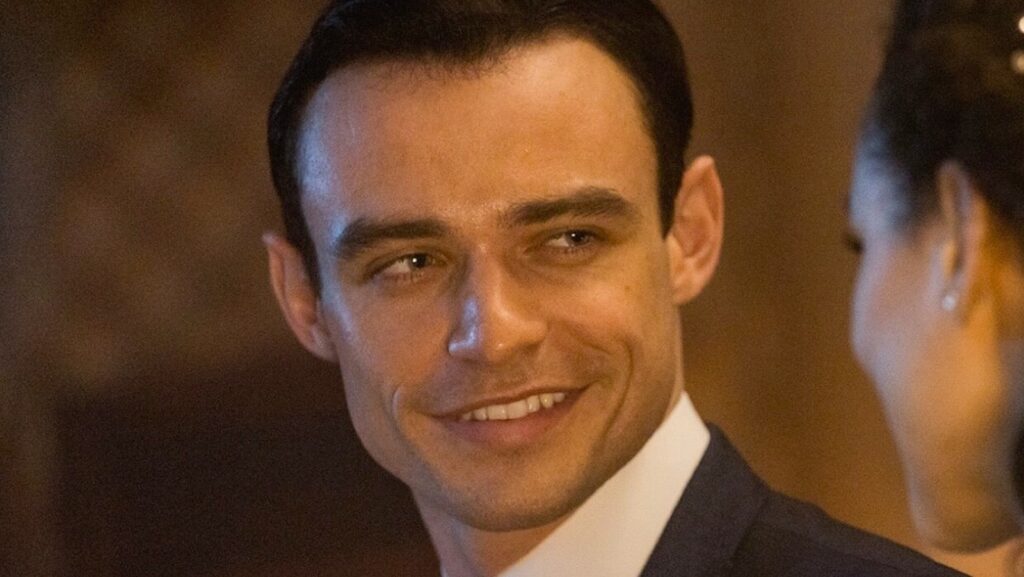 Tired Tropes and Trigger Warnings
An animal does die in The Invitation, for those of thus who don't mind the deaths of people but do mind the death of birds. It's sudden and feels almost unnecessary. I personally don't have a trigger for it, but I recognize it as a common dealbreaker. From a story perspective, I wanted more context or purpose.
A specific name, no spoilers, reads like a first draft from the script. It shouldn't take too long to figure out why. I find this goes into a larger problem of predictability. There aren't many surprises you don't see coming a mile away.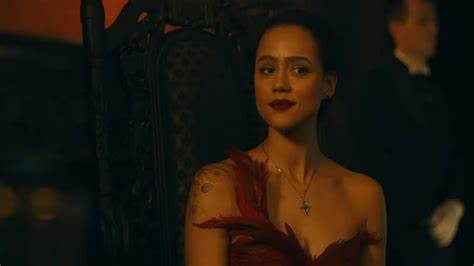 What I Dislike
Let's start with that name. I wasn't expecting to be surprised, the trailer reveals enough, but it's a bit on the nose. The reference is understandable, but The Invitation remains a reimagining. I don't see why there couldn't be an additional update. Or maybe use the default name and own the reference?
As mentioned, the film has its moments but don't expect true horror, that tasty dose of terror. The Invitation plays it safe, which feels like a waste of talent. I don't know what was behind the scenes, but I almost wish I didn't enjoy the casting so much with how basic the execution remains.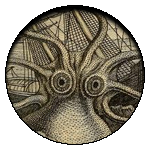 Final Thoughts
While I haven't lingered on a plethora of negatives, it's where it lacks creativity that brings the viewing down. The Invitation has many enjoyable elements, but together it falls flat. If the premise sounds interesting to you or the cast lures you in, The Invitation will satisfy your viewing pleasure. But I feel like there could have been a greater movie buried within, which always makes it less satisfying.
(2.5 / 5)
2023's 'Summoning Sylvia' is a Faboolous New Film
I wasn't sure what I was getting into when I was asked if I wanted to cover the new "LGBTQ horror" film, SUMMONING SYLVIA from director/writer duo, Wesley Taylor and Alex Wyse.
New LGBTQ horror can feel either very outrageous and full-on camp like Death Drop Gorgeous, Ticked Off Tr*****s With Knives, or You're Killing Me.
Or they can be very cerebral and dramatic like Raw, Lyle, and Bit.
So, which route would SUMMONING SYLVIA take?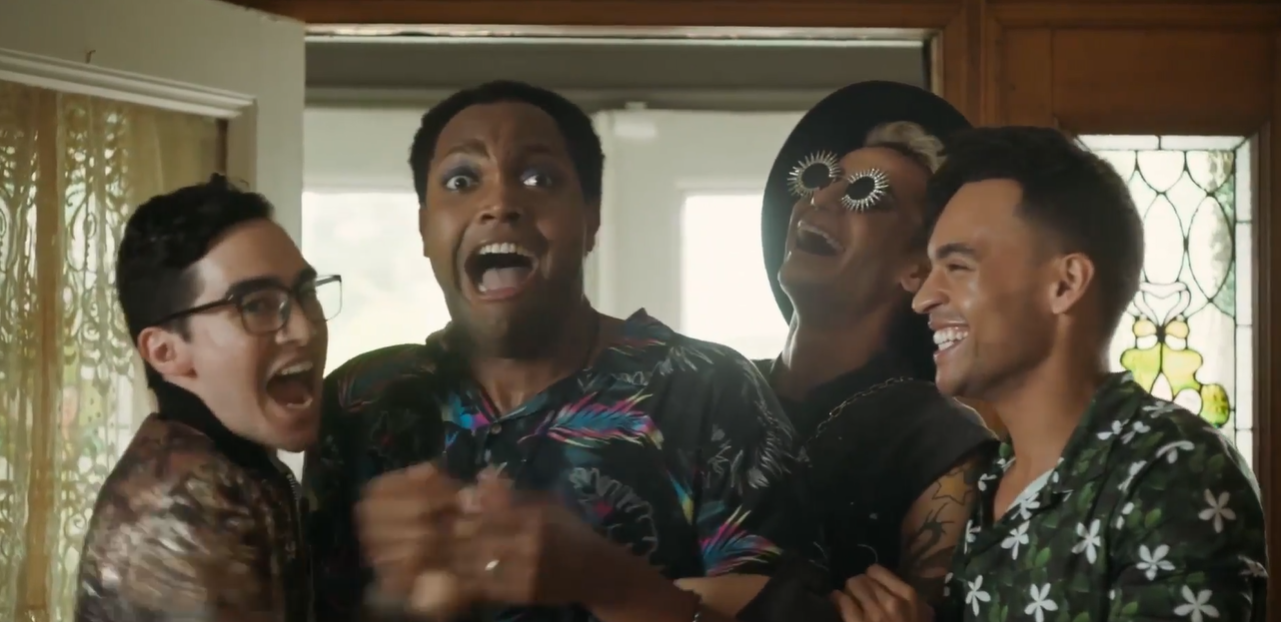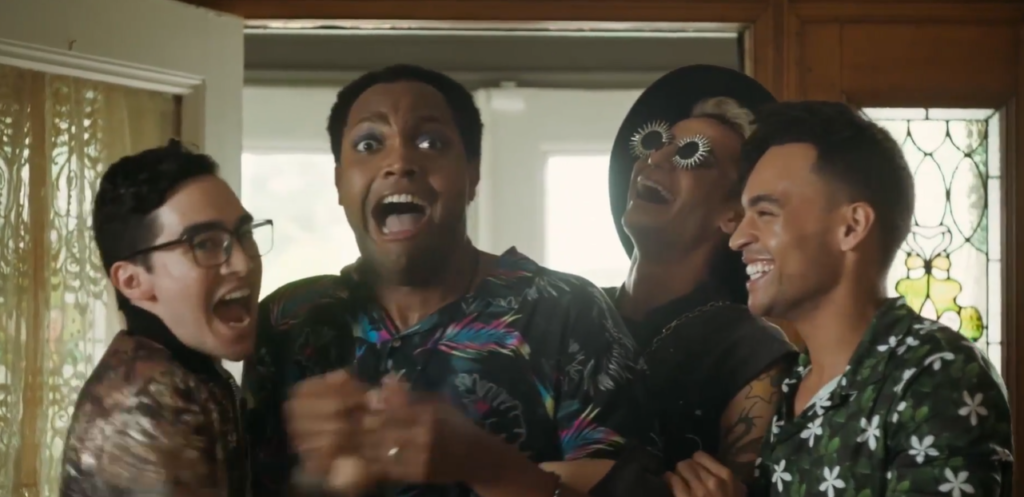 Summoning Sylvia's Plot:
It's the bachelor weekend for Larry (Travis Coles) and his three best friends (Frankie Grande, Troy Iwata, and Noah J. Ricketts) have booked an entire weekend to spend together in a historic house. They're set on getting glam, party games, drinking appletinis, eating fancy snacks, and the pièce de résistance — a séance to summon Sylvia (Veanne Cox), the murdering mother and resident ghost.
However, what they didn't plan on was Larry's new brother-in-law (Nicholas Logan) to crash the party and open up new doors to dark pasts…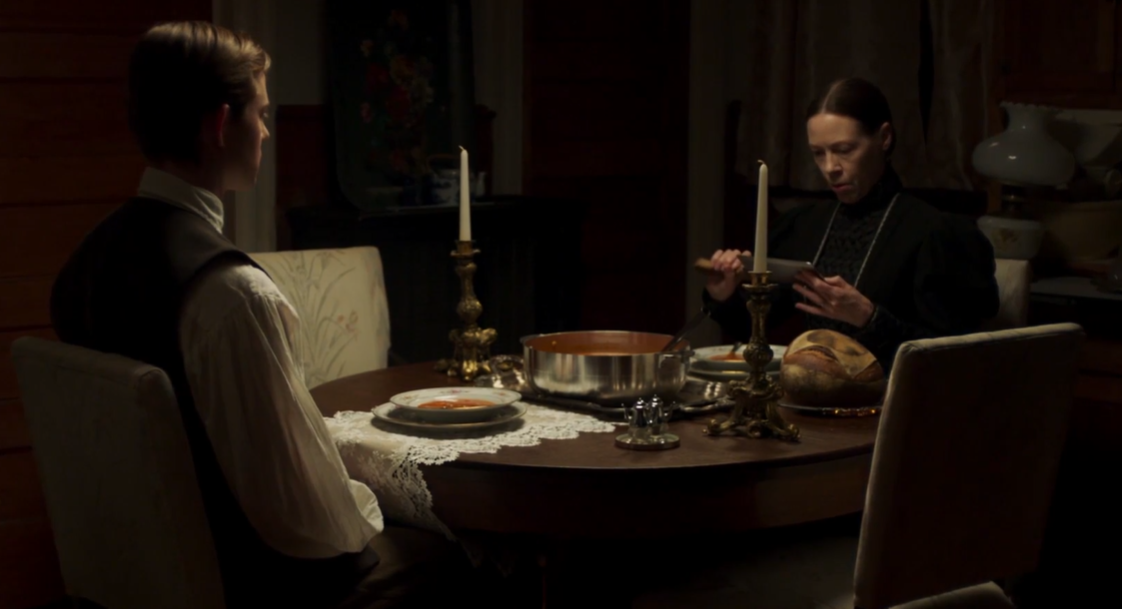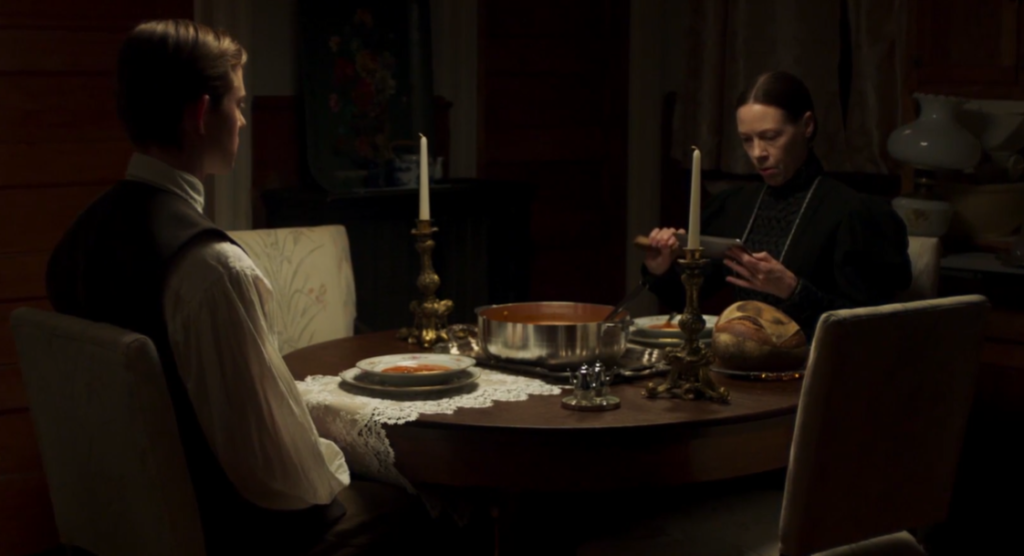 Thoughts:
I was expecting to enjoy this movie enough. Nothing too much, nothing too little.
With a lot of LGBTQ horror comedies, they typically have the same jokes and punchlines. And as much as I love big dick jokes and bottoming jokes as much as anyone, but it gets to be…a lot. It gets stale. It gets boring.
And worse, inauthentic to the characters and plot.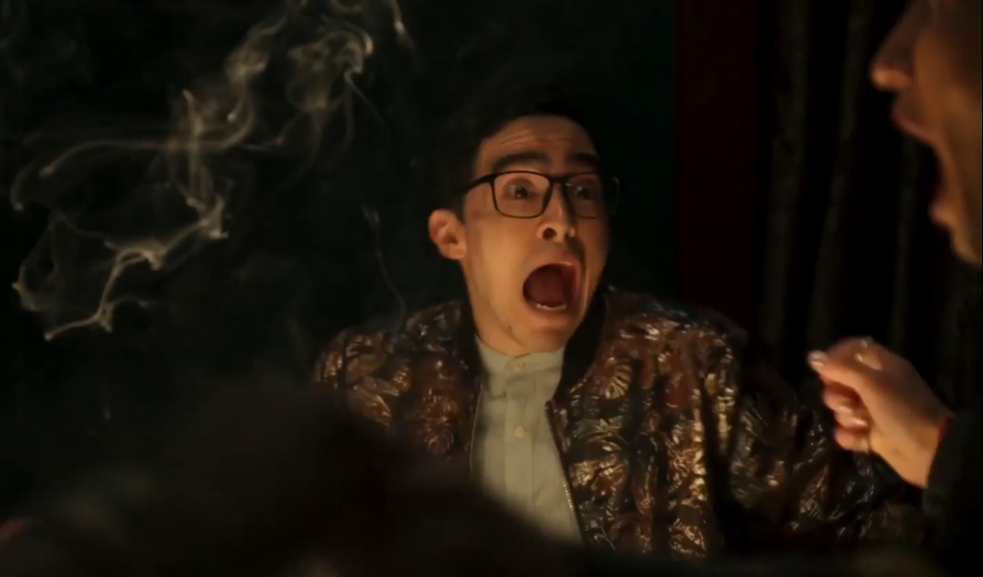 However, I was pleasantly surprised. Yes, this caters to a very specific type of gay subculture, but it was authentic in its celebration. When Larry wipes off his eye makeup, knowing that his very straight and close-minded new brother-in-law is coming, it's heartbreaking. It's watching him wash a piece of his happiness away in a very quiet and sad moment. We understand his character completely in this small and subtle gesture.
The cinematographer (Matthew Roveto) did a fantastic job at focusing in on Larry throughout the film, reminding us that Larry is the focal point, regardless of the story. This was HIS story, even with other shenanigans happening.
And I'm really shocked to find out that Travis Coles hasn't done that much in front of the camera yet, spending most of his experience as a crew member. His range and rawness are there throughout the film. As Larry, he was playful, nurturing, and self-conscious. For a silly-billy movie about ghosts and gays, he effortless portrayed a lot of depth.
And in fact, the whole cast has real magnetism and cohesiveness that I often find lacking in many horror movies. It's the common trope of "friends find a haunted house", with an emphasis on "haunted house" but very little thought on the "friends" part.
The warmth that the characters had, even the catty diva Nico (Frankie Grande), was convincing and magnetic. The cast gelled well together and were believable as friends who sass each other and maybe (like many queer circles) have little crushes. The relationships in Summoning Sylvia were genuine and charming.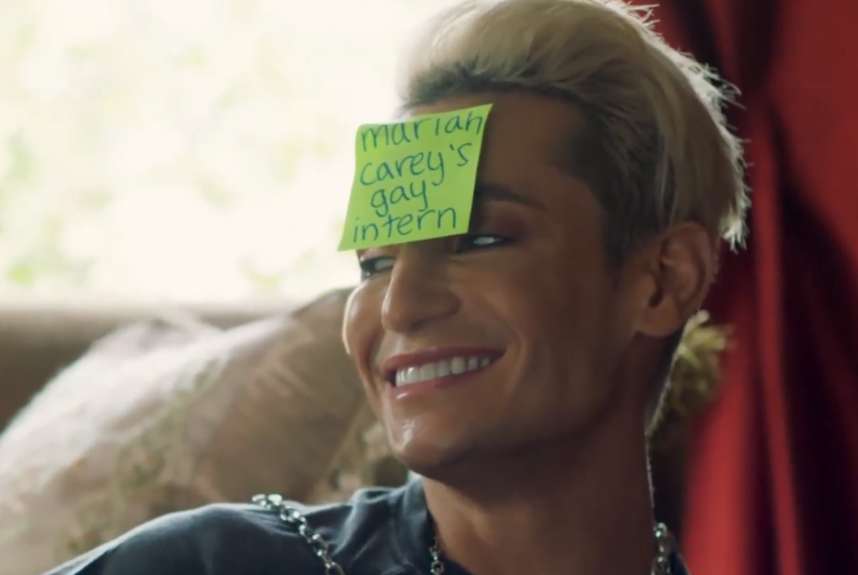 Also, the editing (Sara Corrigan) with the ghosts in the past and the characters in the present was incredible and stylized. The editing was so effective and precise, it delighted me every time I saw it.
The costuming and sets were so much fun and showed the juxtaposition between the ghosts and the guys. From dark and drab to light and…well…gay. Each character had his own design and brand, which was easy to pick up. All of them were dressed beautifully and Sylvia was foreboding and gothic. Pure perfection.
The only thing that I had a bit of a hard time with was…
Brainroll Juice : The Ending of Summoning Sylvia
The ending was a bit messy. Everything was kind of happening all at once, like a sloppy Joe sandwich coming out at all ends.
And we haven't really talked about Harrison.
Oh, Harrison.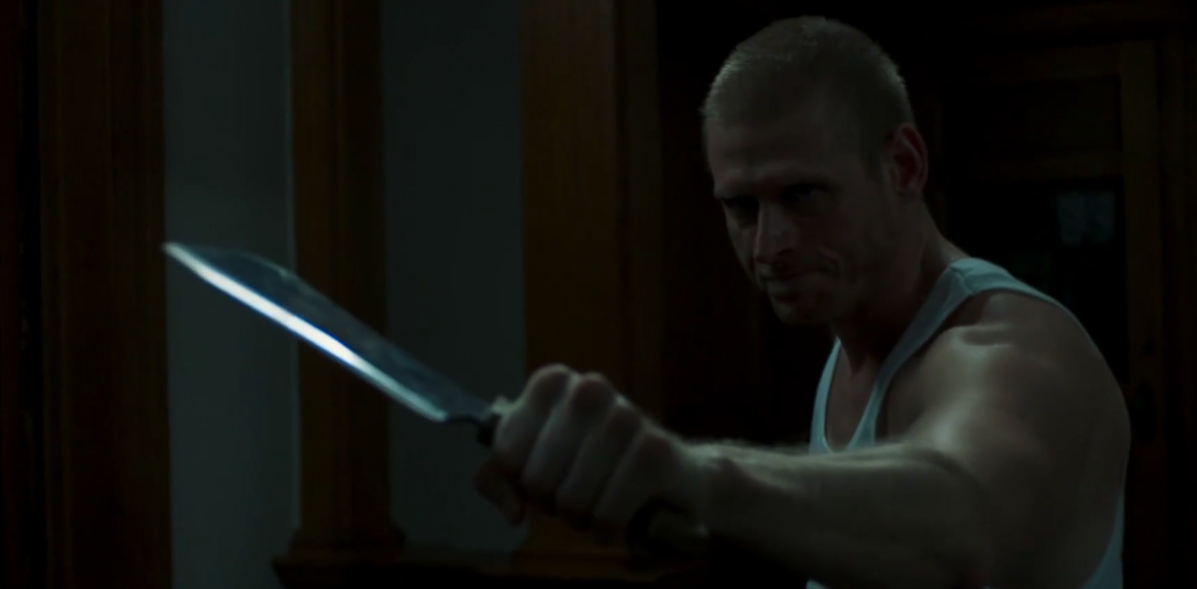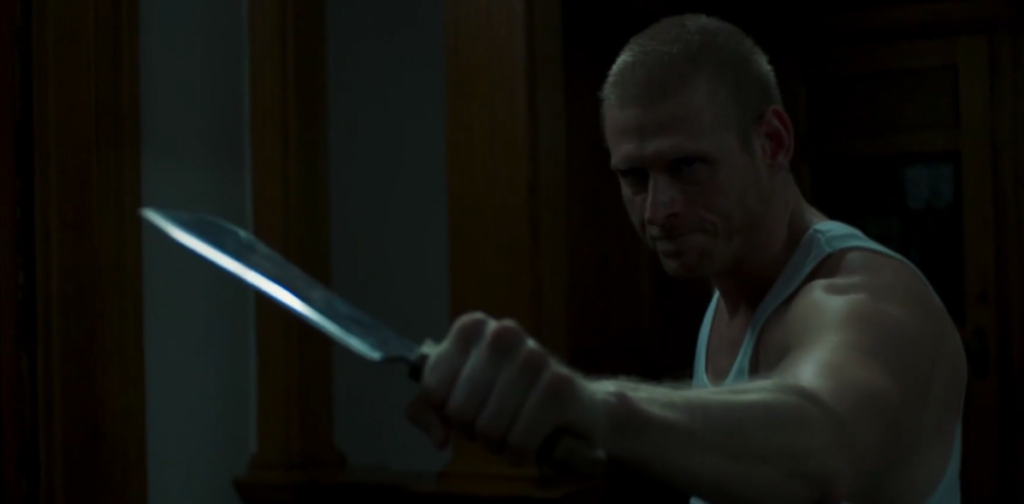 So, I know. I get it. People are awful. They get weirded out by things they don't understand even to this day. And there's a suspicion that some of what Harrison says and does in this movie are because he's under the possession of Sylvia.
And regardless of that or not, I was really hoping that there would be another twist. Because Nicholas Logan's acting isn't bad. It's good as a stereotypical cis-het white male as the villain. And the ending is the same as many other endings with the same, er, beats (I'm trying hard not to give this away). And while I applaud Larry for standing up to him, I wish there had just been a different twist.
It's a safe ending. It's a trope ending.
And that's not necessarily bad, but I just wanted it to veer into new and fresh territory. I wanted more from the ending.
Now, this was a short movie, and perhaps there was a longer ending, who knows. I would have loved a little more time to clean up the sloppy Joe mess and tie things up more gracefully, but obviously that wasn't in the cards.
At the end of the day, it doesn't ruin the movie, it just doesn't hit as strong as the rest of it.
Bottomline:
Are you looking for a fun gaycation with a spooky house and an awkward new addition to the family? Look no further. SUMMONING SYLVIA is funny, charming, and will lift your spirits.
(4 / 5)
Release Information:
The Horror Collective is excited to announce the North American theatrical and TVOD release of their LGBTQ horror comedy Summoning Sylvia. Written and directed by Wesley Taylor (Smash, The Spongebob Musical) and Alex Wyse (Marvel's Iron Fist, soon to join Broadway's Good Night, Oscar), the hair-raising romp tells the story of a gay bachelor party that takes a spooky turn when sinister spirits are suddenly summoned. 
The Horror Collective will release Summoning Sylvia in theaters nationwide March 31, 2023 and on Cable VOD and Digital HD April 7, 2023.
Scary Fairy Godmother YouTube Channel
Youtube is a great place for those of us who like a spooky story. There we can find a mixture of true tales and cutting-edge fiction. These range everywhere from amateur footage to professionally crafted videos. 
Today, we're talking about a hidden YouTube gem, Scary Fairy Godmother. 
The channel launched in December 2014. Since its birth, there has been just one topic of discussion. The fey is not to be trusted, and in fact, is something to be feared.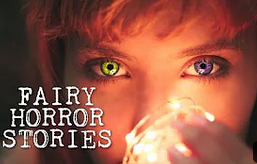 Some of the stories on this channel are fiction. But some are claimed as first-hand accounts of dangerous interactions with fairies.
Now, whether or not we believe in fairies isn't the point of this review. I am only here to talk about the level of entertainment to be found on this YouTube channel.
A recent video titled Melsh Dick (don't laugh) was a common fairy tale. A girl is lured away from her friends by a boy who claims to be her cousin. He doesn't give her a name, they never do. Fortunately, the girl escapes. Others haven't been so lucky.
A favorite video of mine, being a city dweller, was Urban Fairies. This video consisted of eight encounters with fairies in an urban setting. Many of these encounters are nice. There's a beautiful swirl of lights seen out of an apartment window. A person is lured into a city park by a lovely young woman who might or might not have been human. And another person receives some personal and sage advice from what looks to be a homeless man while she's out walking her dog. All of these stories were delightful, reminding us that magic can be found in any setting.
For creepier encounters, we turn to the video House Fairy Horrors. Warning, you might not be as thrilled about the Elf on a Shelf after this one.
In this video we hear the tale of a goblin that took over one room of a person's house, chasing out anyone who tried to go in. A young child sings to scare sprites out of their home, only to have them hold a grudge and return years later. There's even a shadow man who seems to encourage a vegan lifestyle.
Some of the videos have themes, like frost fairies or encounters with fairy royalty. Some are eerie tales plucked from Reddit, real life or imagined.
Of course, the creepiest tales are those where people are lured into the forest by the fey. You'll find several of these stories on Scary Fairy Godmother. It always seems to be in good fun, until one finds themselves lost.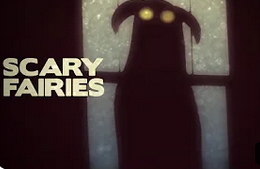 These stories might not seem very scary to us. The tellers of these tales come away without a scratch after all. But consider this. The only time we'd hear about a fairy abduction is if it fails. We do not know what happens to the others, only that they're not around to tell us.
How many people went missing in your town last year?
From what we can gather from these videos, we are never safe from the fey. They can reside in our homes, our cities, and our parks. They can even reach us in our dreams. What they want with us may vary. Perhaps it's just to give us a scare. Maybe they enjoy playing tricks on us. Or maybe they're vengeful, angry at the disrespect mankind has shown to the environment, and eager to punish us for our abuses. Whatever the reasons, it's probably best if we steer clear.
The Scary Fairy Godmother YouTube channel is one with staying power. The fan base is small, but it's growing. It's a great one to throw on while your hands are busy, or if you just want a soothing voice to tell you a scary story. So if you're a fan of the creepier side of life, do yourself a favor and check it out. 
(3.5 / 5)