This episode of American Horror Stories discusses a deep question. What constitutes true beauty? Or, if you prefer, what constitutes true ugliness? 
Did you see our review of last week's episode? Check it out here.
Our tale is about a woman named Virginia, played by Judith Light. She's aging, losing her beauty. And she can't stand that. So she's trying all sorts of creams and tonics to make herself look younger. Even using her pee. (Don't do that.)
When she runs into an old college friend who looks decades younger, the friend gives her a card for a plastic surgeon named Dr. Perle (Rebecca Dayan).
Dr. Perle initially dismisses Virginia as a client, then gives her a price point that is too high for her to pay. She might lose her large mansion in Beverly Hills or her Bently. Or both. More than that, her stepdaughter Fay, played by Britt Lower, might not be able to afford her college tuition anymore.
But none of that matters to Virginia more than getting her beauty back. And so she pays the price.
We can all sort of see where this is going. Though I will say that there's a twist that even I didn't see coming. I don't even want to hint at it, because the story comes together so well. Suffice it to say that everyone gets exactly what they deserve.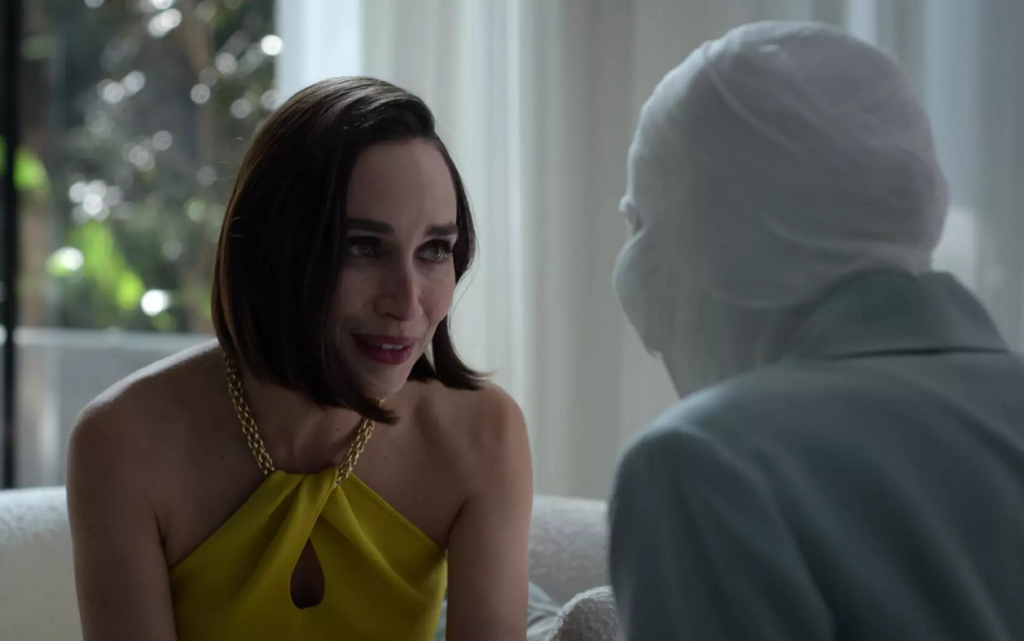 This episode was written by Manny Coto, an American Horror Story favorite, proving ironically that he's more than a pretty face.
It's easy to dismiss this tale as one of people who've sold their souls for beauty and wealth. But is that the case? Over and over we see Virginia show her true ugliness. She betrays Fay, first by spending her college money on a facelift. Then by cruelly turning her back on her at the retreat. She only married her husband for her money, and never bothered to be more than a beautiful housewife.
Fay, on the other hand, is caring. She's going back to school after a divorce. She takes care of Virginia after her surgery. She even follows Virginia to the retreat, trying to make sure she's okay. She shows true beauty. And in the end, that's rewarded. As it should be. 
This was a great episode of American Horror Stories. It was smart, the story fit together like puzzle pieces, and it didn't have to rely on any gross-out moments. It was exactly what I'd want from a more adult horror. Something I don't think we get enough of. Overall it left me loving my laugh lines and looking forward to next week's episode.
(3.5 / 5)
Want more American Horror Story in your life? You can grab the DVDs on Amazon