Welcome back to Haunted MTL as we cover Chucky – S1 E3 – "I Like To Be Hugged," the ongoing series featuring America's favorite killer doll.
This series of reviews will be spoiler-free for the events of each episode but will bring up plot points from previous episodes as needed to contextualize the current week's events. For a spoiler-centric view, please turn to the podcast Kids' Stuff for a detailed discussion.
Chucky – S1 E3 – "I Like To Be Hugged"
Due to Lexy's vicious Halloween prank, Jake has been pushed to the edge. So, Chucky gives his new protege an education on what it takes to be a killer, pulled directly from his own experiences. We get our deepest dive into the childhood of Charles Lee Ray yet. Plus, what do you get when you mix a house party of tweens and one murderous doll?
How Was It?
This week's episode, "I Like To Be Hugged," is another intense episode for the series. However, it is not without an unusual lapse in logic. But before that, credit where credit is due. The episode was written by staff writer Kim Garland, series creator Don Mancini, and staff writers Nick Zigler and Sarah Acosta. (A brief note on these recaps: they are done immediately after the release of the episode. Some credits may not be available on IMDB until later during the week, but I will update them as I find the full credits.) The episode's director, Dermott Downs, follows up his work in episode two – "Give Me Something Good To Eat." The episode is solid with some critical moments for the series going forward. It widens the scope of the story a great deal as well. It also featured a shocking scene, even for franchise fans, regarding Charles Lee Ray's origins that need to be seen.
The show has been an excellent vehicle for the character of Chucky, as voiced by Brad Dourif and puppeteered by Tony Gardner's team. The doll puppet has been incredibly expressive and capable of fun, subtle motions. These lend a depth of comedy and horror not seen in the puppet since Seed of Chucky. Every little knife flourish and walk is genuinely creepy and fascinating to watch.
It helps that Chucky's foils have been great so far in the show. Zackary Arthur's Jake is fantastic as a tortured kid dealing with the absolute worst situation he can be in. He has shades of Alex Vincent from the first two Child's Play films. He is just a little older and more morally ambiguous given what seems like an air of genuine menace. His expressions are compelling, and the rage and anguish he can contort into with his expressions are heartbreaking and worrisome. Alivya Alyn Lind's Lexy is also incredibly good with a role so nasty it has caused viewers around Reddit to want to see a child die a painful death. She is pretty good and playing the worst teenage girl ever. Yet, subtle markers in her performance indicate there is more to Lexy.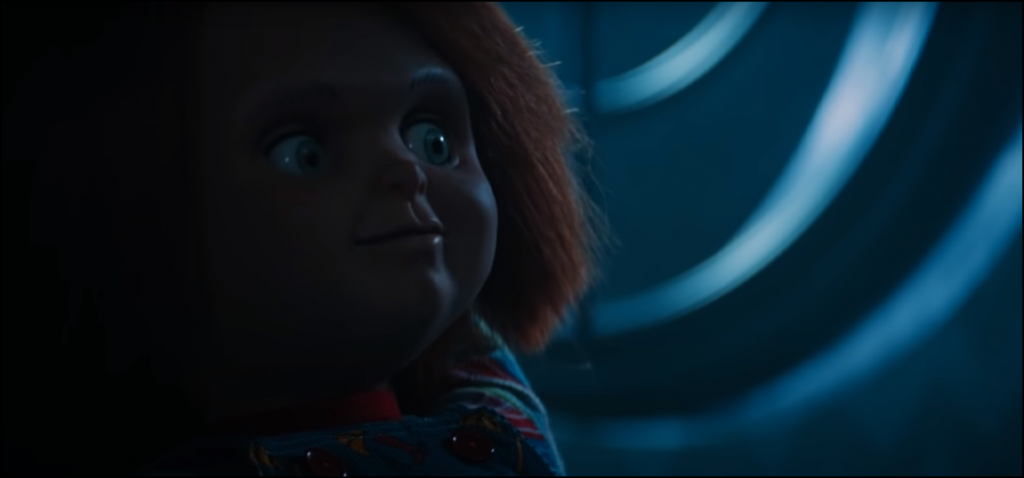 Junior, played by Teo Briones, has moments that show the complexity of his situation, but he still very much feels like a cipher due to the script. Junior's moment will arrive soon enough, and I am eager to see where Teo takes it. Bjorgvin Arnarson's Devon continues to be adorable and likable. Still, some rather deliberate moments here and there suggest a form of social manipulation in the character of Devon, handled ably by Arnarson.
We get some fun developments in the episode and hints as to what is going on in the community. We spent more time with Logan and Bree Wheeler (Devon Sawa and Lexa Doig) and Mayor Michelle and Mr. Cross (Barbara Alyn Woods and Michael Therriault). There is a rather revealing, almost cathartic moment involving the revelation of Lexy's bullying, presented by Miss Fairchild (Annie Briggs), the biology teacher. We also get a little more future tension between Det. Evans (Rachelle Casseus) and her son Devon. Both seem rather fixated on Jake, for different ends… though perhaps not so different at all?
I've not mentioned much about the cinematography in these reviews, but the show is lovely. I'll likely speak on that more in the podcast.
Now the problem: The episode's big finale is hilarious, dark, and scary, but also has a somewhat puzzling moment of the teens not having critical situational awareness in a Bluetooth headphone dance party. The scene as a whole is entertaining and ridiculous, but there is a certain threshold of suspension of disbelief I could not meet.
Despite the leap in logic in the episode that I could not overlook, Chucky – S1 E3 – "I Like To Be Hugged" really did deliver excellent cinematography, character development and has expanded the series of conflicts that will play out over the remaining episodes. Chucky has found his home, and it is on television.

(4.5 / 5)
Chucky – S1 E3 – Kill Count and Spotlight
We get three kills in this episode. One in the present, two in the past, though curiously Chucky/Charles can only claim two of the three. Stabbing unifies the three kills. They're not the most creative, but one might be the most brutal seen in the franchise, and the other is incredibly shocking.
Seeds of Chucky
Some elements of this week's episode are callbacks to previous installments of the series. They may hint at the return of key figures from the past. Some other references to other horror classics may sneak in as well. Here are some of the highlights.
Like in the original Child's Play, we see that Chucky sure does like to watch the news.
Also, right out of Child's Play 2 we get a kicking Chucky on a victim's back, just like with Kyle.
We see the marker for Charles Lee Ray's grave. The date of dath? November 9th, 1988, the same day as the US release of Child's Play.
The use of color in the show reflects some of the color choices in Giallo films, particularly those of Dario Argento.
So each episode of the show does change up the title card to reflect an aspect of the episode as guess from the second episode's Jack-O-Lanterns and Knives. This week? Gardening tools – the pointy kind.
Chucky really needs to stay away from fire – he's had a history with burns.
Something about Miss Fairchild is supicious. Expect my tinfoil hat take on the podcast.
We will be covering the show episode-by-episode on Kids' Stuff – A Chucky Podcast. However, don't expect spoilers in these written reviews. You can expect them to fly during the podcast. If you missed the latest show, follow it on Spotify, listen to it on Haunted MTL, or find it on your favorite podcast app.