Welcome back to Haunted MTL as we cover Chucky – S1 E2 – "Give Me Something Good to Eat," the ongoing series featuring America's favorite killer doll.
This series of reviews will be spoiler-free for the events of each episode but will bring up plot points from previous episodes as needed to contextualize the current week's events. For a spoiler-centric view, please turn to the podcast Kids' Stuff for a detailed discussion.
Chucky – S1 E2 – "Give Me Something Good to Eat"
Jake grapples with the death of his abusive father in his uncle's lavish home, determined to keep an eye on Chucky. However, Halloween promises tricks, treats, and potential murder. Can Jake keep his "friend to the end" from killing again, or will Chucky convince Jake to get in the game?
How Was It?
This week's episode was written by series creator Don Mancini, Harley Peyton, and staff writer Kim Garland. I believe this episode was directed by Don Mancini as well, but I am having trouble tracking down confirmation within the credits, IMDB, and my usual sources. I'll update as soon as I know, at least for the next podcast episode. (EDIT: The credited director for this episode is Dermott Downs as found on 10/23.) "Give Me Something Good to Eat" has a lot of work to do as a second installment and totally nailed. I loved the first episode as an introduction to the new Chucky serialization style, and episode two delivers a mean, funny story that develops the characters quite well and pays tribute to the Halloween season.
Chucky's manipulations make him the most deplorable bastard around. The series is going to do quite a lot with gaslighting and it will be equally horrifying and fascinating to watch a supernaturally possessed doll draw this bullied teen into the depths of despair to get him to kill. For fans of character studies, Jake Wheeler (Zackary Arthur) looks to be a character to keep an eye out for. How he will resolve his trauma with the little red-headed devil on his shoulder is anyone's guess, but it is proving to be fascinating. All I know is that his pained expressions and anguish are quite powerful.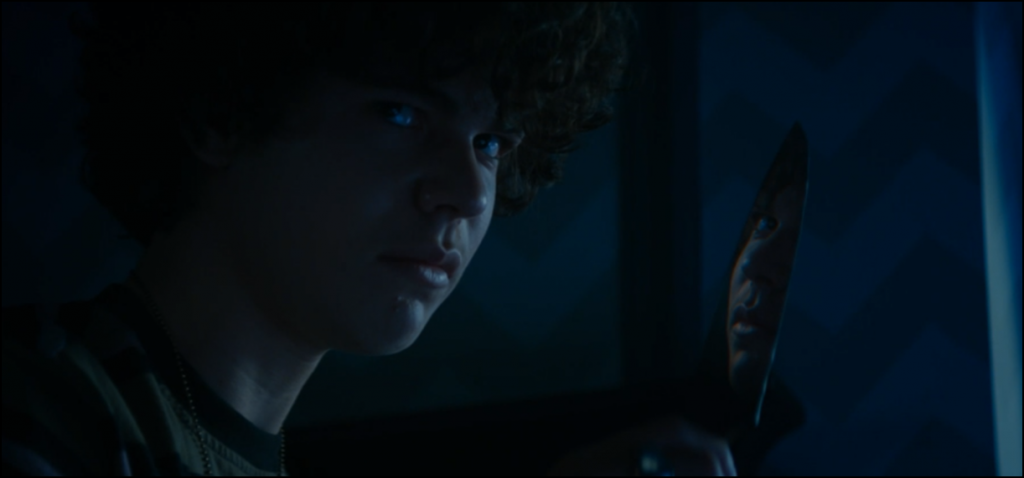 The assemblage of teenage actors for this show is quite good, at least regarding the core four. Alyvia Alyn Lind's Lexy is every bit the teenage monster that haunts kids everywhere. She goes somewhere in this episode that shocked even me, but also you get the sense of why she did it, based on her home life. Teo Briones has much more to do this week as Junior, Jake's cousin, and we get some hints that the pressure of expectations and inability to be who he wants may drive him to cause some trouble later on. Bjorgvin Arnarson as Devon continues the job of the podcaster crush but seems to be very interested in Chucky. Also making an impact in this episode is Rachelle Casseus as Devon's mother, a Hackensack detective who is suspicious of the increasingly deadly events surrounding Jake.
The puppeteering team, led by Tony Gardner, does some incredible work in the series so far. One particularly fun scene involves Chucky playing video games with Lexy's little sister, Caroline (Carina Battrick). It's a completely horrifying moment and darkly funny – a perfect example of what works best in the franchise.
Really, the first two episodes have made a strong case for the show right off the bat. It has a compelling set of characters, an interesting setting full of potential intrigue, and one of the most iconic slasher villains out there. A season two order is likely to happen. Chucky – S1 E2 – "Give Me Something Good to Eat" is a treat.

(5 / 5)
Chucky S1 E2 – Kill Count and Spotlight
The show is not going crazy with the kill count so far, but that is for the best. Expect things to ramp up soon enough, however. This episode's single kill involves a shove in a kitchen and just goes to show why you should load your dishwasher with safety in mind. The attempted murder involving a bed was quite a fun bit of comedy and I'm appreciating the sprinkling of black humor into the series.
Also, no animals were harmed in the making of this episode.
Seeds of Chucky
Some elements of this week's episode are callbacks to previous installments of the series. They may hint at the return of key figures from the past. Some other references to other horror classics may sneak in as well. Here are some of the highlights.
Overall this episode is less concerned with linking to past Chucky stories but rather forging a new one, but there are plenty of references to be found.
Chucky pays homage to a fellow slasher, Michael Meyers in a Halloween-set episode with a Halloween referencing cold open with a young Charles Lee Ray.
The team also references the works of Brian De Palma, specifically the thriller classic Dressed to Kill (1980) through the usage of reflections.
No sign of Tiffany Valentine or Andy Barclay, yet, but that is going to happen soon given the escalation of events in Hackensack.
The mansion from the party? That looks to be the Rose mansion from Schitt's Creek. Alyvia Alyn Lind reveals as much in a post-show featurette.
Not necessarily a reference to anything, but it seems like each week the show's title card will have a thematic update. Last week was doll parts. This week? Knives and pumpkins.
We will be covering the show episode-by-episode on Kids' Stuff – A Chucky Podcast. However, don't expect spoilers in these written reviews. You can expect them to fly during the podcast. If you missed the latest show, follow it on Spotify, listen to it on Haunted MTL, or find it on your favorite podcast app.