Derry Girls, the Irish Channel 4 comedy series, depicts a group of friends living during the time of The Troubles. But the country's war with itself doesn't stop these teens from worrying about things like hitching a bus ride to a forbidden concert, making friends with Protestant boys and figuring out who is going with whom to the prom. The latter of which takes place in Season 2, Episode 5 "The Prom," our focus for today's Dark Deviation
Doctor Who and the Red Dress
Our Lady Immaculate College is putting on a 1950's styled prom and the Derry Girls are in a crisis. Erin wants to go with her school crush, John Paul; Michelle can't decide between two guys she likes and decides to take them both; Orla takes her grandpa; James is skipping out to go to a Doctor Who convention; and Clare, the only out lesbian at her high school, decides to go with the new girl, Mae. The problem is, Mae is a bully who was expelled from her previous school for her terrible behavior. Now at Our Lady, Mae seeks revenge on Jenny Joyce, a prefect, who takes a dress that Mae wanted (in Jenny's defense, she had the dress on hold first).
The prom comes and both of Michelle's dates met each other at the pub and left without her while Erin goes with James after her date stands her up. Clare, always on the verge of a panic attack, learns the truth about Mae and discovers her plan: once Jenny wins prom queen, Mae concocts a scheme to drop pig blood all over Jenny.
Verdict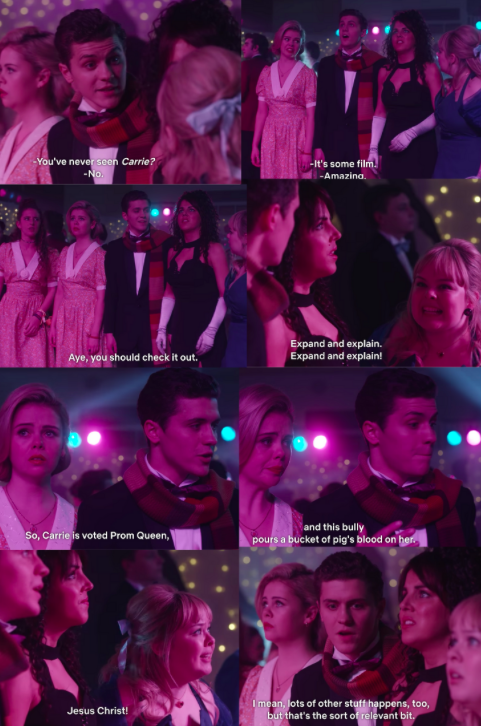 The ending of this episode, where the group runs up onstage to save Jenny from the pig blood (which turns out to be tomato juice), is a beautiful metaphor of their country's state of affairs and the relationships these contrasting characters have with each. They fight with Jenny after she blames them for the mess of juice, while everyone else at home celebrates news of the IRA's ceasefire on August 31, 1994. I loved Derry Girl's take on Stephen King's Carrie. It's a perfect balance of seriousness, wholesomeness and comedy that encapsulates the entire show.

(5 / 5)
Make sure to check out this book, this news story and this interview.