Sad news in Hollywood as horror icon Julie Adams has passed away at the age of 92. Adams is most recognizable to horror fans for her role as Kay Lawrence in the Universal's 1954 horror film Creature from the Black Lagoon.
Born as Betty May Adams on October 17, 1926, Adams had a long career in Hollywood and stared in a great many number of films and television shows. Some include Bend of the River (1952), The Private War of Major Benson (1955), The Rifleman, and The Incredible Hulk.
Adams was awarded with a Golden Boot award for her work in Westerns in 1999. In 2000 she was inducted into the Arkansas Entertainers Hall of Fame. In 2011, Adams was awarded with a Film Career Achievement Award at CineCon.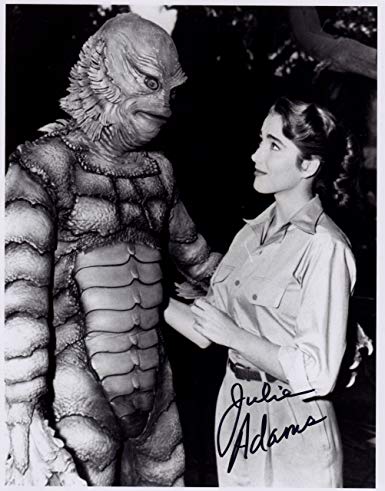 Julie Adams remembered
Horror icons and fans tweeted out tributes to Adams over the course of the night. A great many were from fans of horror and western films, but a number of them came from high-profile figures in the industry. Here are a few of the many fond messages for the actress.
Barbra Crampton of Days of Our Lives and Re-Animator had this touching tribute:
Filmmaker Guillermo del Toro, most notable for his Oscar winning love letter to Creature from the Black Lagoon, The Shape of Water, had an appropriately poetic tribute:
Ryan Turek, VP of Development at Blumhouse shared memories of meeting Julie Adams:
Adam's passing comes days after the death of actor Dick Miller, a frequent collaborator with Director Roger Corman. Adams represents another great loss in the horror community.
We'll leave you with some of Adams' own memories of her time on the set of Creature from the Black Lagoon:
Please let us know how much Creature from the Black Lagoon meant to you in the comments and share your memories of Julie Adams. We would love to hear your thoughts on her passing. More coverage will appear on Haunted MTL as it develops.