People seem to have Lovecraft on the mind lately, for more than one reason. Horror is receiving a new wave of appreciation and creators have gotten an itch for Lovecraftian themes and adaptations, releasing films like The Beach House, Color out of Space, Underwater and the HBO series Lovecraft Country all at once. Well, now it's time for the remakes, and the first one up is a reimagining of the Stuart Gordon 1995 classic, Castle Freak.
Loosely based on the H.P. Lovecraft stories "The Outsider" and "Rats in the Walls," 1995's Castle Freak starred the great scream king and queen Jeffrey Combs and Barbara Crampton as an estranged married couple with a blind daughter (Jessica Dollarhide) who inherits a castle they don't know also comes with a freakish monster (Johnathan Fuller). In 2020, a collaboration between Full Moon Features and Fangoria resulted in a remake with makeup artist Tate Steinsiek taking over as director. Starring Clair Catherine and Jake Horowitz, the film takes only a fraction of Gorgon and Dennis Paoli's original plot and puts its own spin on it and I actually like it a lot.
It's not good but it's not bad either. I love the original so I didn't think I would like this new version but it surprised me. Not to say that it isn't inferior to the original because it is, very much so, but it stands on its own which I appreciate. Plus, it has a nice little surprise at the end done Marvel style, meaning it's a post-credits scene. Think little vials of green reagent.
For the most part, the new Castle Freak starts out like the old but everything has a new flavor. The location has been moved from Italy to Albania and the Duchess (Kika Magalhães) does not die from a heart attack but is instead murdered.
Apart from the "freak" living in the castle, Rebecca "Becca" Reilly is the only original character to return. This time played by Clair Catherine, the only similarities Becca shares with her predecessor are her name and the fact that she's blinded in a car crash. This time around, Becca is blinded not by her father but by her boyfriend, John (Horowitz). After the accident, the two travel to see the castle Becca has just inherited where it's revealed that Becca was given up for adoption by her troubled mother, the Dutchess. It's the mystery surrounding this that becomes the driving force of the film.
Same as the original, Becca senses that someone else is living in the castle but no one believes her. The closer she gets to the "freak," the more she experiences violent visions of her dead mother being torture by a cult that may or may not be responsible for the mysterious resident.
It's at this point where Castle Freak loses its mind.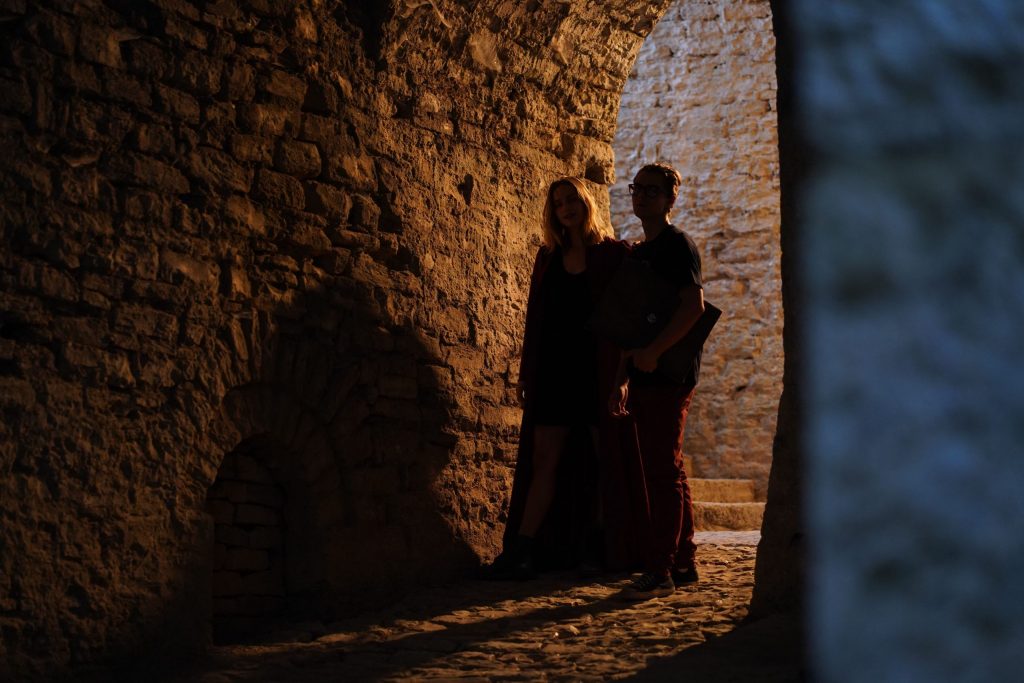 Becca and John's friends from America eventually join them in Albania to help sell the castle, and with them arrives the other major character of the film, The Professor (Chris Galust). He's not really a professor though, his friends just call him that. This character could've been something incredible but the movie doesn't know how to use him properly. He's really only there for exposition and to enforce the Lovecraftianess of it all. While exploring, John and Becca find an ancient book written in Latin that's filled with horrific images of various monsters, which The Professor is conveniently able to translate. Now comes the Easter egg hunt. The book is revealed to be the Necronomicon (an ancient text compiled by Abdul Alhazred in Lovecraft lore) which is basically a catalog of Lovecraft's other works.
It's a run-through of his most famous creatures including Cthulhu, Shub-Niggurath, and Yog-Sothoth. It's all fun but it's also the moment where the film goes completely coo-coo bananas.
At this point, any resemblance Castle Freak has to the original is long gone. It's gone on vacation in Hawaii and is never coming back. Everything, from the ending, to the nature of the "freak" itself, has been changed. The focus switches around going from Becca to John to the "freak" and finally to The Professor who slowly becomes a less constipated, half-hipster menial version of Herbert West.
(Stop if you don't want the mid-credits scene spoiled)
Speaking of Herbert West…the manic twink of a scientist has a cameo! He is the great surprise at the end and the ultimate hint at a possible expanded Lovecraft universe.
In the film's final moments, The Professor's name is revealed to be Henry Armitage, the head librarian at Miskatonic University who appears in the Lovecraft story, "The Dunwich Horror." Back in America armed with the Necronomicon, Armitage walks into his mentor's office to find a man with his back facing the camera sitting beside a tiny vial of green formula. Armitage greets him like a Bond villain on steroids: "West."
It's the best part of the movie and in all honestly, is probably the only reason I liked it as much as I did. This whole thing is silly, it drags on at times, and the whole middle is wasted on explanations but it was entertaining and weird. Makes it a win in my book.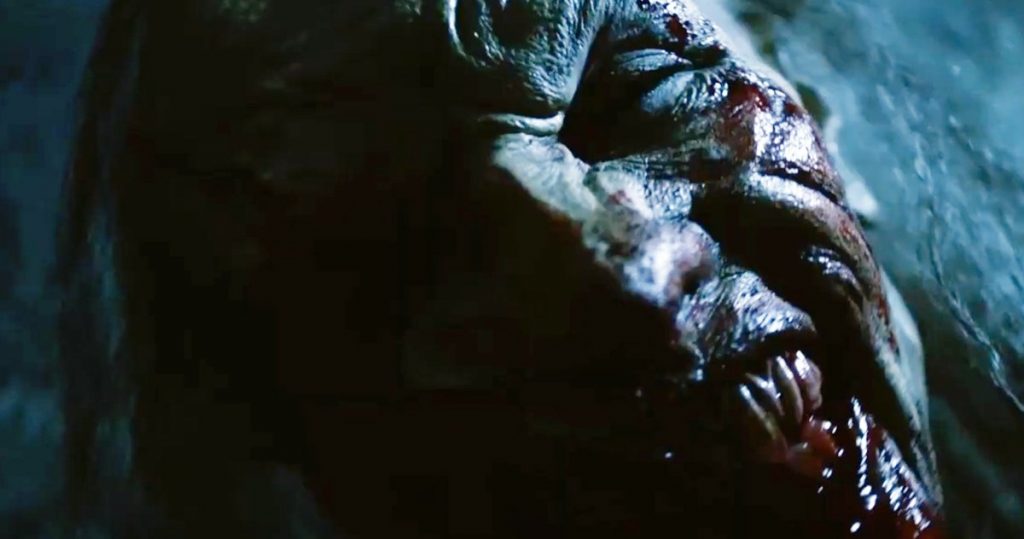 Shared universe??
It's hard to tell what's going on because this film didn't get a lot of press or a big marketing plan, but there is a chance that Castle Freak is meant to be the intro to a series of Lovecraftian films produced by Full Moon.
The creator of many cult films and "B" features, the Full Moon production company is currently working on an ambitious project titled Miskatonic U: The Resonator, a film based in Lovecraft mythology that will take place at Miskatonic University located in Arkham, Massachusetts. The university is found in many of Lovecraft's work and is apart of the hospital where Herbert West was accepted as a student in Re-Animator. Charles Band, director of Full Moon Features, described Miskatonic U as the first installment of eighteen "shows" that will tell different stories set within a Lovecraftian universe. With this description in mind, it's hard not to think that Castle Freak isn't supposed to be apart of that. If not an actual installment, a type of prequel to the series. Guess we'll have to wait for Miskatonic U to come out.

(3 / 5)