House of the Dragon – Episode 10 concludes the first series of the epic Targaryen fantasy, but will viewers turn up for the A game of Thrones prequel series next year? Fan loyalty most certainly depends on the success of the final episode.
Spoilers ahead:
House of the Dragon – Episode 10: The Black Queen
While last week's episode was about Alicent and Aegon–the green team–this week's focus is on the black team: Rhaenyra, Daemon and their family. After a talk with Lucerys about manhood and responsibility, Rhaenyrna is informed about Rhaeny's arrival. She informs the black team about the death of King Viserys and the crowning of his son, Aegon.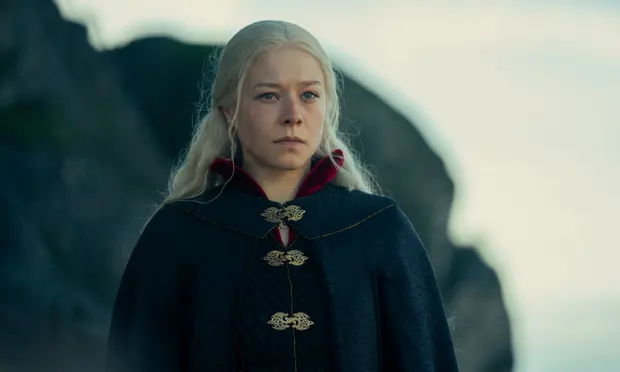 A Mother's Pain
The terrible news shocks Rhaenyra into labour. While she suffers, Daemon is busy planning a war against the greens, as he suspects foul play in Viserys death. Unfortunately, the baby is stillborn and deformed. Rhaenyra now must face the fact that she has lost her father and what would have been her first daughter in 24 hours.
However exhausted Rhaenyra is, she joins Daemon in the council where she quickly releases how few friends they have. Furthermore, Daemon seems to be taking more control than she would like. He doesn't defer to her when making decisions.
The married couple comes into further conflict when Rhaenyra tells Daemon about the prophecy Viserys bestowed on her, which leads him to choking her–he appears hurt that his brother didn't trust him with something so important. Fortunately, he sees sense and relinquishes his grip.
A Mother's Encouragement
Eager to make men of her children encourage their confidence, Rhaenyra sends them to separate lords to request their loyalty. Lucerys arrives in Storm's End only to spy Aemond's dragon Vhagar towering in the rain and shadows next to the castle. Inside, Aemond tries to claim the boy's eye, but Lord Borros doesn't allow it. Young Lucerys, only 13, repeats the line his mother said to him earlier: "I'm here as a messenger, not a warrior."
Lucery flies away on his dragon Arrax, but it isn't long before they spot Vhagar's giant shadow in the storm. At first, it looks like Aemond only meannt to torment his niece, but then the boys lose control of their respective dragons. There's nothing Aemond can do–Vhagar destroys the smaller dragon and its young rider in a single bite.
A Mother's Revenge
Meanwhile, Otto has travelled to Dragonstone to offer Rhaenyra favourable terms. Visually, this is interesting. In episode two, Rhaenyra stood alongside Otto on a mission to take a stolen dragon egg back from Daemon. Now she is standing alongside Daemon.
Otto gives Rhaenyra a message from Alicent: a page torn from a book from their childhood. This moves her enough to consider the options. Otto leaves and team black goes back to counting their allies a considering their next move. Although Rhaenyra is Viserys, she knows that the prophecy is more important that her succession.
And she might have abdicated at the end of the episode if she didn't learn of Lucerys murder at the hands of Aemond. Now she's lost her father, daughter and a son in a short space of time. She turns to the camera and glares into the lens, right at the viewer, eyes burning with pain and hatred.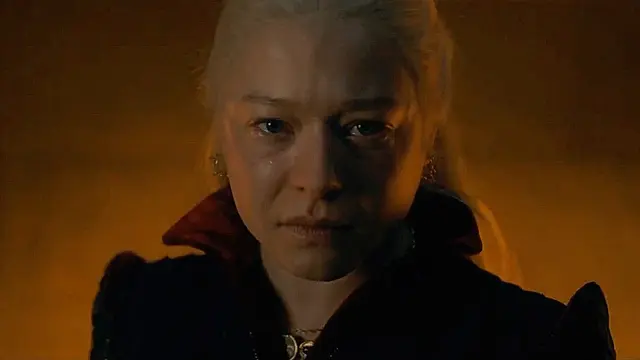 Rhaenyra might not have the biggest army, but Corlys and Rhaenys have declared loyalty to her. She has their navy and manpower. Moreover, they now have three times the amount of dragons the greens have.
The battle lines have been drawn. This isn't about prophecy anymore, it's about revenge. The Dance of the Dragons can begin in earnest.
House of the Dragon Episode – 10, while not perfect, succeeds in creating anticipation for what is to come. It was an emotional and enjoyable ride.

(5 / 5)
If you would like to learn more about House Targaryen, you can read their family history in George R. R. Martin's Fire and Blood novel here:
Stayed tuned for my overall review of House of the Dragon series 1.