We are back with Haunted MTL's continuing coverage of the Chucky franchise. This week, we talk about Chucky S2 E4, "Death on Denial," which presents a format break in the show and some of the wildest stuff seen this season.
Seriously. You're not prepared for this week's episode.
Chucky – S2 E4 – "Death on Denial"
Chucky, S2 E4, "Death on Denial" is a break in the established structure of the show to present a meta-humor murder-mystery farce. Plus, it opens with a talk-show-like wrap-around featuring Chucky. This episode is shockingly different for a show that has been more or less telling a fairly typically structured narrative. Right from the start, Chucky introduces the show in a faux-talk show setting, establishing it as a very special episode. Chucky directly addressing the viewers is nothing new to the franchise. Doing so directly and to such a degree shows something different is going on here.
The episode's narrative picks back up with Tiffany/Jennifer back in Beverly Hills following her murder of Detective Sam Gavin. Shortly after, Glen and Glenda (Lachlan Watson, The Chilling Adventures of Sabrina) arrive for their 18th birthday (more on this at the end of the review). However, Tiffany/Jennifer's plans for a small birthday gathering are disrupted when Glen and Glenda invite Jennifer Tilly's real-life and reel-life friends. With this in mind, Tiffany/Jennifer hires help to guard a room in the house. However, when there is a shocking murder and everyone in the place is a suspect.
The episode's central question is how much does anyone know about Jennifer Tilly? "Death on Denial" is a wild episode. It presents a break in the series format and swaps out the chaos of Chucky for a parlor-room murder mystery. The episode features Tiffany/Jennifer, Glen and Glenda, and real-life friends of Jennifer Tilly: Joe Pantoliano (Bound), Sutton Stracke (The Real Housewives of Beverly Hills), Gina Gershon (Bound), and Jennifer Tilly's sister, Meg Tilly (Psycho II). Also, WWE Superstar Liv Morgan appears in a genre-blending Chucky-hosted wrap-around.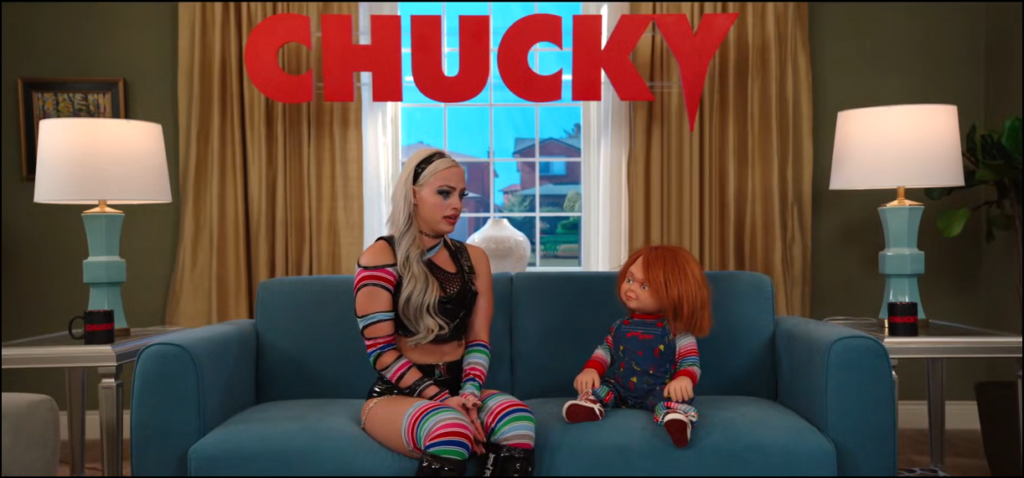 How Was It?
"Death on Denial" is probably the biggest, weirdest, swing-for-the-fences episode in the show so far. It even blows far past last week's episode in that regard. If you thought a Good Chucky and a Swole Chucky were strange – an improvised murder-mystery party of a possessed actress and her real-life friends is certainly something that will catch most viewers off guard. I don't think anyone, but Don Mancini could have directed this episode and been so successful in that regard. Everything from the act-signaling title cards to the non-linear structure to the wrap-around reflects his bold approach to the franchise in Seed of Chucky and beyond.
With that said, as fun as the episode is for someone like me who appreciates the weirdness and compartmentalizes the format break, this will be a divisive episode. Instead of continuing the threads of last week's episode, we spend an hour at a farcical Beverly Hills birthday party that spirals out of control. We spend time with a wrestler, a reality-television star, four acclaimed actors, and three playing versions of themselves as the worst people imaginable, and it is hilarious. It's an even campier Clue if you believe that possible.
Episode Highlights
Viewers and critics should pay extra attention to non-binary actor Lachlan Watson who steps into the roles of Glen and Glenda with confidence. The whole episode is full of Seed of Chucky references, down to eye-twitches and British accents on their part. Watson also pulls off the challenging prospect of making Glen and Glenda different characters while being part of an obvious split, unified personality. They also look great while doing it. The costume direction is fantastic and helps sell the differences in Watson's take on the two kids.
The revelation of Nica's long-term plan and how the fractured personality fits into the situation is also excellent, creating an explosive final 10 minutes. That 10 minutes also confirms the fate of a character who vanished in season one and opens up many narrative possibilities.
It's hard to talk about this episode without running the risk of spoiling it, so some of these thoughts are best saved for my podcast. I wouldn't suggest this as an episode for someone new to the franchise; it would be far too confusing. "Death on Denial" is a meta-heavy episode and every bit as ridiculous and hilarious as a "meta-heavy Chucky" episode would imply.

(5 / 5)
Chucky – S2 E4 – Kill Count and Spotlight
Three new corpses pile up in this week's episode, bringing the season total to eight. This week we have a poisoning, a shooting, and multiple stabbing. The stabbing is probably the most fun of the three, especially given the context and enthused joy expressed by both victim and perpetrator.
Again, this is a weird episode.
Seeds of Chucky
As always, each review features some notes on references and continuity in the whole Chucky franchise.
Glen and Glenda's age is a little complicated. Glen, as a singular entity, was born in 1998 during the events of Bride of Chucky. Glen and Glenda are a soul split into twins birthed by Jennifer Tilly in Seed of Chucky. The Valentine/Ray/Tilly family considers 2004 to be their actual birth.
Chucky's "affectionate" use of "Shitface" returns, contrasting Tiffany's iconic "Sweetface."
The whole episode owes a lot to the murder mystery genre, but two significant influences up front are Clue (1985) and Agatha Christie's novels.
Regarding Clue: characters in this Chucky whodunit have color-based outfits that evoke those of the characters in the film and board game.
Memory issues seem to be running with split souls. Glenda mentions a nightmare about killing a blond woman. Said woman is Joan from Seed of Chucky. Meanwhile, Tiffany/Jennifer doesn't remember details about Meg and forgets Dianne Weist's name and calls her Dianne West.
Tiffany/Jennifer complains about losing an oscar to Dianne Weist in reference to the 1994 film Bullets Over Broadway.
Far too many Bound references to convey here. The entire scene with Tiffany and Gina in a darkened bedroom features images pulled nearly directly from Bound. Specifically, a shot of the lips of the two women.
The same trophy used to bludgeon someone in this episode is the one used to bludgeon Redman in Seed of Chucky.
This is the first episode of the series not to feature Jake, Devon, and Lexi since their introduction.
A certain… attachment to a character may reference the Evil Dead franchise.
That is the review and recap for this week. We're continuing to cover the show at Kids' Stuff – A Chucky Podcast. However, unlike these written reviews, our discussion show contains plenty of spoilers. If you missed the latest Kids' Stuff, you could listen to it wherever you get your podcasts.